Out of all of the protein sources available worldwide, chicken definitely ranks up there in terms of popularity. It's so ubiquitous, in fact, that the expression "tastes like chicken!" is commonly used to describe the flavor of a new or unusual dish, facetiously poking fun at the plain and generic taste of this popular poultry.
The fact that this protein source is so common, not to mention is a key ingredient in many ultimate comfort food dishes--think chicken noodle soup, mashed potatoes with gravy, and chicken pot pies--makes it difficult for many folks to switch to, or stick to, a vegan diet.
Thankfully, there are more meat alternatives these days than ever, and boy do many of them taste good. Whether you seek a chicken alternative that will be a near perfect replacement in all of your most delicious vegan recipes, or you're open to a hearty protein that is different yet equally tasty, we have compiled all of the best vegan chicken substitutes here!
Things to Consider When Choosing a Vegan Substitute for Chicken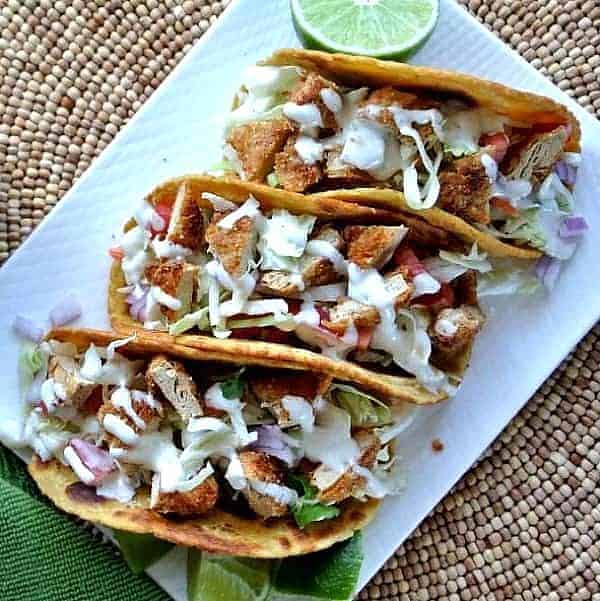 There are a few factors one should take into consideration when replacing chicken in a recipe, especially if your aim is to appeal to both vegans and non-vegans alike!
Flavor: The taste of real chicken is mild and slightly sweet and takes on savory flavor notes when cooked, making it ideal for filling the role of a blank canvas in dishes where other big flavors are in play. This is important to consider when choosing a substitute, as you don't want the taste of your replacement to battle for the flavor profile of your recipe.
Texture: Recipes that call for chicken are often relying on it for its hearty, slightly chewy texture. This texture is often an important characteristic of any given recipe, therefore the chicken alternatives we cover all offer a similar sort of satisfying "bite".
Fat Content: As far as proteins go, chicken is definitely on the leaner side. Chicken breasts have the least amount of saturated fat, while dark meat contains higher amounts. When choosing a chicken substitute, keeping this leanness in mind is key, as replacing it with higher fat proteins would yield a different result.
Protein Content: One of the main reasons that folks consume chicken is to get that protein in! Real chicken is naturally very high in protein, but thankfully there are tons of plant based options that can check this box as well.
The 8 Best Vegan Chicken Substitutes
Included in our guide we will run the gamut from single-ingredient/whole food, to homemade, to ready-made plant based chicken alternatives.
Our 8 favorite vegan substitutes for chicken are:
1. Tofu
2. Jackfruit
3. Soy Curls
4. Mushrooms
5. Chickpeas
6. Seitan
7. Cauliflower
8. Store-Bought Chicken Substitutes and Protein Replacements
Many of these options (especially the premade vegan meats and replacement products) do contain certain allergens, so be sure to double check ingredients labels if you are also looking for options that are gluten free, soy free, nut free, or otherwise.
1. Tofu
This soy product has a long history as one of the most important and popular plant based alternatives to meat--and for good reason! The texture of cooked tofu is dense and pleasantly chewy, giving it a mouthfeel similar to that of actual chicken breast depending on how it is cooked. Not to mention, the taste of tofu is super mild and easily soaks up whatever other flavors are going on in the dish, from rich marinades or seasoning blends to curries and BBQ sauces. Just see for yourself with our tofu-based recipe for Boneless BBQ Buffalo Wings!
Made from pressed soy milk, tofu ranges from "silken" to "super firm", depending on how much liquid is removed during the pressing process. Generally speaking, firm or super firm tofu makes for the best meat replacement and it takes well to a number of cooking methods, whether you opt to grill, pan fry, deep fry, or stir fry your dish.
How to Substitute:
You can cut your tofu into strips or cubes, or simply crumble it into large chunks for a more rustic feel. For crisping action, be sure to pat and press your tofu as dry as possible using paper towels or clean kitchen towels before searing it in hot oil.
And just like any other ingredient, be sure to season your tofu before cooking! Without seasoning, this ingredient tends to be quite bland so listen to your creative instincts and jazz things up accordingly before using your tofu as a 1:1 replacement wherever chicken is called for.
2. Jackfruit
Jackfruit is the fruit of a particular tree in the mulberry family, meaning it is related to other culinary delights such as the breadfruit and the fig. Like other tropical fruits, jackfruit has a sweet flavor when fully ripe. However, when green and unripe, jackfruit has a rather plain flavor and a unique, stringy texture that makes it unbelievably ideal for impersonating chicken in all of your favorite recipes!
Due to its mild sweetness, this substitute is perfect for soaking up savory sauces and flavors like dressings, marinades, soups, or stews. One of the best ways to use jackfruit is to make shredded vegan chicken for dishes like tacos or chicken salad. Jackfruit is especially popular for making pulled pork or pulled chicken style sandwiches, just like in our Pulled Jackfruit BBQ Sandwich! You might not be seeing whole jackfruit any time soon at your local grocery store, but thankfully most markets offer canned jackfruit in the canned goods aisle--the exact stuff you're after.
How to Substitute:
When shopping for your jackfruit, be sure to get the canned "green" or "young" jackfruit. Stay away from anything that says "in syrup" or otherwise contains added sugar. Drain the liquid from the canned jackfruit and gently break up the fruit into shreds. It should break apart easily and not require any knife work--love that!
There is no need to fully cook the canned jackfruit, just be sure to heat it up thoroughly in a sauce or seasonings of your choice! Or, if you are using jackfruit in another recipe that calls for shredded chicken, simply shred the jackfruit accordingly and toss it in as a 1:1 replacement.
3. Soy Curls
Soy curls are one of the best soy products to date, as they have an amazingly satisfying taste and texture, yet don't feature the long and complex ingredients list that many other vegan meat replacements do. As their moniker suggests, they are indeed made from soy--the very same stuff that tofu and TVP (textured vegetable protein) are made from. Unlike these other soy products however, soy curls are made using whole soybeans which have gone through a special cooking and drying process.
On their own, soy curls have a nutty, savory taste which is certainly mild enough to allow them to soak up seasonings and sauces quite nicely. The chewy texture of soy curls makes them especially wonderful for replacing strips of chicken in stir fries, hearty stews, and fajitas. Soy curls are not necessarily available in every local grocery store (yet!), so if you can't find them in your market or specialty foods store, there are plenty of online retailers that offer them as well.
How to Substitute:
Soy curls are a dehydrated product, so the first thing you must do when using them as a vegan chicken substitute is to soak them. They just need about 10 minutes in warm water before you can drain them and gently pat dry. At this point, they are ready to be used in place of chicken in just about any recipe that crosses your path!
If you are cooking a recipe such as soup or stew, you can go ahead and add the dried soy curls straight in if you'd like. Bear in mind that they will soak up some of the liquid from the dish itself, so be ready to compensate with a bit of extra. The little curls also take especially well to air frying and pan frying, as they are known for getting nice and crispy.
4. Mushrooms
It's no secret that mushrooms make an excellent meat substitute, however many folks tend to align their umami rich flavor with a replacement for red meat, often overlooking the fungi's usefulness as a poultry substitute. No more, we say!
Mushrooms tick just about all of the boxes needed to replace chicken in a recipe. They have that mild flavor, chewy texture and minimal fat content. What they do lack, however, is a significant amount of protein, so be sure to get your protein in during other meals, or pair them with another protein-rich ingredient such as nutritional yeast. Nevertheless, mushrooms are a great way to replace chicken in a recipe as they become savory and delicious when cooked. They take well to a number of different cooking applications from roasting to grilling--Grilled Thai Marinated Maitake Mushrooms, anyone?
How to Substitute:
You can use just about any type of mushrooms you like, but we think that oyster mushrooms make for the best chicken substitute here. Choose large mushrooms if possible and tear or slice them into shred-like pieces, then toss them with melted vegan butter or olive oil, and some simple seasonings like onion powder and garlic powder, or your favorite spice blend! The key is to roast them on high heat until golden and crispy, then use in place of chicken in sandwiches, casseroles, soups, and stir fries.
It is entirely possible to add the mushrooms straight to your dish without cooking them first, but you would miss out on developing that crispy-chewy, savory texture so if you have the time, roast them first!
5. Chickpeas
Chickpeas! Not only does their name ring a similar bell, but these little legumes have many other characteristics that make them a good vegan chicken substitute as well. Their taste is mild and slightly nutty, and they are a complete protein, meaning they contain all nine essential amino acids.
Their texture is indeed a bit different than chicken, so you won't be able to fool anyone into thinking they're eating the real deal on this one. But if your goal is simply to make a meat-free, satisfying meal, chickpeas are the answer you've been looking for!
How to Substitute:
It's up to you whether you use dry or canned chickpeas, but we favor canned chickpeas as the convenience simply can't be beat. Just be sure to drain and rinse them thoroughly before you incorporate them into your recipes so as to wash off that "can funk".
Chickpeas make an especially excellent chicken replacement in tacos, soups, and salads like our Vegan Chickpea Salad Sandwich. You can also roast them with other vegetables for an easy sheet pan dinner–try a dash of poultry seasoning for that comfort food flavor!
6. Seitan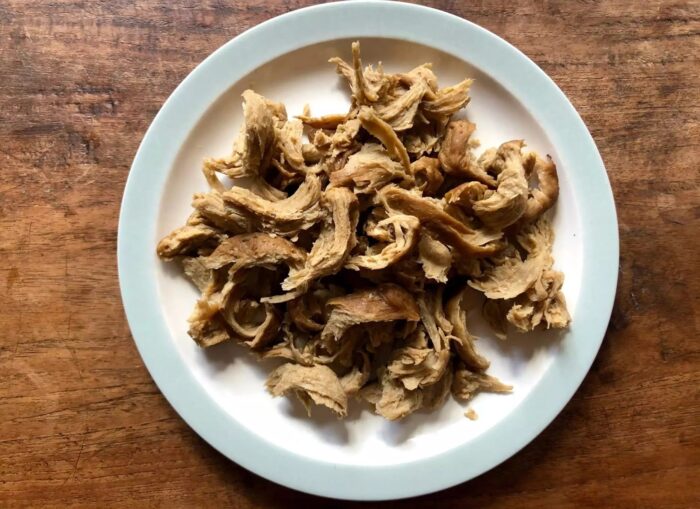 Seitan is a compressed cake made of vital wheat gluten, earning it the nickname "wheat meat". Like chicken, seitan has a mild yet savory taste that easily fits into the flavor profile of just about any dish or recipe. It has a firm and slightly chewy texture and plenty of wheat protein--sometimes as much as 7 grams per ounce!
You can buy plain seitan in a loaf by itself or choose from one of the many seitan-based meat replacement products. Some are pre-portioned into strips or chunks for more convenience, and some varieties may be more heavily seasoned than others. There are even specific "seitan chicken" products which are formed and seasoned with the intent of taking the place of poultry in recipes! Regardless of how you opt to use seitan, note that it is definitely not suitable for a wheat-free or gluten-free diet.
How to Substitute:
It takes a little practice to get the texture of seitan just right, as it can turn rubbery at times depending on how it is cooked. For this reason, we don't recommend just tossing sliced seitan into any ol' recipe that calls for chicken pieces.
Your best bet is to use seitan in a stir fry, to pan fry it and serve atop a salad (hello seitan Caesar salad!), or to try it in casseroles like our Vegan Chicken Tetrazzini Casserole.
7. Cauliflower
We are pleased to report that cauliflower's 15 minutes of fame isn't over yet! Aside from being a low-carb rice substitute, cauliflower also makes a suitable stand-in for meat in many cases. While it doesn't quite hit the mark on protein content, cauliflower does offer a perfectly mild taste and satisfying bite when used in places where meat is expected, such as our Ranch Cauliflower Tacos or Air Fryer Cauliflower Buffalo Wings (pictured above!). Not to mention, those nooks and crannies of cauli florets offer the perfect surface to soak up sauces whether you opt for sesame garlic, BBQ, or beyond!
How to Substitute:
Cauliflower is quite flexible as far as plant based meat replacements go. For soups, stews and casseroles, we recommend breaking the florets into bite sized pieces and adding them for just the last 7-10 minutes of cooking. Or, roast the cauliflower to develop its savory flavor and toss in any sauce or gravy of your liking!
However you choose to use it, be sure to limit the cooking time as this veggie definitely becomes mushy when cooked for too long.
8. Store-Bought Vegan Chicken Substitutes
The world of plant based meats has come a long way since those first few veggie burgers. Depending on where you live, most local stores offer a wide range of plant based chicken options from vegan shredded chicken to vegan fried chicken and vegan chicken strips to vegan chicken nuggets! There are even vegan options for deli slices meaning yes, you can once again build those sandwiches of your dreams.
Exactly what each of these products is made from varies from brand to brand, but many of them rely on soy protein, pea protein, wheat, or a combination. There are even some newer vegan meat options that are made from mycoprotein, a special type of protein-rich fungus! Most vegan chicken replacements will be found in the freezer aisle of your supermarket or most health food stores.
How to Substitute:
The best way to go about using any of these items as a chicken substitute will depend entirely on the particular characteristics of your chosen product. Be sure to check the packaging for cooking instructions.
Also keep in mind any seasoning that may already be included in some store-bought vegan chicken substitutes, as some products are lightly seasoned while others are heavily flavored. Depending on the case, you may need to adjust the level of seasoning elsewhere in your dish when using these items. A few of our favorite recipes using ready-made vegan chicken substitutes are Vegan Chicken Meatless Tacos, Vegan Fajitas with Meatless Chicken, and our Vegan BBQ Chicken Sandwich!
Final Thoughts on the Best Vegan Substitutes for Chicken
No matter your recipe or individual dietary preferences, there is surely a chicken substitute out there which fills the needs of all of your vegan and vegetarian meals. If you value convenience, opt for one of the incredible store-bought vegan chicken options or simply pop open that can of chickpeas and give them a rinse. If you have a bit more time on your hands, give soy curls a shot or play around with seitan.
Whichever option you end up choosing, be sure to give yourself (and those you are cooking for!) some time to get used to the switch. While these vegan chicken substitutes are similar to the real deal in many ways, they will of course have some noticeable differences to most folks. In our book though, different is a good thing!