Vegan Cheese Tortellini is easy and flavorful with refrigerated pasta. The tortellini pasta recipe also has sweet potatoes and kale for a healthy and comforting meal.
Finally! A quick and easy tortellini recipe for vegans. You can use refrigerated tortellini or use it straight from the freezer. Either way everything comes together in about 25 to 30 minutes.
We are so lucky that there are many good vegan options out in the stores now. I'm all about making recipes from scratch but, just like you, once in a while I really really need a recipe to be healthy and fast.
That happens about once or twice a week for me. Either the day got away from me or I'm just really tired.
This is not a sponsored post but I've discovered Kite Hill's Tortellini that is made with almond ricotta. The parmesan cheese is from Violife and it grates really well.
I use the four-sided stainless steel box grater so I can control how I want it to look. You can get it to grate in thin little strips and the fine side of the grater makes it look like confetti. Both look great on this recipe and on salads.
All you have to do is cook the pasta, add it to a skillet of cooked vegetables and you're done!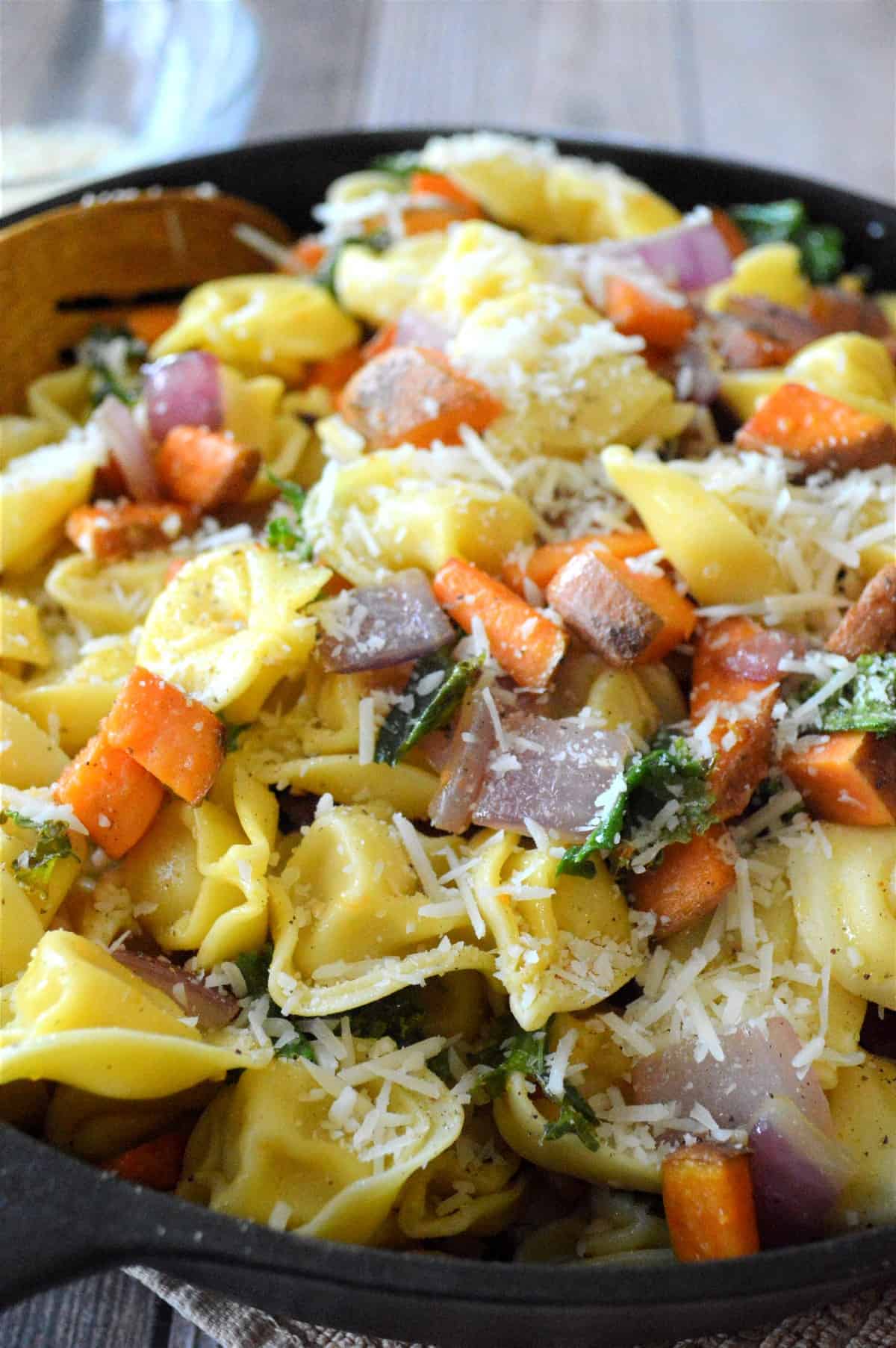 Ingredients
Packaged vegan cheese tortellini comes in 9 ounce packages. I used two packages for these photos because I wanted to feed about 6 people.
Sweet potato makes this pasta meal special with its texture and contrasting sweetness.
Kale for more texture, taste, and vitamins. You can substitute baby spinach too.
Red onion add great flavors when sautéd.
Extra virgin olive oil is my oil of choice but you can use whatever is your favorite.
Garlic adds an earthy seasoning.
Dairy free parmesan cheese - you could also substitute this homemade nut-free parmesan that is made with hemp hearts. Just sprinkle it on top for lots of great flavors.
Salt and pepper for seasoning. If you use Violife's parmesan you can skip the salt but do use the pepper.
How do you cook cheese tortellini
Add water to a large saucepan. Add about 1 tablespoon of salt to the water if you wish. Cover and boil.
Violife's parmesan is very salty so if I'm using that I don't add any salt.
Follow the cooking time on your tortellini package. Kite Hill's is 2 to 4 minutes. I prefer al dente but go the whole 4 minutes if you wish.
Drain and set aside.
Can you cook it frozen
Yes! If you buy packaged tortellini it will keep in it's container and in a freezer bag for about four months.
So have some on hand for the nights when you need a quick dinner.
Add the frozen tortellini straight to the water and cook for 3-5 minutes.
Drain and set aside.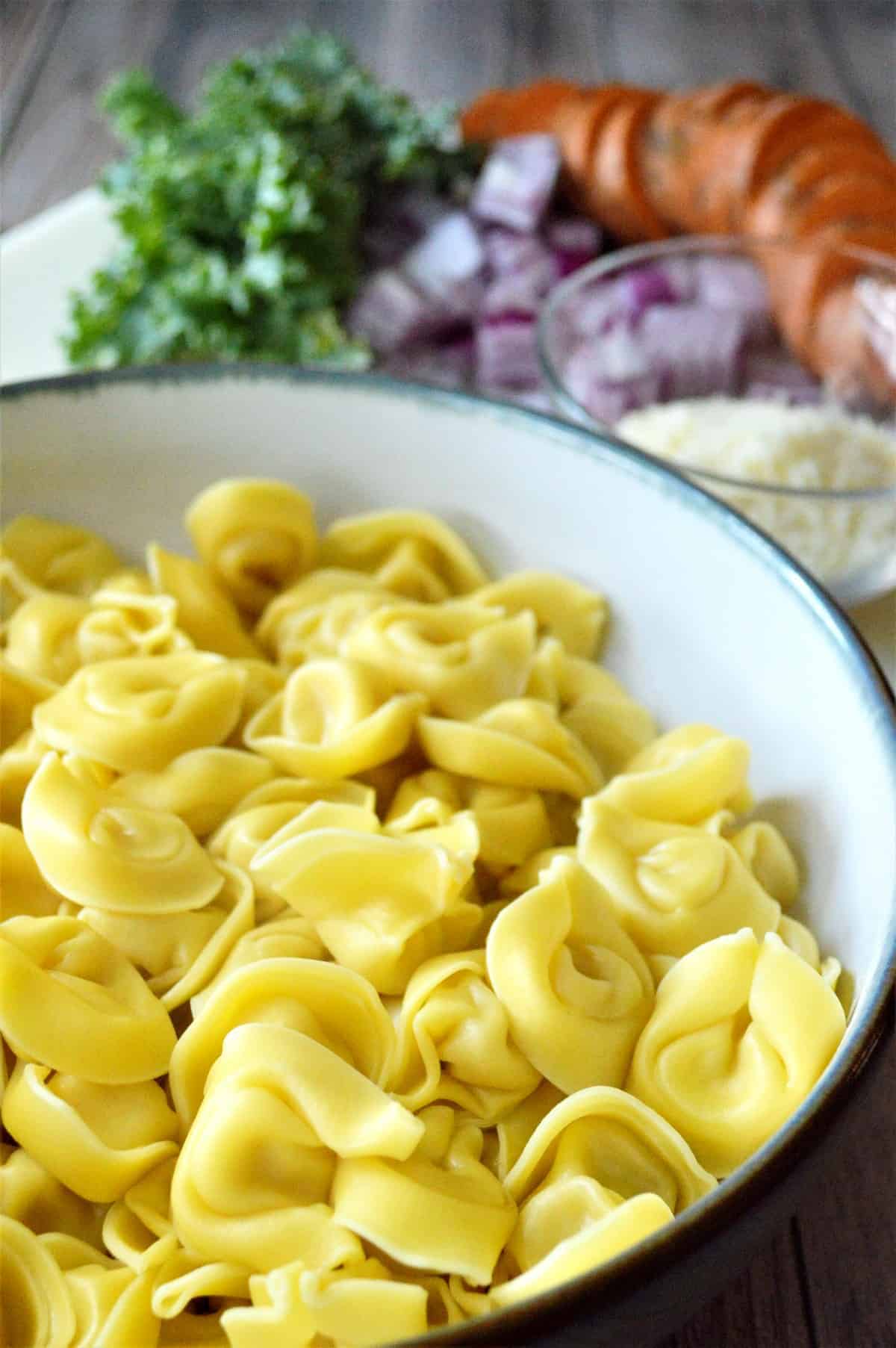 Instructions
To a large skillet heat the oil to medium high.
Add the onion, and sweet potato and cook until sweet potato is fork tender. About 10 to 15 minutes.
Stir in kale and mix. It will wilt a bit. Remove from heat.
If your skillet is large enough add the cooked tortellini and a dash of salt, pepper.
Mix and serve with parmesan cheese over top and more on the side.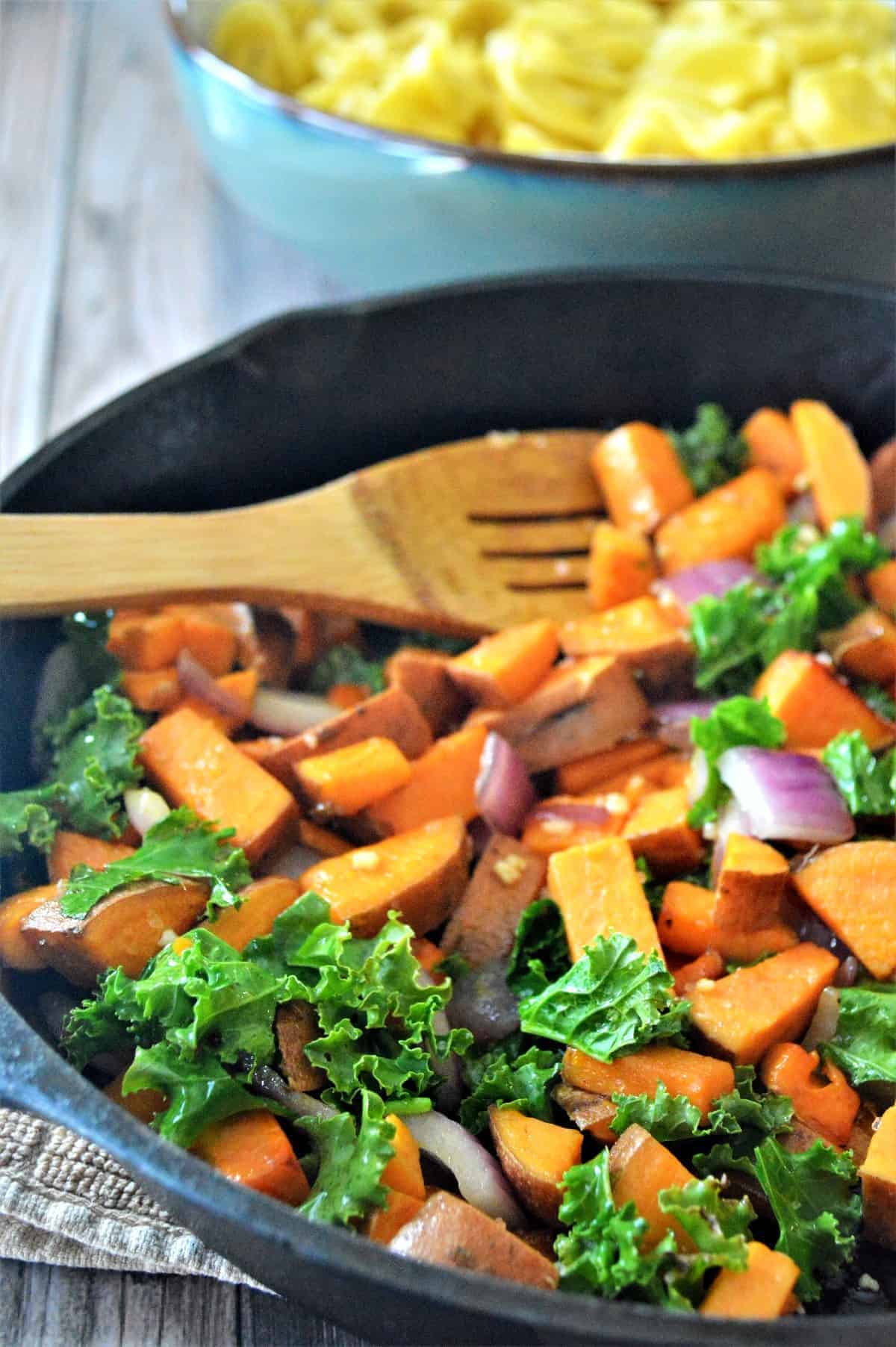 It's really that easy and absolutely delicious. You can add a dollop of dairy-free butter while it's still warm too. I don't, my husband does.
Everyone loves this tortellini pasta recipe. It's comfort food and filling. I always serve it with some garlic bread or a crusty loaf. And all of that just happens to be a complete meal.
What if I can't find vegan totellini
You can still make this recipe with a stuffed pasta using ravioli. There are more vegan companies out there that feature ravioli.
And ... you don't have to use a stuffed pasta. Rigatoni, penne, and even wide noodles will work really well with these ingredients.
I like a larger pasta like these to balance out all the larger bites in the recipe.
More fabulous pasta recipes
Vegan Sausage Ragu with orecchiette pasta is another simple recipe but the sauce if from scratch.
One of the pasta salads I have on the blog is Pine Nuts Pasta Salad and it's dressing is wonderful.
📋 Recipe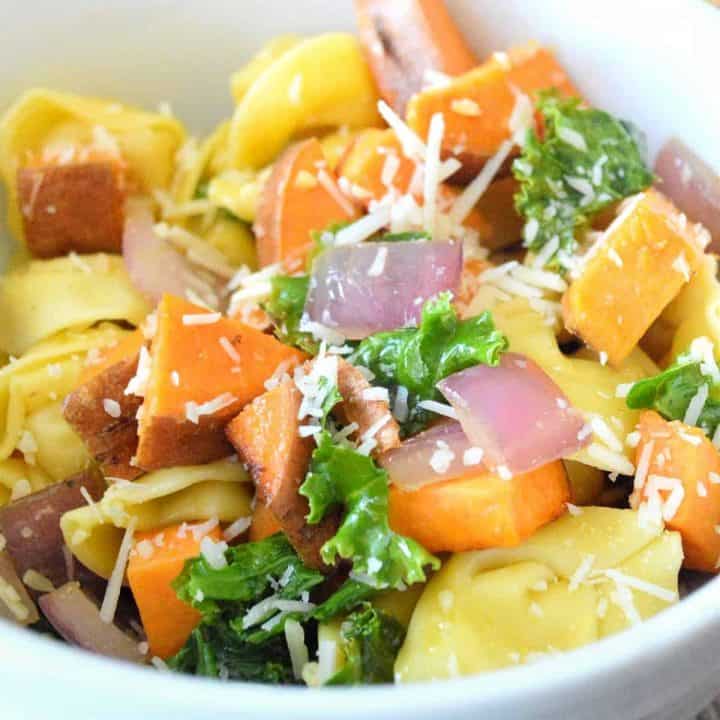 Vegan Cheese Tortellini with Sweet Potatoes and Kale
Vegan Cheese Tortellini is easy and flavorful with refrigerated pasta.
Ingredients
2

packages

Tortellini

2

cups

Sweet potato

- diced into bite sizes

1

cup

Kale

- chopped small

½

cup

Red onion

- diced

3

tablespoons

Extra virgin olive oil

1

teaspoon

Garlic

- minced

½

teaspoon

Salt

Dash

Ground black pepper

½

cup

Dairy free parmesan cheese
Instructions
Cook tortellini according to package instructions, Set aside.

Chop sweet potato (no need to peel), kale, and red onion.

In a large skillet, heat oil. Add the onion, sweet potato, and sauté until sweet potato is fork-tender. About 15 minutes.

Stir in kale and remove from heat. In a large bowl (or if your skillet is large enough), toss tortellini together with sauteed vegetables.

Top with a dash of salt/pepper and dairy-free parmesan cheese.
Nutrition
Serving:
1
Serving
Calories:
371
kcal
Carbohydrates:
47
g
Protein:
14
g
Fat:
14
g
Saturated Fat:
3
g
Cholesterol:
32
mg
Sodium:
593
mg
Potassium:
204
mg
Fiber:
5
g
Sugar:
4
g
Vitamin A:
7405
IU
Vitamin C:
15
mg
Calcium:
150
mg
Iron:
3
mg