Vegan Cashew Spread Recipe is the perfect enhancement to complement sandwiches and appetizers. Full of protein and flavor. A great staple to have on hand.
I love condiments. It just seems like the perfect addition to a sandwich when each slice of bread is covered with a delicious condiment. I'd like to share with you one of my favorites.
It's a great spread to have on hand. This cashew spread is so versatile that it goes with every vegetable I can think of. It's also all you need as a base for a big fat veggie filled flatbread.
I wanted to call this a sandwich spread because that's what I use it for the most. Usually on flatbread.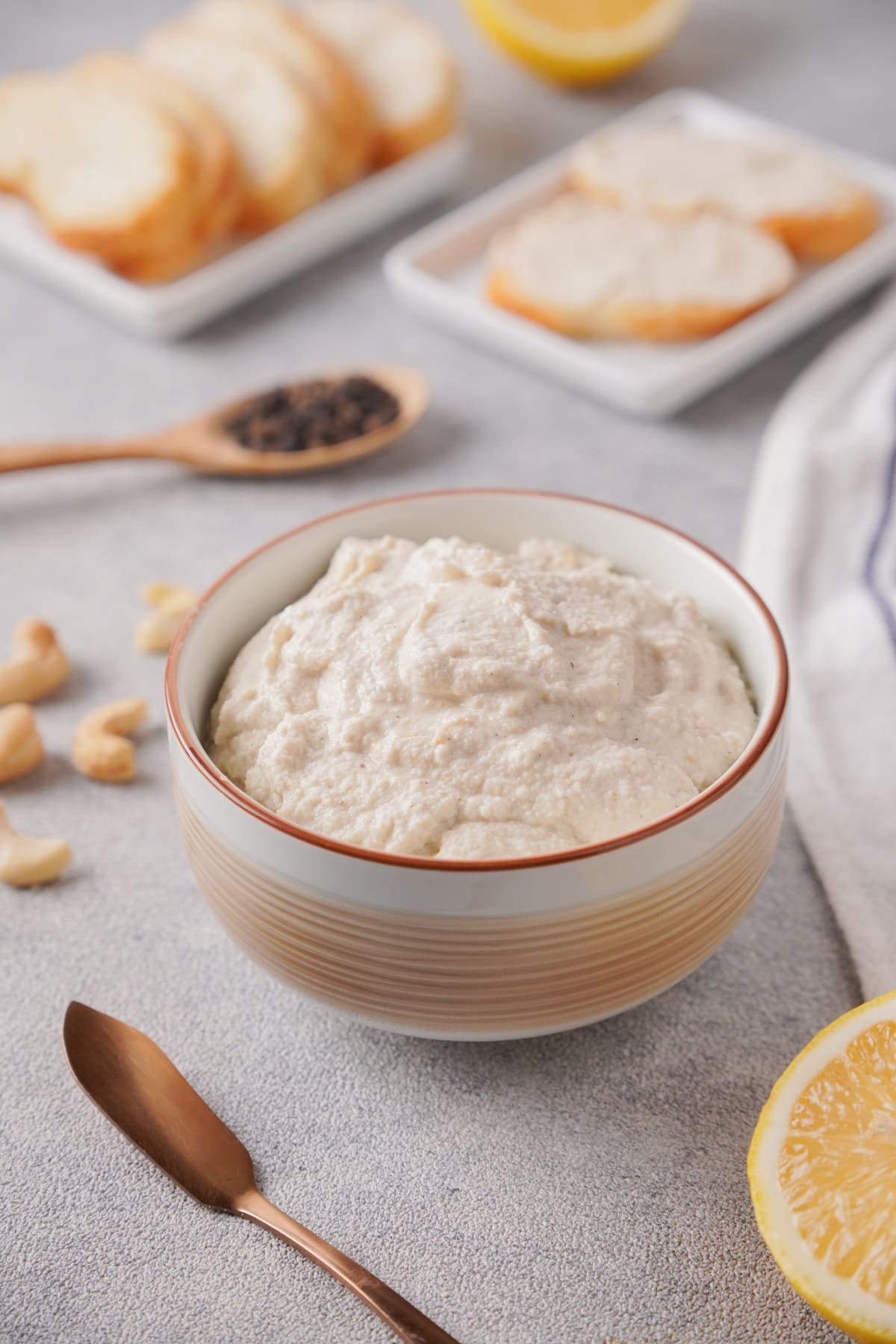 But ... google let me know, in its techie manner, that people don't usually search for the words cashew sandwich spread on the internet. They search for the words cashew spread.
Another spread that I have is Cashew Cheddar Cheese Spread.
The Vegan Cheddar Cheese Spread really is fantastic. This is what it looks like: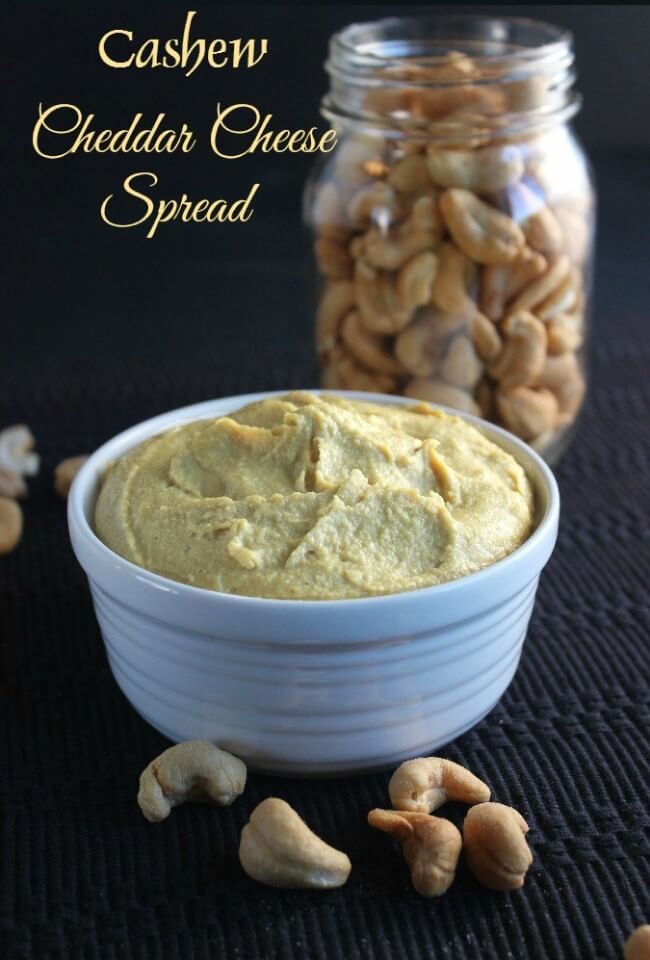 So a long story not made short is that I'm going with cashew spread in my title instead of cashew sandwich spread. Google knows best!
As you can see in one of the photos, it also doubles as a dip or spread as an appetizer. Dip in a nice slice of red bell or celery, or spread it on little toasts.
Dunk in a pita triangle, and it's that easy. There's that much flavor, and it's all you need.
I use cashews a lot, and when I can, I buy them through Amazon in bulk. Nuts are expensive, but this is definitely the more economical way to go.
Want to try this Vegan Cashew Cheese Spread Recipe?
There are many companies that sell online, and I like Amazon because their return policy is so good. Where food is concerned, I think that's important. Especially nuts.
That was just a little aside because this question sometimes comes up on my facebook page. Bulk is best if you can swing it.
I've noticed more and more stores selling in those large containers and in bulk! Trader Joe's has a great price too.
Now that you've got your cashews and are eager to make a delicious spread, take a quick look down at the recipe.
Only 7 ingredients and a few minutes until you can start enjoying your delicious Cashew Spread.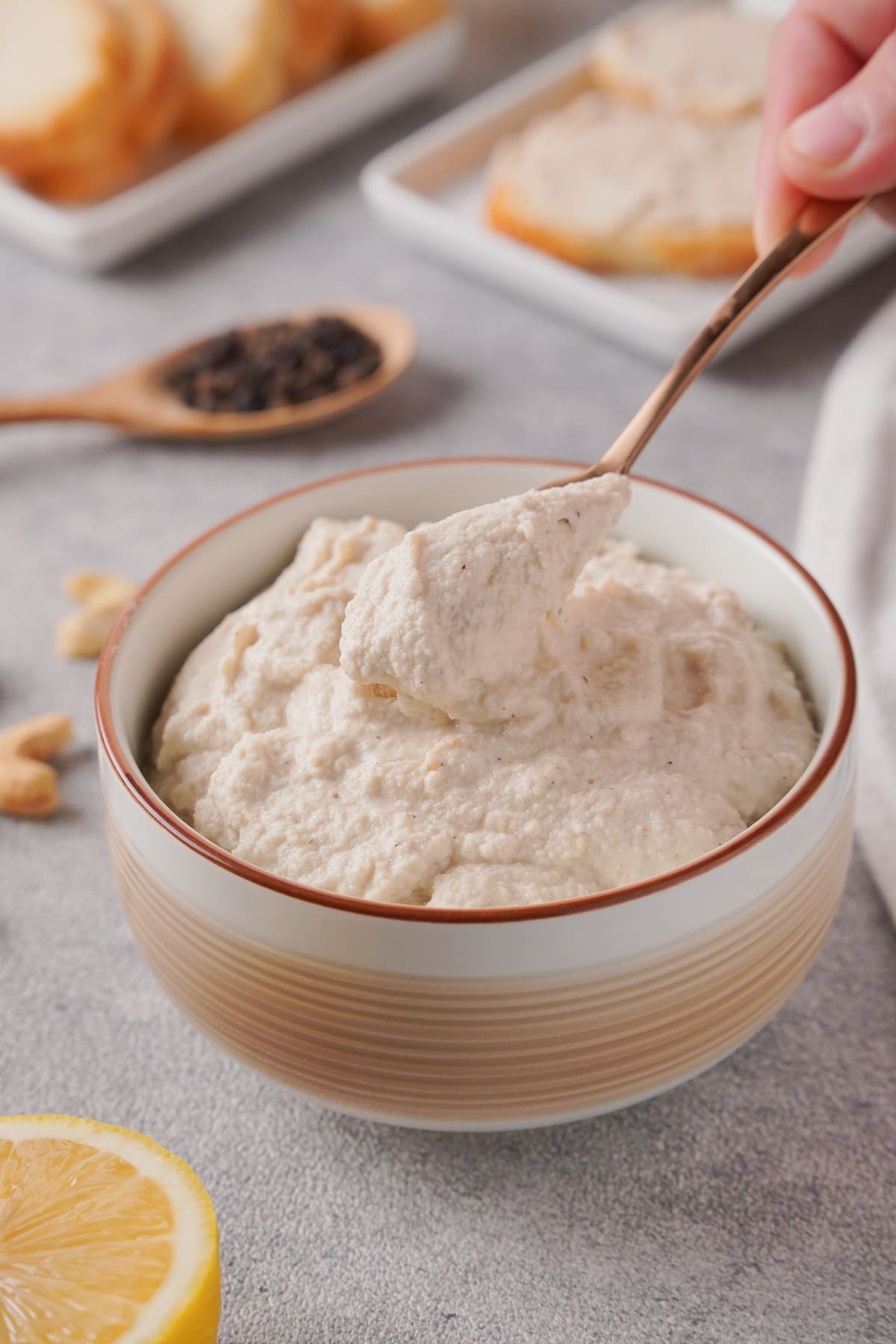 📋 Recipe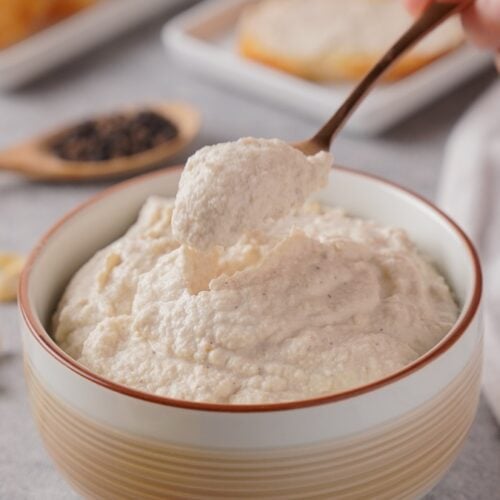 Vegan Cashew Cheese Spread Recipe
Vegan Cashew Cheese Spread Recipe is the perfect enhancement to compliment sandwiches and appetizers.
Ingredients
2

cups

cashews, raw

½

cup

water, to go in the blender

¼

cup

lemon juice, fresh if you can

about 2 lemons

1

teaspoon

garlic powder

1

teaspoon

onion powder

½

teaspoon

sea salt

¼

teaspoon

ground black pepper
Instructions
Cover the cashews with water and let soak for ½ to 1 hour. This will make them easier to blend. If you have a high powered blender then no soaking is necessary.

Drain the cashews and then add all of the ingredients to the blender.

Blend until smooth. It's that easy.
Nutrition
Serving:
4
Tablespoons
Calories:
316
kcal
Carbohydrates:
18
g
Protein:
8
g
Fat:
20
g
Saturated Fat:
4
g
Sodium:
6
mg
Potassium:
375
mg
Fiber:
1
g
Sugar:
3
g
Vitamin C:
4.2
mg
Calcium:
20
mg
Iron:
3.6
mg