If you're looking for an easy and hearty crowd-pleaser, this vegan buffalo chicken dip is just what you need. Spicy and tangy buffalo sauce combines with creamy cashews and artichokes to create the rich flavors of classic buffalo chicken dip. With a few simple ingredients and minimal effort, you can whip up a delicious appetizer that's sure to please the whole family, even those picky eaters who turn their noses up at everything. This creamy vegan chicken dip will taste like it took all day to make but come together in no time at all! So get ready for some fun in your kitchen with this great recipe.
Why You'll Love This Vegan Buffalo Chicken Dip Recipe
Full of Flavor- Creamy cashews, artichokes, and spicy buffalo sauce combine to create a dip with tons of flavor.
Simple and Easy Ingredients- This vegan buffalo chicken dip calls for just a few simple ingredients, and you probably have most of them already.
Comes Together Quickly- You can go from a few ingredients to a mouthwatering appetizer in no time.
Great for Crowds- This is a hearty crowd-pleaser and will surely be a hit at any gathering.
What Is Buffalo Chicken Dip?
Buffalo chicken dip is a classic appetizer that originated in the United States. It usually consists of a creamy base, typically cream cheese and sour cream, combined with shredded chicken and hot sauce. This vegan version trades in the dairy for cashews, artichoke hearts, and of course, lots of buffalo sauce! The result is a delicious dip that everyone can enjoy, vegan or not.
Equipment Needed
Kettle
Large Bowl
Collander
Food Blender
Baking Dish
Measuring Cups and Spoons
Ingredients
Raw Cashews- Provides the perfect creaminess and consistency.
Water- Used to soak the raw cashews and to thin out the blended cashew mixture.
Lemon Juice- Balances out the flavors and provides a nice zing.
Garlic Powder- Added to the creamed cashews for another layer of flavor.
Onion Powder- To boost the taste of the buffalo chicken dip.
Salt- Enhances the flavor.
Vegan Buffalo Sauce- Gives the dip its signature spicy kick.
Canned Artichoke Hearts- Provides a hearty texture and boosts the flavor.
Vegan Tortilla Chips- For dipping.
How To Make Vegan Buffalo Chicken Dip
Begin by placing a kettle or saucepot of water on the stovetop and bringing it to a boil. As you wait for your water to heat up, preheat your oven to 375F and prepare the raw cashews in a bowl.
Once the water comes to a rolling boil, pour it over the cashews and let them sit for about 5 minutes. Then strain them and place them in a food processor along with lemon juice, garlic powder, onion powder, and salt. Blend until creamy and smooth. Now stir in your buffalo sauce and artichokes. Keep blending until you get the desired consistency.
Next, take a baking dish and pour in the blended cashew mixture. Spread it out evenly in the dish. Place the baking dish in the preheated oven and bake for about 20 minutes or until golden brown.
Remove the dish from the oven and let it cool for a few minutes before serving. Serve warm with vegan tortilla chips or your favorite veggies. Enjoy!
How To Serve Buffalo Chicken Dip
Vegan buffalo dip is a versatile dish that can be served in many different ways. It's perfect for parties and gatherings as an appetizer or side dish. Serve it with a variety of vegan chips, pita bread, or fresh vegetables such as carrot sticks, sliced bell peppers, and celery sticks for dipping.
Popular Substitutions & Additions
If you want to make this vegan buffalo chicken dip a little different, try adding some additional ingredients. Here are some easy variations:
Jalapeño- For added heat and a kick of flavor.
Chickpeas- To add some plant-based protein and make the dip even heartier.
Spinach- For more color, texture, and nutrition.
Vegan Cheese- Sprinkle on top before baking for an even cheesier dip.
Hot Sauce- Use in place of buffalo sauce.
Vegan Cream Cheese- Instead of using creamed cashews, use vegan cream cheese in its place.
Vegan Sour Cream- Add a dollop of vegan sour cream on top of your vegan buffalo dip for extra flavor.
Green Onions- Toss chopped green onions on top of the buffalo dip for a pop of color and flavor.
Can You Freeze Vegan Chicken Dip?
Yes, you can freeze vegan buffalo chicken dip before baking. Place the dip in a freezer-safe dish and store it for up to six months. When you're ready to use it, let the dip thaw in the refrigerator overnight and then bake as instructed. Alternatively, you can store the leftover dip in the refrigerator in an airtight container for up to four days.
Vegan Buffalo Chicken Dip FAQs
Is this vegan chicken dip recipe spicy?
The amount of spice depends on the buffalo sauce you use. If you want more kick, try adding some extra hot sauce or use a mild buffalo sauce to tone down the heat.
Can I make this dip ahead of time?
Yes, you can prepare it in advance and store it in the refrigerator until you need it. You can also freeze it before baking.
How long will this dip keep in the fridge?
When properly stored in an airtight container, vegan buffalo chicken dip will last up to 4 days in the refrigerator.
Can I make vegan buffalo chicken dip without cashews?
Yes, you can make this dip without cashews. Try using a mixture of vegan cream cheese and vegan sour cream in place of the creamed cashews for an equally deliciously creamy vegan chicken dip.
Is vegan buffalo chicken dip gluten-free?
Yes, this dip is naturally gluten-free. Just make sure to check the ingredients of any sauces or condiments you use to ensure they are gluten-free.
📋 Recipe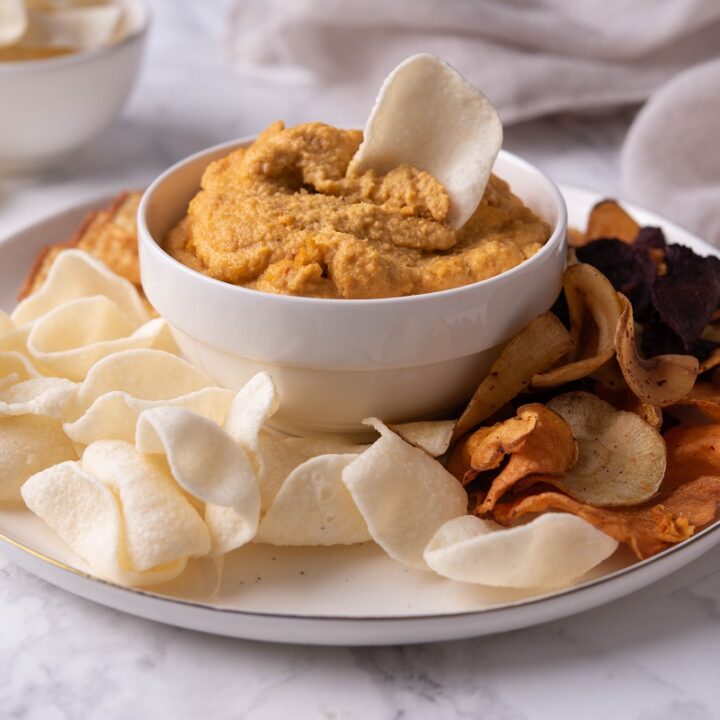 Vegan Buffalo Chicken Dip
Get ready to fire up the oven and spice things up with the traditional bold flavors of buffalo chicken dip made with raw cashews, artichokes, and buffalo sauce!
Ingredients
1

cup

raw cashews

½

cup

water

1

tbsp

lemon juice

1

tsp

garlic powder

1

tsp

onion powder

1

tsp

salt

½

cup

Vegan buffalo sauce

7

oz.

can artichoke hearts

packed in water

Vegan chips

to serve with
Instructions
Bring a kettle with water to a boil.

Add cashews to a bowl, and pour over boiling water. Let the cashews soak for 5 minutes.

Drain the cashews and add them to a food blender.

Add water, lemon juice, garlic powder, onion powder, and salt. Blend until smooth.

Add buffalo sauce and artichoke hearts. Blend until desired consistency is reached, smooth, or a bit chunky

Transfer the dip to a baking pan. Bake for 20 minutes.

Serve the dip warm or at room temperature with the desired type of chips, crackers, or toasted bread.
Nutrition
Calories:
122
kcal
Carbohydrates:
7
g
Protein:
4
g
Fat:
9
g
Saturated Fat:
2
g
Polyunsaturated Fat:
2
g
Monounsaturated Fat:
5
g
Sodium:
392
mg
Potassium:
154
mg
Fiber:
1
g
Sugar:
1
g
Vitamin A:
0.1
IU
Vitamin C:
1
mg
Calcium:
11
mg
Iron:
1
mg