Vegan Broccoli Salad- Chopped broccoli florets, matchstick broccoli stems, sweet apple pieces, red onion, raisins, and sunflower seeds are tossed in a sweet yet tangy dressing made with apple cider vinegar and maple syrup. This salad is fresh, simple to make, and surprisingly delicious!
What do apples and broccoli have in common? They're both quintessential fall foods! Apples are perfect for apple pie and sauce and can be eaten raw or cooked. Broccoli is a great side dish to any meal and is a good source of fiber and vitamins C and K. But what do you get if you combine the two healthy autumn essentials? Delicious apple broccoli salad!
I know it's an odd combination, but trust me, it's delicious! This vegan broccoli salad is incredible because it's full of flavor and texture. The apples add a sweetness that contrasts perfectly with the broccoli, and the dressing gives it all a tangy kick. Plus, it's really easy to make, so you can put it together in no time. Serve it up at your next fall potluck or barbecue, and watch it disappear!
Why You'll Love This Vegan Broccoli Salad Recipe
Fresh- Light and refreshing side dish made with raw broccoli, crisp apples, and a sweet and tangy dressing.
Easy To Make- Apple broccoli salad comes together quickly and easily with just a few simple ingredients.
Perfect For Any Occasion- Broccoli apple salad is perfect for potlucks, barbecues, or any other gathering. It's also great for meal prep and makes a delicious lunch or dinner side dish.
Beautiful- The bright colors and vibrant flavors are sure to please any crowd.
Sweet And Tangy- The dressing for this salad is made with apple cider vinegar and maple syrup. It's the perfect balance of sweet and tangy.
Equipment Needed To Make Homemade Apple Broccoli Salad
Cutting Board
Knife
Large Bowl
Medium Bowl
Large Spoon
Measuring Cups and Spoons
What Is In Broccoli Salad?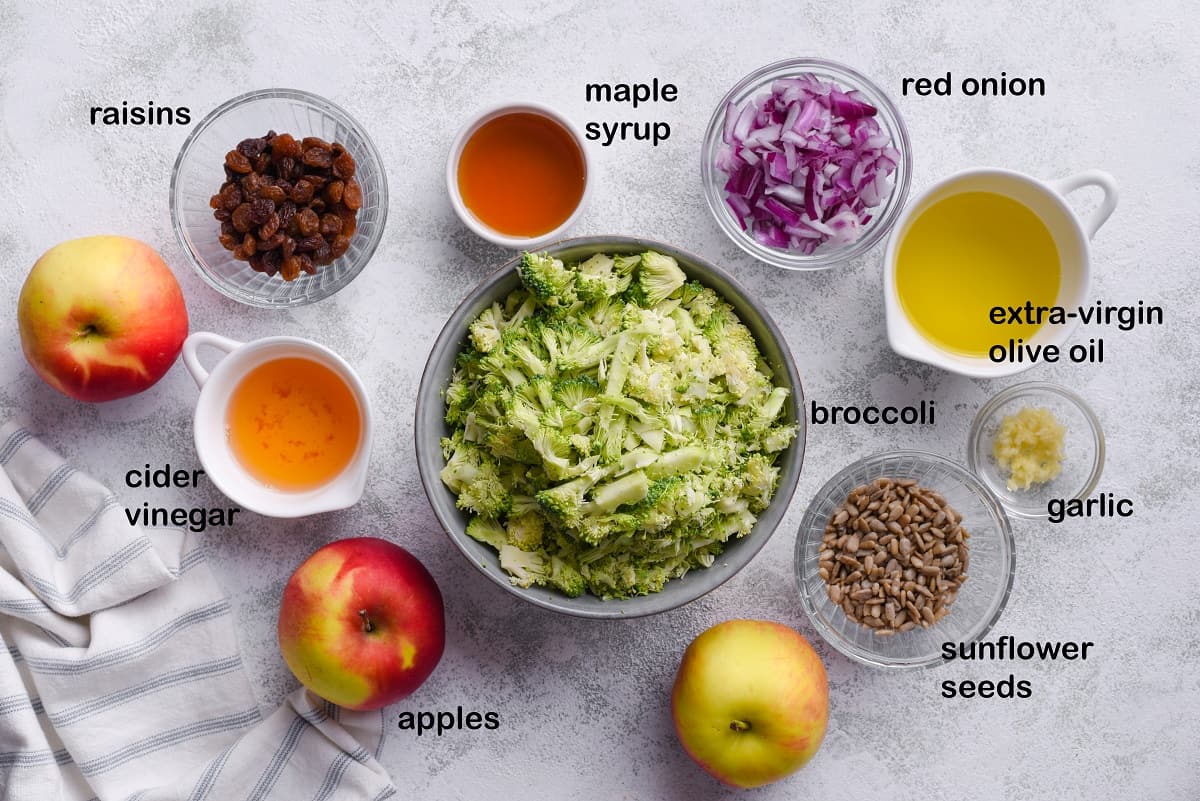 For The Salad:
Fresh Broccoli
Apples
Red Onion
Raisins
Shelled Sunflower Seeds
For The Dressing:
Apple Cider Vinegar
Extra Virgin Olive Oil
Minced Garlic
Maple Syrup
Salt
Pepper
How To Make Apple Broccoli Salad At Home
To make homemade broccoli salad, you'll want to break the process down into two parts, the salad and the dressing for the salad.
Wash your broccoli under running water, cut the florets from the stalks, and set the stalks aside. Cut the florets into small pieces and place them into a large bowl.
Cut the hard outer skin off for the stems to get to the more tender inside and discard the skin. Cut the inner stems into matchstick-like pieces. Add the matchstick broccoli pieces to the large bowl. Dice your red onion and apples and add them to the bowl with the broccoli, raisins, and sunflower seeds.
Now it's time to make the dressing. Add all the dressing ingredients to a medium bowl and whisk until well combined. Once the dressing is mixed well, pour it over the broccoli apple salad, and toss it well, coating everything evenly.
Chill broccoli salad in the refrigerator until ready to serve.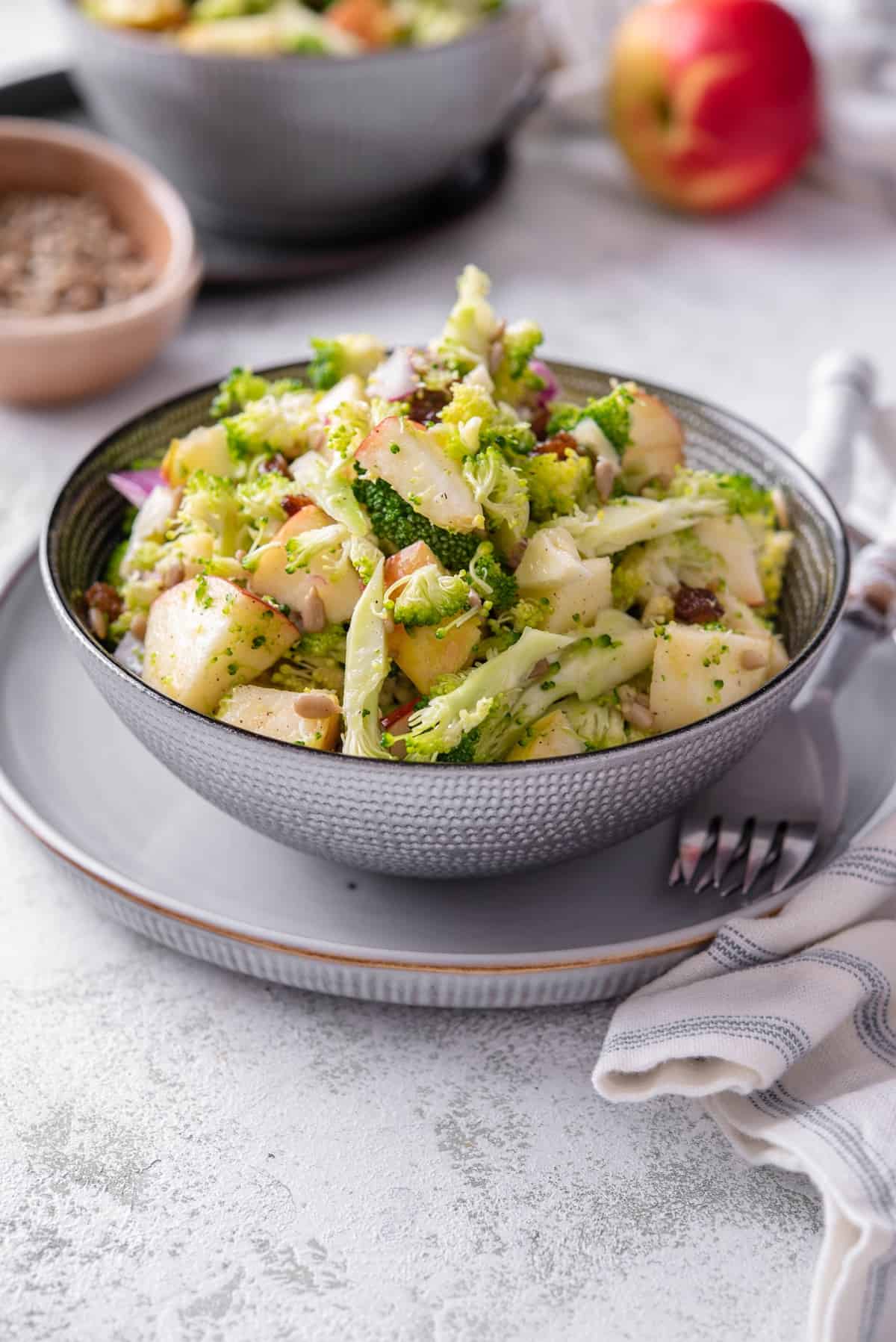 What to Serve/Pair With Vegan Apple Broccoli Salad
This delicious vegan broccoli salad is perfect for bringing to a potluck, bbq, or holiday gathering. It's also a great side dish for a weeknight dinner. Serve it with grilled tofu, tempeh, or seitan. It could also be served alongside black bean burgers, lentil soup, or roasted cauliflower.
Popular Substitutions & Additions
While this sweet and tangy salad is delicious as written, there are a few substitutions and additions you could make.
Nuts- If you don't have sunflower seeds on hand or are looking for a different flavor, try using chopped walnuts, almonds, or pecans. You could also use roasted peanuts for a bit of a salty crunch.
Fruit- I like the sweetness that apples add to this salad, but if you don't have apples, you could use pears, grapes, or mandarin oranges.
Veggies- You could also add in other chopped veggies such as carrots, celery, or radishes.
Cheese- For a great cheesy flavor, add vegan crumbled feta cheese, shredded cheddar cheese, or sprinkle on some nutritional yeast.
How To Reheat & Store Broccoli Apple Salad
This salad can be stored in an airtight container in the refrigerator for 3-5 days. Broccoli apple salad is best served cold or at room temperature when you're ready to eat it; give it a good stir and enjoy!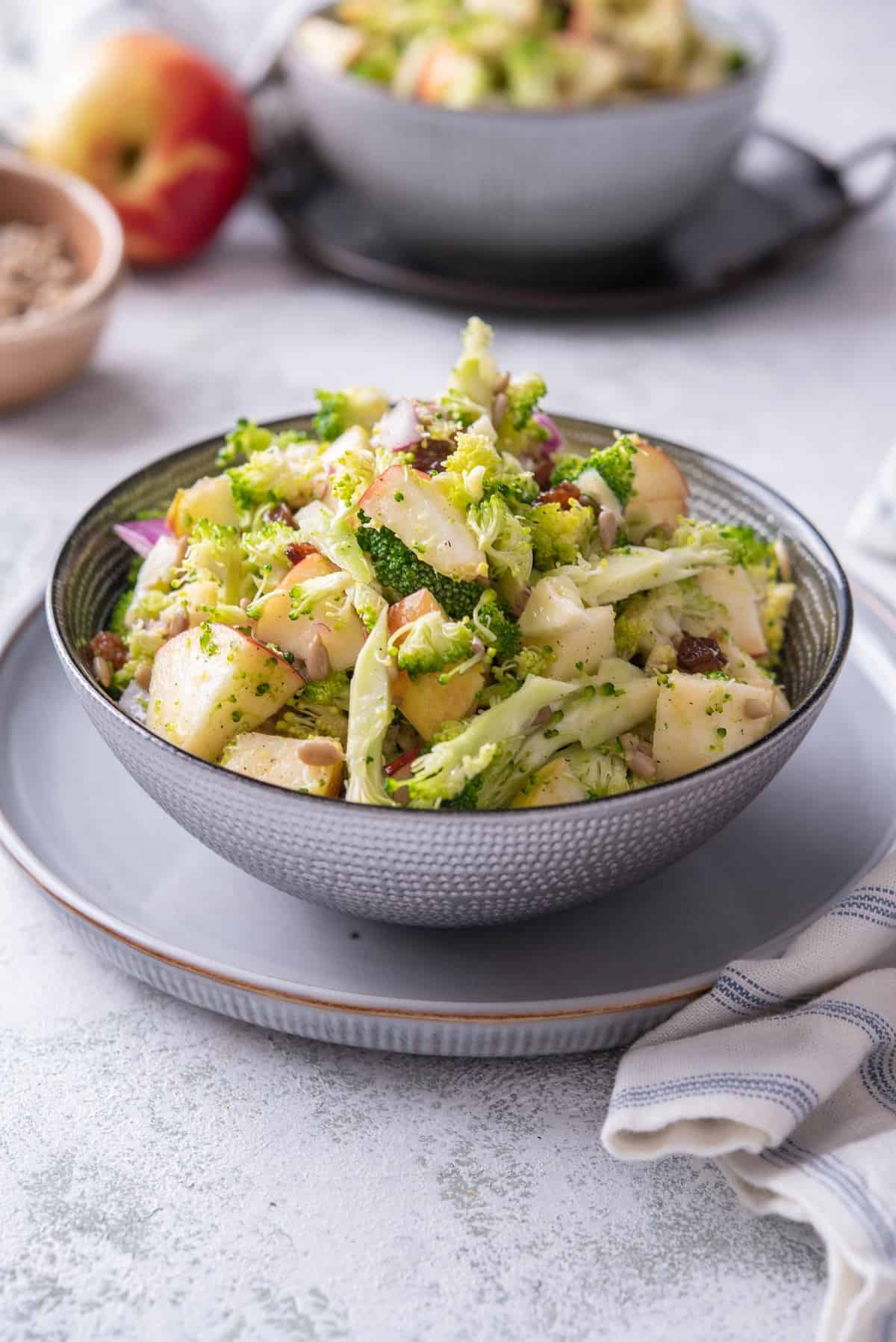 Vegan Apple Broccoli Salad FAQs
How do you cut the broccoli stems into matchstick pieces?
The first step is to start with a sharp knife. A sharp knife will make cutting much easier and prevent you from sawing back and forth, which can make the pieces uneven. Next, cut off the ends of the stems. You can do this at an angle or straight across, whichever you prefer. Then, cut it in half. After it's cut in half, you can cut it into thirds or quarters, depending on how thick you want the matchsticks to be.
What can I use in place of apple cider vinegar?
You could use white or red wine vinegar if you don't have apple cider vinegar.
Can I make apple broccoli salad ahead of time?
This salad is perfect for meal prep! It can be made ahead of time and stored in the fridge for a few days.
How long does broccoli salad last?
When stored properly in an airtight container, broccoli apple salad will keep for up to 5 days in the refrigerator.
Can I freeze homemade vegan broccoli salad?
I do not recommend freezing this salad as the broccoli will get mushy when thawed. If you have leftover broccoli that you won't be able to eat within a few days, I suggest chopping it up and storing it in the freezer so you can use it for other recipes like stir fry or soup.
📋 Recipe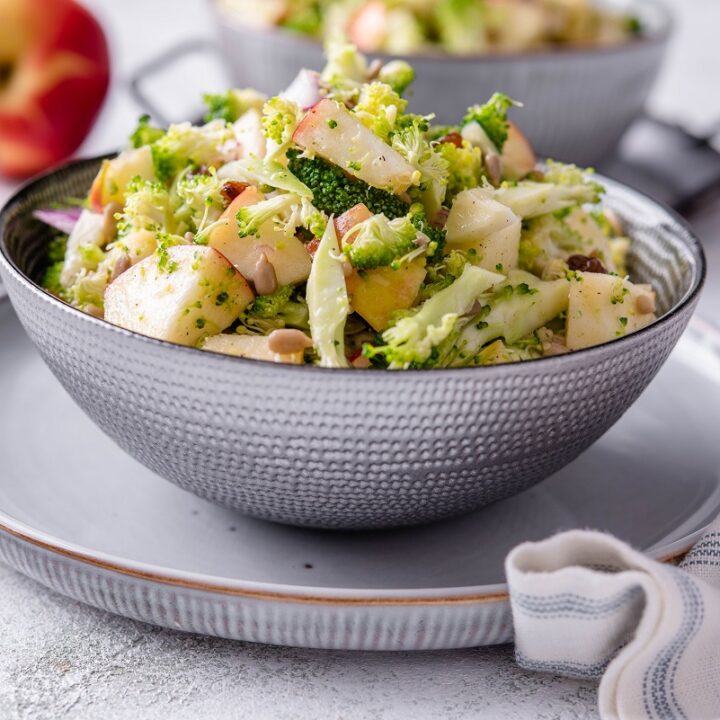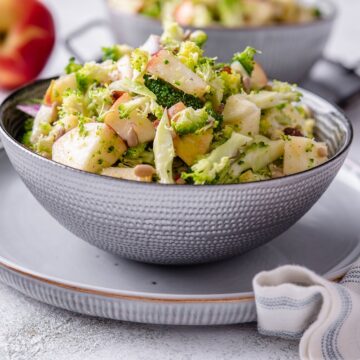 Vegan Apple Broccoli Salad
Broccoli, apple, onion, raisins, and sunflower seeds mixed in a sweet, tangy dressing made with apple cider vinegar and maple syrup. It's startlingly delicious!
Ingredients
For the Salad:
4

cups

broccoli

cut up and shredded (about 2 medium heads)

3

apples

of your choice, diced right before you add them to the salad, I used Gala

¼

cup

onion

red, diced

½

cup

raisins

½

cup

sunflower seeds

shelled
For the Dressing:
¼

cup

apple cider vinegar

½

cup

extra virgin olive oil

2

cloves

garlic

minced

1

tablespoon

maple syrup

you could use up to 2 tablespoons

½

teaspoon

salt

¼

teaspoon

black pepper
Instructions
To prepare the salad:
Wash broccoli under running water. Cut the florets from the stalks and set the stalks aside.

Cut the florets into very small pieces. See the photo for a visual. Place in a large bowl.

Cut the hard outer skin off of the stems to get down to the tender inside. Discard the outer peelings.

Cut the tender inside stems into matchsticks. Or if you have a mandolin that would work well too. If your food processor has an attachment that will cut the stems into long strips (not grated) then that would work also. Scissors work too. The idea is to have very small sticks of raw broccoli stems. They will hold their shape.

Add to the large bowl along with the florets. Add the apples, red onion, raisins and sunflower seeds.
To make the dressing:
In a medium bowl whisk together all of the dressing ingredients.

Add the dressing to the salad and toss. Chill until ready to serve.
Nutrition
Serving:
1
cup
Calories:
343
kcal
Carbohydrates:
31
g
Protein:
4
g
Fat:
24
g
Saturated Fat:
3
g
Sodium:
317
mg
Potassium:
485
mg
Fiber:
5
g
Sugar:
13
g
Vitamin A:
425
IU
Vitamin C:
59.9
mg
Calcium:
52
mg
Iron:
1.5
mg