Over the Top Raisin Crumb Bars has 3 distinct layers with different textures and taste. A yummy oats base, a fruit filling, a perfect peanut crumb topping.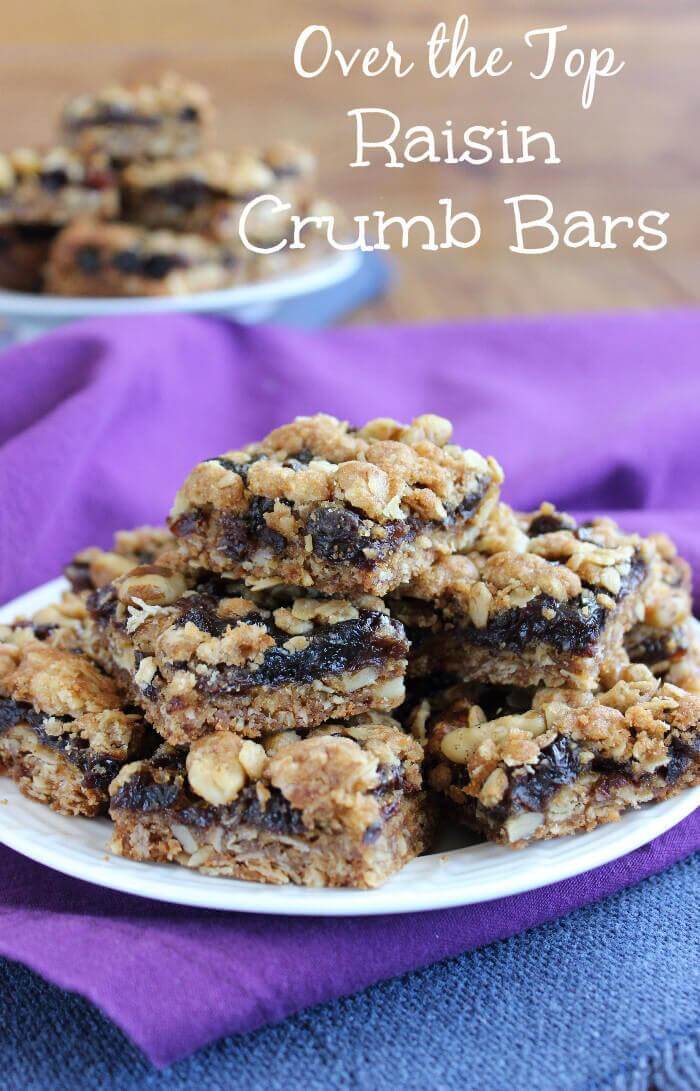 Over the Top Raisin Crumb Bars have three distinct layers with different textures and tastes. There is a slightly crunchy oats base that is topped with a layer of a special raisin jam. Then, of course, the peanut crumb topping finishes it off.
The bars are sweet enough for a dessert but if you pour a nice cup a' tea or coffee then breakfast it is.
I have a habit of having cereal and almond milk for breakfast.  Once in a while I do a protein drink but every once in a very big while I will have a sweet treat.  It feels like a vacation and I enjoy every second of it.
This is one of those treats that can come out when you want to treat yourself good.  Heck, make it for company too.  I'm sure they deserve it.
Connect with Vegan in the Freezer
Facebook | Pinterest | Instagram | Bloglovin
Over the Top Raisin Crumb Bars
Ingredients
For the Filling:
for the base and crumb mixture
1

cup

all purpose flour

1

cup

old fashioned oats (also called rolled)

2/3

cup

brown sugar, packed

1

teaspoon

baking soda

1/2

cup

vegan butter

1/2

cups

chopped peanuts
Instructions
%http://veganinthefreezer.com/wp-content/uploads/2014/10/Over-the-Top-Raisin-Crumb-Bars-overhead.jpg

Do the raisin filling first so it can cool a bit while you are working on the crumb mixture.
For the Filling:
In a medium sized saucepan add the sugar and cornstarch.

Stir in the raisins and orange juice.

Do not add the coconut yet.

Cook over medium heat until thickened.

Take off the heat and stir in the coconut.

Set aside.
For the crumb mixture:
In a large bowl add the flour, oats, brown sugar and baking soda.

Mix together.

Add the vegan butter and cut in until the mixture resembles crumbs.

Remove 1/2 cup of the crumb mixture and put in a small bowl. Add the peanuts and set aside for the topping.
Assembling:
With your fingers - press the remaining crumb mixture in an ungreased 9"x9" baking pan.

Spread the raisin mixture all over the bottom layer.

Evenly sprinkle the peanut mixture over the top.

Press in gently into the raisin mixture.

Bake at 350 degrees for 30 to 35 minutes.

Cool in the pan on a wire rack.

Cut into squares.

Makes about 20 bars depending on the size that you cut your squares.
Recipe Notes
TO FREEZE:
After they have cooled you may freeze them in rigid sided containers or freezer bags.
They defrost quickly so it really doesn't take any planning. Just put them on a plate for an hour or two and enjoy.