These oven-baked Oatmeal Raisin Crumb Bars have three layers with distinct textures and fantastic taste. A yummy oats base, a fruit filling, and a perfect peanut crumble topping. You are going to love them!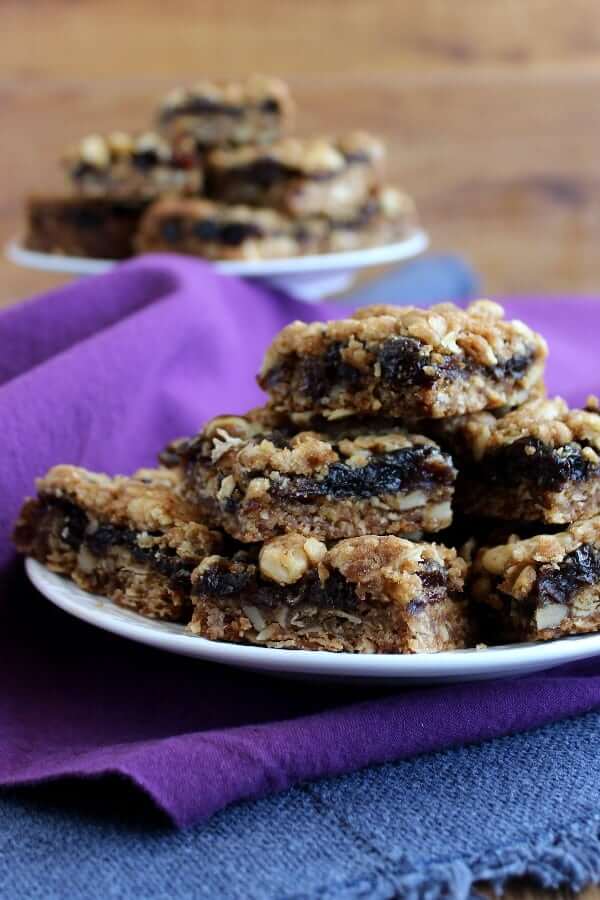 They are sweet and soft, slightly crunchy and are topped with chopped peanuts. It is challenging not to get overly obsessed with these crumb bars.
A fair warning before you make them! This recipe will give you twenty beautiful squares to share but they tend to disappear fast.
I believe that a healthy lifestyle is all about balance, and sometimes that means satisfying your sweet cravings now and then. And I've got you covered with these raisin crumb bars!
Here is what you'll love about Oatmeal Raisin Bars
The recipe might look complicated, but it is straightforward to make.
The top and bottom layers are made from the same dough base, and the jam comes together, over the stove, in very little time.
The ingredients are probably in your cupboard right now.
They are made from wholesome, familiar flavors and a go-to recipe to please a crowd.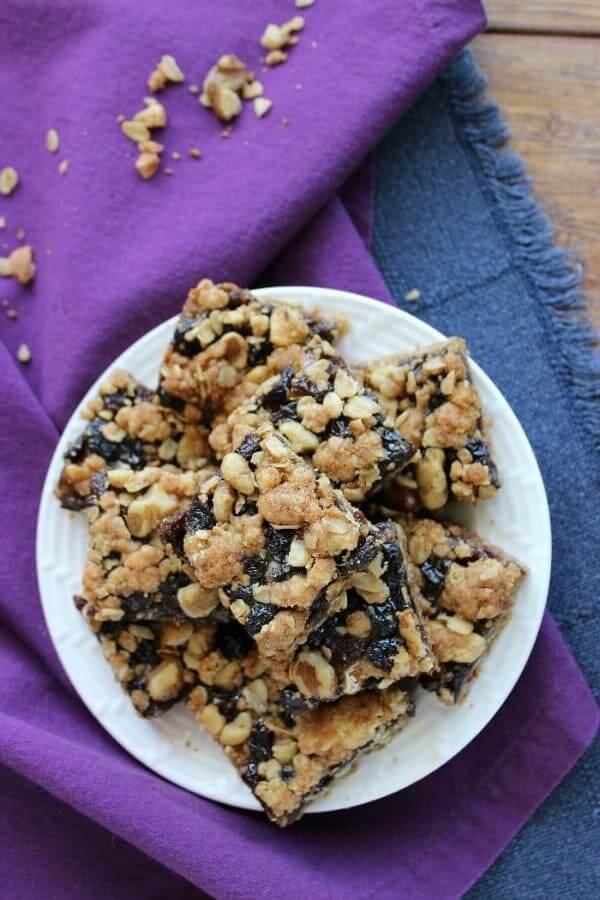 What Are The Three Layers?
These treats have a slightly crunchy oats-cookie-dough base and are sweetened with organic brown sugar.
In the middle, there's a not too thick raisin-and-orange flavored filling—my homemade raisin jam—with a perfect hint of tropical coconut pieces.
Then, of course, the peanut crumb topping finishes it off.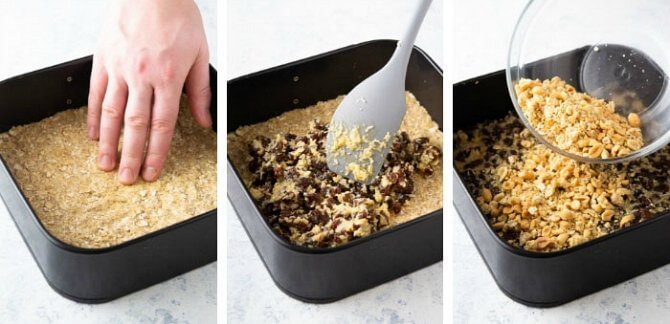 Chef's Tips:
When you add the ingredients for the filling in the saucepan, it is essential to frequently stir at first until all the sugar and cornstarch has dissolved.
Then you let it cook over medium heat until thickened and you get that marmalade effect.
Cornstarch slightly thickens the fruit mixture to a lovely jam-like consistency.
Don't forget to add the orange juice. It is going to give you that tangy, slightly sweet flavor that beautifully compliments dried fruits like raisins.
It is the juice that makes the taste of the filling so unique.
Stir in the coconut shreds at the end when the jam has thickened. It adds a great chewy texture.
Chop the peanuts as fine as you like. Two different versions of these easy oatmeal bars are featured on these pages and they all taste fantastic!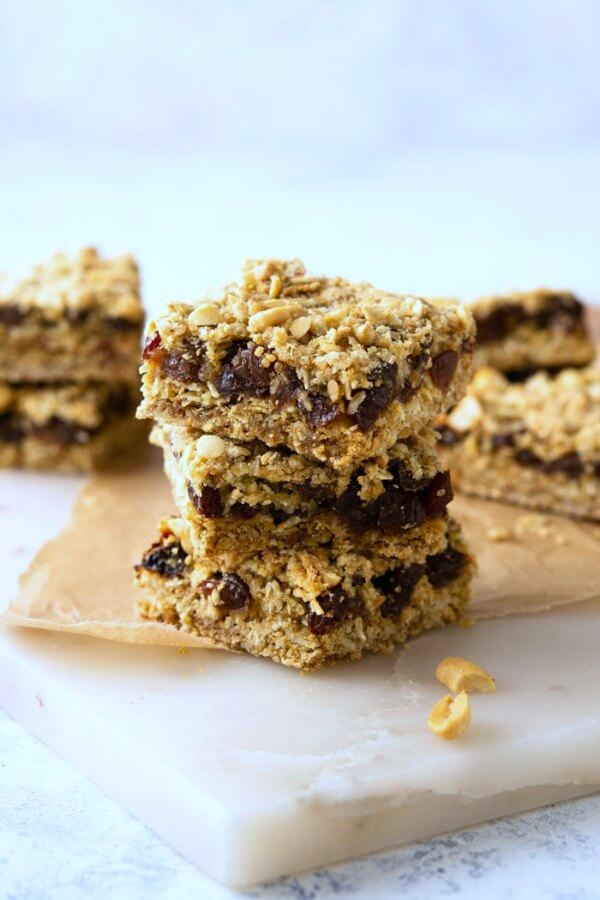 You can substitute coconut sugar for the brown sugar.
If you prefer less sweet crumb bars, opt for coconut sugar. Although it looks a lot like brown sugar, it is less powerful in taste and when used in baking a tad less sweet.
Can you make these easy oatmeal bars nut-free?
If you prefer your crumble on the softer side or want to make it allergy-friendly and nut-free, simply remove the chopped peanuts.
Don't have a strong opinion about it? Then do yourself a favor and add the nuts. I think the crumble topping is a winner!
Reasons to Make Easy Oatmeal Bars
You are in serious need of a treat or dessert—you know exactly what I'm talking about. These little bars are sweet enough to satisfy your cravings.
Once in a while, you want something special for breakfast with a nice cup a' tea or coffee.
You want to grab something on the go. They are a great addition to any picnic too.
You want to share an over-the-top dessert. A dazzling recipe for birthdays or other special celebrations!

You want to treat yourself. Those are the days you want these fruit bars in your freezer!
Now go make this recipe because you deserve it! Heck, make it for company. I'm sure they deserve it too.

📋 Recipe
Oatmeal Raisin Bars
Oatmeal Raisin Crumb Bars have 3 distinct layers with different textures. A yummy oats base, a fruit filling, a perfect peanut crumb topping.
Ingredients
For the Filling:
1

tablespoon

sugar

1

tablespoon

cornstarch

1 ¼

cups

raisins

¾

cup

orange juice

½

cup

shredded coconut
for the base and crumb mixture
1

cup

all purpose flour

1

cup

old fashioned oats (also called rolled)

⅔

cup

brown sugar, packed - you can also use coconut sugar instead

1

teaspoon

baking soda

½

cup

dairy-free butter

½

cups

chopped peanuts
Instructions
Do the raisin filling first so it can cool a bit while you are working on the crumb mixture.
For the Filling:
In a medium sized saucepan add the sugar and cornstarch.

Stir in the raisins and orange juice. Do not add the coconut yet.

Cook over medium heat until thickened. Take off the heat and stir in the coconut. Set aside.
For the crumb mixture:
In a large bowl add the flour, oats, brown sugar and baking soda. Mix together.

Add the dairy-free butter and cut in until the mixture resembles crumbs.

Remove ½ cup of the crumb mixture and put in a small bowl. Add the peanuts and set aside for the topping.
Assembling:
With your fingers - press the remaining crumb mixture in an ungreased 9"x9" baking pan.

Spread the raisin mixture all over the bottom layer.

Evenly sprinkle the peanut mixture over the top. Press gently into the raisin mixture.

Bake at 350 degrees for 30 to 35 minutes.

Cool in the pan on a wire rack. Cut into squares. Makes about 20 bars depending on the size that you cut your squares.
Notes
TO FREEZE:
After they have cooled you may freeze them in rigid sided containers or freezer bags.
They defrost quickly so it really doesn't take any planning. Just put them on a plate for an hour or two and enjoy.
Nutrition
Serving:
1
Bar
Calories:
165
kcal
Carbohydrates:
25
g
Protein:
2
g
Fat:
6
g
Saturated Fat:
2
g
Sodium:
103
mg
Potassium:
159
mg
Fiber:
1
g
Sugar:
9
g
Vitamin A:
235
IU
Vitamin C:
5.1
mg
Calcium:
17
mg
Iron:
1
mg