The High Protein Vegan Cookbook is in stores and online for immediate purchase today! It has over 125 high protein recipes that taste just right. From appetizers through desserts.
This is the day! The day I've been waiting for. The High-Protein Vegan Cookbook is now published and ready to serve up some plant-based high-protein recipes.
I swear you're going to love it! The book is big and beautiful and has full-color photos with every recipe. 125 recipes from appetizers into breakfasts, through snacks, lunch, and dinner.
More Cookbook Highlights Below!
There are a few extra recipes too because I just had to add some special seitan recipes. The seitan is steamed and some are from the slow cooker and a couple are from an instant pot. All taste fantastic.
Just so you're not left wondering, the cover photo is of the Chickpea Tortilla Fajita Stack recipe. The tortillas are made with chickpea flour and the whole recipe just happens to be gluten-free too.
The cookbook blog tour kicked off on January 14th!
There have been many recipes remade and rephotographed by some of the best vegan food bloggers on the internet. And there are more recipes and reviews to come.
I'll tease you with some photos of the recipes that have been covered in the tour and I'll also link to some of the blogs themselves so you can check out the recipes.
The first recipe in the book is in the Power-Up Appetizers chapter. Broccoli Veggie Dippers are small patties you can pick up with your fingers. You can eat them plain or dip in your favorite sauce.
A Touch of the Tropics Rice Bowl is also making the tour. Imagine 21 grams of protein in one serving. Amazing! This review will be coming from Veggies Save The Day within a week or so.
This hardbound beauty is quality from beginning to end. There is a color photo with every single one of the 125+ recipes and protein counts for each serving.
Chapters and some Information Included in the Book
It all starts with an introduction explaining the importance of protein. There is even an organized list for the top vegan sources for protein organized by types of food.
Then we move on to chapters filled with the most delicious recipes that are already filled with great nutrients and protein. They are:
Power-Up Appetizers - appetizers that can also be lunch, snacks or tapas for dinner
Breakfast Power - who doesn't love breakfast
Lunch Bowls, Chilies, and Sandwiches - You may get too full to have dinner but that's okay because there are always healthy snacks for later
Portable Snacks - you'll love them all
Protein-Packed Dinners - recipes that are satisfying and filling
Let's Make Seitan - something that you should not omit from your diet because it is just so darn good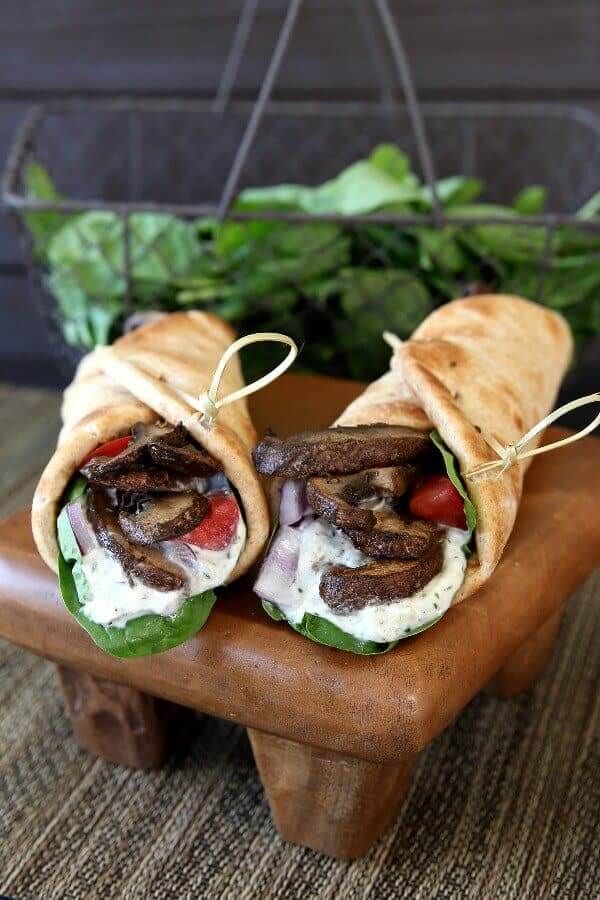 Big fat marinated portabella mushrooms are what dreams are made of and also this Portabella Mushroom Gyro. Dripping with flavor and nestled in spinach, just add the best white sauce ever. Sauce recipe included.
It is so hard to choose what to show you. Like I said there are 125+ recipes and I feel like each and every one of them are my baby.
Here are some nutty favorites that Spabettie has reviewed for the cookbook. Peanut Butter Snack Squares are a double peanut whammy for this protein-high treat.
Nuts, grains, vegetables, fruits, and seeds all provide healthy fuel for the body and in the right combination, they make 'complete protein' powerhouses that easily deliver this essential nutrient.
Have you ever had buckwheat? You can easily find it in the oatmeal section of the grocery store and it is amazingly delicious especially how it is prepared for Buckwheat Coconut Porridge. Check out Vegan Blueberry's review!
Look at all the places you can buy The High-Protein Vegan Cookbook
Amazon - Hardbound and Kindle
IndieBound - for a list of independent bookstores near you where The High Protein Vegan Cookbook can be purchased
Book Depository - sold to many countries
Indigo - Hardbround and eBook
and at all book websites and all bookstores near you. I mean, right now. You can buy it and have it in your hands in just a few days! The kindle and eBook editions will be in your hands in minutes.
Here is another photo of a recipe and this one is from the chapter Protein-Packed Dinners. It's Three-Layer Tacos and Kale Slaw and you'll want tacos every night with this one. It's review and recipe is over at Dianne's Kitchen!
Here is a short headnote that was written from a major retailer.
Whether it is Multi-Layered Avocado Toast for breakfast, Stacked Enchilada Casserole for supper or Cherry Chocolate Hemp Balls to satisfy a sweet tooth, Ginny Kay McMeans has a protein-packed option for everyone.
The High-Protein Vegan includes advice on how to build muscle and lose weight, information on the best foods to eat to achieve a strong, healthy body and recipes for DIY seitan.
With more than 125 recipes, McMeans proves that vegans don't have to skimp on this important nutrient.
Pretty cool!
Veggie Inspired reviewed these Lemon Strawberry Protein Muffins and they are worthy of breakfast and even special brunches. Hey! Don't forget mom on Mother's Day!
Fried Dandelions has served up a beautiful review for a fantastic main dish. Fried Hoisin Tofu with Peanut Sauce-Touched Udon is a mouthful of a title and plateful of deliciousness.
33 grams of protein in this winner! I hate to say but I have to admit that with at least 5 edits there is a typo in this recipe. It's not 4 ounces of tofu, it's 8 ounces. I am so sad about that but I can also see how it was missed.
You'll forgive me after you taste this delicious recipe!
Hey you guys!
Do you know I have another cookbook? Yes! It was released 3 years ago by the same great publisher, Countryman Press | W.W. Norton & Company
It is titled The Make-Ahead Vegan Cookbook and if you don't have it I bet you'd love it. All of the recipes can be prepared ahead of time. You can cook now and then freeze or freeze first and then cook.
Here is it's photo so you can recognize it more easily.
If you are a beginner cook, intermediate or seasoned cook you will enjoy this new cookbook, The High-Protein Vegan.
There won't be any problem finding vegan recipes you would love to make and then eating the food that will keep you feeling full.
Last but not least by any means whatsoever, The High-Protein Vegan cookbook will be released across the UK, Europe, the Middle East, Africa, and India in April 2019.
Thank you to all of YOU, the blog readers who are so kind and supportive and are loving the recipes.