Texas BBQ Sausage Seitan Sandwich is spicy delicious! Besides vegetables and steamed seitan there are six herbs and spices added to the mix. Serve on a big bun and take a big bite.
I love sandwiches. That is something I had to adjust to when I became a vegan. It takes a little more planning for sandwiches now.
You can roast veggies for layers of goodness. Sandwich bean patties can be ready to go once in a while (especially if you pre-made them for the freezer.
And, once in a while, mixtures that go on bread such as this Texas BBQ Sausage Seitan can be made for a very special delicious protein packed sandwich.
Another great thing about seitan, besides being easy to make, is that the recipe is usually a larger batch than you are looking for. Enter the freezer. Seitan freezes perfectly.
So, if you're lucky enough to have extra, freeze it for really easy sandwiches in the future.
Another nice plus for seitan, besides the major protein boost, is that is tastes so good. The texture is tender and goes so well with any veggie you can think of.
How to Make Steamed Seitan
Steamed seitan is easy to make and it seems to always come out just right. It is way way harder to overcook than it is when you simmer it in broth.
The steps are simple and the seitan goes a long way. Since it freezes so well it is a bonus if you can make a larger batch.
Mix the dough according to your recipe's directions.
Knead the dough. The more you knead it the more glutenous it becomes. I like to barely knead it as it turns out tender that way.
Place the prepared dough in a steamer basket over simmering water and cover.
Let it simmer. Usually, around 40 minutes, depending on the size of your log or seitan pieces.
Remove from heat, uncover and let cool until you can handle it. Delicious!
I mentioned a roasted veggie sandwich up above and I don't want you to miss the one I have on the blog. Roasted Veggie Sandwich is a tasty mouthful!
Here's a peek!
In fact, you might want to type sandwich in this blogs search box up in the top right sidebar. You'll get at least 12 wonderful sandwiches to enjoy on any day of the week.
First, try this one. It's so worth it.
This post contains affiliate links. Read my disclosure policy .
📋 Recipe
Texas BBQ Sausage Seitan Sandwich
Texas BBQ Sausage Seitan Sandwich is spicy delicious!
Ingredients
Steamed Seitan
¾

cup

plus 2 tablespoons vital wheat gluten

¼

cup

garbanzo bean flour

2

teaspoon

garlic powder

2

teaspoon

onion powder

½

cup

water

2

tablespoon

tomato sauce

1

tablespoon

soy sauce

2

teaspoons

liquid smoke

1

teaspoon

coconut oil
The Rest of this Great Sandwich:
1

tablespoon

extra virgin olive oil

¼

cup

onion

- yellow, diced very small

2

cloves

garlic, small

- or 1 large

1 ½

teaspoon

chili powder

1

teaspoon

ground sage

1

teaspoon

cumin

¼

teaspoon

dried thyme

¼

teaspoon

oregano

¼

teaspoon

ground cloves

8

ounces

tomato sauce

½

cup

ketchup

½

cup

water

2

tablespoons

maple syrup

seitan, from above recipe

- steamed, recipe above

2

buns

cabbage slaw

- topping
Instructions
Steamed Seitan
Add the first 4 ingredients to a large bowl.

Mix the next five ingredients to a small bowl and mix well.

Pour the liquid into the dry ingredients and mix. Knead for 5 minutes or until desired elasticity.

It is a wet mixture but keep kneading and it will come together even more and become elastic. Roll into two logs.

Add three to four cups water in a steamer saucepan. Bring to a boil.

Place the steamer basket inside the pan and turn down the heat to low. Add seitan logs to the steamer basket and cover.

Steam for 40 minutes. Check the water level once in a while to make sure it isn't boiling away. If so, add more boiling water.

Slice the required measurement of seitan very thin, lengthwise and set aside.

Let any extra seitan cool and store in the refrigerator. It freezes perfectly so freeze any leftovers.
The Rest of the Recipe:
Add oil to a large skillet and heat to medium high.

Add the next 8 ingredients, stir and cook 5 minutes.

Add tomato sauce, ketchup, water and maple syrup.

Add seitan and cook 5 more minutes.

Serve on buns with cabbage slaw topping.
Nutrition
Serving:
1
Sandwich
Calories:
360
kcal
Carbohydrates:
51
g
Protein:
23
g
Fat:
6
g
Sodium:
642
mg
Potassium:
259
mg
Fiber:
2
g
Sugar:
12
g
Vitamin A:
410
IU
Vitamin C:
3
mg
Calcium:
50
mg
Iron:
12.9
mg
IF FREEZING:
The Seitan and sauce, together, freezes fantastically. It will keep at it's best for about 3 months.
TO PREPARE AFTER FREEZING:
Just defrost in the refrigerator or in the microwave. You can eat it cold or hot on a sandwich.
Now for something completely different and equally amazing. Vegan Sloppy Joes!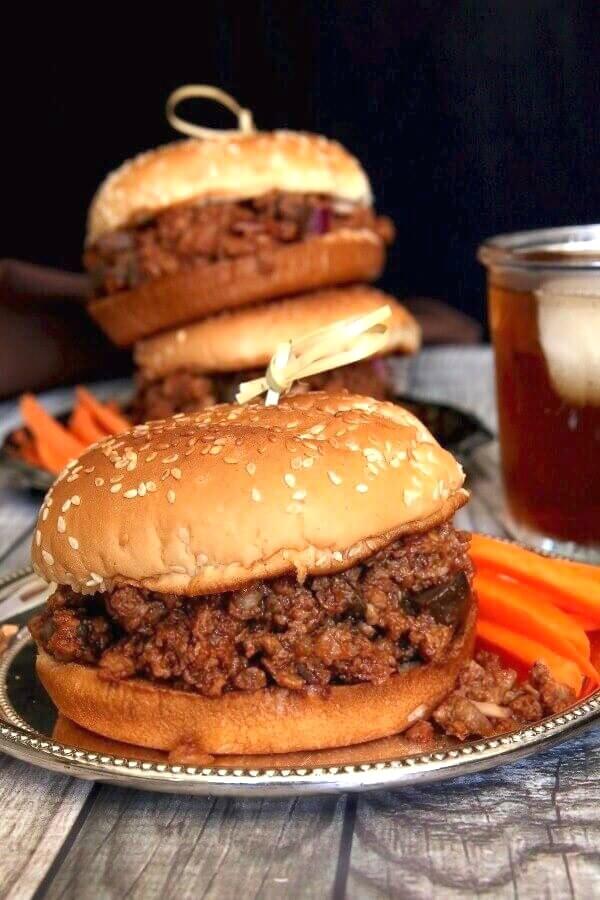 Along the same lines but still different! Vegan BBQ Chicken Sandwich and it takes advantage of store-bought plant-based chicken tenders.