Fresh Fruit Salad is a must for summer! Colorful, fresh, and sweet. Toss together your favorite fruits with an easy lime dressing.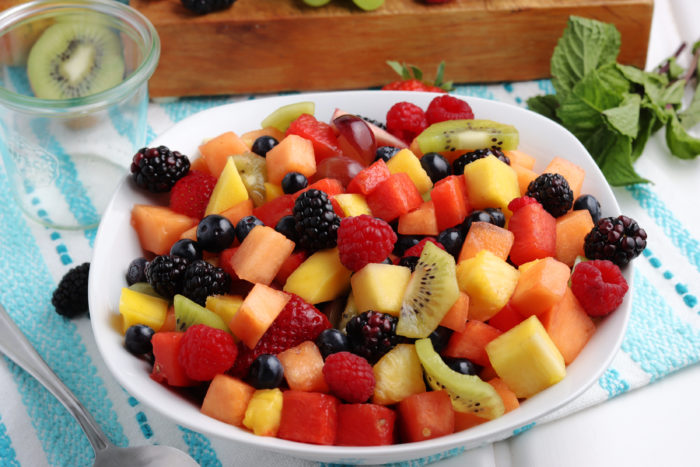 Serve this summer fruit salad with any meal! It's perfect for a weekend brunch or alongside a summer BBQ. Unlike other fruit salad recipes that are filled with processed ingredients, the dressing for this recipe is just lime juice and pure maple syrup! The perfect combination to add a little sweetness and citrus flavor (plus the lime juice helps preserve the fruit), while still letting the fruit flavors shine.
The main prep work to make a fresh fruit salad is the cleaning and cutting of the fruit. If your kids are old enough to use a paring knife, have them help! With a couple of helpers, it will take no time at all to make the recipe.
Ingredients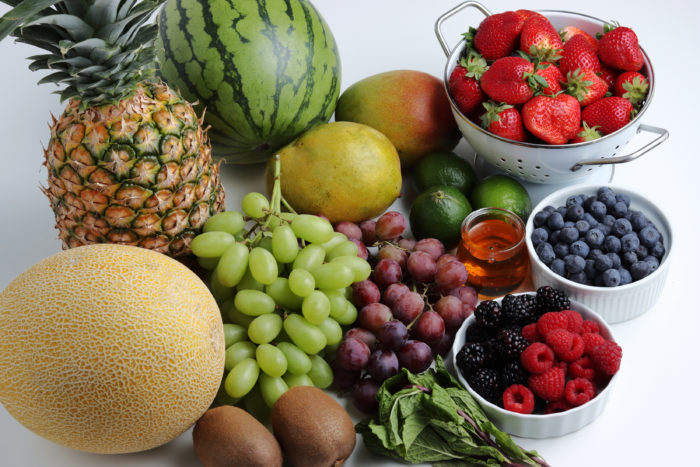 You can adjust the amount of fruit used in this summer salad depending on how many people you are trying to serve.
Combination of Fruit
Watermelon
Cantaloupe
Pineapple
Mango
Grapes - Both red and green
Berries - Strawberries, Blackberries, Red Raspberries, Blueberries
Kiwi
Dressing
Lime Juice - or you can use frozen limeade concentrate that has been thawed
Maple Syrup - use the good pure maple syrup
Preparing the Fruit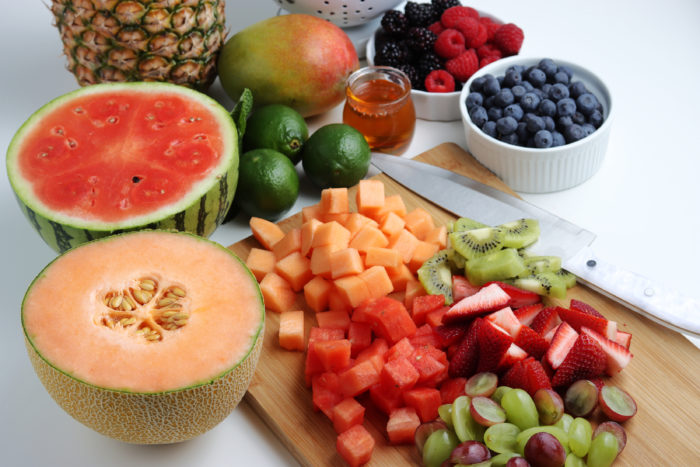 Select Fresh, Ripe Fruit - It's important to pick out the best fruit that you can for this summer salad. Pick berries that don't have any dark spots or mold and are plump and juicy. Select grapes that feel firm and not soft. The best way to find a good pineapple is to pick one that is yellow and if you smell the bottom - it should smell sweet.
Clean Fruit - Thoroughly rinse the fruit before drying. I like to rinse in a colander then lay out on a towel to dry.
Cut Fruit - Cut the fruit into even pieces. Blackberries, raspberries, and blueberries should be left whole but large strawberries should be cut in half. Peel and slice kiwi. Dice watermelon, cantaloupe, pineapple, and mango.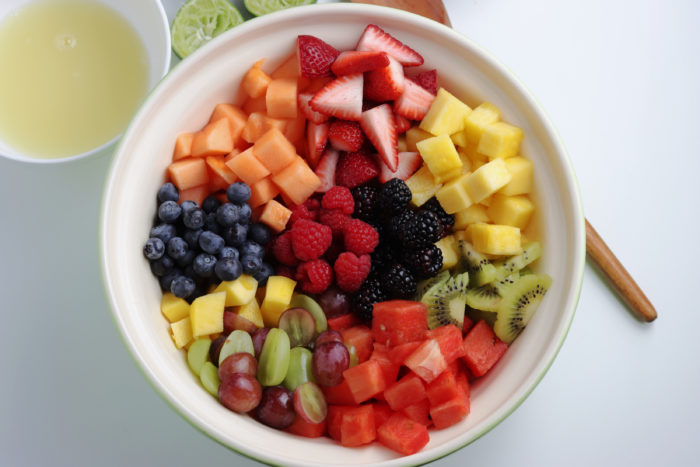 How to Make Fruit Salad:
Making a fresh fruit salad is so simple! Just clean fruit, cut, and toss.
Cut Fruit - Clean fruit and dry well before cutting up into even-sized pieces.
Mix Dressing - Whisk together the lime juice and maple syrup until well combined.
Toss Salad - Drizzle the dressing over the cut fruit in a large bowl. Gently toss to combine and store in the fridge until chilled and you're ready to serve.
Tips
Dry Fruit Thoroughly - Make sure the fruit is dried and not wet. Excess the liquid may cause some of the fruit to macerate.
Cut Large Fruit into Pieces - Cut the larger fruit into pieces about the size of half of a large strawberry. If the strawberries are small you can leave them whole.
Use a Variety of Fruits - The recipe is my preferred combination, but you can adjust to your preference. I recommend using a colorful variety of fruit to make a rainbow fruit salad.
FAQ's
Can I use frozen fruit?
No, you cannot use frozen fruit. The texture of frozen, thawed fruit is very different from fresh. Thawed, frozen fruit is mushy and typically has excess moisture.
Can I use bananas?
No, I do not recommend using bananas as they will turn brown in the salad.
What about leftovers?
Leftover fruit salad can be stored in an airtight container or in the bowl covered in plastic wrap. Store in the fridge for up to 3 days.
If, for some bizarre reason, there are any leftovers after 3 days, you can turn it into a fruit smoothie! No other ingredients are needed to make the smoothie, just blend up and enjoy!
📋 Recipe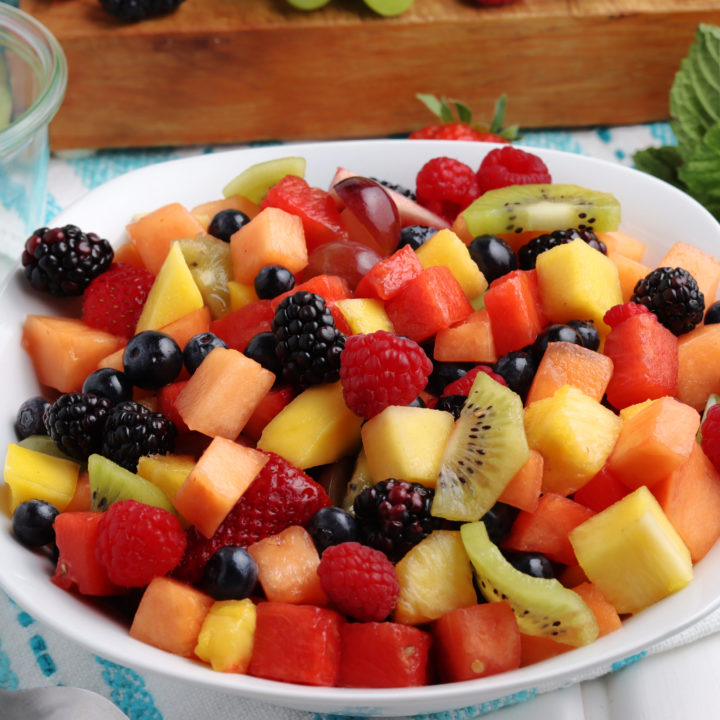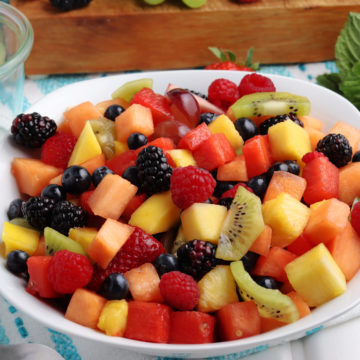 Summer Fruit Salad
Fresh Fruit Salad is a must for summer! Colorful, fresh, and sweet. Toss together your favorite fruits with an easy lime dressing.
Ingredients
Amounts will vary depending on how many you are serving
Watermelon

Cantaloupe

Pineapple

Mango

Green grapes

Red grapes

Strawberries

Blackberries

Red raspberries

Blueberries

Kiwi

peeled and sliced
Dressing
½

cup

lime juice or frozen concentrate limeade

thawed

2

tbsp

maple syrup
Instructions
Clean and cut all fruit and add to a large bowl.

In a small bowl, whisk together juice and maple syrup for dressing until well combined.

Drizzle over fruit and toss gently.

Store in refrigerator until chilled.

Store leftovers in refrigerator.
Notes
For 8-10 servings, I added:
½ of a small watermelon
½ of cantaloupe
½ pineapple
1 mango
About 20 of each kind of grapes
About 20 strawberries, blackberries and red raspberries
A couple handfuls of blueberries
2 kiwis
Nutrition
Calories:
3
kcal
Carbohydrates:
1
g
Protein:
1
g
Fat:
1
g
Saturated Fat:
1
g
Polyunsaturated Fat:
1
g
Monounsaturated Fat:
1
g
Sodium:
1
mg
Potassium:
14
mg
Fiber:
1
g
Sugar:
1
g
Vitamin A:
6
IU
Vitamin C:
4
mg
Calcium:
2
mg
Iron:
1
mg