Sugar Snap Peas with Mint and Mushrooms can be a special brunch or treat on any day of the week. Great fresh or cooked which makes them doubly enticing.
Sugar Snap Peas with Mushrooms and Mint is the perfect side dish.  I don't know why but I always forget about sugar snap peas.  At our local grocery store they come packaged over by the lettuce.  I must be so enamored with all the varieties of lettuce that my eyes jump over the sugar snaps.  Not anymore!
It is ingrained in my memory and that sweet little veggie is going to make it into our house on a regular basis.  They are equally good fresh or cooked which makes this vegetable extremely versatile.  Grab yourself a bag or pound and have a great side dish.
Connect with Vegan in the Freezer
Facebook | Pinterest | Instagram | Bloglovin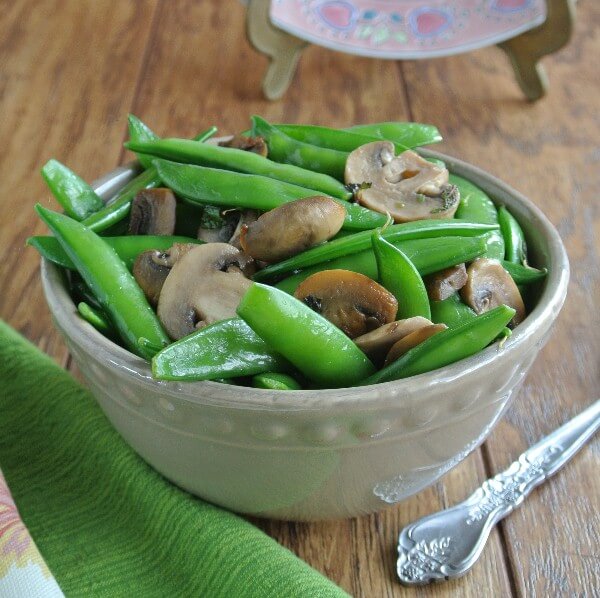 Sugar Snap Peas with Mint
Ingredients
salt water boiling water

2

pounds

sugar snap peas, tough strings removed

2

tablespoons

olive oil

1/2

cup

loosely packed chopped fresh mint leaves

1/2

teaspoon

pepper

1

pound

button mushrooms, sliced
Instructions
Bring a large pot of salted water to a boil.

Fill a large bowl with ice water.

Add the peas to the boiling water and bring back to a boil.

Continue boiling until peas turn bright green, about 30 seconds.

Drain and immediately plunge into the ice water.

Let stand to thoroughly chill, about 5 minutes.

Drain and spread peas out on paper towels to dry.

This next little step is where my recipe veers from All You Magazine - it is the mushrooms.

In a large skillet add the olive oil and turn to medium high heat.

Saute the mushrooms for about 10 minutes.

Then take the pan off the burner.

You can be doing this while your snap peas are cooling and drying.

Just before serving, add the peas to the pan with the mushrooms.

Also add the mint and pepper and 1 teaspoon of salt.

Cook, stirring often, until warmed through, about 2 minutes.

Serve warm.