This Stuffed Baguette Sandwich with Roasted Peppers and Onions is an easy-to-make recipe and has a great mix of healthy Italian flavored ingredients. Stack them as thick as you like for a fast and delicious lunch or a main dish for casual dining.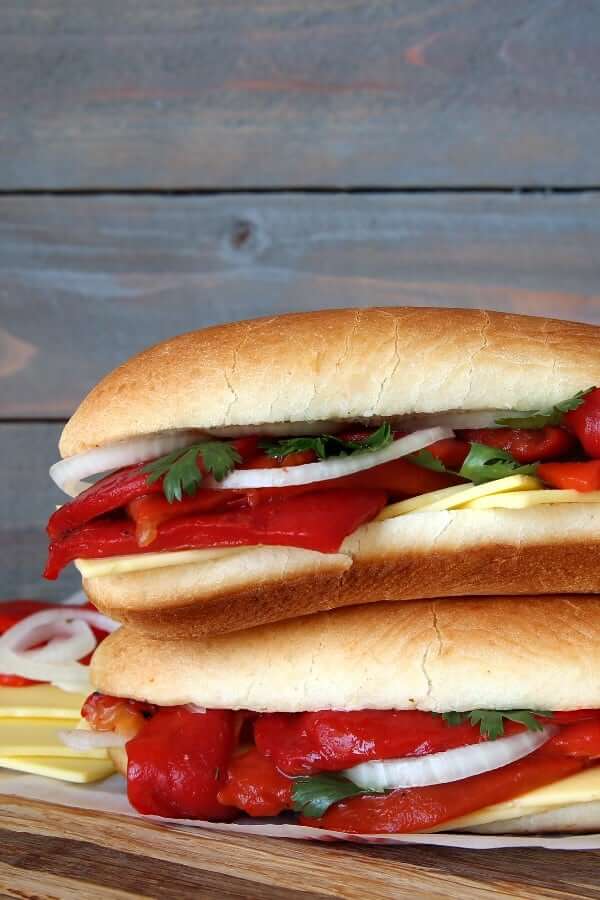 I think everyone loves a sandwich. It is one of those easy meals you can put together and pretty much stuff with whatever you like.
But to make something as simple as a sandwich and take it to the next level you want to stuff it unusual and rich flavors that go great together.
For instance, a sandwich that is very much Mediterranean style.
Buy a baguette, hoagie, sub, or hero and layer it up with vegetables and 'cheese' and the best dressing you also have yourself a healthy meal.
One that is very filling for lunch or can quickly become a delicious light dinner. I've had this sandwich for lunch yesterday and dinner tonight. I'm a happy girl.
You can easily roast bell peppers in advance or buy yourself a jar of roasted red bell peppers for this feast. This post takes advantage of store-bought roasted bells.
Jarred roasted red bell peppers are filled with the most delicious dressing so you barely need to add any other ingredients for the spread. Just a little bit of Italian seasoning and my favorite Italian enhancer, balsamic vinegar.
My go-to filling is an Italian-flavored blend that is so satisfying. The flavors are unbelievably delicious and if you've never had a roasted peppers and onions sandwich then this is your chance.
What Other Ingredients Can You Add to a Baguette Sandwich?
I have made this sandwich many times and once in a while, I'll add other Mediterranean tastes just for the fun of it.
Sliced Black Olives, you could even use a tapenade with green olives too
Capers
Basil instead of cilantro or parsley
Red onions slices instead of white or yellow
So, now you have a darn healthy baguette sandwich with a wide range of flavors that beautifully pair together. Here is a photo of the beauties that are in this perfect sandwich.
Vegan Cheese
You may already have your favorite cheese picked out for this sandwich but if you don't I have a suggestion.
This isn't a sponsored post I have just learned what is really good over the years. There is a sliced 'white cheese' called Creamy Original by Chao (Field Roast) and it is great.
It can be subbed for provolone, mozzarella and even Monterey Jack. Buy it when you can and use it when in need of sliced cheese because it is a super good 'cheese'.
How to Roast Peppers
If you decide to roast the bell peppers yourself then choose the red, orange, or yellow-colored ones. They are so much sweeter, and their colors are beautiful.
It is straightforward to make, and you can use the recipe I have in the recipe card for this Roasted Red Bell Pepper Hummus. Click here for the directions.
Oil and Vinegar
Extra Virgin olive oil and balsamic vinegar are the standards for tangy Italian Dressing. You don't need much to brush on each side of the rolls.
Add a little bit of the marinade that comes in the jar with the roasted peppers and also a pinch of Italian Seasoning and you have the perfect sandwich compliment.
You may also use your own favorite store-bought Italian dressing, with or without balsamic. The homemade one is really good though.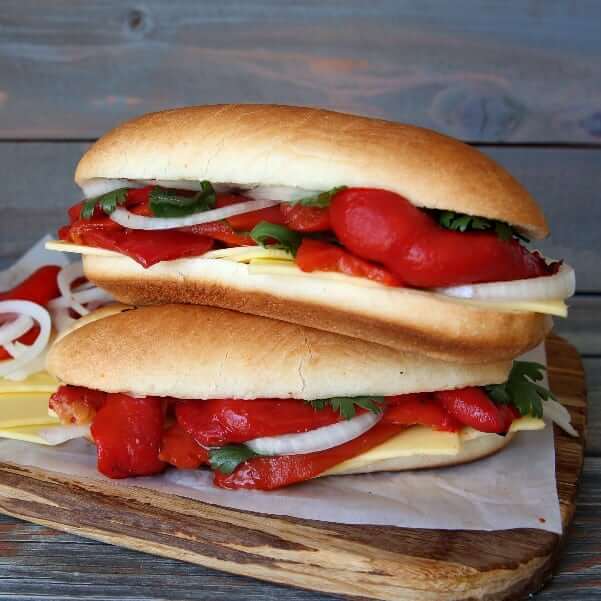 This post contains affiliate links. Read my disclosure policy here.
Recipe updated, originally posted October, 2013. Since posting this in 2013, the recipe has been tweaked to be more clear and to have updated photos.
What Do You Think?
If you take a photo of your delicious roasted peppers and onions sandwich I would love to see it. Follow me over on Instagram and tag me on your photo @vegan_in_the_freezer.
Your opinion means a lot to me and if you'd like to leave a comment and possibly a star rating I'd love to hear your thoughts.
📋 Recipe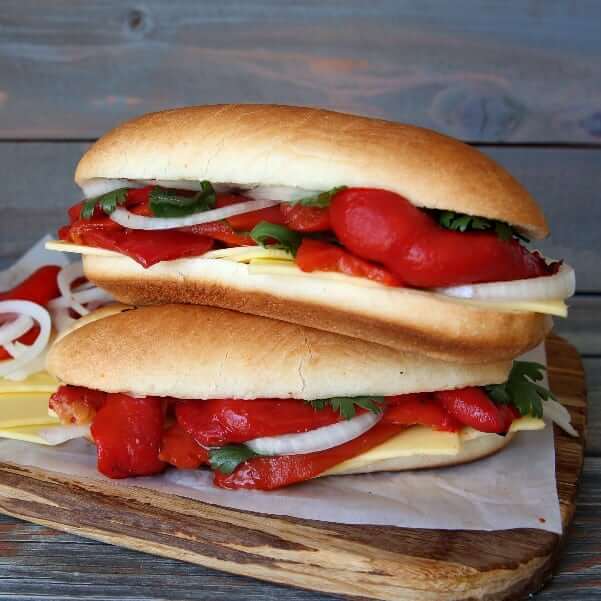 Baguette Sandwich with Roasted Peppers and Onion
Stuffed Baguette Sandwich is stacked thick with Roasted Red Bell Peppers.
Ingredients
For the Dressing
6

tablespoons

extra virgin olive oil

2

tablespoons

balsamic vinegar, I used white but dark balsamic will work too

2

tablespoons

marinade from the jar of roasted peppers

½

teaspoon

Italian seasoning
For the Sandwich
4

baguettes, hoagie or sun rolls

16

ounces

jarred roasted red peppers or two red bell peppers to roast yourself

onion

- sliced thin

fresh

leaves

flat-leaf parsley or cilantro

2

ounces

dairy-free mild white cheese slices, I used Chao Creamy Original
Instructions
Mix the dressing ingredients together and set aside.

Cut your bread lengthwise but not all the way through.

Lay the bread open and spoon about 2 tablespoons of the dressing mix that you just made on both sides of the bread. Do this to all of the rolls. You may also use your favorite bottled Italian Dressing or Balsamic Italian Dressing.

Now divide all of the ingredients between the baguettes. Lay on the 'cheese' roasted peppers, onion and a bit of the parsley.

Sprinkle on more dressing if you like. Fold over, slice and serve.
Notes
Sprinkle on more dressing if you like.
Fold over, slice and serve.
Nutrition
Serving:
1
Sandwich
Calories:
299
kcal
Carbohydrates:
43
g
Protein:
8
g
Fat:
11
g
Saturated Fat:
1
g
Cholesterol:
6
mg
Sodium:
2016
mg
Potassium:
166
mg
Fiber:
3
g
Sugar:
9
g
Vitamin A:
605
IU
Vitamin C:
53
mg
Calcium:
74
mg
Iron:
12
mg