Strawberry Sauce is so easy to make and uses only 3 ingredients! Using this strawberry topping for cheesecake makes an elegant dessert or serve it with pancakes or waffles for a fun breakfast.
The versatile strawberry topping can even be made weeks in advance.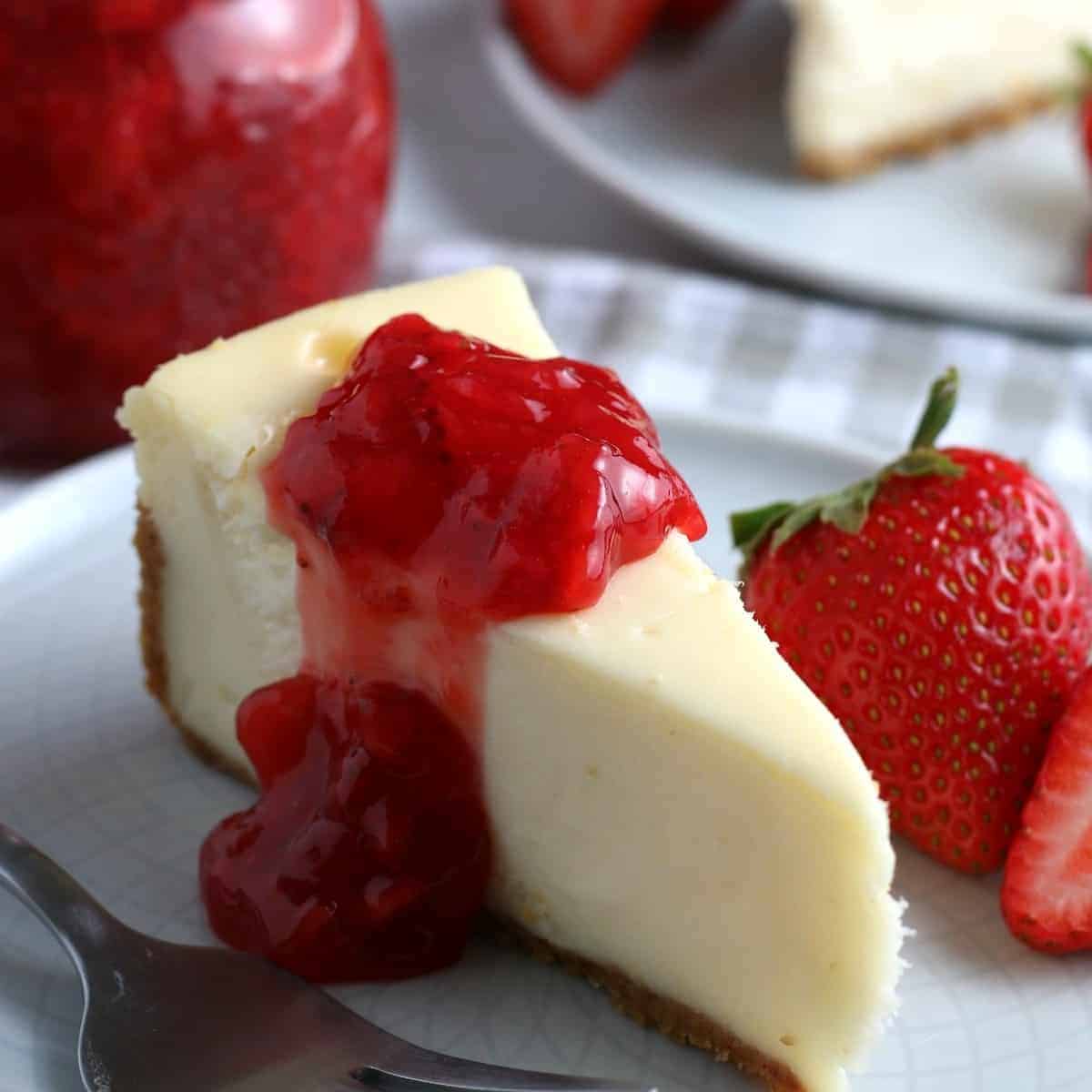 The application possibilities for this sauce are endless! But beware, it is so good that you might find yourself eating it by the spoonful.
You only need 3 ingredients (plus water) to make a delicious, homemade strawberry sauce. Here is what you need for this recipe: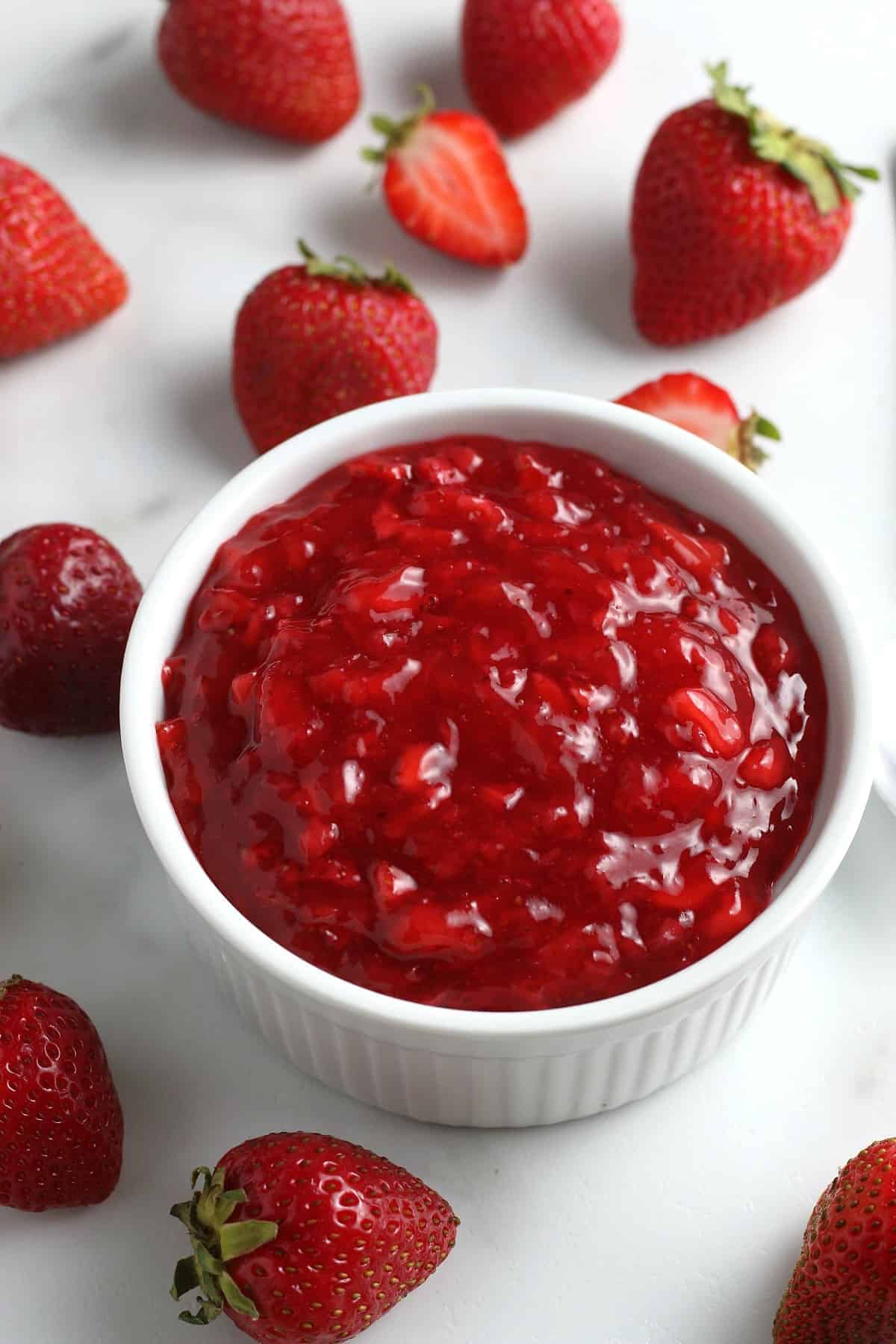 Ingredients
Fresh Strawberries - Buy the freshest and brightest red strawberries that you can find. You'll divide the strawberries and mash half while leaving the other half diced.
White Granulated Sugar
Cornstarch - This is used to help thicken the strawberry sauce.
Water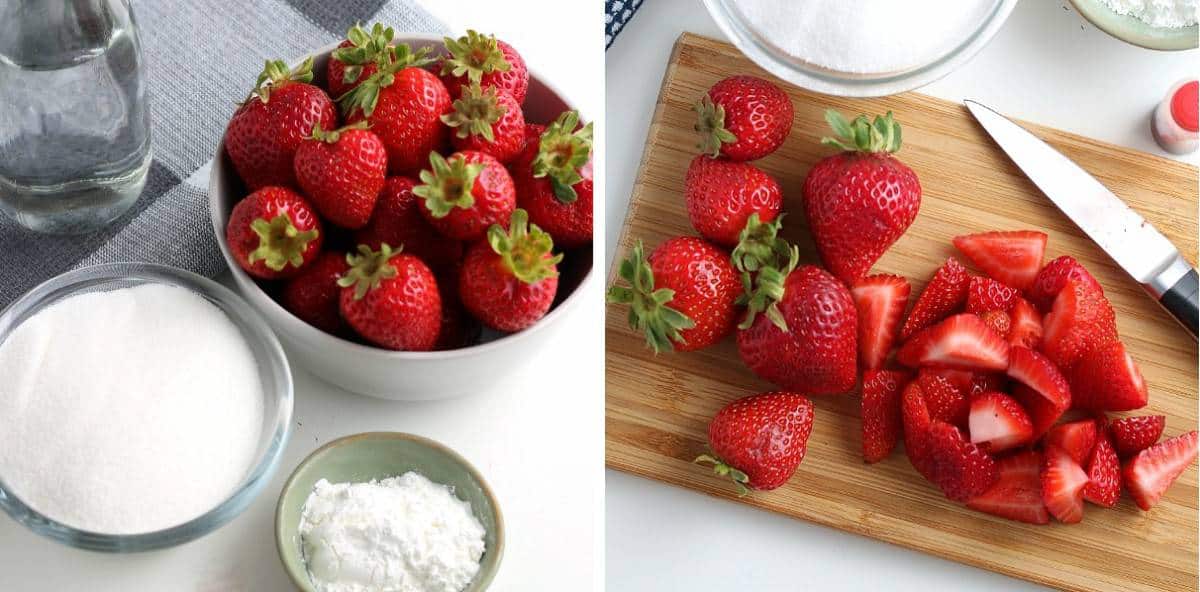 How to make
Making strawberry sauce from scratch is so simple. If you can boil water and stir then you can make this sauce! Here are the easy steps for this strawberry sauce recipe:
Prep Strawberries - Clean the strawberries and remove the stems. Chop 1 cup of the strawberries and mash. Dice the remaining 1 cup of strawberries and set aside.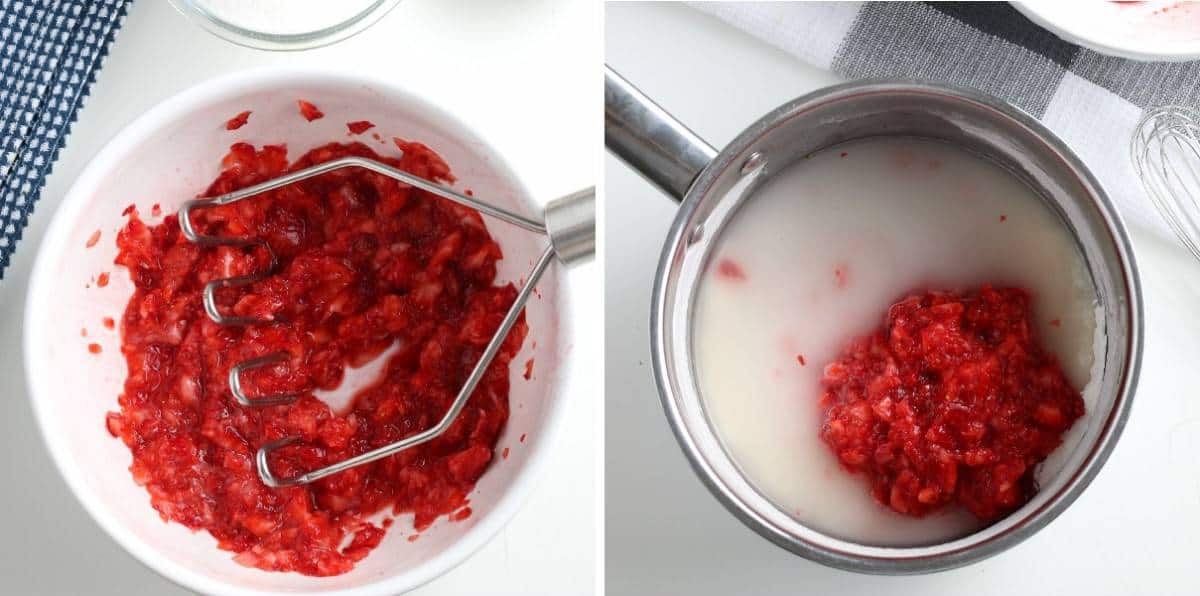 Boil Sauce - Stir together the sugar and cornstarch in a medium saucepan. Add the water and mashed strawberries and stir to combine. Bring the mixture to a boil and stir constantly (add the food coloring, if using). Allow to boil for about 3 minutes while stirring until thickened.
Finish Sauce - Remove the pot from the heat and add the diced strawberries. Transfer the hot strawberry sauce to a bowl and allow to cool for about 15 minutes before transferring to a jar with a lid.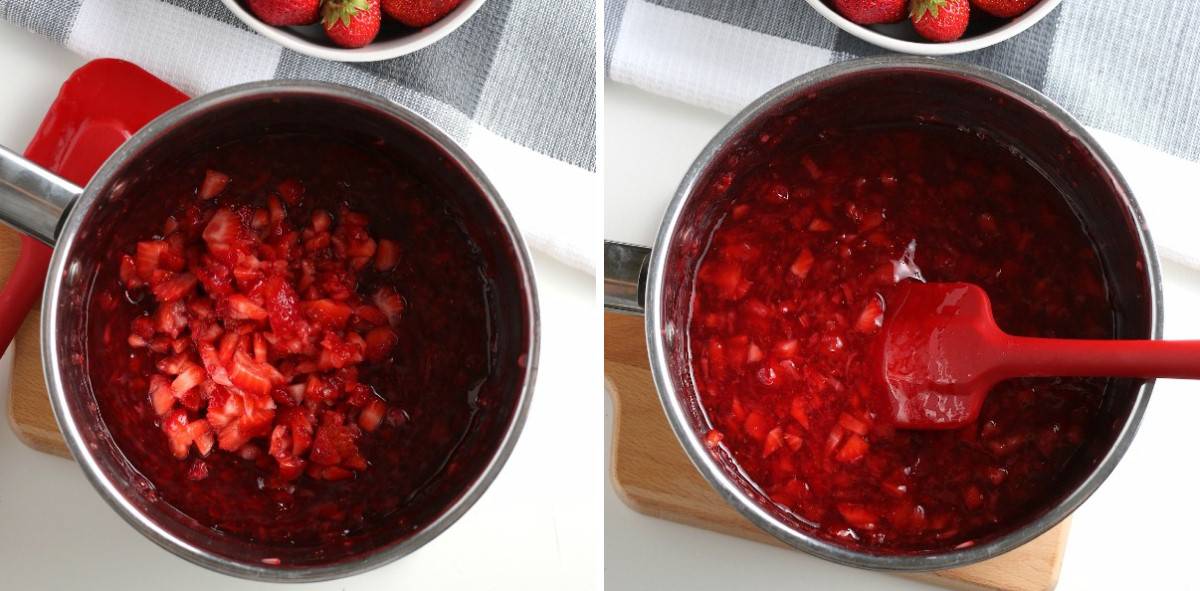 Serve or Store - You can serve the strawberry topping immediately or store in the fridge for up to 2 weeks.
How to use strawberry topping
I love that this strawberry sauce can be used in both sweet and savory applications and from breakfast to dessert! Here are some of my favorite applications - let me know how you like to use it in the comments.
Cheesecake - Using strawberry sauce for cheesecake is one of my favorite applications! Try making this delicious dairy-free cheesecake recipe and top with the sauce.
Pancakes - Top a tall stack of these vegan buttermilk pancakes with a drizzle of strawberry sauce. What a fun Saturday morning treat!
Waffles - Topping your favorite waffles with the topping is such an easy way to elevate breakfast or brunch!
Shortcake - Strawberry shortcake is a classic for a reason and is a favorite in my house! Make the topping in advance for an even easier dessert prep.
Ice Cream - Strawberry topping is a fun addition to your sundae spread!
Crepes - use as a filling for homemade crepes for a decadent dessert.
Pound Cake or Angel Food Cake - Drizzle your favorite cake with the strawberry topping and a dollop of dairy-free whipped cream for a simple, yet delicious dessert.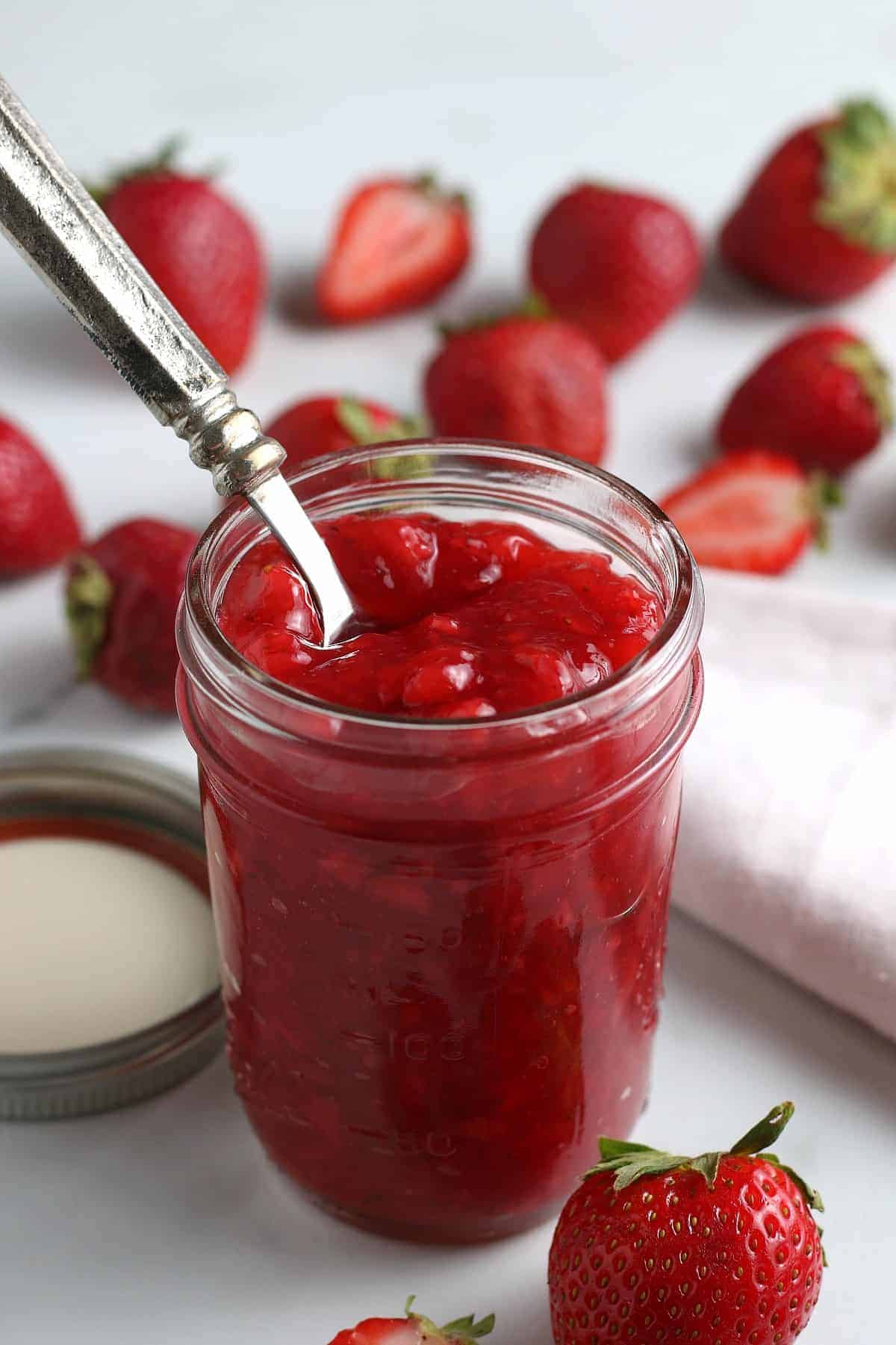 FAQ's
Can I can strawberry sauce?
You can use strawberry sauce with canning! Prepare the sauce as instructed then go ahead with the canning instructions making sure to properly sterilize and seal the jars.

If any of your jars do not seal properly, then you can store in the fridge for 2 weeks.
Can I freeze the sauce?
You can freeze the strawberry sauce. Allow the sauce to cool completely before freezing in freezer-friendly airtight containers.

The sauce can be frozen for about 3 months. Thaw the frozen sauce in the fridge or at room temperature.
Should the sauce be served warm or chilled?
You can serve the strawberry topping warm after making it or you can chill it in the fridge.
Can I substitute other berries?
Yes, you can use other berries in this sauce recipe. Blueberries, blackberries, or raspberries are great choices. If the berries you use are sweeter, then you can reduce the sugar by a couple of tablespoons.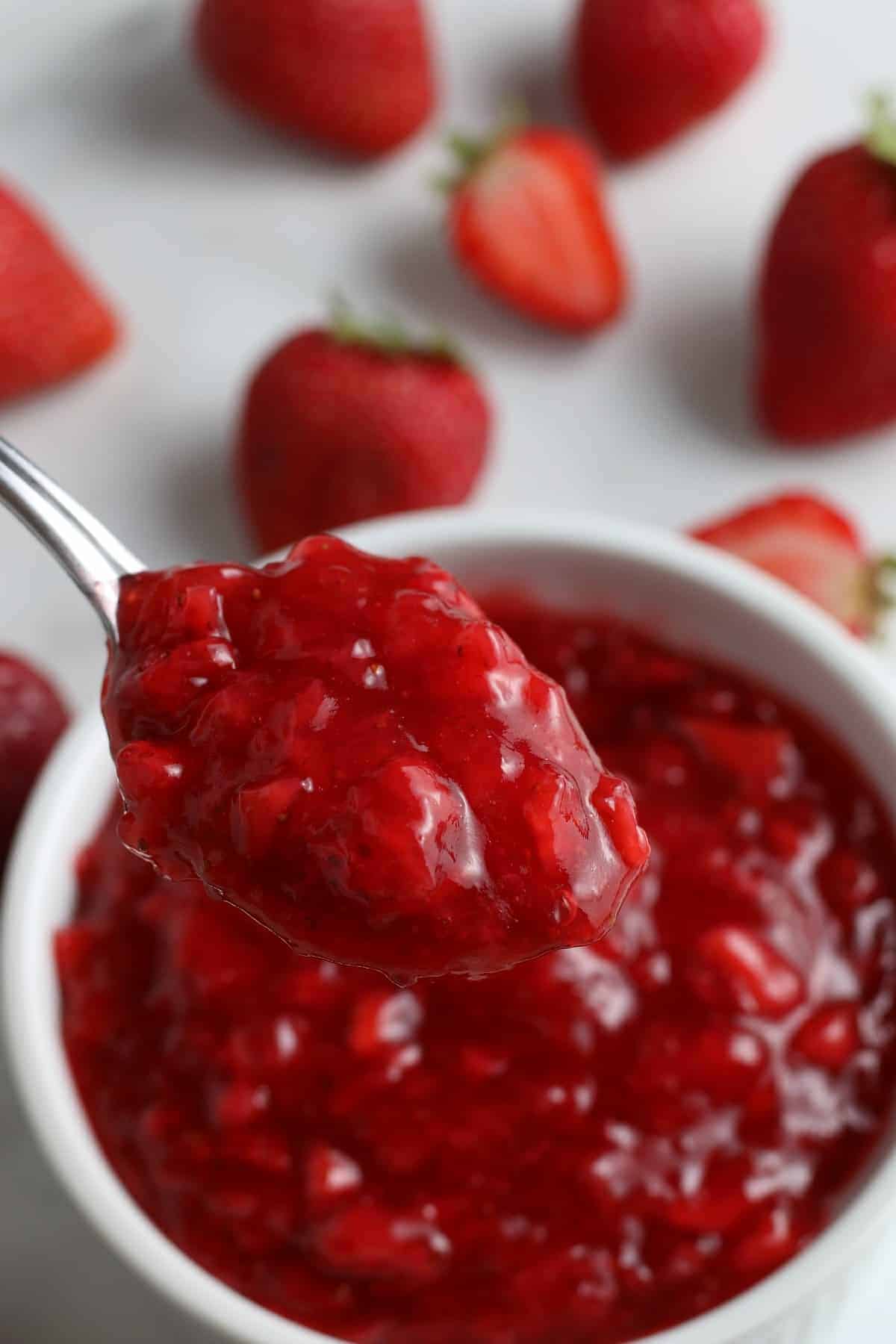 Can I make a smoother sauce without chunks?
You can absolutely use this recipe to make a smoother sauce. I like a chunkier preserve so I kept it that way. To make it smoother you can mash the strawberries further to make a less chunky consistency.
Or you can carefully blend the sauce in a blender until the desired consistency.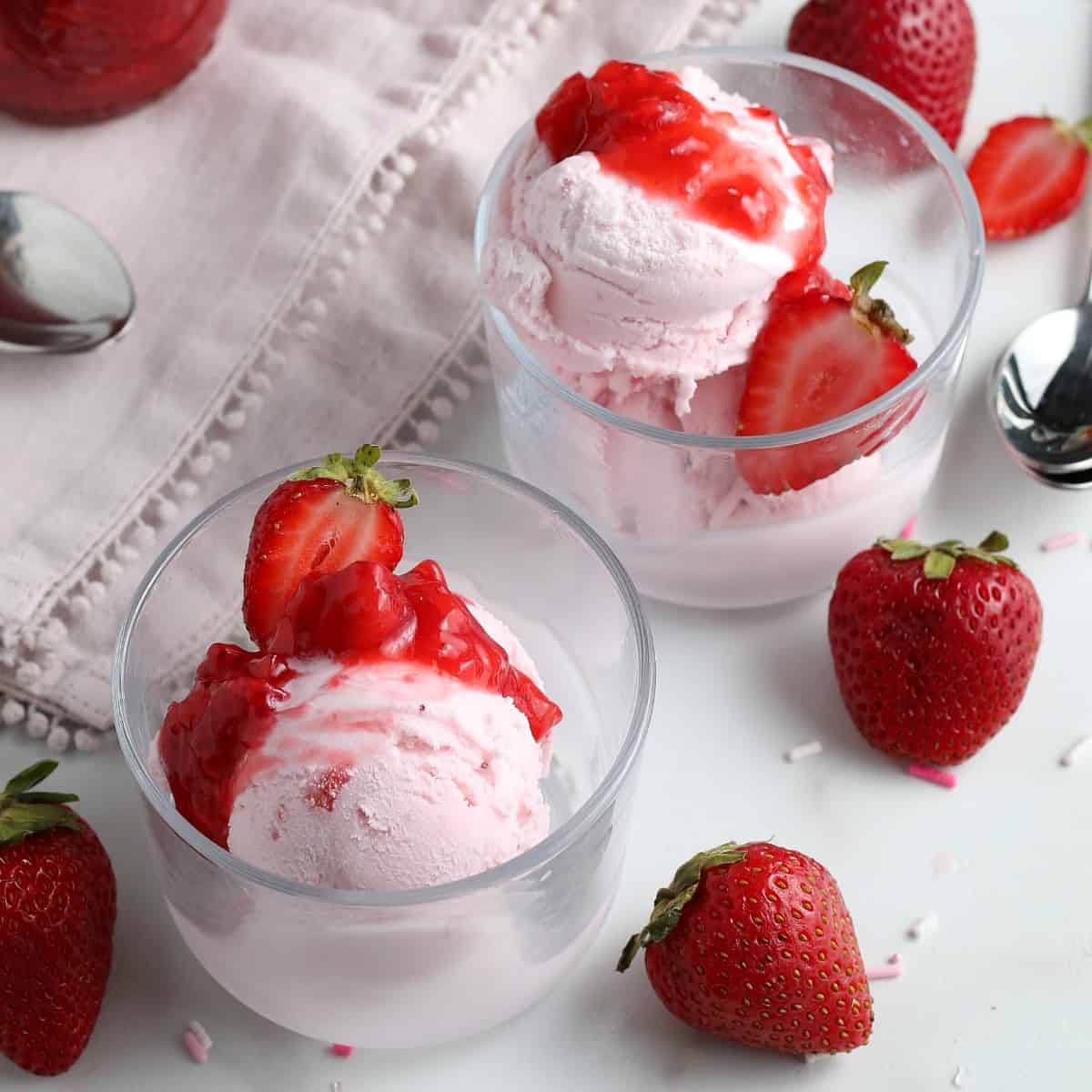 More strawberry recipes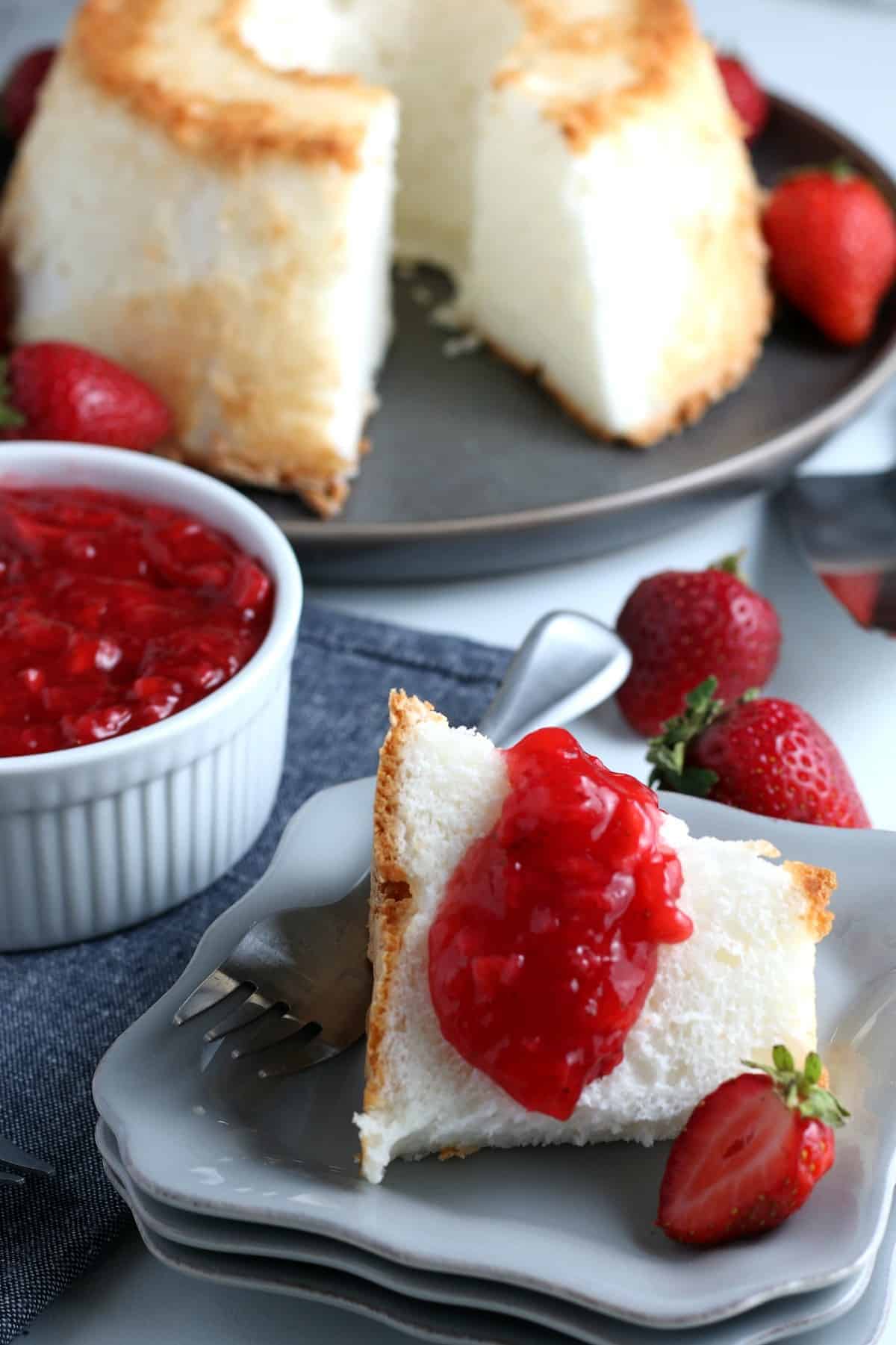 📋 Recipe
Strawberry Sauce
Strawberry Sauce is so easy to make and uses only 3 ingredients (plus water)!
Ingredients
2

cups

fresh strawberries

- cleaned and divided

1

cup

organic granulated sugar

3

tablespoons

cornstarch

¾

cup

water
Instructions
Clean and chop 1 cup strawberries, add to bowl and mash and set aside.

Clean and dice 1 cup strawberries, set aside.

In a medium saucepan, stir together the sugar and cornstarch.

Stir in water and mashed berries. Bring to boil, stirring constantly.

Some people add red food coloring (there are vegan versions) and this is the time where you add a drop, if desired.

Cook and stir 3 minutes or until thick.

Remove from heat, stir in 1 chop diced strawberries. This is how you are able to get a sauce with more texture.

Transfer to bowl, let cool for 10-15 minutes.

Add to jar or container with lid.

Serve immediately or store in refrigerator for up to 2 weeks in airtight sealed container.
Notes
This recipe makes 2 cups topping. I am guessing that ¼ cup is a serving but go for more if you like. The nutritional value is based on ¼ cup.
Nutrition
Serving:
1
Serving
Calories:
120
kcal
Carbohydrates:
30
g
Protein:
1
g
Fat:
1
g
Saturated Fat:
1
g
Sodium:
2
mg
Potassium:
56
mg
Fiber:
1
g
Sugar:
27
g
Vitamin A:
4
IU
Vitamin C:
21
mg
Calcium:
7
mg
Iron:
1
mg