Packed with tons of flavor, texture, and mouthwatering ingredients, this awesome recipe is sure to be a hit on your next taco night! They are easy enough to whip up in 30 minutes or less and inexpensive to make with just a few simple pantry staples. Perfect for busy weeknight dinners or special occasions, we guarantee these vegan lentil tacos will have even the meat eaters coming back for seconds.
Why You'll Love This Vegan Lentil Taco Recipe
Budget-Friendly- Lentils are an inexpensive protein source and the perfect addition to a vegetarian or vegan dish.
Flavorful- Spices like chili powder, cumin, onion powder, and oregano give this lentil taco meat a depth of flavor that can't be beaten.
Easily Customizable- Add your favorite toppings like salsa, guacamole, dairy-free shredded cheese, or vegan sour cream to take your lentil taco game up a notch.
Minimal Prep Time- With just 5 minutes of prep time and 25 minutes of cooking. These delicious vegan tacos will be ready to eat in just 30 minutes.
What Is A Lentil Taco?
Lentil tacos are a tasty, plant-based meat substitute for traditional meat tacos. They're packed with protein and fiber, making a delicious plant-forward meal. Lentils are cooked with spices like cumin and oregano, then combined with sautéed vegetables like bell peppers and tomatoes. Fill your favorite taco shells with the lentil mixture and top with salsa, guacamole, vegan cheese, or other toppings.
Below is the first photo I ever took of these tacos - about 4 years ago. I've got the color a bit better in the newer photos. 🙂 It is still just as delicious as always.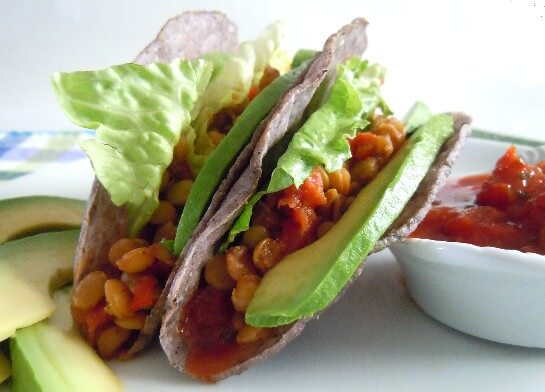 Equipment Needed
Large Saucepan with Lid
Stirring Spoon
Cutting Board
Knife
Measuring Cups and Spoons
Ingredients
Dried Lentils- Lentils are an inexpensive, protein-packed ingredient that gives these tacos a delicious and hearty texture.
Water- Used to help cook the lentils.
Red Bell Pepper- Adds a nice crunch and sweetness to the tacos.
Canned Diced Tomatoes- Provide a bright, vibrant flavor to balance out the earthy lentils.
Chili Powder- Gives the tacos a warm and spicy flavor.
Cumin- Another popular taco seasoning, cumin helps give the lentils a smoky flavor.
Onion Powder- Used to add a slight tang and depth of flavor to the dish.
Ancho Chili Powder- Adds a slightly smoky flavor to the tacos.
Oregano- Adds a subtle herbaceous note that enhances the overall profile of this recipe.
Sea Salt- Used to enhance the flavors of the other ingredients.
Taco Shells- For serving the tacos. Use your favorite store-bought hard or soft taco shells. Corn tortillas, flour tortillas, or hard taco shells all make excellent options.
Optional Toppings- Vegan, lettuce, tomato, onion, salsa, guacamole, etc.
How To Make Vegan Lentil Tacos
First, use a sharp knife and a cutting board to finely dice the peppers. Then, put them into a large saucepan with all the other ingredients, and bring the mixture to a boil. After it starts boiling, cover the pan, reduce to medium heat, and let it cook until all the liquid has been absorbed.
Scoop the lentil taco meat mixture into your preferred taco shells, being careful to leave enough space for toppings of your choice. Enjoy!
What To Serve With Vegan Lentil Tacos
Vegan lentil tacos are great served as is but can also be accompanied by a variety of sides to make it an even more satisfying meal. Some good options include:
• Mexican Rice
• Refried Beans
• Salad
• Tortilla Chips
Use this cooked lentil taco meat on Taco Tuesday for a taco salad, burrito filling, and more vegan taco recipes!
Popular Substitutions & Additions
Switch up the lentils- Feel free to use any kind of dry lentils you have on hand. Red lentils, brown lentils, or even green lentils will work well in this recipe. Canned lentils and raw lentils can also be used, but the cook time will need to be adjusted.
Add more veggies- If you want to boost your nutrient intake, add shredded carrots, corn, chopped onion, zucchini, or spinach to your lentil taco filling.
Make it spicier- Add minced jalapeño and chopped chipotle pepper, or sprinkle in some cayenne pepper or red pepper flakes for a kick of heat.
More Flavorful- Garlic powder and taco seasoning packets can both be added to the cooked lentils to make the taco filling more flavorful. You can also use a little vegetable broth or vegetable stock instead of the water for an even more delicious flavor.
Condiments- Dress up your lentil tacos with all sorts of toppings. Try shredded lettuce, chopped cilantro, vegan sour cream, guacamole, salsa, diced avocado, or dairy-free cheese.
Can You Freeze Lentil Tacos?
Yes! The lentil filling is great for freezing and can be stored in an airtight container or bag for up to 3 months. When you're ready to enjoy, simply thaw them overnight in the fridge and pop them into a skillet to reheat.
Vegan Lentil Taco FAQs
Can I make this lentil taco filling recipe gluten-free?
Yes, you can! Just be sure to use a gluten-free taco shell and check that your spices are certified gluten-free.
Do I have to use canned tomatoes?
No, you don't. You can also use fresh diced tomatoes. Just be sure to adjust the cooking time as necessary.
Can I make these lentil tacos ahead of time?
Yes, you can! Prepare the vegan taco meat substitute up to three days in advance and store it in an airtight container in the fridge for up to 3 days. When you're ready to eat, warm it on your stovetop or microwave and enjoy
How can I make this recipe without lentils?
Swap out the lentils for cooked quinoa or black beans for a delicious plant-based alternative. You can also try using vegan ground beef or crumbled tofu instead.
📋 Recipe
Vegan Lentil Tacos
Perfect for busy weeknights, quick, & easy to make with basic pantry items. These tacos are packed with delicious flavor and a meaty texture everyone will love.
Ingredients
1

cup

lentils

dried

2 ¼

cup

water

1

bell pepper

red, finely diced

14

ounces

diced tomatoes

diced, can up to 15 ounces

1

tablespoon

chili powder

2

teaspoons

cumin

2

teaspoons

onion powder

1

teaspoon

ancho chili powder

1

teaspoon

oregano

1

teaspoon

sea salt

taco shells and condiments for serving
Instructions
Add all the ingredients into a large saucepan that has a cover.

Bring to a boil and cover.

Turn down to medium low heat.

Cook 25 minutes or until liquid is absorbed and the lentils are tender.
Notes
IF SERVING NOW or in a COUPLE OF DAYS:
Heat through right before serving. Use your favorite taco shells and I like to put a tablespoon of salsa along the bottom of my taco. Then scoop in as much filling as you like leaving room for lettuce, avocado and maybe some onions. Anything you like.
IF FREEZING:
Let cool to room temperature and then pack in rigid sided freezer containers.
TO PREPARE AFTER FREEZING:
Remove from the freezer and put in the refrigerator a few (4 to 6) hours before serving. Put the filling in a saucepan to heat through and serve.
Nutrition
Serving:
12
ounces
Calories:
135
kcal
Carbohydrates:
24
g
Protein:
9
g
Sodium:
413
mg
Potassium:
490
mg
Fiber:
11
g
Sugar:
3
g
Vitamin A:
910
IU
Vitamin C:
32.9
mg
Calcium:
52
mg
Iron:
3.6
mg