Spicy Lentil Tacos are easy and they are one of the healthiest meals you can serve. Kids of all ages love them and that includes us adults. 30 minutes from start to finish.
Spicy Lentil Tacos is an easy recipe we have been eating around here for years.
In fact, way at the bottom of this page is the first pic I ever took of these tacos. I've practiced my photography a bit since then. Still not tooooooo bad.
All the filling ingredients go into one pot to cook for about a half hour and that is it. Simple is as simple does.
Below is the first photo I ever took of these tacos - about 4 years ago. I've got the color a bit better in the newer photos. 🙂 It is still just as delicious as always.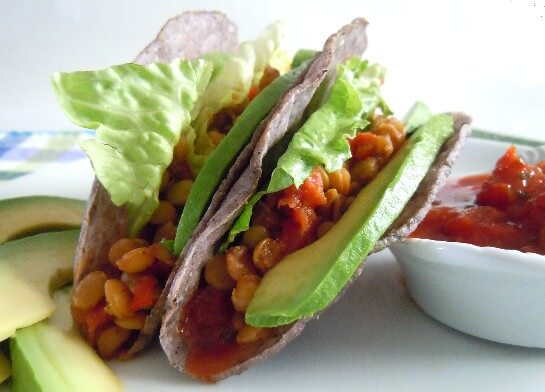 When I was first experimenting with the ingredients for this recipe it turned out that I was trying too hard.
There was much to much work and the recipe was not benefiting from it. So I parred the fillings down and kept it simple.
Now there is this delicious dish to enjoy and if you want to double or triple the recipe it freezes perfectly.
This post contains affiliate links. Read my disclosure policy here.
Spicy Lentil Tacos
Spicy Lentil Tacos one of the healthiest meals you can serve.
Ingredients
1

cup

lentils

dried

2 ¼

cup

water

1

bell pepper

red, finely diced

14

ounces

diced tomatoes

diced, can up to 15 ounces

1

tablespoon

chili powder

2

teaspoons

cumin

2

teaspoons

onion powder

1

teaspoon

ancho chili powder

1

teaspoon

oregano

1

teaspoon

sea salt

taco shells and condiments for serving
Instructions
Add all the ingredients into a large saucepan that has a cover.

Bring to a boil and cover.

Turn down to medium low heat.

Cook 25 minutes or until liquid is absorbed and the lentils are tender.
Nutrition
Serving:
12
ounces
Calories:
135
kcal
Carbohydrates:
24
g
Protein:
9
g
Sodium:
413
mg
Potassium:
490
mg
Fiber:
11
g
Sugar:
3
g
Vitamin A:
910
IU
Vitamin C:
32.9
mg
Calcium:
52
mg
Iron:
3.6
mg
IF SERVING NOW or in a COUPLE OF DAYS:
Heat through right before serving. Use your favorite taco shells and I like to put a tablespoon of salsa along the bottom of my taco. Then scoop in as much filling as you like leaving room for lettuce, avocado and maybe some onions. Anything you like.
IF FREEZING:
Let cool to room temperature and then pack in rigid sided freezer containers.
TO PREPARE AFTER FREEZING:
Remove from the freezer and put in the refrigerator a few (4 to 6) hours before serving. Put the filling in a saucepan to heat through and serve.
A very nice accompaniment to these tacos is this.