Spiced Rum Punch only has 3 ingredients and it's a uniquely tasty and refreshing milk punch! It goes down so easy with a sweet spiced kick.
The autumn and winter are times for light-hearted living and fun-filled get-togethers. This isn't a sponsored post but I just really wanted to have a fun, easy and festive drink with one of my seasonal favorites.
Holiday Nog Spiced Rum Milk Punch is a lot of words but is a perfect punch for the holidays because of its smooth rich flavor. It also feels like a celebration in a cocktail.
It's just one of those recipes that'll help make your party a big hit.
Did you notice it's not just rum but spiced rum? Needless to say - It Tastes So Good!
Another dairy free cocktail that's on the blog is Copycat Bailey's Irish Cream Whiskey. It has a couple more ingredients but is still super fast and, of course, rewarding.
Don't miss the picture below the recipe card for the punch.
Spiced Rum Punch goes down easy and you could serve it in any kind of barware. Anywhere from a martini glass to a punch cup, you'll be proud of your new dink.
Fancy it up or settle back and get cozy.
I used Silk Nog in this recipe and it's delicious but there are so many varieties of dairy-free nog now. There is Holiday Nog, Almond Nog, Califia's has a Nog, So Delicious has a Holiday Nog and I am sure there are many more.
If you have a favorite then, for sure, go ahead and use it. But use Spiced Rum. It's so good.
The flavors are all there with very few ingredients that help bring it into the realm of celebration.
Can Other Alcohol Varieties be Used in a Nog Milk Punch?
Yes! Traditionally milk punches were made with brandy and bourbon. Then came whiskey. So you can really choose your favorite liquor.
Now we have rum and spiced rum at that.
Eggnogs came out later and were most popular in the South and especially New Orleans. Thank goodness for us we now have dairy-free nogs that taste just like the original.
Have you ever heard of syllabub? I've read the word in old classic novels and heard it in shows that are set in England in the 18th and 19th centuries. Well, turns out syllabub is milk punch.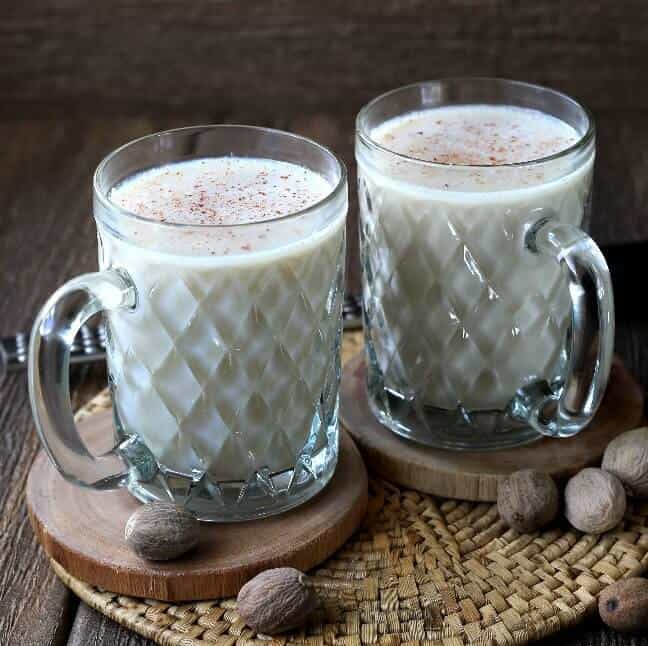 So you know I'm saying milk punch throughout this post but I hope you know I am always meaning dairy-free milk punch. And the nog, of course, is dairy-free nog. I just want to stress that.
This recipe was actually created for Mother's Day. It turns out this comforting drink is a cocktail that can be enjoyed earlier in the day at something like a brunch. Very much like Bloddy Mary's.
It's great by the fire too but you can certainly sip it on a warmer day and a bit before 5:00 pm. I love it over ice but Spiced Rum Milk Punch is great warmed up too. But just a little warm.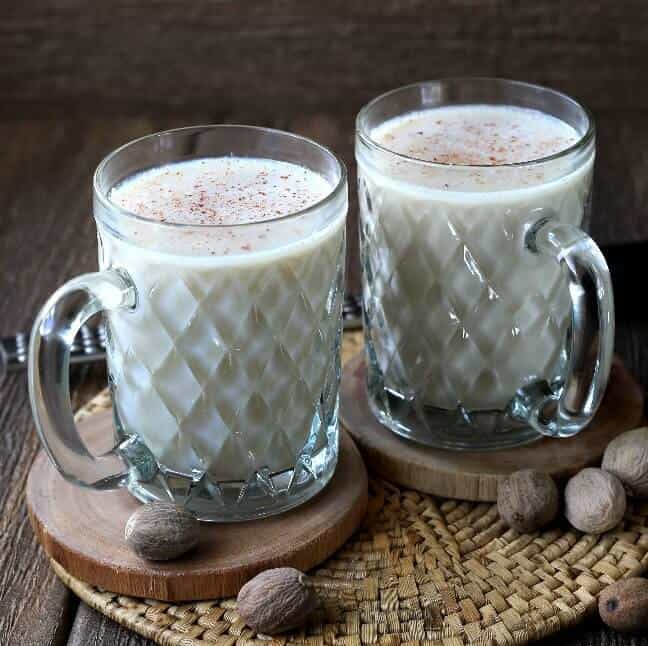 Silk Nog Spiced Rum Punch
Silk Nog Spiced Rum Punch only has 3 ingredients and it is a uniquely tasty and refreshing punch!
Ingredients
32

ounces

Silk Nog

- 1 container

12

ounces

spiced rum

of your choice

3

ounces

maple syrup

1

whole

nutmeg seed for garnish

- optional, but pretty and delicious
Instructions
Pour all of the ingredients into a large pitcher and stir well. You can even whip it in a blender so that it becomes frothy.

Chill and serve over ice, if desired.

Grate some of the outer seed of the nutmeg over your cocktail using something like this zester.
Nutrition
Serving:
8
ounces
Calories:
231
kcal
Carbohydrates:
14
g
Protein:
4
g
Fat:
2
g
Sodium:
75
mg
Potassium:
217
mg
Sugar:
12
g
Vitamin A:
310
IU
Calcium:
201
mg
Iron:
0.7
mg