This beautiful Vegan Applesauce Bread recipe that is a perfect quick bread for breakfast or any time during the day and has grated fresh apples inside. It is one of those vegan recipes that you should add to your kitchen classics if you are a healthy bread lover!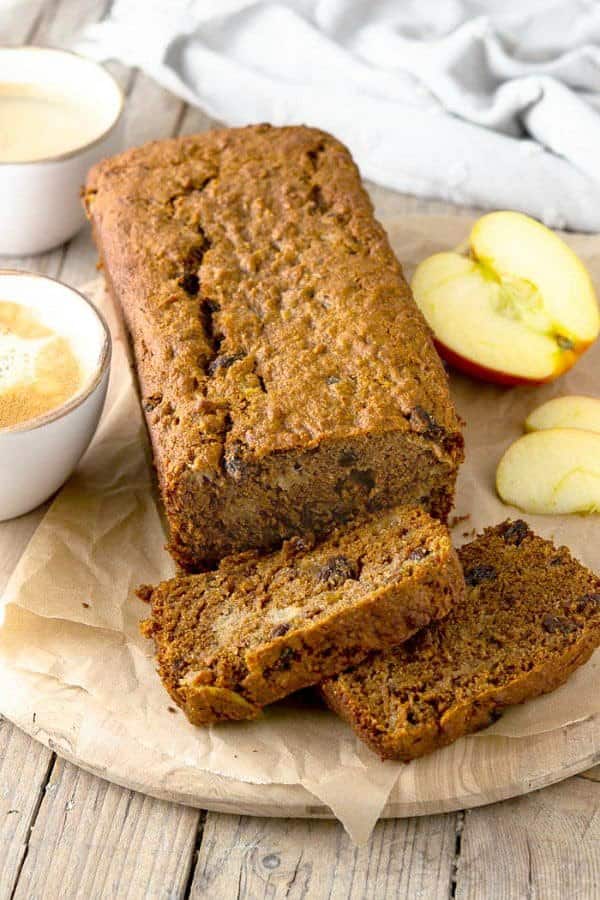 This is simply the best no-knead bread recipe that you need to have in your recipe box. It will fill your home with warm and inviting smells even more so when you take it out of the oven.
The ingredients turn out an easy applesauce bread that conjure up childhood memories of cozy breakfast mornings or simple afternoon indulgences.
Why is Vegan Applesauce Bread so Healthy?
This homemade bread is a healthy vegan recipe which means it's dairy free and egg free. It has healthy fats.

It is made with whole grains and also beautifully spiced with cinnamon, nutmeg, and ginger.

Naturally sweetened with applesauce, fresh grated apples, natural maple, and rice syrups. No refined sweeteners.
Perfectly moist inside with that perfect thin crust on top.
The applesauce and fresh grated apples are of course the star in this baked bread! You can either use homemade applesauce or store-bought.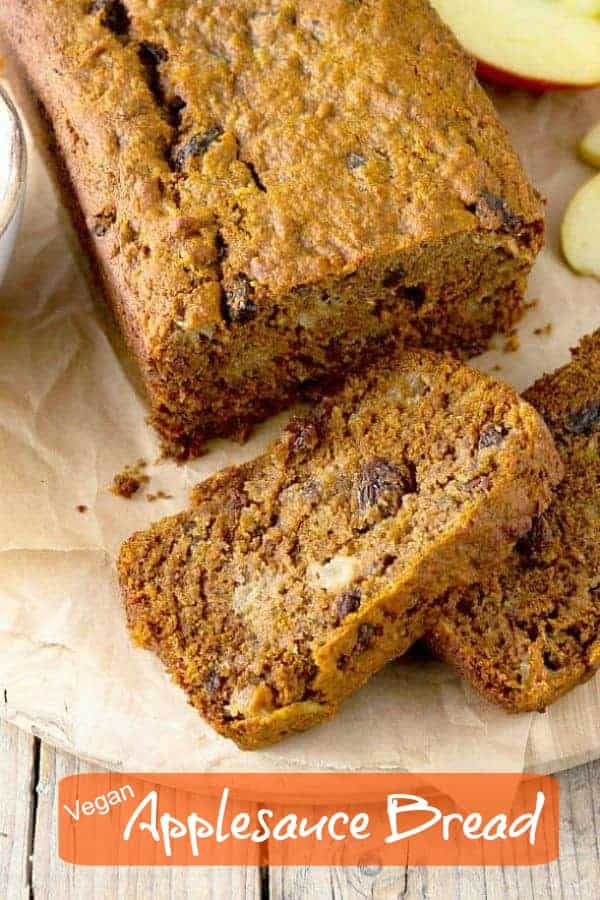 When I lived near Apple Hill in California, I bought two bushels of apples every autumn.
I had so much fun learning how to can apple butter, applesauce, and apple slices. Beautiful in their glass canning jars and delicious to eat.
That was also a time that I experimented a lot with baking, and Applesauce Bread made vegan was at the top of my list.
As you can imagine, I had plenty of delicious canned applesauce to perfect my Applesauce Bread recipe. But your favorite off-the-shelf applesauce will do just as well.
I do strongly recommend adding fresh grated apples because it doubles the flavors and pairs well with that warm cinnamon spice.
It is less messy and quicker. Just make sure always to peel the apples first.
You can see all you need is a big bowl and all of the measured ingredients to get this quick bread started.
Now all that's left is to spoon the mixed batter into a loaf pan and bake. It browns beautifully and becomes a moist and satisfying slice of vegan applesauce bread.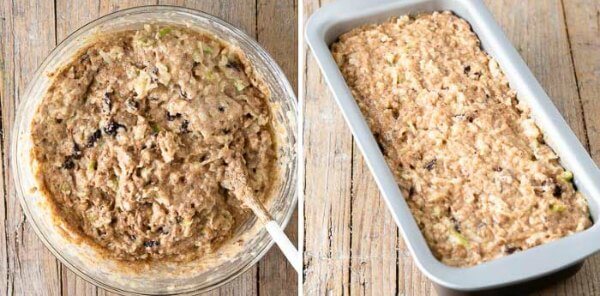 When is Applesauce Bread Best Enjoyed?
Any time and always!
Of course, it's perfect for breakfast. You can eat it plain or spread dairy-free butter on a slice, toasted or not.
Yes, it's good cold or warm. When toasted it enhances the flavors of the spices, and it smells incredible when it pops out of the toaster.
An afternoon snack is always a nice thing to have if you're having hunger pangs. Try to just have one slice. It's that good.
If you're having brunch with family and friends this rustic-looking bread always steals the show. It looks good and smells delicious. Make sure you have copies of the recipe because you'll be asked for it.
Why not lunch? It can become a fantastic sandwich bread topped with heartier options such as smashed avocado or Vegan cheese. My homemade Almond Mayonnaise is fantastic on it.

How To Store Apple Bread and Keep it Fresh
Only cut the slices that are going to be eaten within the hour or so. Pre-cut slices that are laying out dry out faster.
Place the remaining bread in an airtight container at room temperature or in the refrigerator. It will stay fresh for three to four days at the room temperature and longer on the fridge.
If Freezing:
After the bread loaf has cooled you may freeze it in any of the methods shown in my article Preparing Food for the Freezer.
To Defrost:
Take the frozen loaf out of the freezer and put it in the refrigerator to defrost 8 to 24 hours before serving.
Happy baking!
This post contains affiliate links. Read my disclosure policy here.
Print
Vegan Applesauce Bread
Vegan Applesauce Bread is a must have. Tender and perfect for breakfast!
Total Time
1
hour
30
minutes
Ingredients
2

cups

whole wheat flour

5/8

cup

rice syrup

1/4

cup

agave maple syrup

2

Tablespoons

egg replacer and 2 Tablespoons water

1/2

cup

oil

1

cup

applesauce

1

cup

grated apple

about 1 large or 2 small.

1

cup

raisins

1

teaspoon

baking powder

1

teaspoon

baking soda

1/2

teaspoon

ground cinnamon

1/2

teaspoon

nutmeg

1/2

teaspoon

ground ginger

1/2

teaspoon

salt
Instructions
Lightly oil or butter the bread pan.

Preheat oven to 350°

Mix the egg replacer with the water and set aside.


In a large bowl mix the flour with the baking powder, baking soda and seasonings.

In a smaller bowl mix the oil, the two syrups and the egg replacer mixture.

Add the wet ingredients to the dry ingredients and mix until just combined.


Add the grated apples, applesauce and raisins and fold in lightly.


Pour into the prepared loaf pan.

Bake at 350° for 50 to 60 minutes. Lightly cover with foil for the last 30 minutes.

It is done when a toothpick inserted in the center comes out clean.

Let cool for 10 minutes before removing from pan.

Cool completely on a rack.

Notes
If Freezing:
After the bread loaf has cooled you may freeze it in any of the methods shown in my article Preparing Food for the Freezer.
To Defrost:
Take the frozen loaf out of the freezer and put it in the refrigerator to defrost 8 to 24 hours before serving.
Nutrition
Nutrition Facts
Vegan Applesauce Bread
Amount Per Serving (1 Serving)
Calories 362
Calories from Fat 126
% Daily Value*
Fat 14g22%
Sodium 300mg13%
Potassium 370mg11%
Carbohydrates 59g20%
Protein 5g10%
Vitamin A 15IU0%
Vitamin C 2mg2%
Calcium 97mg10%
Iron 1.7mg9%
* Percent Daily Values are based on a 2000 calorie diet.