Soft Pretzels are delicious little savory breads that will get you in a celebratory mood.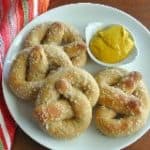 Soft Pretzels always makes me think I am having fun. I think these delicious little savory breads will get you in a celebratory mood too.
For some reason soft pretzels always makes me think I am having fun. Maybe because I first discovered them at fairs and movie theaters. Then they showed up in malls and to me it is always a good time shopping.
For quite a few years I only dreamt that I could make them at home even though I was already a bread maker. They were allusive to me.
Finally,  I pulled up my boot straps and set off for the kitchen. I took out the yeast and just stared and then took out the flour and stared some more. Guess I forgot to roll up my sleeves.
An attempt came to mind so I began. Man, the little suckers weren't hard at all.
I'm sure I'll get better at making the shape but not to bad for a first try. The little tips get browner so, next time, I will push them down a little bit more.
Start the movie!
Connect with Vegan in the Freezer
Facebook | Pinterest | Instagram | Bloglovin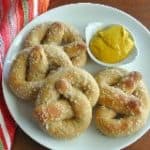 Print
Soft Pretzels
Soft Pretzels are delicious little savory breads that will get you in a celebratory mood.
Ingredients
2 1/4

teaspoons

yeast

1 1/2

cups

warm water for yeast - this amount of water has been adjusted, 100-110°

4 1/4

cups

whole wheat flour

1

tablespoon

salt

1

teaspoon

sugar

1/2

cup

almond milk

- for brushing the tops of the prepared pretzels before they bake

coarse salt

- for sprinkling on top of the pretzels
Instructions
Have parchment paper on 2 cookie (baking) sheets.

Dissolve the yeast in the 1 cup of warm water. Let set for 5 minutes.

Add the Tablespoon salt and teaspoon sugar and stir.

Add this mixture to flour and blend. It will be sticky.

Turn out the dough on a floured surface.

Knead until smooth, about 5 to 10 times.

Divide dough in half, then half again. You will have 4 balls.

Set all of these 4 balls back in a bowl and cover with a moist paper towel (touching the balls) to help keep from them from drying out.

Take out one ball and recover the rest.

Divide one ball into thirds.

So eventually, each of the 4 balls will be divided into thirds which will give you 12 balls and will become 12 pretzels.

Roll out each ball into a rope about 1" to 1-1/2" in diameter and 14" to 16" long. Mine were 14" and they are a little fat. I think I will try 16" next time.

Shape into a pretzel shapes right on the parchment paper in the cookie sheet.

Continue with each ball as in the directions above until all the pretzels shapes are done.

Brush the pretzels with the soy milk a couple at a time and then sprinkle the coarse salt on top while the pretzels are still moist.

Bake at 425° for 12 to 15 minutes.

Remove to a wire rack to cool.
Notes
TO FREEZE: After the pretzels have cooled you may freeze them in any of the methods shown in my article
Preparing Food for the Freezer
. They defrost quickly so it really doesn't take any planning. The microwave will also zap them in 20 seconds.  
Nutrition
Nutrition Facts
Soft Pretzels
Amount Per Serving (1 Pretzel)
Calories 154
Calories from Fat 9
% Daily Value*
Total Fat 1g 2%
Sodium 596mg 25%
Potassium 175mg 5%
Total Carbohydrates 31g 10%
Protein 6g 12%
* Percent Daily Values are based on a 2000 calorie diet.