Slow Cooker Cuban Black Beans Recipe is a flavorful and versatile staple that can be used as a side dish and served with rice. Super simple preparation and then the crockpot takes over.
There are a lot of recipes for beans made from scratch on my blog. Ones like Perfect Barbecue Baked Beans or Slow Cooker Navy Bean Soup but this time around I thought I'd make it super easy.
This time the recipe is from canned beans. It makes life very easy when you can throw a few items in the slow cooker and walk away. Busy people need a break.
Sometimes you just don't want to deal with a huge batch either. I know you can freeze them but sometimes the freezer is full! Like right now at my house.
Or the freezer containers are all used up. Like right now at my house. I really do try to keep ahead of that but everything got away from me lately with a lot of extra food.
Black Beans are Protein Packed
Unbelievably, a cup of black beans is 15g of protein. I repeat, 15 grams.
Not only that, beans have lots of fiber.
There are Omega 3 and Omega 6 fatty acids.
NO cholesterol or sugar.
11 minerals including around 30% of your daily minimum requirements of magnesium.
7 vitamins and even more. Black Beans are good!
So ... back to easy tasty beans. Sometimes my freezer gets full just from day to day living too. So this recipe is so that you can have a simple and delicious meal with no extra planning.
I don't want to put the reigns on you though. If you'd like to have more of these slow cooker Cuban black beans then, by all means, double the recipe. That's easy to do too.
Before I explain about Cuban Black Beans let me slip in a photo right here of Slow Cooker Navy Bean Soup I mentioned above.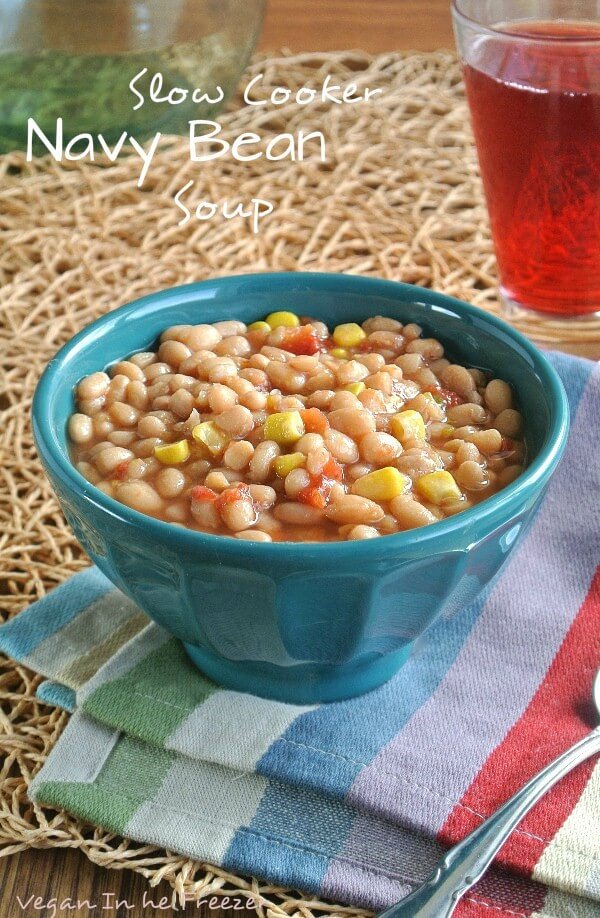 What are Cuban Black Beans?
Cuban Black Beans Recipe is popular in all of the surrounding areas of the Caribbean Sea, In the Latin American Countries from Cuba to Venezuela to Mexico.
The recipe always contains base flavors and in this case it onions, garlic, and jalapeño.
Sometimes Cuban black beans are served with rice.
They're a great side dish staple that can be made in a larger quantity because they freeze really well.
There's no oil, sautéing or sauces to make. Everything is added to the slow cooker and turned on low. High in protein and versatile.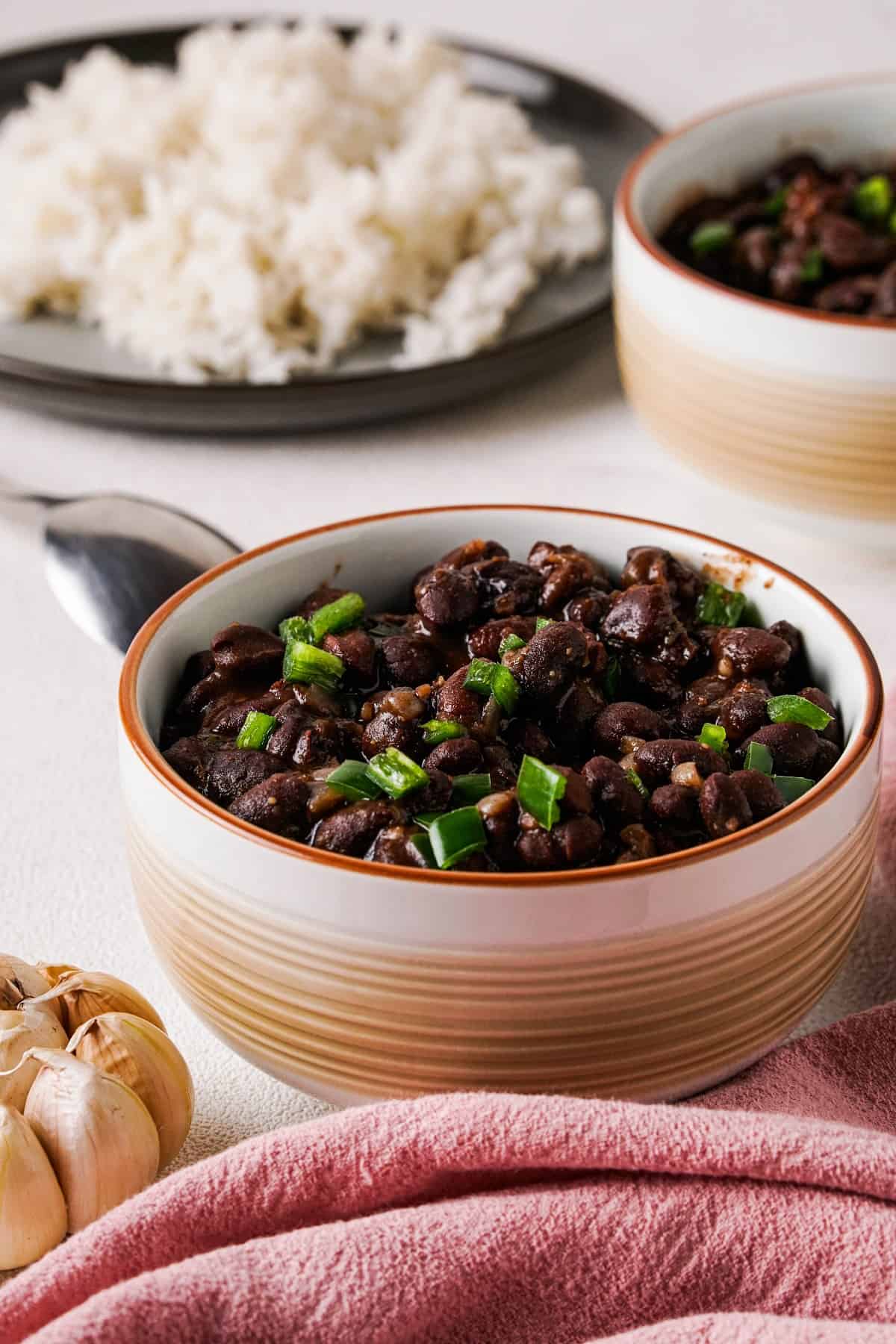 Can I Make Cuban Black Beans From Scratch?
Absolutely. You don't even need to presoak the beans because black beans are thin skinned.
You will need to cover the beans with water in a large stockpot. Bring to a boil then turn down to simmer for an hour. Watch, and if the water cooks down add 2 cups of water and continue to simmer.
While the beans are cooking, sauté the onions in some oil for about 10 minutes. Add the garlic and jalapeño the last couple of minutes.
After the hour is up for the beans add about 1 cup of the cooked beans to the skillet and mash into the onions. Just a little.
Add the skillet mixture to the large pot of beans and cook another hour. Add water as needed.
Add the cider vinegar and spices. Cover pot and simmer about 15 to 30 more minutes. The final product will not be soupy.
As you can see there is a lot more hands-on preparation for making the beans from scratch. But they sure are good.
📋 Recipe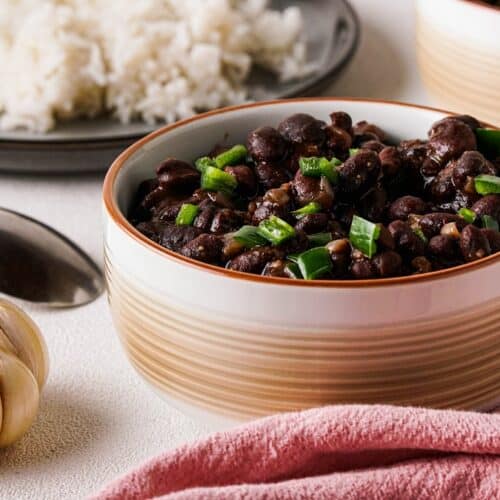 Slow Cooker Cuban Black Beans Recipe
Slow Cooker Cuban Black Beans Recipe is a nutritious staple that can be used as a side dish and served with rice.
Ingredients
30

ounces

black beans

- 2 cans 15 ounces each NOT drained

½

cup

white onion, diced

4

cloves

garlic, minced or finely chopped

2

jalapeños, one minced and one diced

- wear gloves and set the one diced jalapeño for serving

2

teaspoons

apple cider vinegar

½

teaspoon

oregano, dried

½

teaspoon

ground cumin

½

teaspoon

sea salt
Instructions
Place everything in the slow cooker EXCEPT the one diced jalapeno.

If you accidentally drain the cans of beans add some water back to the pot. You may also add a bit more water if you'd like a little more 'sauce'.

Stir well and cook on low for 6-8 hours.
Nutrition
Serving:
1
Serving
Calories:
297
kcal
Carbohydrates:
54
g
Protein:
19
g
Fat:
1
g
Sodium:
294
mg
Potassium:
813
mg
Fiber:
19
g
Sugar:
1
g
Vitamin A:
90
IU
Vitamin C:
10.7
mg
Calcium:
71
mg
Iron:
4.8
mg