Slow Cooker Apples and Oats is apples with oats and pecans and a bit of cinnamon coconut sugar. Everything is cooked together for warm accents of flavor.
Slow Cooker Apples and Oats is the best of both worlds. Heck, it is even the best of about four worlds.
It is healthy, a breakfast, a dessert, is quick to throw together and is ready straight out of the crockpot.
The cooking time is so short for this recipe it really works out more for brunch than breakfast. That is kind of how it is every day at my house anyway.
I just don't feel like eating until later in the morning. They say it is better for you to have a breakfast to help with your energy but, I swear, I just get sluggish if I eat right off the bat.
I've tried and tried but, hey, there is always the weekend. It is fantastic for a weekend breakfast where no one is running out the door - asap.
You can easily treat yourself and your family to a special breakfast with Slow Cooker Apples and Oats.
What Are the Best Apples For Using in the Slow Cooker?
These are the most readily available from the east coast to the west coast.
Braeburn
Cortland
Fuji
Gala
Golden Delicious
Granny Smith (my fav)
Gravenstein
Honeycrisp
Jonagold
Jonathan
McIntosh
Winesap
Let's talk some more about apples with oats and pecans and a bit of cinnamon coconut sugar for some sweetness. Everything is cooked together with wonderful accents of flavor.
I can just smell it. Don't you love recipes where you can cut up fresh apples and toss them in your mix? Especially when they cook? Shades of apple pie! Can't argue with that.
If you're looking for a simple and delicious breakfast that can sit overnight then you must try Vegan Overnight Oats with Pepitas. That will knock your socks off too.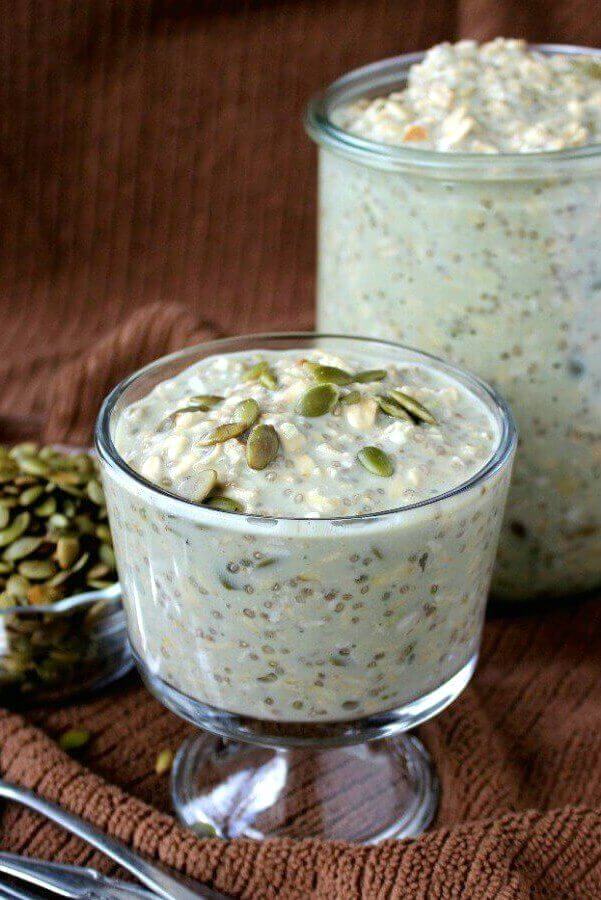 There are so many hints of autumn in the recipe. Apples and pecans have the holidays written all over them.
Apples are a perfect fruit too.
I don't know anyone who doesn't like apples and I never met an apple I didn't like. Crispy and refreshing.
They combine and even cook so well in so many recipes for any time of the day. Here are a few of my favorites:
Vegan Apple Waffles are perfect for that special morning when you want to have something out of the ordinary.
Apple Broccoli Salad has everyone's favorite vegetables and fruits.
Apple Pie Cookies may just be the perfect treat. Grated fresh apple is blended with apple pie spices. Let me sneak in a picture of these delicious apple cookies.
Do you know Rolled Oats, whole oats and old-fashioned oats are the same things? They're flat and roundish and they have a little bit of texture.
To process them they are whole oats are steamed to make them soft and then they're pressed.
So feel confident when picking up any three of those types of oats. Your Slow Cooker Apples and Oats will come out perfect.
As always, you can use any of your favorite nut that you like for this recipe I just love pecans and they are perfect as an addition to autumn recipes.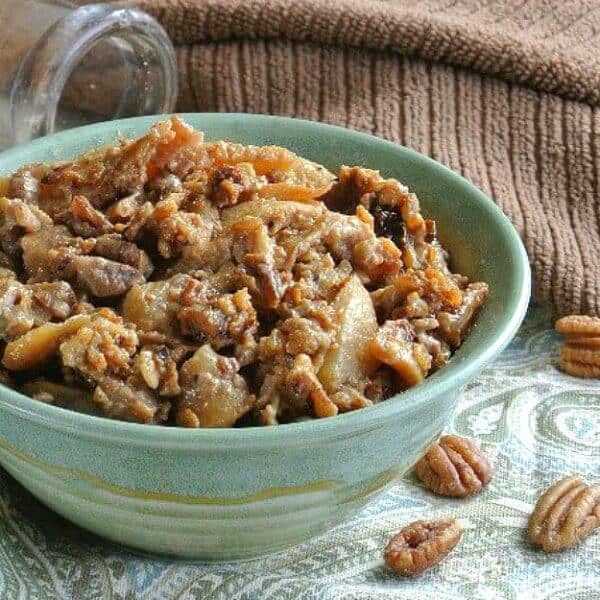 This post contains affiliate links. Read my disclosure policy here.
Helpful Tools for Slow Cooker Apples and Oats!
You don't need a large crockpot for this recipe. A 3 qt. would be great and you could even double the recipe in a 3 qt. This one from Hamilton Beach is even programmable.
Measuring Cups and Spoons are a necessity for so many recipes and this one is made of stainless steel and has so many sizes!
This isn't a cooking tool but it's a beautiful 6" bowl. Polish Pottery is a bit pricey but so beautiful.
Slow Cooker Apples and Oats
A wonderful breakfast you'll want over and over again.
Ingredients
¾

cup

apples, peeled and sliced, I like them kind of thick

½

cup

old fashioned oats, also called rolled oats

¼

cup

dairy-free butter, melted

¼

cup

coconut sugar

1

tablespoon

lemon juice

1

tablespoon

chia seed, optional

½

teaspoon

ground cinnamon

½

cup

pecans, chopped
Instructions
This serves 2-3 people but it is easily doubled for a family.

Put all of the ingredients in the

slow cooker

and stir.

Turn to high (it must cook on high).

Cook 2-3 hours.

Serve hot, warm or cool.
Nutrition
Serving:
1
Serving
Calories:
356
kcal
Carbohydrates:
29
g
Protein:
4
g
Fat:
26
g
Saturated Fat:
4
g
Sodium:
149
mg
Potassium:
166
mg
Fiber:
5
g
Sugar:
12
g
Vitamin A:
735
IU
Vitamin C:
3.4
mg
Calcium:
44
mg
Iron:
1.3
mg
This slow cooker recipe will not freeze well. Go ahead and enjoy it now and within the next couple of days.
It disappears in no time anyway so lots of leftovers will never be a problem.