Apple Pie Cake from the Slow Cooker is easy and fast to prepare. You start with yellow cake mix and add fresh apple slices. A few more ingredients and stir. The best sweet dessert!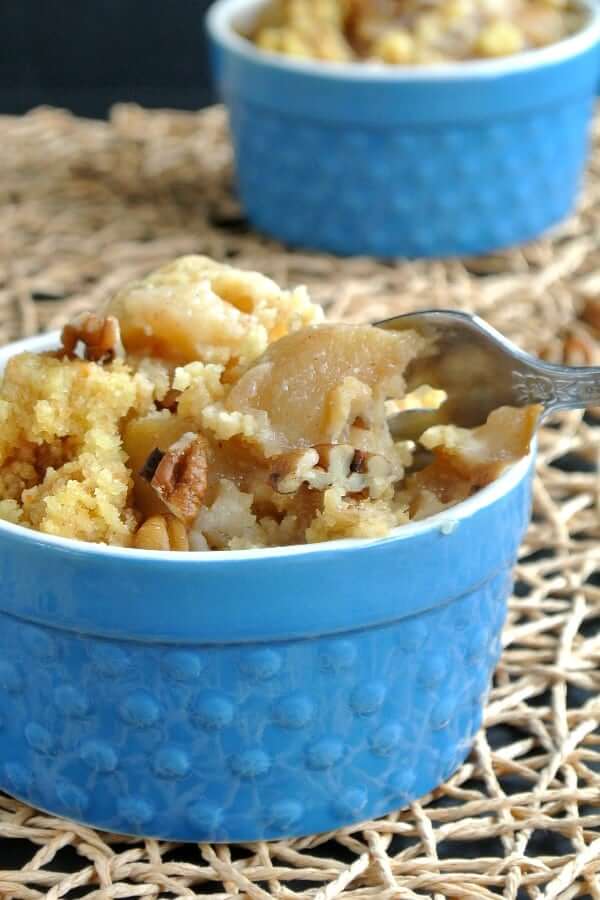 Making an apple pie cake suddenly becomes a whole lot easier and your kitchen still will smell like your grandma just took her classic apple pie straight out of the oven.
There is a reason why some people in my family call this Apple Pie Cake an apple dump cake from the crockpot. It's fast and you can just walk away for a couple of hours.
With just a few ingredients, some stirred and some layered, you get the most satisfying sweet dessert.
Slow Cooker pros
The slow cooker is without a doubt an indispensable tool in the kitchen. You can plan and prepare big-batch recipes that leave a lot of leftovers to store in the fridge or to freeze.
It takes the stress out of busy weeknight dinners, knowing that you have something already in the fridge that feeds the family for more than a day.
And who doesn't like throwing healthy ingredients in a pot, then set it and forget it? I certainly do!
The more you use your crockpot, the more experimenting you'll be doing with it. You'll be searing out more recipes too.
You can tell how much I love mine as I have about fifty crockpot recipes on the blog.
One thing is for sure. You don't need to stick with just making soups or staples like beans or grains.
You can use this handy tool for hearty breakfasts, savory make-ahead meals, and lovely desserts!
Apple Pie Meets Cake in the Crockpot
Vegan Apple Crumble is the best of all worlds:
It;s easy to make and requires little preparation.
An inviting, sweet dessert with that perfect crumbling texture. It is finger-licking good!
It is healthier than your store-bought apple pie and one hundred percent vegan!
Super easy to make in the slow cooker.
Pro Tips:
Yellow Cake Mix
Yes, that is right, my friends. I have taken the word effortless to a whole new level with making this apple pie! And you'll love it!
A great vegan mix is Duncan Hines Moist Deluxe Classic Yellow Cake Mix. This isn't a sponsored post. I just happen to like this one.
It is not only a cost-effective product, but you get that fine crumbly texture when you incorporate dairy-free butter the right way. That means to measure the melted butter in a measuring cup - not a scoop measurer.
Most Duncan Hines Cake mixes are an excellent option for vegans because most of them contain no dairy ingredients.
You can sure use another cake mix just check out the ingredients to make sure it's vegan.
Choose Fresh Apples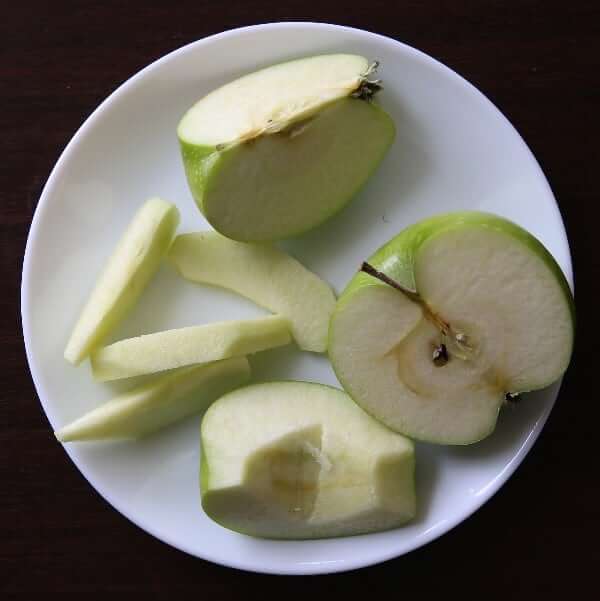 Probably the most time-consuming part of making this super simple dessert is peeling and slicing the apples.
It still doesn't take a lot of time though because there are only four apples!
You can see in the photo above the steps I take with each apple. I use to live right down the street from Apple Hill in California and I've peeled literally bushels of apples.
How do you peel an apple
So that doesn't mean this is the only way to peel an apple but it's fast for me and it gets the job done very well.
First, cut the apple through the core and then cut each half through the core again. Now you have four pieces.
Take a little nip off the end of one quarter, cutting inward, and then go down around the core to the middle of the length.
Flip the apple around and get the other end and the core from the other side.
Now all you have to do is peel the quarter and then slice into thick slices. After I start coring the apple it never leaves my hand until it's sliced.
Please cut the apples in any way that feels safe to you. I'm just fast doing it this way.
Apple choices
Also, not every apple is created equal when it comes to making a pie in the slow cooker. The fruit is going to spend some time in the crockpot, and the last thing you want is mushy apples that lose their structure completely.
Just like choosing the right cake mix, you also want to select the right apples to obtain that perfect sweet-tart flavor that you love so much in an apple pie.
You can't go wrong with good old Granny Smith apples. They are an excellent go-to baking apple, probably one of the most popular ones for making an apple pie.
I have another type of pie on the blog that is equally as simple and delicious. Blueberry Apple Half Moon Pie uses a Granny Smith apple too.
The photo above shows that the little bit of the sugar mixture is plenty. As you're slicing the apples you might be thinking that ¼ cup of sugar can't be enough for these apples. It really is.
Especially with the sweet buttery mix of the cake mix, there is plenty of sweetness.
Now for the final flourish, toss some chopped pecans on top of the finished cinnamon-spiced apple pie. It's very much like a vegan apple crumble and is just so good.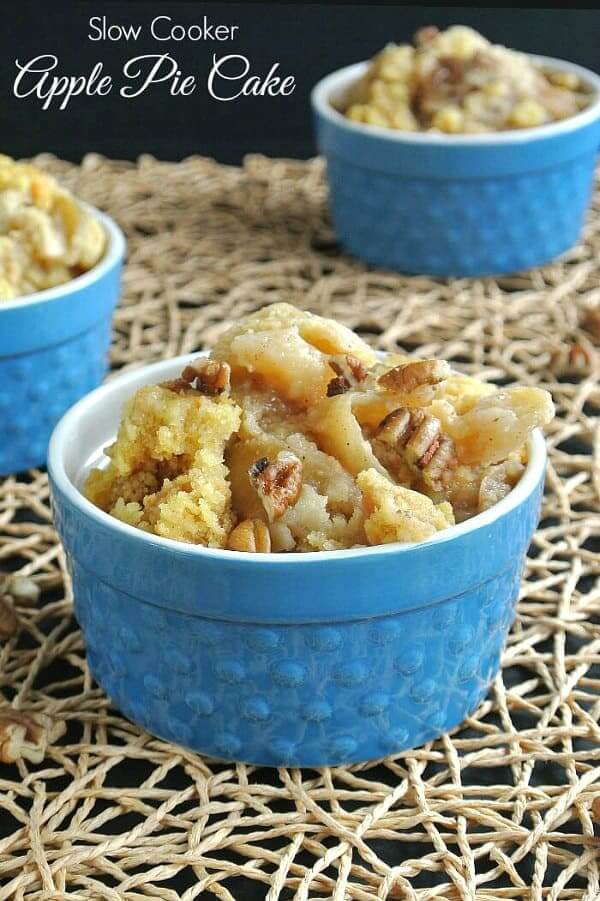 📋 Recipe
Slow Cooker Apple Pie Cake
Slow Cooker Apple Pie Cake is easy and fast to prepare. You start with a vegan yellow cake mix and add fresh apple slices.
Ingredients
4

Granny Smith apples

sliced

¼

cup

coconut sugar

⅛

tsp

ground cinnamon

½

cup

dairy free butter

melted

1

yellow cake mix

1 box, I use Duncan Hines Moist Deluxe Classic Yellow Cake Mix

¼

cup

pecans

chopped, optional
Instructions
Use a wider slow cooker if you have one. That gives the cake more of a crumbly top surface. I used a 10" diameter slow cooker and one of those big oval ones would work too. If you have the regular size crockpot then it will work too.

Peel and slice the apples and drop them right into the crock~pot.

Mix the sugar and cinnamon and sprinkle over the apples.

Stir with a wooden spoon to coat all of the apples with the sugar mixture.

Melt the butter in the microwave for a few seconds. Set aside.

Pour the cake mix into a medium sized bowl.

Stir in the butter and mix well. I use my fingers at the end to 'pinch and roll' to help incorporate the butter evenly and get that fine crumbly texture.

Sprinkle half of the cake mix/vegan butter mixture over the apples. Stir in well.

Sprinkle the rest of the cake mixture over the top of the mixed apples. Do NOT mix in.

Cover and cook on low 2 to 3 hours.
Notes
Use a big spoon to serve into bowls. Sprinkle chopped pecans over the top if you like.
Nutrition
Serving:
8
Ounces
Calories:
502
kcal
Carbohydrates:
83
g
Protein:
3
g
Fat:
18
g
Saturated Fat:
3
g
Sodium:
685
mg
Potassium:
187
mg
Fiber:
4
g
Sugar:
54
g
Vitamin A:
65
IU
Vitamin C:
5.6
mg
Calcium:
192
mg
Iron:
2
mg