Vegan Shortbread Cookies are deliciously soft and crumbly. They melt in your mouth and will satisfy your sweet tooth any day of the week especially when filled with a creamy chocolate filling for cookies.
I'll say it right out. I think Pepperidge Farm should buy my easy shortbread cookie recipe because they are just that good. And I think when you make these little gems you'll be more than happy you did.
In all seriousness, you have to try these sandwich cookies with their creamy chocolate frosting as the filling.
You're actually making 50 cookies but then you cover one cookie with the prepared chocolate and then lay another cookie on top of that. That makes 25 nice sized and perfect tasting cookies.
I make them more often for special occasions. Because they're just so unique and so cute. Really, everyone loves them. Over the years, they have been my most requested shortbread cookies.
Especially for the holidays.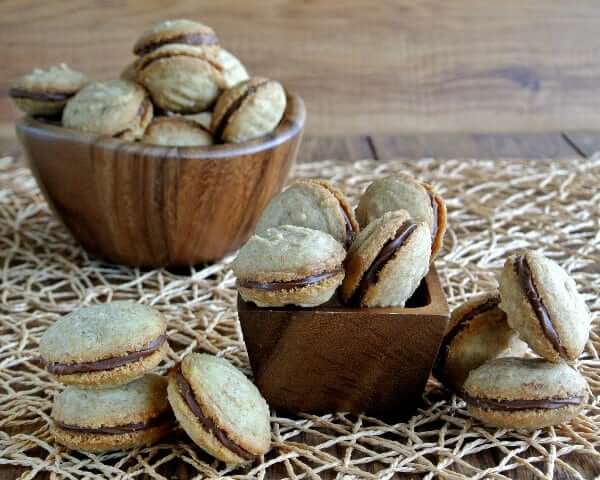 And it doesn't take a lot of time to prep these cookies either. Even with the baking time if you fill up multiple baking sheets, you'll be done in under an hour.
Also, try bringing these treats as a gift to a party. You will be their absolute favorite guest. No doubt! And they look adorable when packed in a small cookie box!
The creamy chocolate filling for cookies if the perfect match for these treats too. It's a bit indulgent, but that is what we are going for here. Because you get to do that sometimes. Right?
In itself, they can be a beautiful single layer cookie also. Be warned; some may disappear before you can get to the filling anyway.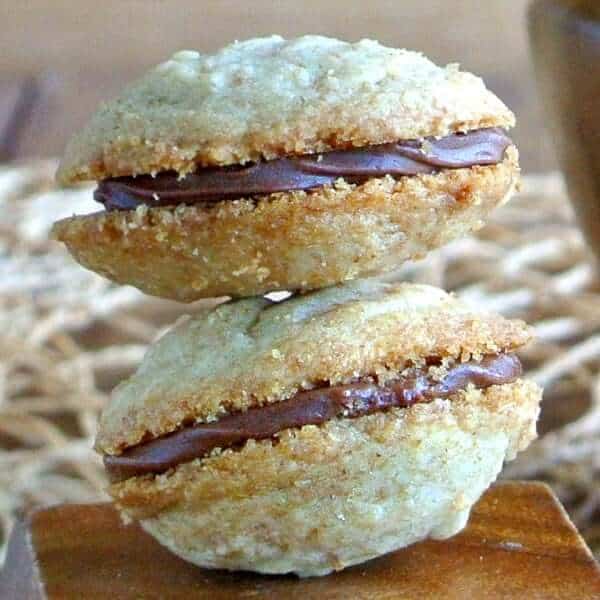 Creamy Chocolate Frosting
Is it a chocolate frosting or is it an icing? Well, I think it can be called either but this recipe is a light and fluffy one that could be used on a cake too.
So let's call it frosting. One way or the other it's a buttery chocolate filling for soft shortbread cookies.
My family has a very large soft spot for chocolate so if I'm trying to make anything a bit special I opt-in for chocolate.
Your family may be the same way but you can sure serve these vegan shortbread cookies without the filling if you're looking for a shortcut. They are wonderful single layer cookies also.
How Do You Make Soft Shortbread Cookies?
Very easily!
All of the dough ingredients go into a bowl and you mix them by hand or with a mixer.
Slide them into the fridge for about an hour.
Now scoop out the dough to about a tablespoon ball. I love to use those little cookie scoops and used the one that is 1" diameter is perfect.
Any size close to that will work just fine.
Place about 1 ½" apart and when the sheet is filled go back and flatten the balls just a tiny bit with the back of a fork tines. You can see a little bit of the design in the photos.
Now bake.
Easy, heh? Now all that's left is to make the frosting and that takes about 5 minutes.
I used a piping bag with a swirly tip so my ridges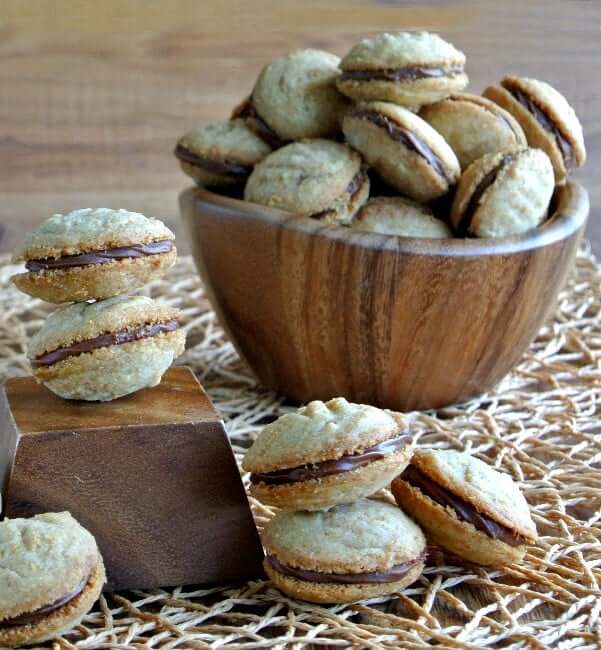 More Shortbread Cookie Recipes!
If you're in the festive mood and want to bake shortbread cookies into a shape like rabbits or reindeer then you should check out my recipe for Easy Shortbread Cookies.
I make them into stars for our patriotic holidays but they will work perfectly for any cookie cutters that you have.
Now there are some round cookies on this blog that I call Mexican Wedding Cookies because that Is how I enjoyed them when I was a kid. Well, they are also Christmas cookies that look like snowballs.
📋 Recipe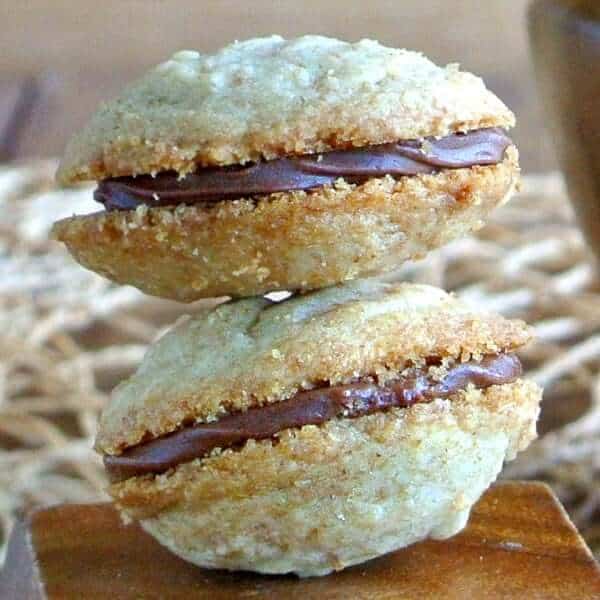 Vegan Shortbread Cookies with Chocolate Filling for Cookies
Vegan Shortbread Cookies with Chocolate Filling are soft and crumbly and melt in your mouth.
Ingredients
For the Cookie Dough
16

ounces

dairy free butter

- softened

2

cups

whole wheat flour

1

cup

cornstarch

1

teaspoon

vanilla extract

1

cup

powdered sugar

- organic
Ingredients for the filling
3

ounces

semi-sweet chocolate

2

cups

powdered sugar

- organic

2

tablespoons

dairy free milk

1

teaspoon

vanilla extract

¼

cup

dairy free butter

- softened
Instructions
For the dough
In a large bowl add all of the dough ingredients.

Mix with a hand mixer or by hand.

Put in the freezer for 1 hour.

Make 1 Tablespoon size balls. I love to use the cookie dough scoop that is about 1" in diameter.

Place the balls on a baking sheet.

Space about 1-½" apart.

By the time you have filled up the baking sheet they have softened a bit.

Flatten the tops of the cookie balls, just a bit, with the back of fork tines.

Bake at 325 degrees for 16 to 17 minutes.

Let cool.
To make the filling
Melt the chocolate in a medium sized microwave safe bowl in the microwave for 1 minute. Stir and turn on the microwave for another minute.

Stir and if the chocolate is not melted completely it will be, all by itself, in no time.

Mix the rest of the filling with a hand mixer. It makes it so much easier and smoother. Of course, you can do it by hand if you do not have a hand mixer.

Add 2 tablespoons of the vegan butter to the chocolate.

Add half of the powdered sugar and soy milk and vanilla. Mix well.

Add the rest of the powdered sugar and mix well.

Add the remaining vegan butter and mix well.
Assemble the cookies
I turn all of the cookies out on a baking sheet (just to contain any of the crumbs that may accumulate.

Sort of, match the sizes with each other. One will be the top and one will be the bottom.

You can either dollop a little bit of chocolate on one side, in the center, of the cookie or use a decorator tip to pipe on the chocolate onto each cookie.

Lay the top of the cookie on the chocolate and lightly press down for the filling to reach the edge. You can actually put quite a lot of chocolate on each cookie. More than I did in the photos.

That is it! The chocolate will set a bit and won't be so squishy but will still remain soft.

Store in an airtight container.
Notes
You can freeze them also if you made them in advance for a special occasion.
IF FREEZING:
Package in rigid sided containers as defined in my article How to Prepare Food for the Freezer.
TO PREPARE AFTER FREEZING:
Remove from the freezer and just set out. They defrost in no time.
Nutrition
Serving:
1
Cookie
Calories:
236
kcal
Carbohydrates:
27
g
Protein:
1
g
Fat:
18
g
Saturated Fat:
3
g
Sodium:
136
mg
Potassium:
58
mg
Fiber:
1
g
Sugar:
15
g
Calcium:
7
mg
Iron:
0.6
mg