Vegan Sausage Stuffing Casserole at Thanksgiving is a treat and it's made with cornbread stuffing.  This dressing recipe can match any stuffing in any test.
Vegan Sausage Stuffing Casserole at Thanksgiving is quite a treat and it can match any family favorite.   Maybe even surpass.  It's moist and spicy just like the original omni dressing.
I'm starting to think up our Thanksgiving menu and a major part of it is already done.  We will have three main tasty dishes with this vegan sausage dressing being one of them.  Then there will be a cold bean salad of some sort and dinner rolls, of course.
I really enjoy planning meals.  Not at the last moment but when I am in the mood.  Then I get out a pencil and pad and make up a few menus at a time.  They are kept in a blue binder that I can always refer back to.  Ohhh, I digress.
Another favorite for the family has lots of mushrooms.  It's very different from this recipe and you just might want to give Savory Cremini Mushroom Dressing a try too.
This traditional comfort food can be served to any member of your family or group of friends and they will truly appreciate it.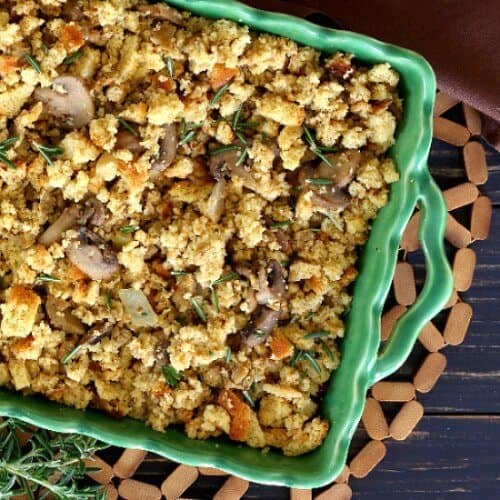 Connect with Vegan in the Freezer
Facebook | Pinterest | Instagram | Bloglovin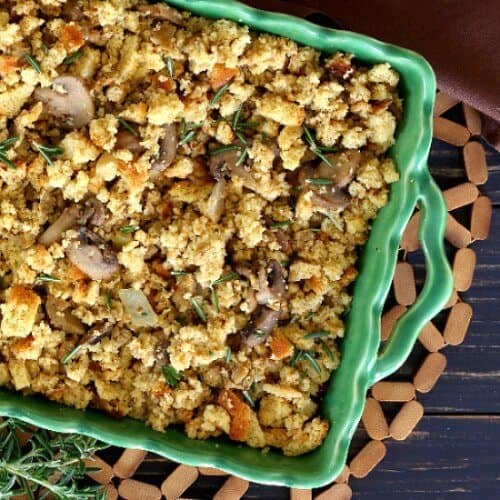 Vegan Sausage Stuffing Casserole
Vegan Sausage Stuffing Casserole at Thanksgiving is a treat and it's made with cornbread stuffing.
Ingredients
16

oz

cornbread stuffing

1/2

cup

dairy free butter

1

cup

onion

- finely diced or pulsed in a food processor

8

ounces

mushrooms, sliced

2

cups

vegetable broth

- use low sodium if you would like to watch salt intake

8

ounces

plant based sausage

- Field Roast uses Vital Wheat Gluten and it's delicious

1

teaspoon

sea salt

dash

pepper

1

teaspoon

dried sage

1/2

teaspoon

gourmet spike spice

Garnished with fresh rosemary
Instructions
Melt 2 tablespoons of the dairy free butter in a large skillet and keep on medium low.

Add the onion and mushrooms and saute for 15 minutes or until onion becomes translucent.

Meanwhile, put the sausage in a food processor and process for just a few seconds to get crumbles.

Add 1 more tablespoon of the melted butter.

Put the crumbled sausage in the large skillet along with the onions.

Add sage, gourmet spike spice, salt and pepper.

Cook and stir one minute.

In a large bowl add breadcrumbs and the sausage mixture. Stir well.

Add vegetable broth and the remaining butter. Stir until well combined.

Turn all of the mixture into an 9" x 13" casserole dish.

Cover and bake at 350° for 20 minutes.

Remove from oven and serve.
Recipe Notes
Leftovers freeze beautifully. I will make this recipe just to freeze in single sized servings. It heats so quickly in the microwave and is a really tasty snack or lunch.
IF FREEZING:
Let cool to room temperature.
Cover with plastic wrap and then slide into a freezer bag.  You can also freeze in smaller single or double serving freezer containers.
TO PREPARE AFTER FREEZING:
Remove from the freezer and put in the refrigerator to defrost from 4 to 6 hours.
The night of serving -
Place the dressing in a microwavable safe bowl and heat on high for about 2 to 3 minutes stirring every minute.
Nutrition Facts
Vegan Sausage Stuffing Casserole
Amount Per Serving (1 Serving)
Calories 256
Calories from Fat 90
% Daily Value*
Total Fat 10g 15%
Sodium 948mg 40%
Potassium 239mg 7%
Total Carbohydrates 30g 10%
Protein 10g 20%
* Percent Daily Values are based on a 2000 calorie diet.