Real Fruit Popsicles made from Pink Grapefruit & Oranges are juicy, quick & have refreshing popsicle flavors. A homemade popsicle recipe with 2 ingredients.


To continue my summer obsession with popsicles I have squeezed the juice from fresh ripe citrus and made Ruby Red Grapefruit and Orange Popsicles.
They are real fruit popsicles which makes the recipe as healthy as you can get. There are only two ingredients for this juicy and colorful citrus fruit treat.
Pink grapefruit are incredibly juicy and have that delicious tangy sweetness. They also just happen to be the most popular grapefruit out there.
Combine their juice with sweet and deliciously ripe oranges, and you have popsicle flavors that are utterly irresistible. Nature's candy on a stick!
I gladly turn any fruit combo into a frozen dessert. And pops are my favorite! They always bring a smile to my face and give me that good kinda feeling.
Real Fruit Popsicles
There is nothing better than homemade popsicle recipes that turn out healthy ice pops. They're waiting for you in the freezer whenever you want something sweet. And these popsicles are incredibly refreshing.
I often enjoy them as a healthy snack, guilt-free treat, or anytime to cool off from a busy day. I don't think I will ever get enough of them. They truly are just fruit on a stick.
My family loves them too, and they were pretty excited to test this citrus-flavored combo. Just look at these gorgeous fruits.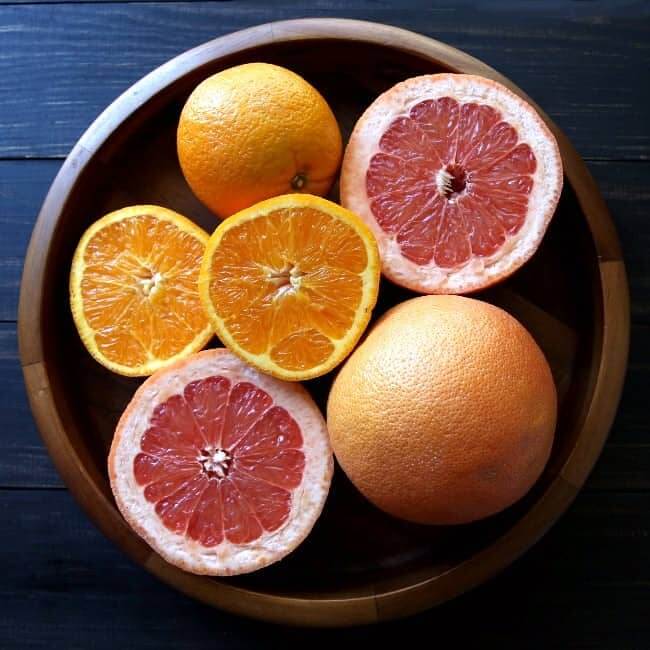 The finished product is a vibrant and bright orange color. There is no need for any extra sweetness such as maple syrup. Mother nature's fruit juice is enough to have these healthy popsicles burst with flavor.
Come to think of it you can even control the color by adding an extra orange or and extra pink grapefruit.
Popsicle Flavors
Straight orange popsicles were my favorite as a child, and I seriously didn't think they could be improved. But that combined tart and sweet flavor all at the same time tastes even better.
It's a super simple recipe but don't let that fool you. All you have to do is combine the fruit juices and pour them into the popsicle molds. That's it!
Just place them in the freezer and wait for them to set. You are going to love them!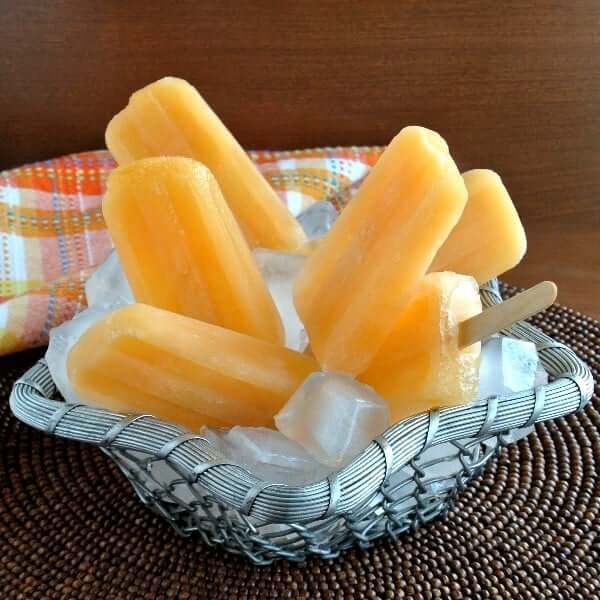 Both fruits are also packed with vitamin C to give you a boost of energy—perfect for after a good yoga session or walk in the park!
And as a bonus, Ruby grapefruits are an excellent source of vitamin A. Talk about a healthy snack!
I know summer is winding down, but we have a good month of warm weather still ahead of us.
So, perfect timing to try these real fruit popsicles and let me know what you think. Or, be like me and enjoy them anytime during the year to get a taste of summer.
Want more homemade popsicle recipes?
Check out Citrus Watermelon Popsicles for a pretty pink popsicle and Pineapple Kiwi Popsicles for a sweeter golden popsicle. Everybody loves a popsicle!
This post contains affiliate links. Read my disclosure policy here.
What Do You Think?
If you take a photo of your colorful popsicles I would love to see it. I'm curious to know if you added a little maple syrup for the kiddies too. Follow me over on Instagram and tag me on your photo @vegan_in_the_freezer.
Your opinion means a lot to me and if you'd like to leave a comment and possibly a star rating I'd love to hear your thoughts.
📋 Recipe
Ruby Grapefruit and Orange Popsicles
Ruby Grapefruit and Orange Popsicles are satisfying to make because they are quick, refreshing and impressive.
Ingredients
3

large oranges equaling 1 ½ cups juice

2

ruby red grapefruit equaling 1 ½ cups juice
Instructions
That is it! 2 ingredients.

Squeeze all the juice you can out of the citrus fruit.

I like the clear fruit juice so I put it through a sieve.

I also rub my finger around in the sieve and get as much juice as I can.

There will be pulp leftover when you are done.

Do not worry about exact measurements.

Pour into your popsicle molds, stick in your popsicle sticks and freeze at least 6 hours.

Here is the clickable link for the popsicle mold that I used. I have used it a few times now and it works really well. Norpro Ice Pop Maker

To get the popsicles out of the mold I ran hot water on the underside first.

Take the frozen popsicles out of the mold and put in a freezer bag.

Replace in the freezer.
Notes
My freezer takes about 4 to 6 hours to freeze popsicles solid.
Nutrition
Serving:
1
Popsicle
Calories:
43
kcal
Carbohydrates:
10
g
Potassium:
152
mg
Fiber:
1
g
Sugar:
7
g
Vitamin A:
725
IU
Vitamin C:
40.3
mg
Calcium:
29
mg
Iron:
0.1
mg
This recipe has been updated from when it was originally published in July 2013. There has been information added for clarity and interest.