Roasted Red Pepper Sauce Dip is thick and creamy and just right for dipping in your favorite veggies. A roasted red bell pepper classic turned into an appetizer dip.
Once upon a time ... 2014. There was a classic recipe called Roasted Red Pepper Sauce.
It was very popular across the land and I was lucky enough to find it. But then I started to find variations. Variations, I say. Which is correct? Which is right? Which tastes best?
There were tomatoes in some and in some there was vodka. How could I narrow this down? How can I make it great?
Out came the baking sheets and saucepans. The vegetables were stacked high and the appliances were lined up. Knives sliced, nuts soaked, dishes dirtied.
My mind was working hard. Dips were being created. No, not that one. It was too familiar. No, not like that, that was too tart. No, not that either. It was too sweet.
Taste was tested! Aha! What's this? A lovely texture with a creamy roasted flavor. It tastes great either cold or at room temperature.
I want to eat it with a spoon and dip veggies and chips in it. Now, this is just right.

How fun is this. There are no beans. It's not a hummus. There are no onions and there's no sauteing.
It's a roasted red bell pepper dip with the perfect texture that makes you want to eat it straight out of the bowl. Since those olden days, Roasted Red Pepper Sauce Dip has had a regular appearance at our family get-togethers.
Give it a try and it just might be a star at your parties too. I have to show you the great wooden tool that my husband made for me.
It is pictured below here. The comfortable wood tool pulls out the rack in the oven and then pushes it back in keeping me safe from burns. I was burn-prone but not anymore.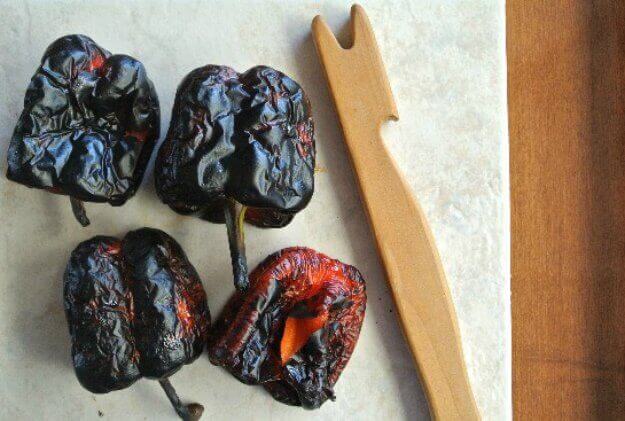 This is also what roasted red bell peppers look like. They looked burned but it is really just the skin and it comes off. Underneath os luscious roasted red bell pepper.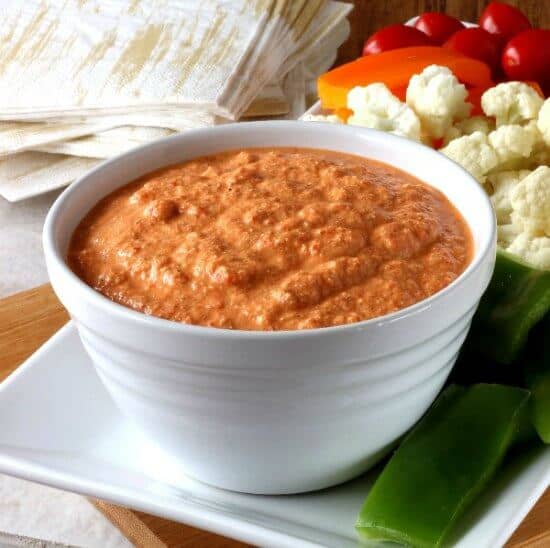 This post contains affiliate links. Read my disclosure policy here.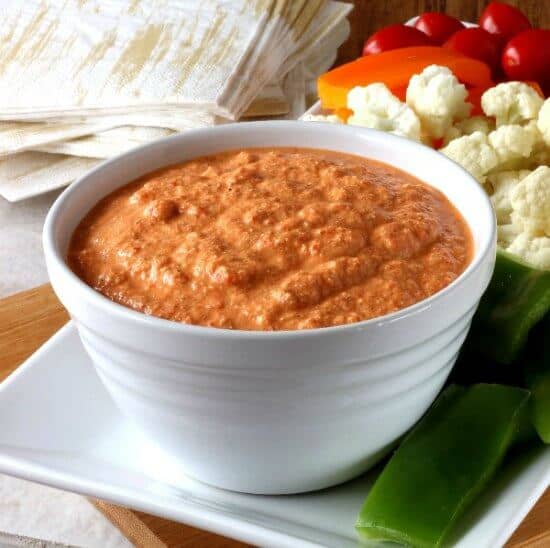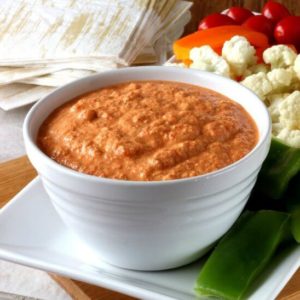 Roasted Red Pepper Sauce Dip
Roasted Red Pepper Sauce Dip is thick and creamy and just right for dipping in your favorite veggies. Featuring Roasted Red Bell Peppers.

Ingredients
For Almond Mayonnaise
¾

cup

raw almonds, then soak overnight covered with water

2

tablespoons

fresh lemon juice, that is about ½ lemon

½

teaspoon

mustard powder

½

teaspoon

sea salt

¼

teaspoon

black pepper

½

cup

extra virgin olive oil
Red Bell Peppers
1

cup

roasted red bell peppers

- fresh roasted or from a jar - directions below for roasting your own it may take 2 bell peppers depending on the size
The Remaining Ingredients
1

clove

garlic

2

teaspoons

lemon juice

½

teaspoon

sea salt
Instructions
Make the Almond Mayonnaise
Soak the almonds overnight in water to cover by about double. Soak at least 3 hours or overnight. They will bulk up in size. Drain.

Place the almonds in a blender.

Add the next 4 ingredients - not the oil.

Turn on your blender and blend until it is as smooth as you can get it. Different blenders will do different work because of the amount of power that they have. No matter what your blender you will get a delicious almond mayonnaise.

Now slowly pour in the olive oil through the opening in the lid.
Roasting Bell Peppers
Heat the broiler. Place the bell peppers on a baking sheet and on the top shelf under the broiler. With tongs turn often to get all sides blackened.

Let cool and then rub off the blackened skin with a damp paper towel or peel with a paring knife if you are having trouble. Just grab an edge of the skin with the knife and peel off. Remove all the seeds. Set aside.
Making the Dip
Place roasted and cleaned red bell pepper in a blender.

Add 1 cup of the almond mayonnaise and the remaining ingredients.

Taste and see if you would like a little bit more lemon. Sometimes I do. Sometimes I don't.

It will firm up a bit with sitting. Place in the refrigerator.

Serve as a vegetable dip.
Nutrition
Serving:
2
Ounces
Calories:
100
kcal
Carbohydrates:
2
g
Protein:
1
g
Fat:
10
g
Saturated Fat:
1
g
Sodium:
265
mg
Potassium:
60
mg
Vitamin A:
45
IU
Vitamin C:
5.1
mg
Calcium:
21
mg
Iron:
0.4
mg
Oh my gosh! I forgot to tell you about another popular red bell pepper recipe that's on the blog. This one is Bell Pepper Bruschetta Crostini. This one can also be used as a dip.