Everyone loves a delicious dip. Whether you're hosting a summer barbeque or throwing together an impromptu get-together with friends, this roasted red pepper dip is sure to hit the spot! This easy-to-make dish combines creamy almond mayonnaise with roasted red peppers, herbs, and spices to create one of the most flavorful party appetizers out there.
Why You'll Love This Roasted Red Pepper Dip Recipe
Delicious- Roasted red peppers make a super flavorful dip that is also creamy and can be used in so many different ways.
Easy To Make- This delicious dip recipe only takes about 20 minutes to whip up and can be stored easily in the fridge for later use.
Great For Parties- Roasted red pepper dip is great for larger gatherings as it can easily be made ahead of time and served with veggies, chips, crackers, and pretzels.
A Crowd-Pleaser- Everyone loves a good dip - this roasted red pepper dip is sure to be a hit with both adults and kids alike!
What Is Roasted Red Pepper Dip?
Traditionally, roasted red pepper dip is a creamy, tangy, and easy appetizer made with cream cheese, sour cream, or yogurt, roasted red peppers, fresh basil, and spices. It's usually served cold or at room temperature as part of a party platter or alongside fresh vegetables, pita bread, pita chips, and crackers. This vegan version of red pepper dip uses almond mayonnaise instead of cream cheese or yogurt for a healthier dip that still has incredible flavor.

Equipment Needed
Large Bowl
Colander
Blender
Baking Sheet
Paring Knife
Measuring Cups and Spoons
Ingredients
Raw Almonds- Soaked overnight in water and then blended helps to create the base of the mayonnaise.
Lemon Juice- Fresh lemon juice adds acidity and a tangy flavor.
Mustard Powder- Adds a bit of spice and flavor to the mayonnaise.
Sea Salt- Helps to bring out the other flavors in the dip
Black Pepper- Adds a bit of heat to the dip.
Extra Virgin Olive Oil- Helps to create a smooth and creamy dip.
Red Bell Peppers- Roasting the red bell peppers helps to bring out their natural sweetness and adds a smoky flavor.
Garlic- Adds a subtle garlicky flavor to the dip.
How To Make Roasted Red Pepper Dip
Before preparing the dip, you must first create almond mayo. Place raw almonds in a large bowl and cover with twice their volume of water. Store the bowl of almonds in the refrigerator for at least 3 hours, although it's best to store them overnight for optimal results; they will double in size after soaking.
Drain the almonds before putting them in the blender with lemon juice, mustard powder, salt, and pepper. Blend the ingredients until they reach a velvety smooth consistency. The amount of time needed for this process will depend on how powerful your blender is. After achieving a creamy texture, pour in the olive oil gradually via the lid opening while blending to finish the almond mayonnaise. Pour the mayonnaise into a bowl and rinse out the blender.
Now, it's time to roast your own red peppers. If you've opted for store-bought roasted red peppers instead of fresh ones, simply skip this step and move on to making the dip!
To begin with - preheat your broiler on high heat; cut the peppers in half, then place the bell peppers on a baking sheet and pop them on the top shelf of the oven. Using tongs, turn over each pepper every few minutes until all sides are blackened evenly from that roasting warmth. Once blackened all the way around, let the peppers cool before rubbing off the blackened skin with a wet paper towel or use a pairing knife if the wet paper towel isn't working and remove all of the seeds.
It's finally time to make the dip! To the clean blender, add the roasted bell peppers, almond mayo, garlic, sea salt, and lemon juice. Blend until well combined. At this point, I would taste the dip. Depending on the size of the roasted peppers, you may want to add a little more salt or lemon juice.
Pour the dip into a jar or airtight container and store it in the refrigerator to chill until ready to use.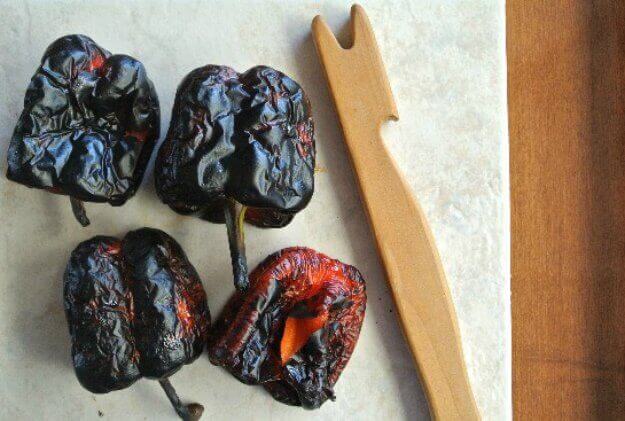 How To Serve Roasted Red Pepper Dip
This dip is absolutely delicious and can be enjoyed in a variety of ways. Here are some ideas:
• Serve it with raw vegetables and crackers as an appetizer at parties or get-togethers.
• Use it to top off your favorite sandwich with roasted veggies.
• Spread it on toast for a simple breakfast or snack option.
• Serve it on top of grilled tofu.
• Use it as a dip for pita bread, pita chips, and tortilla chips.
No matter how you choose to enjoy this vegan roasted red pepper dip, it's sure to be a huge hit!
Popular Substitutions & Additions
To make the roasted red pepper dip spicy, add some hot sauce, a pinch of cayenne pepper, or red pepper flakes.
Feel free to adjust the amount of garlic in the recipe to your taste. Garlic powder can also be used in place of a garlic clove.
Use store-bought almond mayonnaise instead of making your own.
For added creaminess, try adding some plain hummus, tahini, or white beans.
For extra crunch, top with some toasted pine nuts or chopped almonds.
Try adding herbs and spices like smoked paprika, oregano, or fresh basil for a burst of flavor.
To make your red pepper dip more decadent, add a dollop of vegan cream cheese, nutritional yeast, or vegan parmesan cheese.
Use store-bought roasted red peppers instead of roasting your own.
Add a bit of tomato paste to the roasted red peppers in the blender for a more unique flavor.
Can You Freeze Roasted Red Pepper Dip?
Yes, absolutely! To freeze the dip, transfer it to a freezer-safe container and store it in the freezer for up to 3 months. When you're ready to use it, let it thaw overnight in the fridge or on the counter at room temperature before serving.
This red pepper dip can also be stored in the fridge in an airtight container or jar for up to 5 days.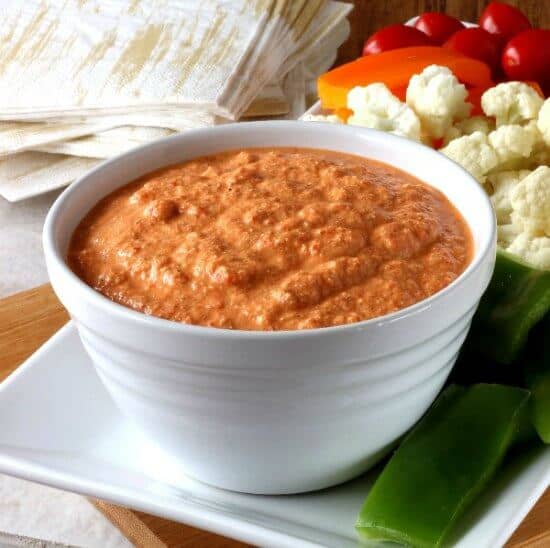 Roasted Red Pepper Dip FAQs
How can I make this dip spicy?
To give this red pepper dip some spice, add a pinch of cayenne pepper or red pepper flakes. You can also try adding some fresh diced jalapenos or even Sriracha if you're feeling adventurous!
Is vegan roasted red pepper dip healthy?
Yes, this dip is made with whole food ingredients, so it's a much healthier alternative to store-bought dips. Plus, it's full of vitamins and minerals from the peppers and almonds.
Can I use roasted red peppers from a jar for this recipe?
Yes, you can certainly use store-bought roasted red peppers in this dip instead of roasting your own.
Is roasted red pepper dip gluten-free?
Yes, this dip is naturally gluten-free! Be sure to check the labels if you use store-bought almond mayo or red peppers to ensure they are gluten-free.
Can I make this recipe with a food processor?
For the best flavor and creamy texture, it's best to use a blender or food processor. However, you can mash the ingredients together with a fork if you don't have those kitchen tools available.
📋 Recipe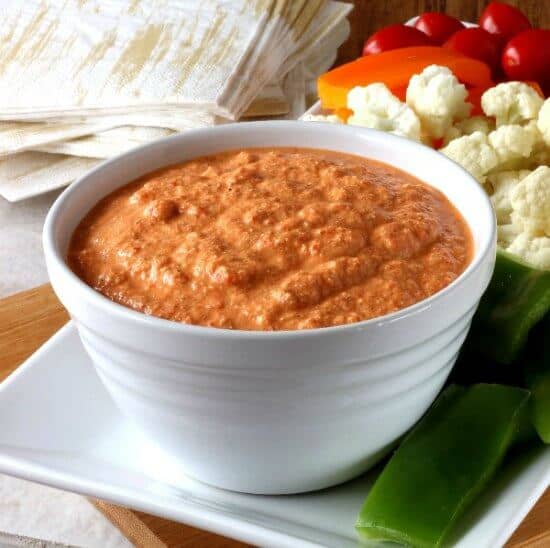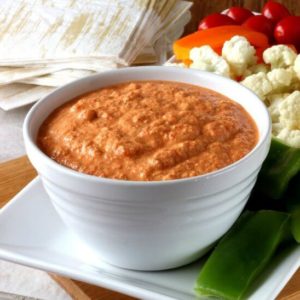 Roasted Red Pepper Dip
This easy-to-make dip combines homemade creamy almond mayonnaise, roasted red peppers, and spices to create one of the most flavorful party appetizers there is.
Ingredients
For Almond Mayonnaise
¾

cup

raw almonds, then soak overnight covered with water

2

tablespoons

fresh lemon juice, that is about ½ lemon

½

teaspoon

mustard powder

½

teaspoon

sea salt

¼

teaspoon

black pepper

½

cup

extra virgin olive oil
Red Bell Peppers
1

cup

roasted red bell peppers

- fresh roasted or from a jar - directions below for roasting your own it may take 2 bell peppers depending on the size
The Remaining Ingredients
1

clove

garlic

2

teaspoons

lemon juice

½

teaspoon

sea salt
Instructions
Make the Almond Mayonnaise
Soak the almonds overnight in water to cover by about double. Soak at least 3 hours or overnight. They will bulk up in size. Drain.

Place the almonds in a blender.

Add the next 4 ingredients - not the oil.

Turn on your blender and blend until it is as smooth as you can get it. Different blenders will do different work because of the amount of power that they have. No matter what your blender you will get a delicious almond mayonnaise.

Now slowly pour in the olive oil through the opening in the lid.
Roasting Bell Peppers
Heat the broiler. Place the bell peppers on a baking sheet and on the top shelf under the broiler. With tongs turn often to get all sides blackened.

Let cool and then rub off the blackened skin with a damp paper towel or peel with a paring knife if you are having trouble. Just grab an edge of the skin with the knife and peel off. Remove all the seeds. Set aside.
Making the Dip
Place roasted and cleaned red bell pepper in a blender.

Add 1 cup of the almond mayonnaise and the remaining ingredients.

Taste and see if you would like a little bit more lemon. Sometimes I do. Sometimes I don't.

It will firm up a bit with sitting. Place in the refrigerator.

Serve as a vegetable dip.
Nutrition
Serving:
2
Ounces
Calories:
100
kcal
Carbohydrates:
2
g
Protein:
1
g
Fat:
10
g
Saturated Fat:
1
g
Sodium:
265
mg
Potassium:
60
mg
Vitamin A:
45
IU
Vitamin C:
5.1
mg
Calcium:
21
mg
Iron:
0.4
mg