Roasted Veggie Pizza and Homemade Pizza Dough is a pizza you just can't miss. Roasted and sauteed veggies are piled on top of your favorite pizza sauce.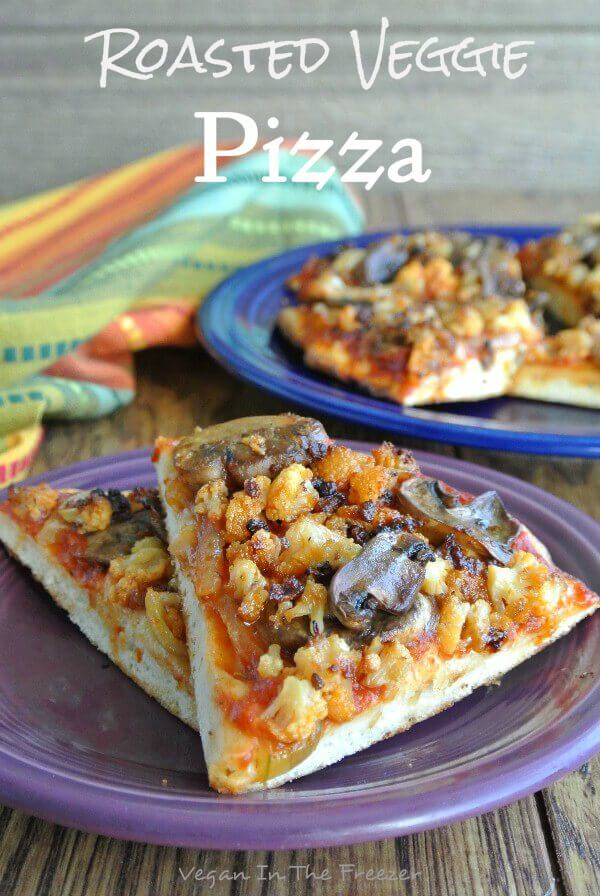 Roasted Veggie Pizza! Yes, it is good enough to get a shout out. The roasted and sauteed veggies that you pile on top of your favorite pizza sauce make for perfection.
For Roasted Veggie Pizza you have the option of making a homemade dough or going with your favorite pre-made crust. The recipe is in the directions below for the crust.
Can you believe I didn't have pizza until I was about 12 years old? Mother always cooked for us but once in a blue moon, there was pizza.
For some reason, I didn't like the looks of it. You know how kids can be. Well, when I got a little bit older I took a bite.
I looked at mom with my eyes so big and said: "I can't believe I have been missing this all these years".
Even as a vegan you can still enjoy all the goodness of a pizza. The tomato sauce is very important for traditional flavor and piles of sautéd and roasted veggies help make it a fantastic meal.
Try Roasted Veggie Pizza and enjoy all the goodness of pizza.
What Types of Vegan Pizzas Are There?
Have you ever come to the right place!
Vegan BBQ Veggie Pizza has the most delictible homemade barbecue sauce ever.
Let me sneak in a photo of this BBQ one.
White sauce? Oh, yes you'd better believe it. Again a homemade sauce to die for and more for this
Vegan Veggie White Pizza.
Did you ever think of this kind before? Antipasto Pizza will be one of your new favorites.
Why not go Mexican style with Baby Shitake Mushroom Pizza? Black beans included.
This post contains affiliate links. Read my disclosure policy here.
Print
Homemade Dough and Roasted Veggie Pizza
Roasted Veggie Pizza is roasted and sautéd veggies piled on top of your favorite pizza sauce make for perfection.
Total Time
1
hour
20
minutes
Instructions
Start to make the dough first and while it is rising prepare the veggies.
For the Crust:
In a small bowl add 2 tablespoons yeast to 1-1/2 cups warm water (110 degrees)

Stir and set aside.

In a large bowl add the flour, maple syrup, olive oil, and the prepared yeast mixture.

Mix well and then turn out onto a lightly floured surface and gently knead into a smooth, firm ball.

Oil a large bowl with a teaspoon of olive oil.

Add the dough to the bowl and turn the dough all around to get the oil on the whole ball.

Cover the bowl lightly with a clean towel and put it in a warm area to let it double in size, about 1 hour.

This is a good time to prepare the toppings - while the dough is rising.

When the rising time is done - turn the dough out onto a lightly floured surface and divide it into 4 equal pieces.

These 4 balls will make 4 pizzas that are 8" to 10" in diameter. Depending on how thick you like the crust. We like the thinner 10" pizza.

Cover them all, again, with a clean kitchen towel and let them rest for 10 minutes.

This is the point where you can freeze the balls or go ahead and make the four pizzas.

See below at the very end if you are going to freeze the dough.
Prepare the toppings:
This takes a little time but cut all of the cauliflower floretes into small little pieces. See the photo of the pizza to get a visual.

Place the cauliflower on a baking sheet.

Pour 2 Tablespoons of olive oil and sprinkle on 1/2 teaspoon salt and 1/4 teaspoon pepper all over the cauliflower. Toss with two big tablespoons to get the oil dispersed as evenly as you can.

Bake at 400 degrees for 15 minutes.

Take out of the oven and set aside.

While the cauliflower is baking saute the onions and mushrooms.

Add 1 Tablespoon olive oil to a skillet.

Add the onions and saute until translucent, about 10 minutes.

Remove the onions and add the mushrooms to the same skillet.

Saute the mushrooms over medium heat for 10 to 15 minutes.

Take off the heat and wait for the dough to finish rising.
To assemble the pizzas:
Lightly oil a baking sheet or a round pizza pan. Sprinkle the oiled pan(s) with a little cornmeal.

Place one ball in the center and push it out, with your fingers, to the desired size pizza.

Divide all of your toppings by four either by an actual division on a plate or by eyeballing it.

Spread pizza sauce all over the bottom of the dough (remember just a quarter of the can which is about 3-1/2 ounces each pizza. That is plenty and you may not even want that much. Some do - some don't.

Generously sprinkle the prepared veggies.

Start with the roasted cauliflower.

Add the sauteed onions and mushrooms.

You may add any other toppings that you like too. Like black olives etc.

Bake in a hot over at 425 degrees for 20 minutes.

Now it is perfect pizza.
Nutrition
Nutrition Facts
Homemade Dough and Roasted Veggie Pizza
Amount Per Serving (1 Slice)
Calories 352
Calories from Fat 90
% Daily Value*
Fat 10g15%
Sodium 889mg37%
Potassium 837mg24%
Carbohydrates 57g19%
Protein 12g24%
Vitamin A 230IU5%
Vitamin C 40.6mg49%
Calcium 53mg5%
Iron 3.5mg19%
* Percent Daily Values are based on a 2000 calorie diet.
Can You Freeze Homemade Pizza Dough?
You might as well say the pizza dough was made to be frozen.
If you are freezing the dough:
Put each ball in its own freezer bag. Then put all of the bagged pizza balls in another freezer bag and freeze.

Roasted Veggie Pizza makes for an extra delicious and fun meal any night of the week.