Roasted Vegetable Sandwich- Mushrooms, sweet potatoes, and onions are sauteed in coconut oil, combined with two types of roasted peppers, then piled inside sandwich rolls drizzled in Italian dressing. These savory sandwiches are the perfect summer sandwich.
Most people are familiar with the classic sandwich: two slices of bread with some kind of filling in the middle. But there are so many different ways to make a sandwich! You can use any type of bread - from a simple white loaf to a more exotic sourdough - and endless filling possibilities. Many delicious vegan sandwich recipes are made with ingredients like avocado, hummus, and roasted vegetables. So whether you're a sandwich lover or just looking for something new to try, this roasted vegetable sandwich should be on the top of your list to try!
Vegan roasted veggie sandwiches are a delicious way to enjoy fresh vegetables. Simply roast your favorite veggies, pile them onto a piece of bread, drizzle with Italian dressing, add your favorite condiments, and enjoy. I like to use peppers, zucchini, mushrooms, and sweet potatoes, but you can use any vegetables you want. These sandwiches are a quick and easy way to get your daily dose of veggies. Plus, they're a great way to use up any leftover roasted vegetables you might have.
Why You'll Love This Roasted Veggie Sandwich Recipe
Colorful- With a variety of colorful vegetables, this sandwich is delicious and beautiful.
Quick & Easy- Roasted veggie sandwiches take about 30 minutes to prepare from start to finish.
Flexible- You're not stuck using only the vegetables in this recipe. Get creative and make these sandwiches your own.
No Complicated Equipment- There's no need for fancy equipment to make these sandwiches. An oven, skillet, and knife are all you need.Full Of Flavor- The combination of roasted vegetables, Italian dressing, and fresh bread makes for a flavorful sandwich.
Equipment Needed To Make A Roasted Vegetable Sandwich
Baking Sheet
Tongs
Paring Knife
Skillet
Measuring Cups and Spoons
Ingredients For Slow Cooker Lentil Soup
Red Bell Peppers
Green Chili Peppers
Coconut Oil
White Onion
Sweet Potato
Button Mushrooms
Italian Dressing
Big Sandwich Rolls
Lettuce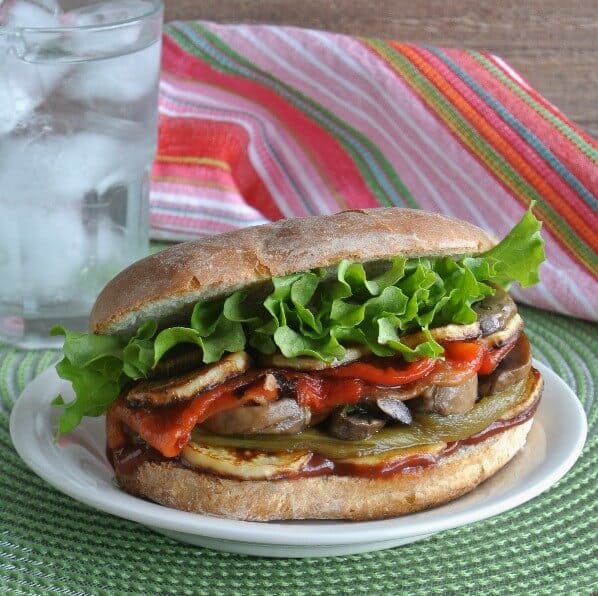 How To Make A Roasted Veggie Sandwich At Home
To prepare roasted vegetable sandwiches, start by roasting the peppers. Set your oven to broil. When it's heated up, put the peppers on the top rack of the oven and turn them frequently with tongs until all sides are blackened. To keep the juice from spoiling your oven, lay a baking sheet on the second rack to catch any juices dripping off the peppers.
While the peppers cook, melt coconut oil in a skillet and add the onions. Sauté until softened, then set aside. Next, brown the sweet potatoes on both sides in the same skillet before removing and sautéing the mushrooms.
When the peppers have blackened, take them out of the oven and allow them to cool. Once cool, rub off the blackened skin with a damp paper towel or peel them with a pairing knife if the damp paper towel isn't working. Cut out the stem, remove the seeds, and set them aside.
Cut the rolls in half down the middle, spread them apart, and drizzle each side with Italian dressing. Add cooked vegetables to each roll, top with lettuce or any other condiment you like, put the top on each roll, and enjoy!
What to Serve/Pair With Roasted Veggie Sandwiches
Roasted veggie sandwiches are hearty and filling enough to stand on their own, but if you're looking for something to serve alongside them, here are a few ideas:
A simple green salad
Fruit salad
Potato chips
French Fries
A pickle spear
A cold beverage of your choice
No matter how you choose to enjoy them, I hope you love these roasted veggie sandwiches as much as I do!
Popular Substitutions & Additions
As with any recipe, there are a few popular substitutions and additions that you can make to this vegan veggie sandwich recipe to suit your taste.
Add Cheese- Add vegan cheese slices or shreds to your sandwich for a cheesy twist.
Make It Spicy- If you like things spicy, add some chopped jalapenos or sriracha sauce.
Add Avocado- For a creamy and flavorful addition, add fresh avocado slices.
Bread- If you're not a fan of sandwich rolls, feel free to use any bread you like. You can also toast the bread for an added crunch.
Vegetables- Not a fan of mushrooms or sweet potatoes? No problem! Swap them for other veggies like zucchini, eggplant, or squash.
How To Reheat & Store Vegan Roasted Vegetable Sandwiches
What Is The Best Way To Store Veggie Sandwiches?
The best way to store roasted veggie sandwiches is in the fridge, in an airtight container.
How Long Will Roasted Vegetable Sandwiches Last In The Fridge?
Properly stored vegan veggie sandwiches will last in the fridge for 3-5 days.
Can I Freeze Roasted Veggie Sandwiches?
Yes, you can freeze roasted vegetable sandwiches! Just wrap them tightly in plastic wrap or store them in an airtight freezer-safe container. When ready to enjoy, thaw in the fridge overnight and reheat as desired.
How To Reheat Vegan Vegetable Sandwiches?
There are a few different ways you can reheat vegan roasted vegetable sandwiches:
Oven- Preheat your oven to 350 degrees Fahrenheit. Place the sandwich on a baking sheet and warm for 10-15 minutes.
Microwave- Wrap the sandwich in a damp paper towel and heat on high for 1-2 minutes.
Stovetop- Place the sandwich in a dry skillet over medium heat. Cook for 2-3 minutes per side.
Roasted Vegetable Sandwich FAQs
Are these roasted vegetable sandwiches gluten-free?
This roasted veggie sandwich recipe, as written, is not gluten-free. However, it can easily be made gluten-free by swapping the rolls for a gluten-free option.
Can I make these sandwiches ahead of time?
Yes, vegetable sandwiches are perfect for meal prep! Just store them in the fridge or freezer until you're ready to enjoy.
Do I have to use Italian dressing on these veggie sandwiches?
No, you can use any dressing or sauce you like. Some other popular options are BBQ sauce, vegan mayo or ranch, and mustard.
What other vegetables can I use in these sandwiches?
The possibilities are endless! Some other great options are eggplant, zucchini, and squash.
Can I toast the rolls before adding the vegetables?
Yes, you can! Just pop them in the oven or toaster oven for a few minutes until they're nice and crispy.
Do I have to peel the sweet potatoes?
No, you don't have to peel them, but I find it easier to eat the sandwich if you do.
Don't Forget To Come Back And Let Me Know How Your Roasted Vegetable Sandwiches Turned Out!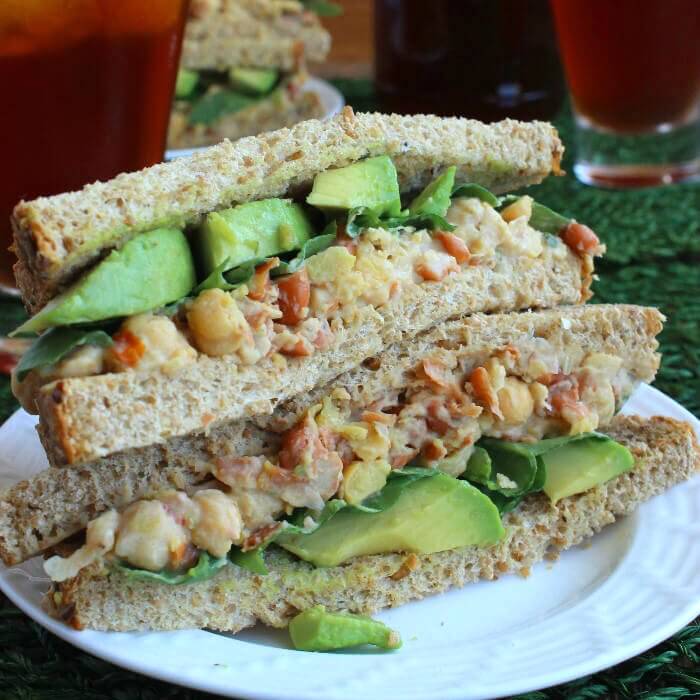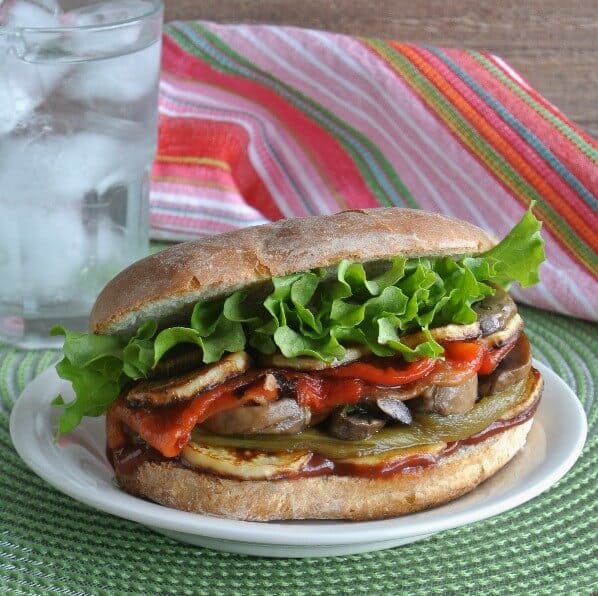 Roasted Vegetable Sandwich
Sweet potatoes, mushrooms, and onions sautéed and layered with roasted peppers inside fresh rolls. Top with Italian dressing for the perfect sandwich of summer!
Ingredients
2

red bell peppers

2

green chili peppers

3

tablespoon

coconut oil

divided into three for sautéing

1

white onion

sliced

1

sweet potato

16

ounce

button mushrooms

½

cup

Italian dressing

or a mix of oil and vinegar with Italian spices

4

big sandwich rolls

lettuce

any that you like for the sandwiches
Instructions
First - roast your pepper. All can be done at the same time. The red and green peppers. Heat the broiler.

With tongs place the bell pepper on the top shelf turning often to get all sides blackened. It is a good idea to put a baking sheet on the rack below the peppers because when you go to turn them with your tongs juices can drip out. When the peppers are black, take them out of the over.

Let cool and then rub off the blackened skin with a damp paper towel or peel with a paring knife if you are having trouble. Just grab an edge of the skin with the knife and peel off.

Cut out the stem end and take out all of the pepper seeds. Set aside.

While the peppers are roasting. Heat 1 tablespoon coconut oil in a skillet to medium heat.

Add the onions and sauté until the onions are translucent. About 10-15 minutes. You can also do the mushrooms at the same time. In fact, You can do all of this at the same time but you will dirty more pans. Do it all at once or do it back to back, overlapping a little. Remove from heat and set aside.

In the same skillet heat 1 tablespoon oil to medium high heat.

Add the sliced sweet potatoes, brown on one side and then flip and brown on the other. Remove from heat and set aside.

Cut the rolls down the center and spread apart. Drizzle ⅛ cup of Italian dressing on each side of the rolls.

Add any other condiment that you might like such as mustard or ketchup.

Divide all the vegetable in layers between the four rolls. Add a lettuce layer of your favorite lettuce. Put the top on and take a big bite!
Nutrition
Serving:
1
Sandwich
Calories:
362
kcal
Carbohydrates:
41
g
Protein:
8
g
Fat:
19
g
Saturated Fat:
10
g
Sodium:
567
mg
Potassium:
709
mg
Fiber:
5
g
Sugar:
10
g
Vitamin A:
6475
IU
Vitamin C:
81.2
mg
Calcium:
67
mg
Iron:
2.3
mg