Roasted Garlic Hummus is pure flavor. You will want to eat this with a spoon or at least get some big scoops with your favorite veggies or chips. The perfect appetizer dip.
Once upon a time, before I ever made hummus, I use to roast those giant heads of elephant garlic when I wanted something special for company.
The roasted garlic would be served with mini toasted bread slices. Our guests would peel off a clove and squeeze the garlic onto their piece of toast. It was fantastic!
But then again, my husband doesn't eat garlic so we couldn't sleep together that night. Even after a shower. Oh, the prices we pay!
What I am getting at is that this hummus tastes really really good. In this Roasted Garlic Hummus recipe - roasted elephant garlic (or regular garlic) is added to chickpea hummus and used as a dip.
So very good. You won't get the impact of eating straight garlic but the hint of flavor is there.
How Do You Roast Garlic?
I'm actually smiling as I start to type this. That's how much I love roasted garlic!
Okay, buy big white garlic heads. One elephant garlic or 2 regular garlic heads) Make sure they are not starting to sprout out of the top.
Cut a large square of aluminum foil so that if the garlic head was sitting in the middle you could pull up the edges and have the head completely encased.
Cut a piece of parchment paper a couple of inches smaller than the foil square. Lay the parchment paper in the center of the foil.
On a cutting board cut off the very tip of the garlic head keeping the head intact. Cut a little as you can - from ¼ on up to ½"
Keep those fresh tips for using in another recipe.
Place the head in the center of the parchment paper.
Drizzle a little oil over the cut edges and sprinkle with salt and pepper.
Pull the sides of the foil/parchment up and around the head to completely enclose and seal tight by twisting at the top. You can do as many of these heads at this time as you like.
You'll only need one for this recipe but roasted garlic is so good spread on toasts and in many other appetizers.
Place the encased garlic head (or heads) on a baking sheet or oven-safe dish (such as a pie plate) and bake at 400° for 30-35 minutes. Go for 45 minutes if you're roasting an elephant garlic head).
Take them out of the oven and let cool a bit so you can handle the foil with your hands. Unwrap and take out the garlic head.
Take each clove and squeeze from one end out into a small bowl. There you have perfectly roasted garlic paste to add to this Roasted Garlic Hummus.
That looks like a lot of steps but it really isn't. It just took a lot of words to explain the process clearly.
They even have these cool terra cotta garlic roasters for sale in some kitchen stores. And I even found an electric garlic roaster. Ha! I haven't tried that one but someone must like roasted garlic as much as I do.
Helpful supplies and tools
Parchment paper is great for so making baking projects
You won't need a huge Food Processor for this recipe but if that's all you have it will work.
You can measure out the ingredients instead of eyeballing with these Stainless Steel measuring spoons.
Another very popular hummus recipe I have on the blog is Roasted Red Bell Pepper Hummus. Take a look and see what you think. That is also very different in taste and also takes advantage of roasting. Take a look!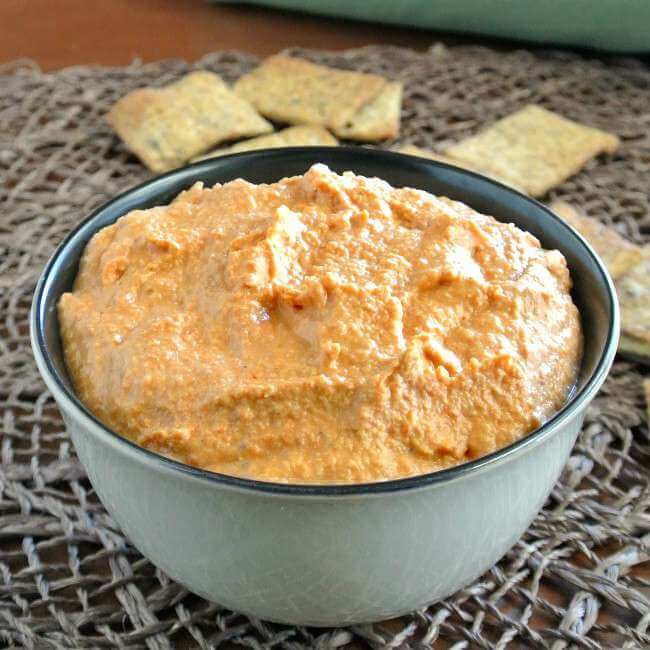 It's pretty tempting too, isn't it? Well, let's concentrate on roasted garlic this time around so you can see how much you love it. And ... how talented you are in the kitchen.
Can you Freeze Roasted Garlic Hummus?
Yes! Pack into a freezer container and keep up to 4 months.
TO PREPARE AFTER FREEZING:
Remove from the freezer and put in the refrigerator for 6 to 8 hours. Stir and serve with chips and veggies of your choice.
Serving size: Whatever you like.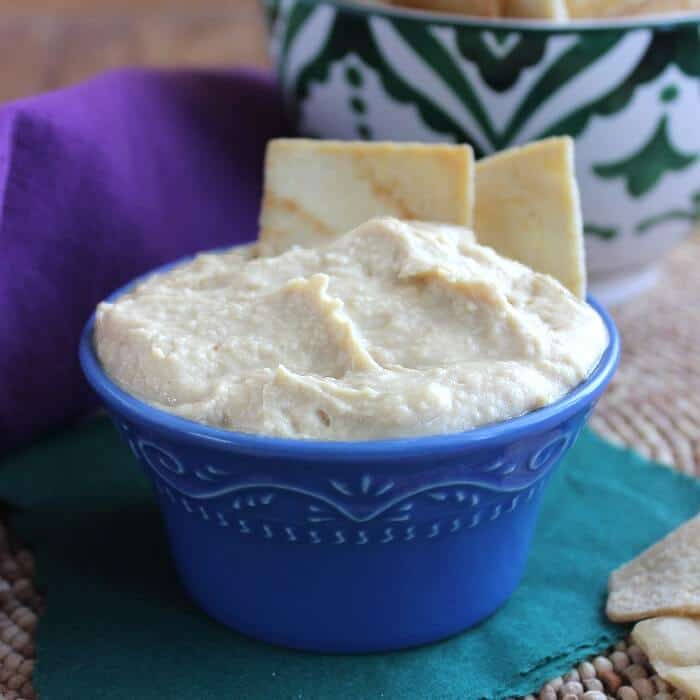 Roasted Garlic Hummus
Roasted Garlic Hummus is pure flavor. You might even want to eat it with a spoon
Ingredients
2

ounces

large head elephant garlic or 2 heads garlic

15

ounces

chickpeas, rinsed and drained

2

tablespoons

tahini

2

tablespoons

extra virgin olive oil

2

tablespoons

lemon juice

¼

teaspoon

sea salt

dash

ground black pepper
Instructions
First, you want to roast your garlic. See the detailed instructions above but instructions are here too.

Preheat oven to 400°F Cut off the very top of the garlic clove so that some of the garlic shows at the tip.

Place on a piece of parchment paper and then foil that is large enough for you to be able to close over the garlic.

Sprinkle with a little olive oil, salt, and pepper.

Wrap the foil and parchment paper securely around the garlic.

Roast the garlic in oven for 35-40 minutes. Remove and allow to cool.

Unwrap and squeeze the soft, roasted garlic out of each clove into the food processor.

Throw the skins away.

Add the rinsed and drained chickpeas to the food processor.

Add the remaining ingredients.

Process until well blended and as smooth as you like. Pretty smooth.

Taste and add more lemon juice if desired and if you think it is too thick drizzle in just a bit more olive oil.

Blend again.

Serve at room temperature with vegetables, warm pita triangles or crackers.
Notes
TO PREPARE AFTER FREEZING:
Remove from the freezer and put in the refrigerator for 6 to 8 hours.
Stir and serve with chips and veggies of your choice.
Serving size: Whatever you like.
Nutrition
Serving:
2
Ounces
Calories:
86
kcal
Carbohydrates:
7
g
Protein:
2
g
Fat:
5
g
Sodium:
38
mg
Potassium:
88
mg
Fiber:
2
g
Sugar:
1
g
Vitamin A:
5
IU
Vitamin C:
1.6
mg
Calcium:
16
mg
Iron:
0.9
mg