Do you love hummus but hate the store-bought versions that lack any real garlic flavor? Why not wake up your taste buds with a homemade version of roasted garlic hummus? This delicious dip is super simple to make and filled with bold, mouthwatering flavors. With only seven ingredients, it can be whipped up in no time at all and is sure to become a go-to snack or appetizer that everyone will love.
Why You'll Love This Roasted Garlic Hummus Recipe
Flavorful- The key to making this roasted garlic hummus stand out is roasting the garlic first. This brings out its sweetness and gives it a buttery flavor that pairs perfectly with chickpeas and other ingredients.
Creamy- Tahini and olive oil help to give this roasted garlic hummus its creamy and smooth texture that goes perfectly with fresh pita chips and veggies.
Easy- With just seven ingredients, a few simple steps, and a food processor, you can have this roasted garlic hummus recipe ready to go in no time at all.
Healthy- This garlic hummus recipe is filled with protein, healthy fats, vitamins, and minerals that are beneficial to your health.
What Is Hummus?
Hummus is a Middle Eastern dip made from cooked chickpeas, also known as garbanzo beans, that have been mashed and blended in a food processor with tahini, olive oil, lemon juice, and salt. It's often served with vegetables, pita bread, or pita chips as an appetizer or snack. It's also a great way to add some flavor to salads, sandwiches, and wraps.

Equipment Needed
Aluminium Foil
Parchment Paper
Cutting Board
Knife
Baking Sheet or Oven-Safe Dish
Small Bowl
Collender
Food Processor
Measuring Cups and Spoons
Ingredients
Fresh Raw Garlic Heads- Roasting the garlic in foil will bring out its natural sweetness and buttery flavor.
Canned Chickpeas- The base of hummus is chickpeas, which are high in protein and fiber.
Tahini- Adds creaminess to the hummus and a punch of nutty sesame flavor.
Extra Virgin Olive Oil- Used for roasting the garlic and helps give the hummus its creamy texture.
Lemon Juice- Adds a bright, acidic flavor to balance out all the ingredients.
Sea Salt- Helps to bring out all of the flavors in this roasted garlic hummus.
Ground Black Pepper- Enhances the flavor of the hummus.
How To Make Roasted Garlic Hummus
To begin, it's time to roast your garlic! Preheat the oven to 400F and cut off only the top of the fresh garlic bulb. Place garlic on a piece of parchment paper inside an aluminum foil large enough to wrap around the whole bulb. Drizzle olive oil, salt, and pepper overtop before securely wrapping it in foil - then roast garlic on a baking tray for 40 minutes or until fragrant!
Once the roasted garlic has cooled, carefully remove it from its wrapper and begin to press the roasted garlic cloves in order to extract the soft garlic inside. Dispose of the used skins afterward.
Add the roasted garlic, rinsed and drained chickpeas, as well as the other ingredients to your food processor. Blend everything until it is smooth and creamy. Sample your mixture and tweak the flavorings of salt, pepper, lemon juice, or some extra olive oil if desired before blending again for desired consistency!
Serve this delicious roasted garlic hummus at room temperature with veggies, warm pita triangles, or crackers.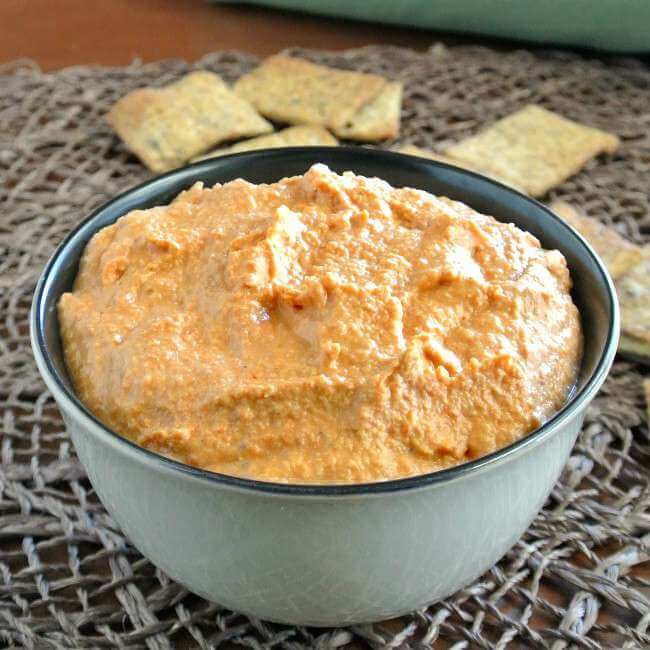 What To Serve With The Creamiest Hummus With Roasted Garlic
This roasted garlic hummus pairs well with a variety of snacks and appetizers. Here are some ideas to get you started:
Veggies, like carrots, celery, bell peppers, cucumbers
Pita chips pita bread
Crackers or tortilla chips
Falafel balls
Roasted garlic hummus is also delicious when spread on sandwiches or wraps. You can even use it to top pizzas or mix the garlic hummus into salads for an extra flavor boost.
Popular Substitutions & Additions
This roasted garlic hummus recipe is very versatile and can be adjusted to suit your tastes. Here are some popular substitutions and additions:
Instead of tahini, you can use vegan Greek yogurt or sour cream. You can also use peanut butter, almond butter, or ground sunflower seeds.
If you like spicy hummus, add a pinch of cayenne pepper or your favorite hot sauce.
For extra flavor, add a tablespoon of fresh herbs such as fresh parsley, oregano, cilantro, or basil.
Add some extra crunch by mixing in a handful of toasted pine nuts.
For more sweetness, add a teaspoon of honey.
Try using roasted red peppers instead of garlic for your own homemade roasted red pepper hummus.
If you don't have chickpeas on hand, you can use white beans or black beans instead.
Add lemon zest and more lemon juice for a bright, citrusy flavor.
Make your own tahini with ground sesame seeds if you can't find tahini paste at your local grocery stores.
Can You Freeze Hummus With Roasted Garlic?
Yes, you can freeze roasted garlic hummus. Place it in an airtight container and freeze it for up to 4 months. To thaw place the container in the refrigerator overnight or until completely thawed. The hummus may be a little thinner than when initially made, so add a tablespoon of olive oil and blend again before serving.
Leftover hummus can be stored in the refrigerator for up to 7 days when properly stored in an airtight container.
Creamy Roasted Garlic Hummus FAQs
Can I make this hummus recipe without a food processor?
Yes, you can use a high-speed blender instead of a food processor. However, the texture won't be as smooth and creamy as it would be with a food processor.
Do I have to use canned chickpeas?
No, you can use dried chickpeas that have been soaked and cooked. Make sure to cook them until they are soft and tender before adding them to the food processor or blender.
Can I use roasted garlic from a jar instead of roasting my own?
Yes, you can use pre-roasted garlic from a jar. However, the garlic flavor will be slightly different than if you roasted your own cloves.
Is there something I can use in place of the tahini?
Yes. Instead of tahini, you can achieve a similar creamy texture with either vegan Greek yogurt or sour cream; adding one to two tablespoons of olive oil will enhance the consistency even further. You may also use alternative nut butter such as peanut butter, cashew butter, sunflower butter, or almond butter for an unforgettable flavor!
📋 Recipe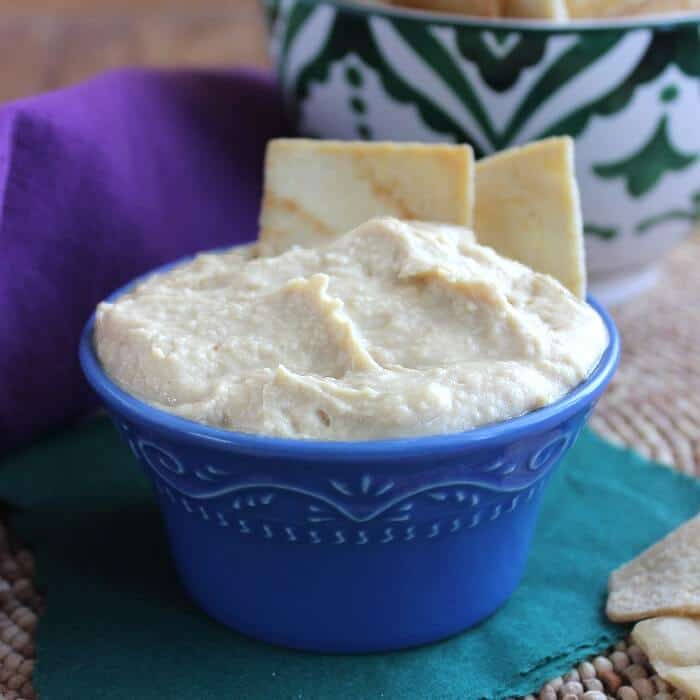 Roasted Garlic Hummus
A symphony of flavor with this irresistible hummus dip! Whether you're scooping it up with fresh veggies or chips, the combination will leave you wanting more.
Ingredients
2

ounces

large head elephant garlic or 2 heads garlic

15

ounces

chickpeas, rinsed and drained

2

tablespoons

tahini

2

tablespoons

extra virgin olive oil

2

tablespoons

lemon juice

¼

teaspoon

sea salt

dash

ground black pepper
Instructions
First, you want to roast your garlic. See the detailed instructions above but instructions are here too.

Preheat oven to 400°F Cut off the very top of the garlic clove so that some of the garlic shows at the tip.

Place on a piece of parchment paper and then foil that is large enough for you to be able to close over the garlic.

Sprinkle with a little olive oil, salt, and pepper.

Wrap the foil and parchment paper securely around the garlic.

Roast the garlic in oven for 35-40 minutes. Remove and allow to cool.

Unwrap and squeeze the soft, roasted garlic out of each clove into the food processor.

Throw the skins away.

Add the rinsed and drained chickpeas to the food processor.

Add the remaining ingredients.

Process until well blended and as smooth as you like. Pretty smooth.

Taste and add more lemon juice if desired and if you think it is too thick drizzle in just a bit more olive oil.

Blend again.

Serve at room temperature with vegetables, warm pita triangles or crackers.
Notes
TO PREPARE AFTER FREEZING:
Remove from the freezer and put in the refrigerator for 6 to 8 hours.
Stir and serve with chips and veggies of your choice.
Serving size: Whatever you like.
Nutrition
Serving:
2
Ounces
Calories:
86
kcal
Carbohydrates:
7
g
Protein:
2
g
Fat:
5
g
Sodium:
38
mg
Potassium:
88
mg
Fiber:
2
g
Sugar:
1
g
Vitamin A:
5
IU
Vitamin C:
1.6
mg
Calcium:
16
mg
Iron:
0.9
mg