This roasted fall vegetables recipe takes advantage of a slew of vegetables that are already bursting with natural flavor. It's easy to make and full of beautiful colors and textures that make this ideal for any night and Thanksgiving.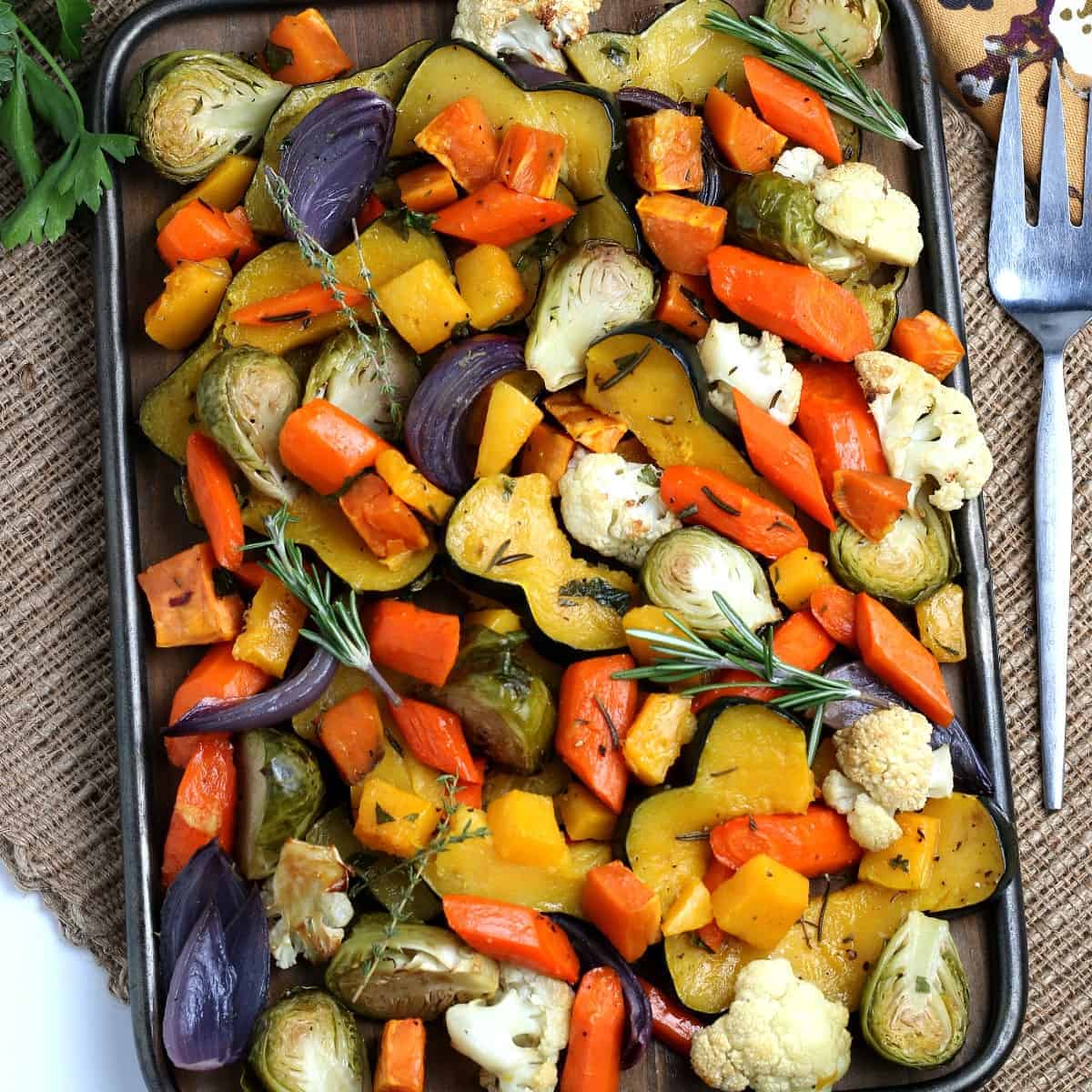 It's here! The most wonderful season of the year. It's not too hot and not too cold, and all of the beautiful warm colors are in abundance.
And that includes all of the colorful autumn vegetables. Luckily a lot of these veggies go on into the winter also, so we can enjoy the variety for a few months ahead.
Bursting with the perfect blend of flavors, from the sweetness of the acorn squash to the earthy Brussels sprouts, the different tastes, and textures complement each other perfectly.
We all love quick and easy recipes that are healthy and taste delicious. Well, this is that recipe. Besides being a festive dish, it is also something that would be perfect for Sunday dinner and still taste delicious if you have any leftovers the next day.
Why You'll Love This Roasted Fall Vegetables Recipe
Eye-Catching- The combination of vegetables brings out a range of sweet and savory flavors while adding plenty of color to your plate.
Flavorful and Nutritious- Roasting vegetables helps bring out their natural flavors. This recipe features a variety of root vegetables with Brussels sprouts giving it a unique color and texture. To top it all off, we've added garlic, rosemary, thyme, sage, and olive oil.
Easy Clean-Up- Everything is roasted on one baking sheet, making cleanup a breeze!
If you've never roasted veggies before, you will be surprised how extremely easy the process is. This is the perfect time to jump in. Roasted fall vegetables create flavors and texture like no other way of cooking.
🧾 Ingredients
Extra virgin olive oil
Sweet potatoes really are a bit sweet and stand on their own in texture and taste.
Cauliflower is so versatile and roasts really well too.
Acorn squash is another lovely sweet veggie that holds its shape really well.
Brussels sprouts are unique and make every meal more festive.
Butternut cuts up really nicely into cubes and roasts perfectly.
Carrots roast well and are extremely inexpensive.
Red onion tastes a bit more earthy but sweetens up nicely when roasted.
Garlic cloves are a wonderful flavor addition.
Fresh thyme, parsley, and rosemary add flavor and makes the final product very pretty.
Salt and pepper is a seasoning necessity.
👩🏻‍🍳 Brussels sprouts fun facts
It seems like so many people only cook Brussels sprouts over the holidays. Well, they are delicious whenever you can buy them, so jump on the Brussels sprouts bandwagon.
Popular since the 16th century, they really are named after the capital in Belgium, so the word Brussels is always capitalized.
Varieties range from marble size to golf ball size.
They became a commercial crop in California in the early 1900s.
Steam your Brussels sprouts, and they will keep in the freezer for a year.
Don't overcook them, or they will start to smell like sulfur.
They keep fresh in a storage bag in the fridge for up to 10 days.
Brussels sprouts are only 26 calories a cup.
The veggies in this recipe are ones that mix really well together, but you can certainly add to the variety or subtract one that you think your family might not like.
🥦 More autumn vegetables
Keep color in mind when choosing vegetables. Broccoli roasts well and is a bright green color.
You could go with multi-colored carrots instead of orange.
Parsnips come late in the summer and are in the stores for fall. These take longer to roast, so cut them into smaller pieces.
The same with potatoes. If you'd like to add potatoes, go for the small red or purple ones that you won't have to peel.
You could even add beets!
Turnips are another great root vegetable.
🔪 How to roast veggies
While preheating the oven, clean and cut all of the vegetables.
Cut the acorn squash in half, scoop out the seeds, and then slice into crescents.
Peel and chop into bite-sized pieces - sweet potatoes, carrots, and butternut squash.
Cut the Brussels sprouts in half,
Cut the cauliflower into florets.
Peel and cut the red onion into halves and wedges.
Peel and slice the garlic.
Spread the vegetables in a single layer on a baking sheet and drizzle with olive oil.
Bake for 30-40 minutes or until all vegetables are tender. Stir gently after about 20 minutes.
Remove from the oven and allow to cool a bit before serving.
Another variation that's easy for this roasted fall vegetables recipe is to add a tablespoon or two of balsamic vinegar. Not the dressing but actual vinegar. You don't need much, and it adds a fragrant smell while everything is roasting and a tangy flavor while dining.
🍂 More fall vegetable recipes
Air Fryer Butternut Squash is finished very quickly and has a little bit of a maple glaze too.
Cauliflower is a fall vegetable, but we are really lucky to be able to buy it year-round. Try this Cauliflower Rice Stir Fry with Broccoli for a very nice dish.
Cabbage is harvested in fall and Vegan Cabbage Rolls fit right in with comforting autumn recipes.
📋 Recipe
Oven Roasted Fall Vegetables
This Roasted Fall Vegetables recipe takes advantage of a slew of vegetables that are already bursting with natural flavor.
Ingredients
2

tablespoons

Extra virgin olive oil

- you can use an extra tablespoon if so desired

2

cups

Sweet potatoes

- chopped - about ½ pound

2

cups

Cauliflower

- cut into florets - about ½ head

3

cups

Acorn Squash

- cut in half, seeds removed and squash sliced

2

cups

Brussels sprouts

- cut in half

2

cups

Carrots

- cleaned and cut into pieces

1

cup

Red onion

- peeled and cut into wedges

4

cloves

Garlic

- thinly sliced

2

tablespoons

Fresh thyme

- 3-4 sprigs thyme

2

tablespoons

Fresh parsley

- 3-4 sprigs thyme

2

tablespoons

Fresh rosemary

- 3-4 sprigs thyme
Instructions
Preheat the oven to 400° F.

Clean and cut vegetables according to ingredients instructions.

Spread vegetables in a single layer on the baking sheet. Drizzle with olive oil.

Add herbs, salt and pepper.

Bake for 30-40 minutes or until all vegetables are tender. Stir gently after about 20 minutes.

Remove from the oven and serve.
Notes
You don't have to use all the veggies listed. You may pick and choose, as well swap in some of your favorites.
Nutrition
Serving:
1
Serving
Calories:
153
kcal
Carbohydrates:
26
g
Protein:
4
g
Fat:
5
g
Saturated Fat:
1
g
Sodium:
77
mg
Potassium:
772
mg
Fiber:
6
g
Sugar:
5
g
Vitamin A:
14138
IU
Vitamin C:
59
mg
Calcium:
87
mg
Iron:
2
mg