Roasted Artichoke Hearts Dip is a creamy spread with deliciously roasted artichoke hearts and hearts of palm. It's an easy appetizer that's fancy enough for entertaining but versatile enough to enjoy with more casual meals such as in wraps or sandwiches!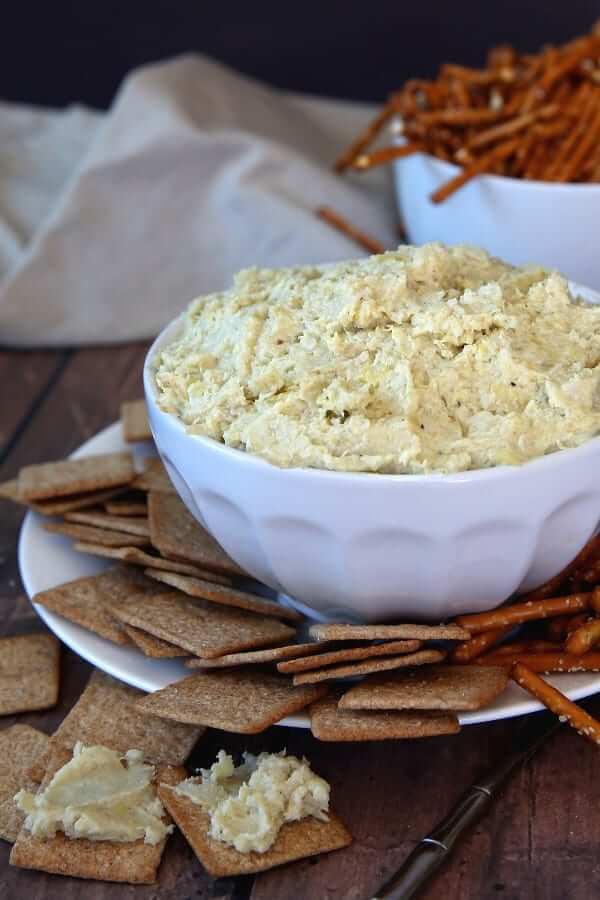 Don't you love an easy and healthy recipe that is super tasty and you can adapt it to just about any occasion? Yep, me too and you are going to love this versatile spread.
It is made with two vegetables that I consider somewhat of a delicacy: artichoke hearts and hearts of palm. And don't worry, I am using the convenience of canned veggies.
You won't be hunting all over for these fresh vegetables because all you have to do is go to the vegetable aisle in the grocery store and look up. Top shelf quality.
I said this recipe would be easy. These canned goods still take advantage of the unique taste and nutritious benefits of both of these veggies.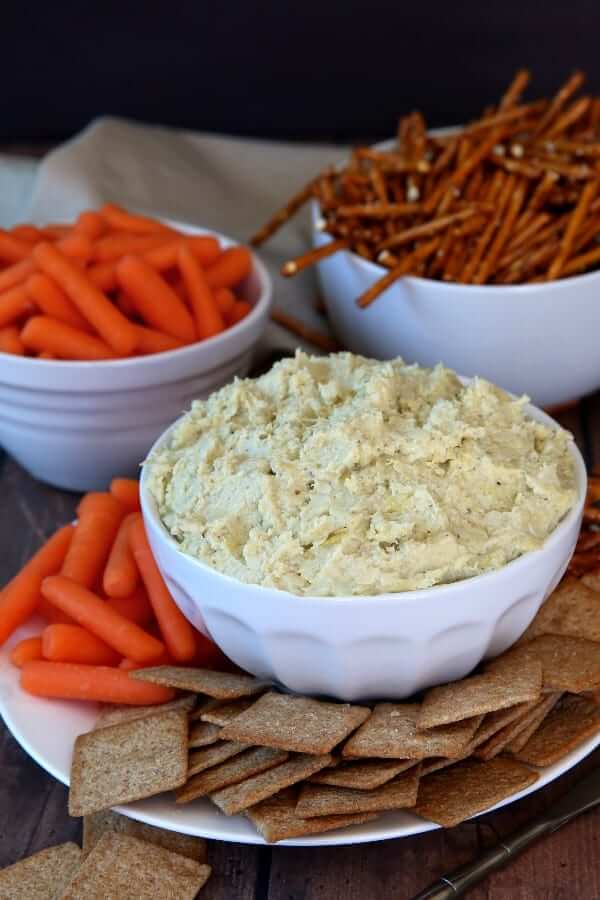 This creamy vegan spread also features 6 fresh garlic cloves and is super easy to make.
Here is an overhead photo of both the artichoke hearts and hearts of palm. They are distinct with their own flavor and seem to have been made to go together. Just the best roasted artichoke dip.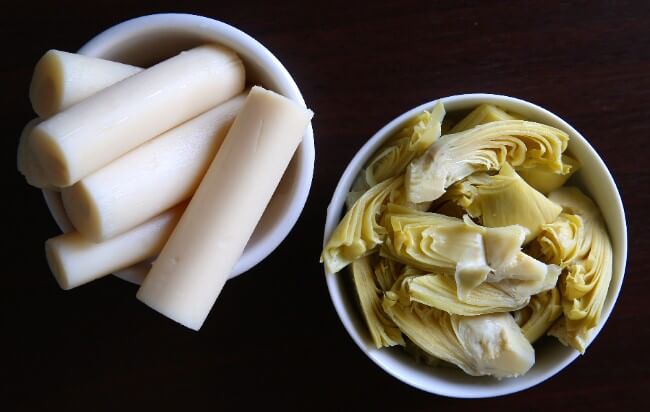 I have a little preparation for the garlic before the roasting.
I don't think it's just me that thinks this but canned artichoke hearts have a couple of tough outer leaves and some of the points are very stiff and pointy.
💭 How to roast artichoke hearts
This is what I do and I'll show you another visual aide right below this. Drain the can of artichoke hearts in brine and lay them out on a cutting board.
First I check each heart quarter and take off the outer couple of tough leaves. They are only tough about ¾'s of the way up the leave so I cut the leaves off at that point.
Then I check to see if the very bottom points are stiff and pointy. If so I cut them off.
You can see the leaves on the left side in the photo below. It looks like a lot but it really isn't. Just a couple of leaver per quarter and then they are all fluffed up when I toss them over so it's, sort of, an optical illusion.
🔪 Instructions
Discard the tough leaves pile and use all of those perfect hearts on the right.
Lightly coat the artichokes and hearts of palm along with the cleaned garlic cloves with some extra virgin olive oil. I just put them all in a bowl together and toss with a wooden spoon.
Pour them out onto a baking sheet as in the photo below. The top and bottom are cut off of this photo so it would fit better but It is all o pretty good about of veggies.
Can you see some of the nice big chunks of garlic cloves?
Now roast them in the oven for about 15 minutes or until the garlic is nicely soft and slightly browned.
Then everything goes into a food processor along with some salt, pepper and olive oil (optional) until smooth. I add the oil to get a smoother spread.
You can make the spread either very smooth or roughly chopped — your choice.
Add more extra virgins olive oil by the tablespoon to get the creaminess that you like.
💭 Where to find hearts of palm
You will find both of the vegetables right above the middle section in the vegetable aisle.
They may also be packed in a fancier way in the International section. Or in the specialty section.
The ones you want are right in the vegetable aisle with artichoke hearts packed in water or brine, not marinated.
The Hearts of Palm will be in a can right around there and they can both be found organic.
Roasting the drained veggies with plenty of garlic and adding simple seasoning is all you need to create this beautiful, tasty spread.
📖 Variations
You can serve this absolutely best roasted artichoke hearts dip as fancy or as casual as you want. You can't go wrong here.
Need a good appetizer?
Spread it on cute mini toasts and serve on a large platter.
Stuff it in a variety of vegetables, such as mini bell peppers. The contrasting colors look beautiful too.
Want to serve something more casual?
Use it as a dip with vegetables, chips, or pretzels—think football season, picnics, pool parties, outdoor entertaining, movie nights, just to give a few ideas.
Spread this good stuff on some crusty bread, and a light lunch is served.
Or you can stuff it in wraps and sandwiches too.
It is even delicious on its own either straight out of the oven as-is or topped off with some vegan cheese.
📋 Recipe
📋 Recipe
Roasted Artichoke Hearts Dip
Roasted Artichoke Hearts Dip is a creamy spread with delicious baked artichoke hearts and hearts of palm.
Ingredients
14

ounces

artichoke hearts in brine, drained


14

ounces

hearts of palm, drained

1

tablespoon

extra virgin olive oil

6

cloves

garlic, peeled

½

teaspoon

salt

¼

teaspoon

ground black pepper
Instructions
Preheat the oven to 425°F.

Cut any tough edges off the leaves from the artichoke hearts.

Cut the hearts of palm in half.

Place the olive oil in a medium-size bowl. Add the artichoke hearts, hearts of palm, and garlic. Toss and pour out onto a baking sheet.

Roast for 15 minutes. Remove from the oven and place the vegetables in a food processor.

Process until almost smooth or smooth, your choice. If you would like the mixture a bit thinner, you can add a tablespoon of olive oil at a time.

The spread is ready to serve with small toasts and pretzels. Sturdier vegetables such as carrots would be wonderful, too.
Notes
Storing in the refrigerator:
Will keep in the refrigerator for 4 to 5 days. Serve it chilled, at room temperature, or warmed.
Freezing:
You can freeze the spread in a hard-sided freezer container for up to 4 months. To defrost, put in your refrigerator overnight.
Serve it chilled, at room temperature, or warmed.
Nutrition
Serving:
2
Ounces
Calories:
44
kcal
Carbohydrates:
5
g
Protein:
1
g
Fat:
2
g
Saturated Fat:
1
g
Sodium:
114
mg
Potassium:
302
mg
Fiber:
1
g
Sugar:
3
g
Vitamin A:
175
IU
Vitamin C:
5
mg
Calcium:
8
mg
Iron:
0.4
mg