Vegan Rice and Beef Burrito is a main meal centerpiece. Tomatoes and corn are also on the inside along with spices and other veggies! Good to grab for people on the go too.
Tortillas are such a versatile wrap. Cold, warm or hot the recipes seem endless. I came up with a good one that is differnt from the usual. Plant Based Rice and Beef Burritos are easy and full of flavor.
These burritos are filled with five different veggies and grains with a little bit of spices too. They're simple to put together especially when you line them all up and work in an assembly line style.
I lightly spray the burritos with an organic oil for browning in the oven. And I mean lightly. Missing spots on the burritos is just fine.
This Vegan Rice and Beef Burrito Recipe is considered easy.
Serve with refried beans, avocado, salsa, and a salad. Whoa! They freeze perfectly so you can always grab one on the go too. Just zap it in the microwave for about a minute and off ya go.
I have another burrito recipe that you might like to check out and this one is for breakfast. The Best Breakfast Burrito in Town goes the way of unusual ingredients with veggies such as mushrooms and red lentils.
I could talk a long time about that one but I'm going to try to stay on point. Well, one more second. Have you ever had a burrito you didn't like? Me either!
Here's a pic of those Breakfast Burritos I was talking about.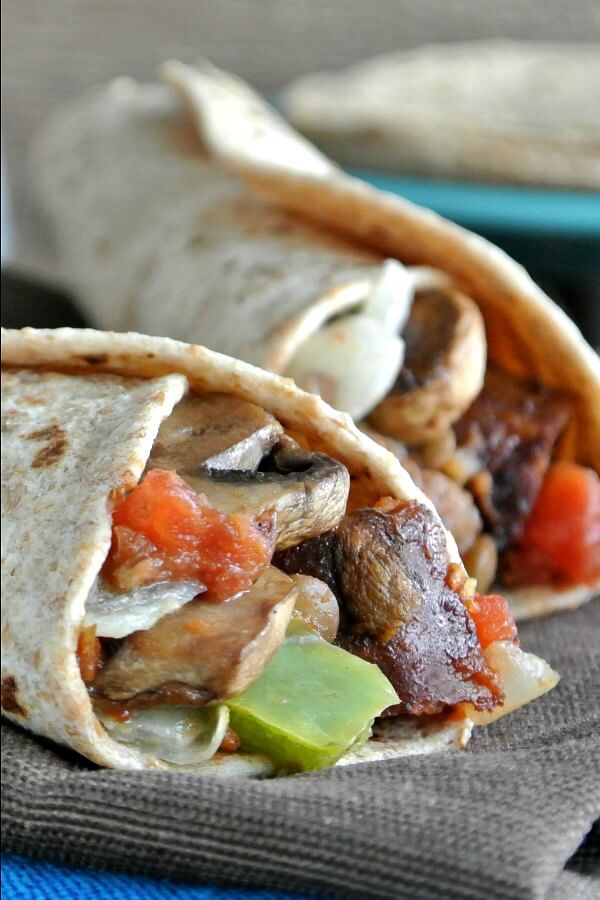 How Do You Roll a Tight Burrito?
There is a little finesse to rolling a tight burrito. The same process is used for large or small tortillas.
Lay a line of filling down the center of the tortilla. make it a long pile where it looks like it fills about half the tortilla. You'll be amazed at how small the roll can become with smaller pieces as this burrito. beans won't scrunch so small.
Take one side of the tortilla and fold it over the top of the filling with a little extra bu about an inch. The filling is completely cover by an inch plus at the center.
Press down on the overlaying flap with the pads of your fingers of both hands. So eight finger pads pushing down on the tortilla and slowly pull your finger pads back but the tortilla par that is touching the counter stays put.
So as you pull back with your finger pads the burrito is becoming tighter inside the tortilla.
Then start rolling up the tortilla as a roll. There's a tight burrito looking right at you.
You can use a toothpick to secure the one top edge as you bake. It's not necessary but does hold it better. After baking, you can remove the toothpicks and they will hold their shape.
In one of the photos below. I left a toothpick in so you could see how I did it. Perfect rolls.
I used small 8" tortillas for this recipe so the rolls are smaller but if you use a larger 10" or 12" tortilla the rolls will be larger.
Tools That Can Help To Make This Vegan Rice and Beef Burrito Recipe! Not necessary but certainly helpful:
A Rice Cooker takes al the work out of making perfect rice.
There are many good food processors out there in all sizes and price ranges. This is the one I have, is a good size and has worked perfectly for me.
I love stainless steel baking sheets. Here's a set with three sizes.
Serve with Homemade Slow Cooker Refried Beans, avocado, salsa and a salad. All your bases are covered.
📋 Recipe
Vegan Rice and Beef Burrito
Vegan Rice and Beef Burrito is a main meal centerpiece. Tomatoes and corn are also on the inside along with spices and other veggies!
Ingredients
10

ounces

vegan beef crumbles or favorite seitan

10

8" tortillas

10

ounces

dairy-free cheddar cheese, grated or chopped small

8

ounces

rice, uncooked

15

ounces

corn, organic and non gmo

- you can use fresh organic corn on the cob too

15

ounces

diced tomatoes, organic

- you can also use 2 fresh tomatoes, diced

1

teaspoon

taco seasoning

- you can try this homemade recipe too
Instructions
Cook the rice according to your package directions, use a rice cooker if you prefer. Set aside.

Put the vegan beef in a food processor and grind to a coarse grind if it isn't already. Set aside.

Grate the vegan cheese if it isn't already. If it is a block or round, chop into little chucks. Set aside.

Drain the can of corn and rinse. Set aside.

Drain the tomatoes but save the juice in the freezer. You can use it in any future soup, casserole etc.

This is where I lay out all the tortillas on the counter and divide each ingredient evenly between the 10 tortillas. Spread the mixtures down the middle.

Fold the tortilla over the center ingredients.

Sprinkle some taco seasoning down the center over the mixture.

Use a pullback motion with your fingers on the top tortilla layer to tighten the center. Roll up tight.

Lightly spray a baking pan with an organic olive oil.

Lay the tortillas side by side, without toughing. Lightly spray the top of the tortilla rolls with the oil.

Bake at 400 degrees for 5 minutes. Turn the burritos and cook another 5 minutes. You're looking to get some golden color on a couple of the sides of the burritos.

Remove from oven and serve.
Nutrition
Serving:
3
Tortillas
Calories:
416
kcal
Carbohydrates:
39
g
Protein:
16
g
Fat:
12
g
Saturated Fat:
3
g
Sodium:
938
mg
Potassium:
274
mg
Fiber:
5
g
Sugar:
3
g
Vitamin A:
115
IU
Vitamin C:
7.8
mg
Calcium:
73
mg
Iron:
2.6
mg