Homemade Roasted Red Pepper Hummus is a super easy recipe! Blend up chickpeas, roasted red bells, and a few other simple ingredients to make this delicious flavored hummus.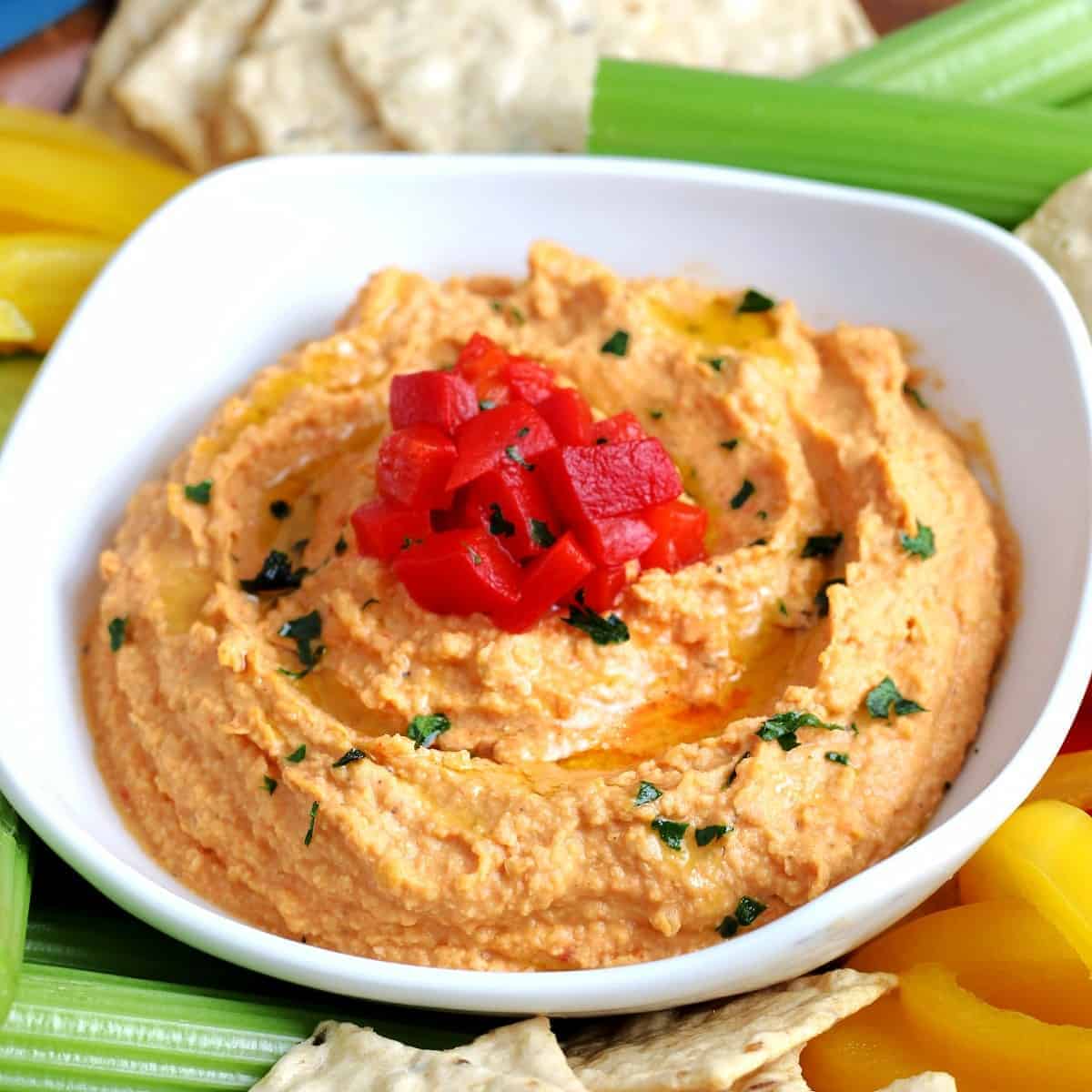 Serve with chips or veggies - on a holiday, game day or just for a visit.
You can even make this easy Homemade Pita Bread recipe and cut in to triangles. It is the perfect pairing with hummus.
Follow the easy dip recipe below - you can roast your own red peppers or purchase store-bought.
Jump to:
Tips
Use store-bought roasted bell peppers to cut down on prep time.
Make a double batch! Roasted Red Pepper Hummus keeps well in the fridge and even the freezer.
Top with a swirl of olive oil and a sprinkle of more cumin before serving to make it presentation ready!
Ingredients
Garbanzo Beans (aka Chickpeas) - canned or dried beans that you have soaked and cooked. Garbanzo beans are the classic choice for hummus and they form the base for the dip.
Red Bell Pepper is the key ingredient for making this flavored hummus recipe. It adds a mild sweetness and a beautiful color. I include the instructions for roasting the bell pepper, but you can also purchase pre-roasted bell peppers in a jar.
Tahini is a paste made from ground sesame seeds and adds an earthy flavor. Tahini is at grocery stores or can also be made from scratch.
Lemon Juice adds a tangy and fresh flavor. I recommend using freshly squeezed lemon juice for the best taste, but you can use bottled if that's all you have.
Extra Virgin Olive Oil adds both flavor and helps thin out the red pepper hummus. If you prefer a thinner hummus, you can just blend in extra olive oil. I also love drizzling a little extra olive oil on top of the finished hummus.
Ground Cumin adds a subtle spice and richness to round out the flavor.
Salt and Pepper are the ultimate seasonings and you can season the hummus to suit your taste.
How to prepare hummus
Roast the Bell Pepper, if so choosing. Heat the broiler and broil the peppers, turning often, until the peppers are black all over. Allow to cool then carefully peel off the blackened skin. Or you can use store bought roasted peppers.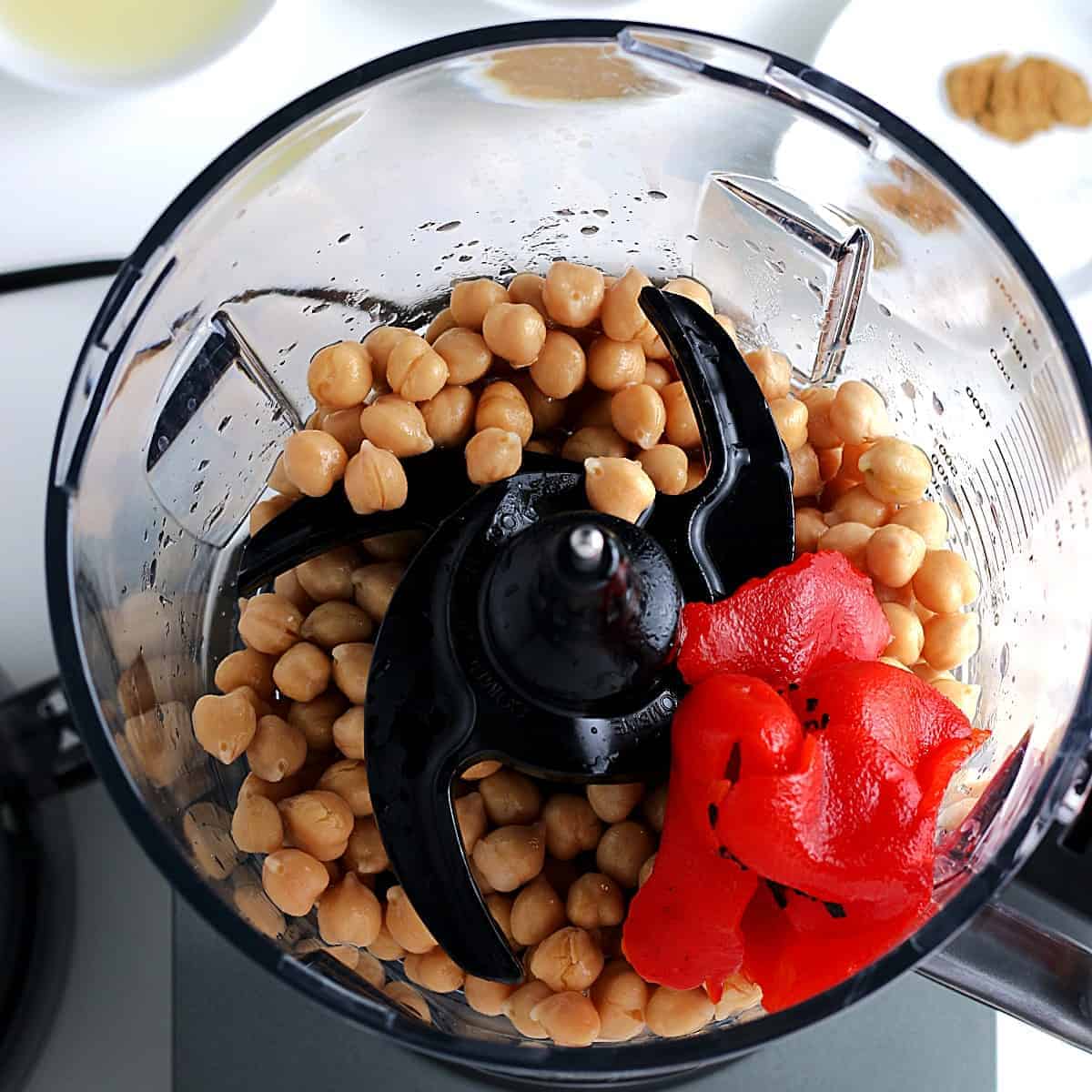 Blend Hummus. Add all ingredients, including the roasted and peeled red bell pepper, to a food processor and blend until smooth. You'll need to scrape down the sides a couple of times to fully incorporate. Taste, adjust seasoning if needed, and enjoy!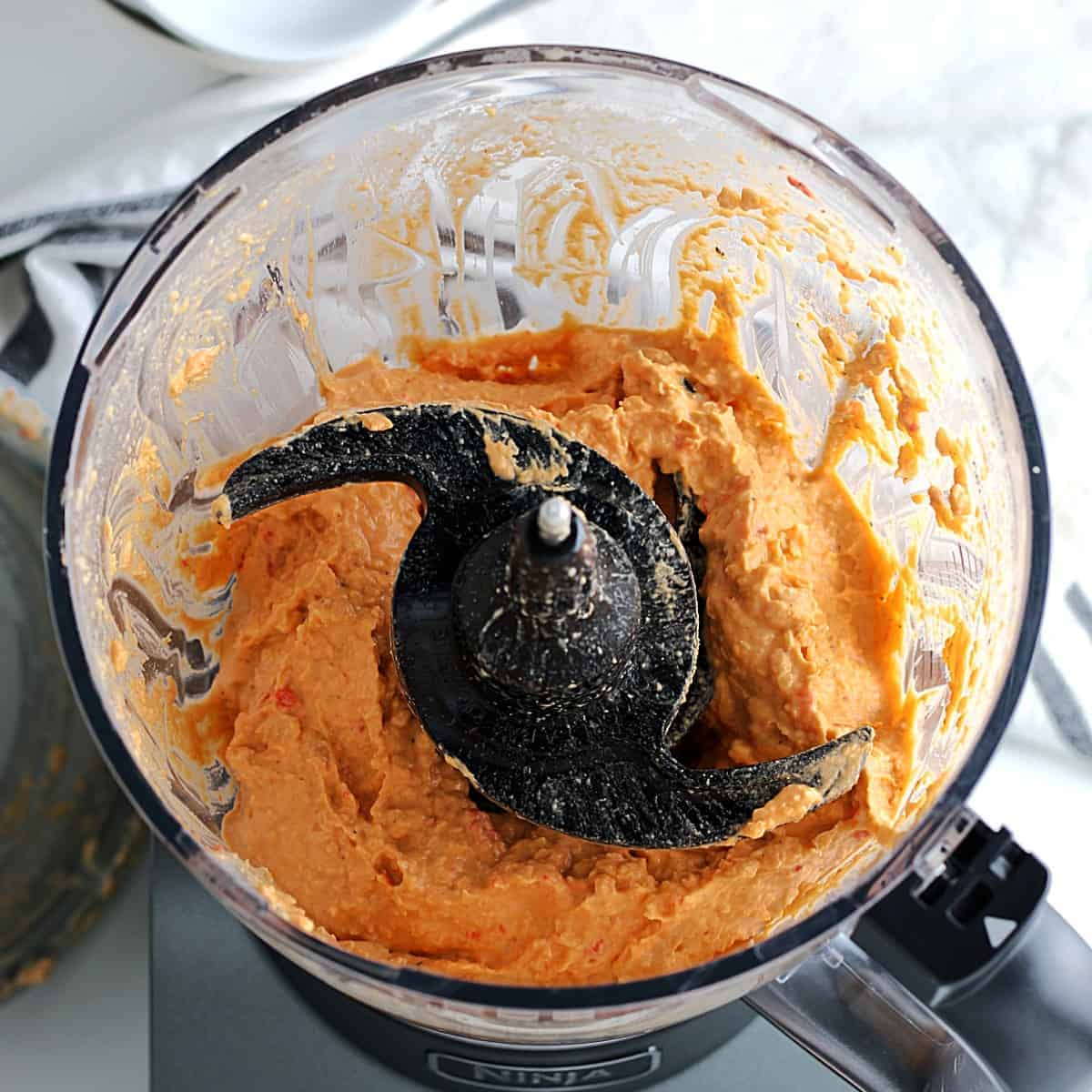 FAQ's
What is hummus?
Hummus is a spread or dip made from chickpeas and tahini. Hummus is naturally vegan and loaded with plant-based protein from the chickpeas.
There are endless flavored hummus possibilities and red bell pepper hummus is one of my favorites. You can find hummus in almost any grocery store but making it from scratch with this red pepper hummus recipe is so easy.
Can you use dried chickpeas?
Yes, after you cook them. If you use a whole bag of dried chickpeas you will have to adjust the recipe ingredients. And ... that will make a lot.
Do the chickpeas need to be peeled for hummus?
No, although some recipes call for peeling the chickpeas to make a smoother hummus, I don't find that it makes any difference. The key to a smooth and creamy hummus is blending in the food processor.

If you cook the beans from scratch then you can skim off any of the casings that cook off of the beans. They'll be floating on top or fall off as you drain the garbanzos.
Healthy benefits
This roasted red pepper hummus is a healthy option! The main ingredient is chickpeas which are packed with plant-based protein and fiber.
There is also olive oil and tahini that have anti-inflammatory benefits. Finally red bell peppers have lots of Vitamin A and Vitamin C.
How to store or freeze
Storage: Store leftover hummus in an airtight container in the fridge for up to 5 days.
Freezing: Hummus can be frozen in a freezer-safe container for up to 4 months. Thaw in the fridge overnight and give a stir before serving.
Serving ideas for hummus
Serve with pita chips or pretzels.
Serve with fresh sliced and veggies.
Spread on a sandwich or wrap. This is a big favorite in our house.
Make into an easy salad dressing by thinning out with extra olive oil, splash of water, and lemon juice.
More roasted red pepper recipes
Roasted Red Pepper Sauce for Beans - Roasted Red Pepper Sauce is an irresistible and unusual Caribbean recipe and a must have for your condiment list. Traditionally a sauce for beans but it is a great relish for crostini toasts and bean burgers.
Baguette Sandwich with Roasted Peppers and Onions - This Stuffed Baguette Sandwich with Roasted Peppers and Onions is an easy-to-make recipe and has a great mix of healthy Italian flavored ingredients. Stack them as thick as you like for a fast and delicious lunch or a main dish for casual dining.
Mediterranean Bruschetta Crostini Appetizer - This Mediterranean Bruschetta Crostini Appetizer is a recipe that you'll want to make sure you get your share of when the bowl gets set on the table.
📋 Recipe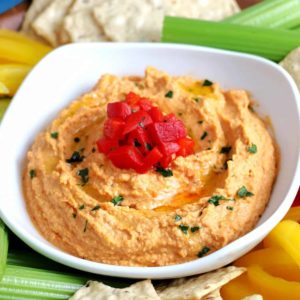 Roasted Red Pepper Hummus
Roasted Red Bell Pepper Hummus! Chickpeas and red bells make a flavorful, simple dip that goes with chips or vegetables.
Ingredients
15

ounces

garbanzo beans (chickpeas)

- one can drained (or cooked homemade)

2

ounces

roasted red bell pepper - home roasted or jarred

- you can use up to 4 ounces

2

tablespoons

tahini

2

tablespoons

lemon juice

1

tablespoon

extra virgin olive oil

- you may use up to 3 tablespoons to thin

½

teaspoon

ground cumin

½

teaspoon

salt

¼

teaspoon

black pepper
Instructions
If you'd like to roast your own pepper
With tongs place the bell pepper on the top shelf turning often to get all sides blackened. When black, take it out of the oven.

Let cool and then rub off the blackened skin with a damp paper towel or peel with a paring knife if you are having trouble. Just grab an edge of the skin with the knife and peel off.
Hummus instructions
Put everything into a Food Processor and process it. No need to pre-grind anything. It all blends together perfectly.

Turn off the processor and scrape the sides a couple of times during processing.
Notes
This recipe is simple to double or triple so buy ingredients according to how much dip you will need. This makes about 2-½ cups
It freezes really well so:
IF FREEZING:
Package in rigid sided containers and place in the freezer for up to 4 months.
TO PREPARE AFTER FREEZING:
Remove from the freezer and put in the refrigerator overnight because it is a pretty solid mass and will take longer to defrost. Stir before serving with crackers and/or veggies.
Nutrition
Serving:
2
Ounces
Calories:
61
kcal
Carbohydrates:
8
g
Protein:
2
g
Fat:
2
g
Sodium:
75
mg
Potassium:
111
mg
Fiber:
2
g
Sugar:
1
g
Vitamin A:
450
IU
Vitamin C:
19.1
mg
Calcium:
15
mg
Iron:
0.9
mg

Photos from 2013! The recipe is just as good as ever.