This creamy Real Baked Rice Pudding recipe is a classic your whole family will love. Made with plant milk and seasoned just right, this comfort food is delicious and mildly sweet. Enjoy it as a guilt-free dessert, a breakfast, as a side at your brunch table. Oh, gluten-free too! Plenty of good reasons to make it!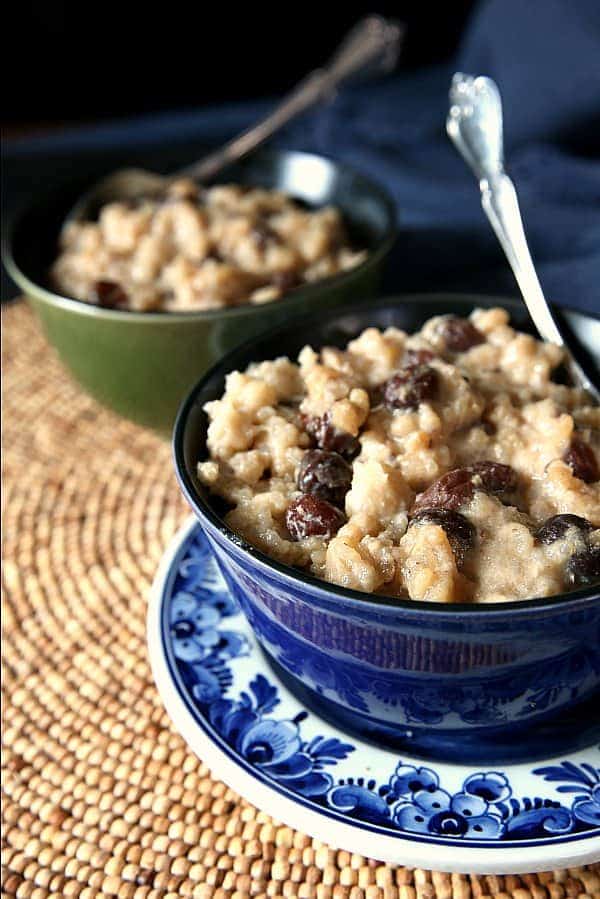 Did you know that there is a national rice pudding day? Yep, August 9th!
Now, I'm not saying that this is the only day you should make this recipe. It just means that this classic deserves a day for itself.
I guarantee that once you give this recipe a try, your family is going to regularly ask for it. Heck, go ahead and make it a habit and also make it on its claimed National Day.
Expect a lot of friends to suddenly drop in that day. Just saying!
Although the dish itself easily comes together, it does take a long time to bake. Almost seconds to make but a couple of hours or so to bake.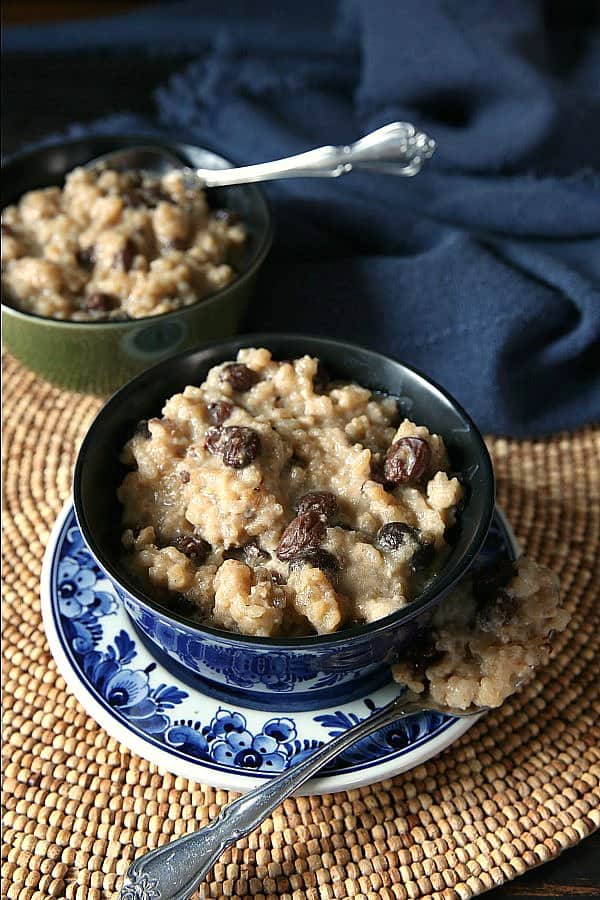 Old Fashioned Rice Pudding:
It 's a creamy dish that you must try, especially if you never had rice pudding before. It is addictive, and you are missing out if you never had it homemade.
You are making a big batch that easily stores in the fridge for four to five days. Imagine having a taste of this old-fashioned delight more than once in a week.
It becomes easy to make when you plan for it. You can pick a time when you are going to be at home and can check the oven a couple of times to see if the rice is done. Please give this a try.
You can enjoy a bowl either warm or cold, and it is made with ingredients that you most likely already have in your pantry.
On top of it being vegan, it is also gluten-free!!!
You are going to be the favorite person among family and friends.
What ingredients go into Real Baked Rice Pudding?
Arborio rice is mixed with a dairy free milk such as almond milk and two favorite dessert spices. Ground cinnamon and ground nutmeg.
A touch of vanilla extract and raisins adds natural sweetness and brightness to the pudding.
I have also added ¼ cup coconut sugar but you can easily use sweetened almondmilk and leave the sugar out. I've done that too. Both ways are great.
It is perfect comfort food with a mild sweetness and the thickest, most luxurious texture.
Here is a visual of how easy it is to make:
Seriously, measure, pour in a casserole, swish around and bake.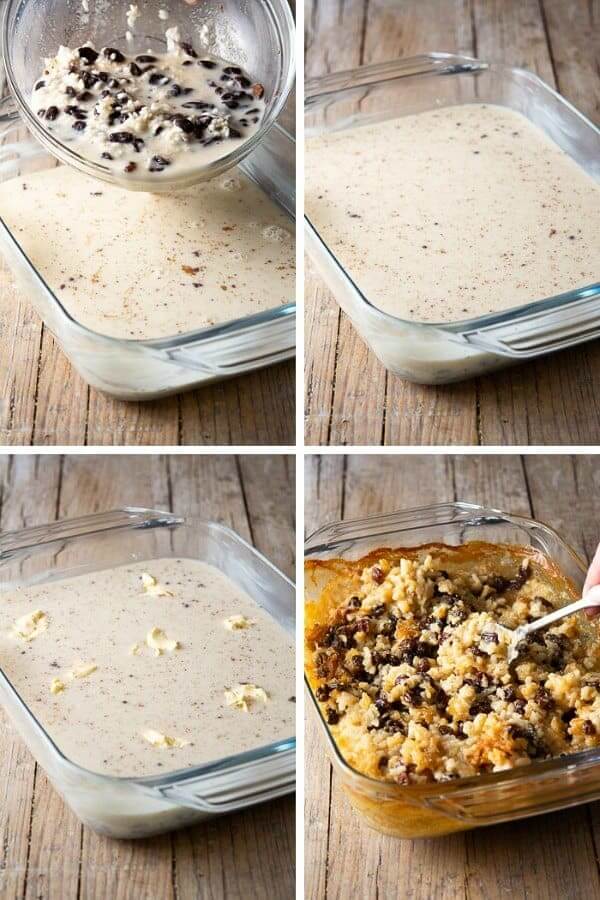 Arborio Rice Qualities!
Arborio rice—typically used for risotto—is starchier than long grain or white rice and cooks into a creamy texture. And that is precisely the reason why I chose this rich grain.
It also thickens this dish. You especially notice it more once cooled or enjoyed when cold.
It reheats easily in the microwave with a few splashes of dairy-free milk and comes out just like it was just baked.
The grain itself already has a naturally sweet taste to it, and the warm spices only enhance its flavors.
Despite its sweet, starchy characteristics, it will still have a slight bite to it even after the long baking time. You don't want your pudding to be all mushy.
This type of rice also slowly absorbs the taste of nutty plant milk and all the goodness of the spices in the oven, making it one of my favorite rice puddings. You'll taste the difference!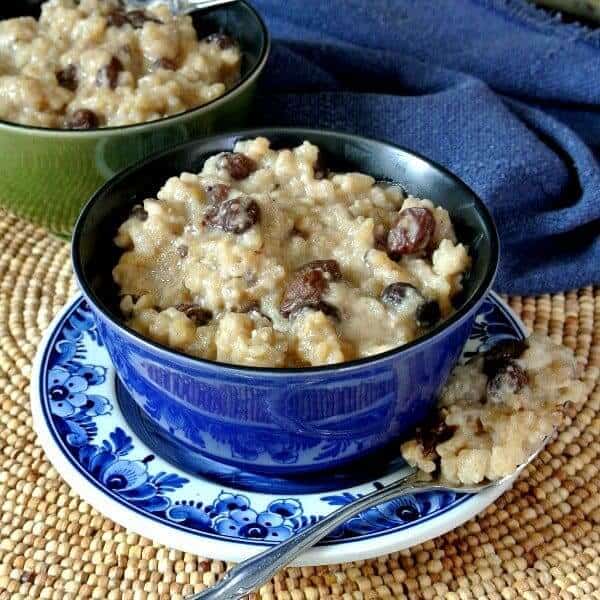 How to Bake Rice Pudding in a Convection Oven
I am seeing so many new ovens that are both a regular oven and a convection oven. I've even seen ovens that are only convection ovens.
I am seeing so many new ovens that are both a regular oven and a convection oven. I've even seen ovens that are only convection ovens.
Still use a wide and flat baking dish. Convection ovens like shallow baking.
In regular ovens, it usually takes 2 ½ to 3 hours. In a convection oven, it only takes 2 hours. I made it twice this way.
I used the same temperature of 325° but it was done much more quickly.
If using a standard oven:
The directions in this post are for a standard oven.
I recommend taste testing the rice after two to two and a half hours of baking time or when it has almost fully absorbed the milk.
Then bake longer if you still think it is too wet or you want it a bit creamier. But remember the rice will continue to absorb and cook as it sits and cools.
You will love it too. A dessert in which there is no guilt. In Fact, have it for breakfast.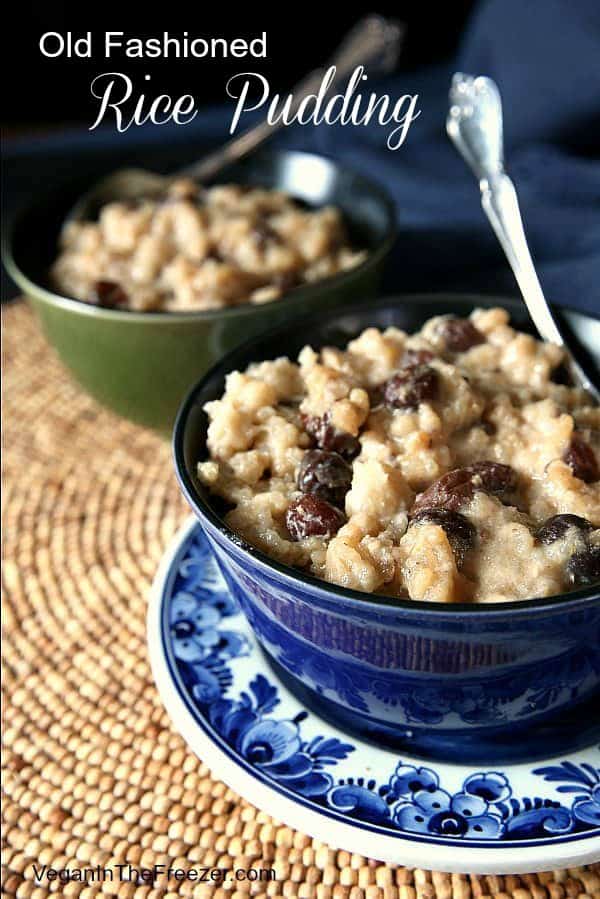 📋 Recipe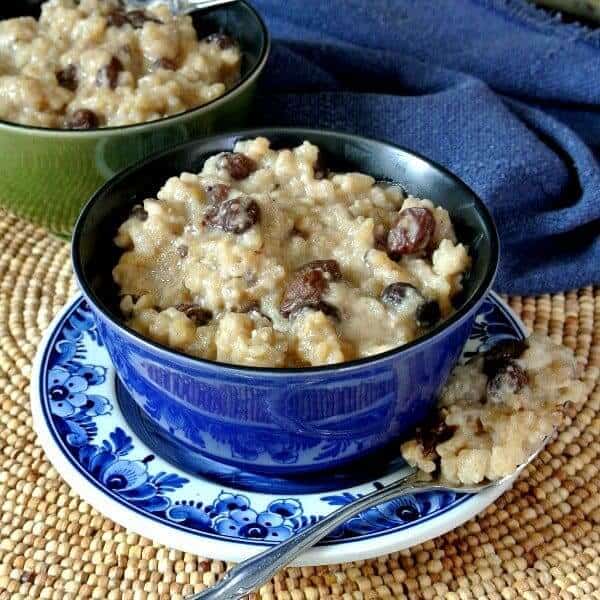 Old Fashioned Rice Pudding
Real Baked Rice Pudding is easy and also a comfort food with a mild sweetness and creamy texture.
Ingredients
1

cup

arborio rice

1

tablespoon

vegan butter

7

cups

almondmilk, unsweetened, sounds crazy but it is really 7 cups, you can also use sweetened almondmilk and leave out the coconut sugar

¼

cup

coconut sugar, if you use sweetened almondmilk leave out this coconut sugar

⅓

teaspoon

ground cinnamon

⅓

teaspoon

ground nutmeg

1

cup

raisins

1

teaspoon

vanilla extract
Instructions
Preheat the oven to 325 degrees.

Lightly butter a 9" x 13" glass baking dish.

Next pour in the almond milk, rice, raisins, all the spices and the vanilla.

Mix it in the dish. I use my fingers and spread the rice over the bottom as evenly as I can.

Dot the vegan butter over the top.

Put it in the preheated oven and bake for 2-½ to 3 hours.

Check it at 2 to 2-½ hours and see if it is the creamy moisture that you like. See if the rice is done. You may bake it longer if you think it is still too wet.

At the end of baking there will be a baked 'crust' on the top of the casserole. You just remix it all in the casserole and serve warm or cold.
Notes
You can pour more milk over the top too. People eat it both ways.
This will not freeze well - if is for eating within about 4 to 5 days. Yum!
Nutrition
Serving:
1
Serving
Calories:
280
kcal
Carbohydrates:
55
g
Protein:
4
g
Fat:
5
g
Sodium:
401
mg
Potassium:
224
mg
Fiber:
3
g
Sugar:
8
g
Vitamin A:
90
IU
Vitamin C:
1.3
mg
Calcium:
357
mg
Iron:
2
mg