Date Chocolate Balls are made with the best variety of ingredients – sweet, crunchy and chocolaty.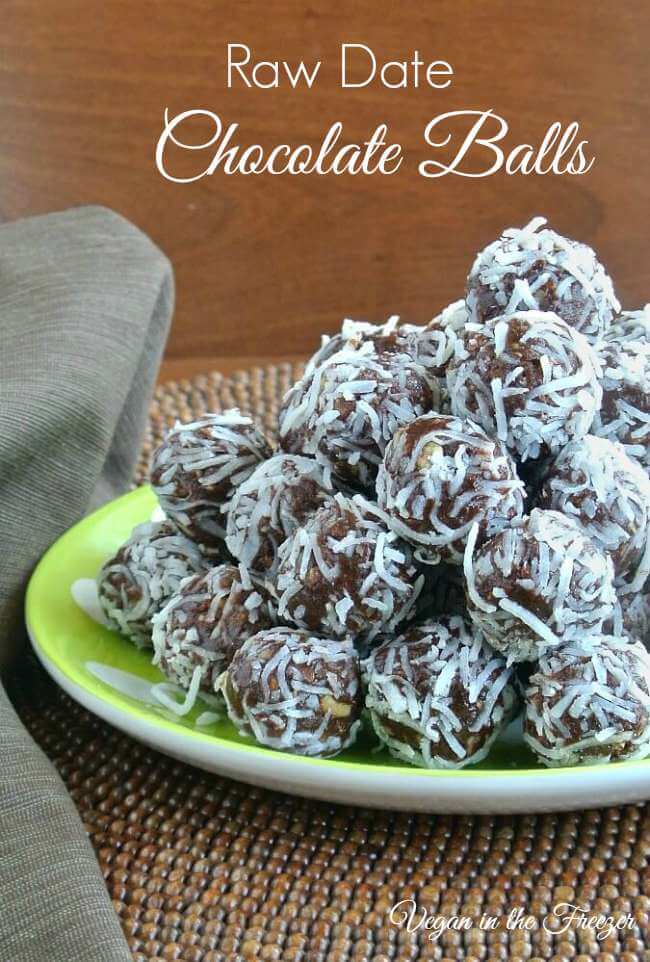 When you want something sweet and quick and you don't want to heat up the house – go for this recipe of complete satisfaction.  Chocolaty goodness that will satisfy all of your cravings and last but not least, there is no baking.
I have fallen in love with no bake snacks that take advantage of the healthier side of sweets.  They are simple and the creativity seems boundless.  It is so fun to mix and match ingredients where the outcome is unique and just darn good!
Introduce Date Chocolate Balls to the children in your family and they will be on their way to wanting a healthier snack instead of candies loaded with additives and sugars.
Connect with Vegan in the Freezer
Facebook | Pinterest | Instagram | Bloglovin
Raw Date Chocolate Balls
Ingredients
3/4

cup

Raw Sunflower Seeds, ground

1/2

cup

Organic Dates, chopped

1/2

cup

walnuts, chopped

1/2

cup

unsweetened cacao powder

1/2

cup

maple syrup

1/2

cup

Creamy Almond Butter

1/2

cup

rolled oats, old fashioned, there are also gluten free oats

6

ounces

unsweetened coconut for coating
Instructions
So simple and delicious.

Grind the sunflower seeds in your Food Processor

Chop up the dates and walnuts.

Mix all ingredients in a large bowl.

My method of preparation is that I divide the mixture in half.

Use your hands. It makes everything so easy.

Divide the mixture in half and then half again ... and so on and so on until you get 48 sections.

Roll into balls with the palm of your hands.

You can always pinch out a little from the balls that are a little bit larger if you would like to make more.

Roll each ball in the shredded coconut.

Put on a cookie sheet and let freeze for about to hours.

Remove and serve.

They will also freeze for up to 2 months.
Some more wonderful No Bake treats:
Kahlua Truffles
No Bake Protein Peanut Butter Balls