Rainbow Veggie Hashbrown Potatoes are super easy using frozen potato hashbrowns and fried together with lots of veggies. Breakfast, brunch, and dinner. Quick, gluten-free and delicious.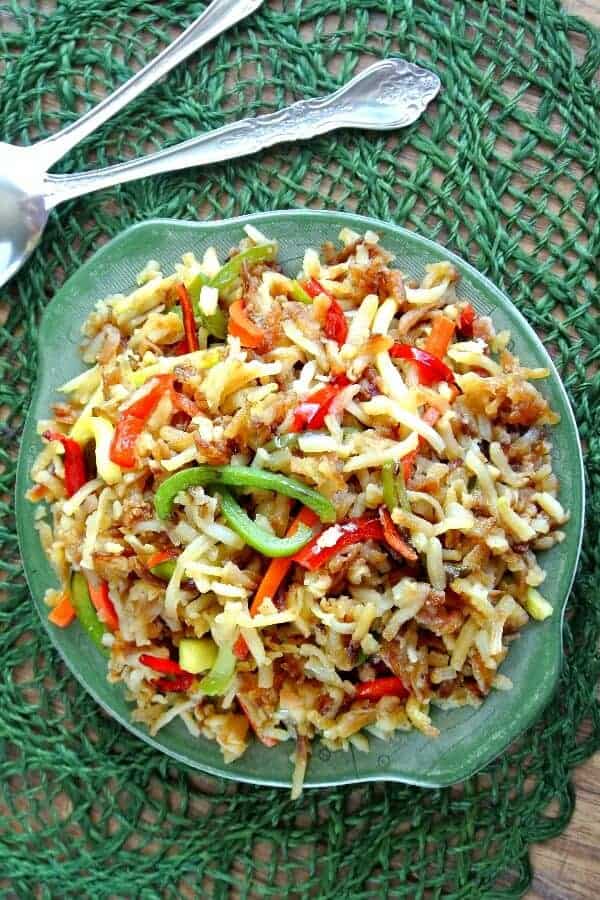 Are you trying to think up a new easy side dish that you can serve at your next meal or gathering? Well, how about Rainbow Veggie HashBrowns?
At huge holiday brunch/dinner parties many people, whether family or friends, bring something to share at the feast.
We have three to four side dishes to make sure all the bases are covered and one has to be the all-important potato. Sometimes even two different potato dishes.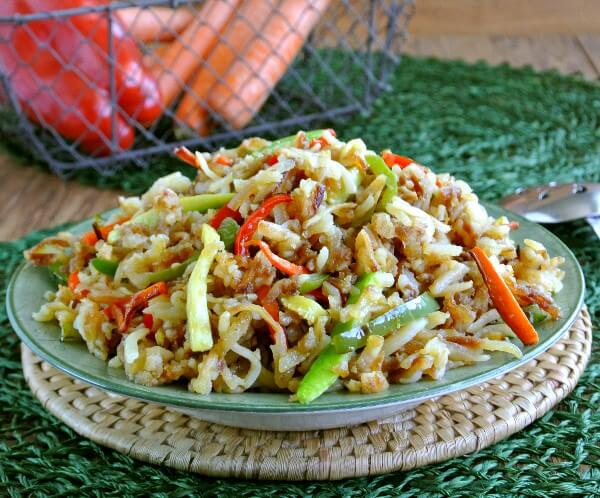 I think that Hashbrowns are always great.
Ed loves it when I fry shredded hash brown potatoes (he knows right where they are in the grocery store, halleluiah) so I am accommodating him with a little something added to make it festive.
Lots of pretty thinly sliced veggies. All pan-fried and really quick and easy. Rainbow Veggie Hashbrowns it is!
How Do You Julienne Carrots, Bell Peppers, and Zucchini?
I've explained a bit in the recipe card just in case you've printed it out but here are some helpful tips for safety.
When getting ready to julienne carrots, slice lengthwise down the center. Then lay one half on its flat side and start to slice. That keeps the carrots from rolling.
Prepare zucchini the same way. It is all just so much easier to handle.
Bell Peppers cut much easier from the inside out. So, cut the bell pepper in half lengthwise and core getting out all of the seeds. Then lay the outside of the bell pepper on it's back and slice from the inside.
Here's a view of how I handle the veggies. I don't use a mandolin for these because I like the veggies a little thicker.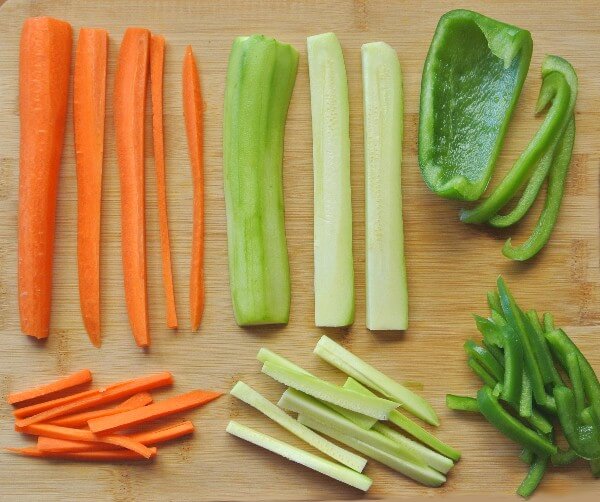 Now I've got a little story that I bet many of you have experienced too.
I was at the grocery store loading up my cart and, per usual, hitting the frozen food section last. So, I finish going up and down the aisles picking up pickles, olives, and nuts when all of a sudden, there's Ed, way down at the end.
He's looking around everywhere but at me. By the way, he is looking FOR me. I stand still so that it might be easier for him.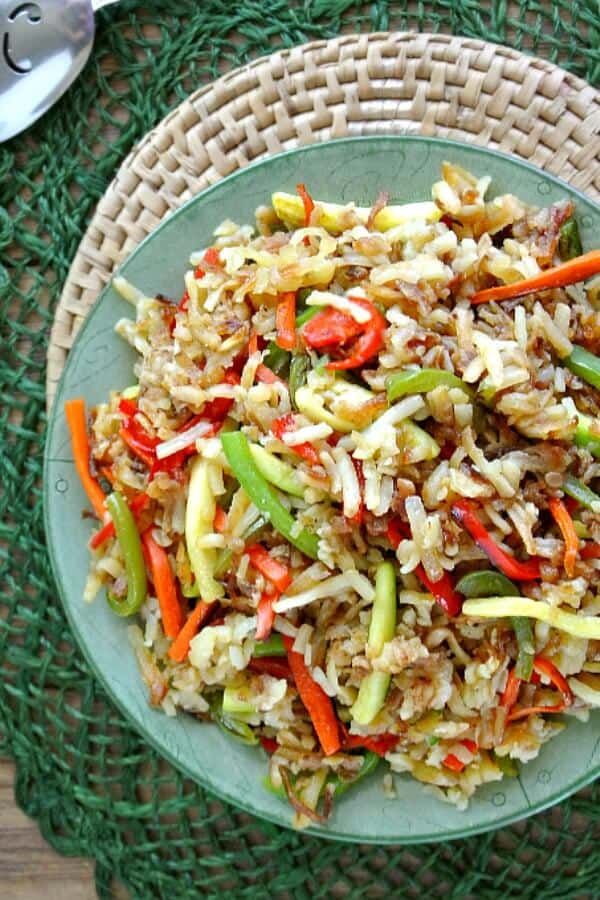 Nope, he's gone. It was even the exact right day and the right time of the day when the store wasn't jammed with shoppers either.
Been there before. So I am gazing in the hashbrown potatoes section and my cell phone rings. I hear "Where ya at?" It is so funny. My life, my love.
I tell him how to get back to the frozen vegetable area and we are again - one.
📋 Recipe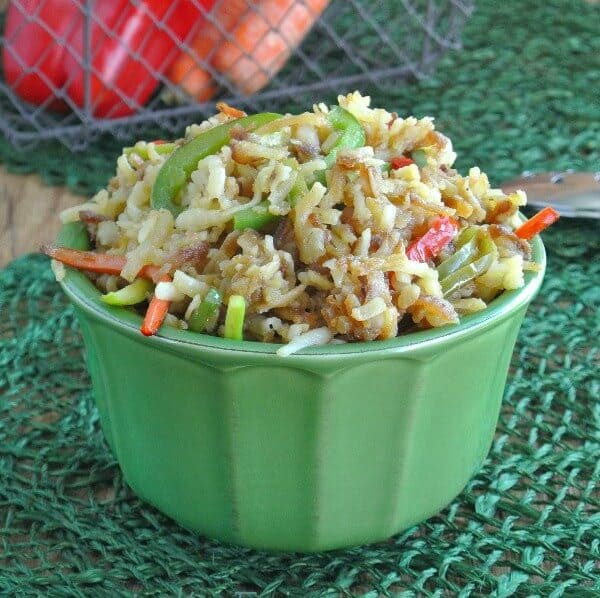 Rainbow Veggie Hashbrowns
Rainbow Veggie HashBrowns are thinly sliced potato hash browns & veggies all fried together. Breakfast, brunch and dinner.
Ingredients
32

ounces

Shredded Hash Brown Potatoes

- bag, frozen

3

tablespoons

olive oil

½

cup

carrot

- 1 carrot, thinly sliced

¾

cup

red bell pepper

- 1 bell pepper, thinly sliced

¾

cup

green bell pepper

- 1 bell pepper, thinly sliced

¾

cup

zucchini

- 1 zucchini, thinly sliced

½

cup

onion

- 1 small white onion, thinly sliced

1

teaspoon

sea salt

¼

teaspoon

black pepper
Instructions
An easy way to throw this all together, at the last minute, is to pre-slice all the veggies (except the zucchini) the day before - even 2 days before. Keep them wrapped in a moist paper towel in a baggie,

Peel and cut the carrot lengthwise down the center. This is safer so when you are slicing at the next step it is sitting flat on the counter.

Lay the flat edge down and thinly slice long strips. Lay these strips on their side and slice, again, in long strips. Just like the photo.

Then I cut these in half across the center to mimic the hash browns.

For the bell peppers - core and take out all of the pith and seeds.

Do you know bells are easier to slice from the inside? Yes, that's true!

So ... after you clean out the bell peppers - lay each piece on it's back and slice in thin slices.

For the onion - peel - cut in half through the core.

Lay on it's flat side and cut, diagonally, from the outside edge into the center. The pieces will automatically fall apart.

If you have cut your veggies the day or two before go ahead and package them up and put them in the refrigerator.

If you are cooking now then continue on:

Heat 2 tablespoons in the largest skillet you have. One with a cover.

Add the sliced onion and saute 2 minutes.

Add the bell peppers to the pan and saute 2-3 minutes more.

Add all of the potatoes and the carrots to the vegetables in the pan and press all out in an even layer.

Sprinkle on the prepared zucchini.

Cover and cook at medium high heat for 5 minutes.

Drizzle 2 Tablespoons olive oil all over the potatoes and vegetables.

With a spatula flip over all of the ingredients without stirring.

Press down in an even layer again.

Fry for another 5 minutes and flip again.

Continue frying, if necessary, until the hashbrowns are golden brown and tender.
Nutrition
Serving:
1
Serving
Calories:
480
kcal
Carbohydrates:
56
g
Protein:
5
g
Fat:
26
g
Saturated Fat:
3
g
Sodium:
520
mg
Potassium:
1002
mg
Fiber:
5
g
Sugar:
4
g
Vitamin A:
685
IU
Vitamin C:
62.2
mg
Calcium:
29
mg
Iron:
1.1
mg
Serve up nice and hot on your brunch side table spread.
I am a potato addict. If I can make a new recipe starring potatoes then I am so happy. Want to see a couple more.
The scalloped potatoes are the most popular on the blog with the instant pot recipe giving it a good race.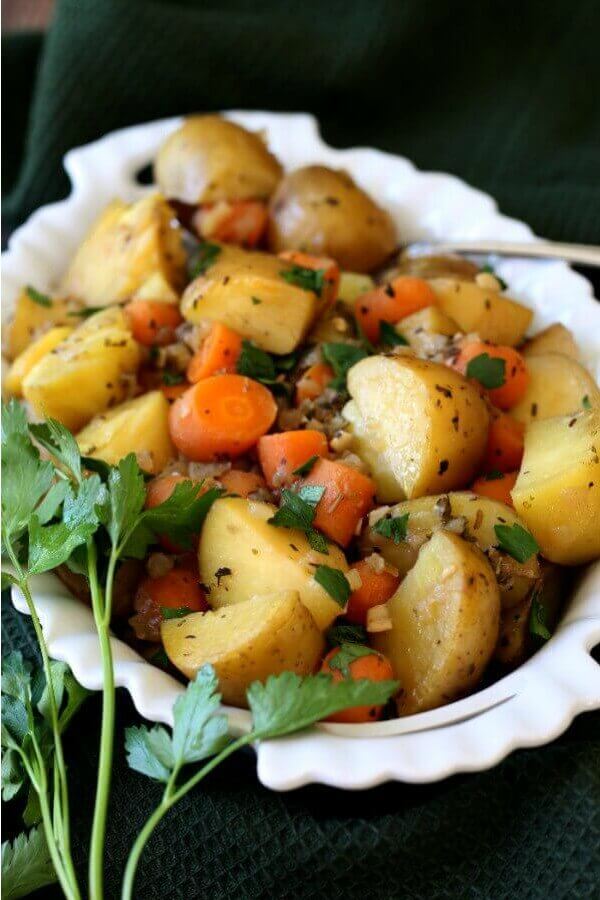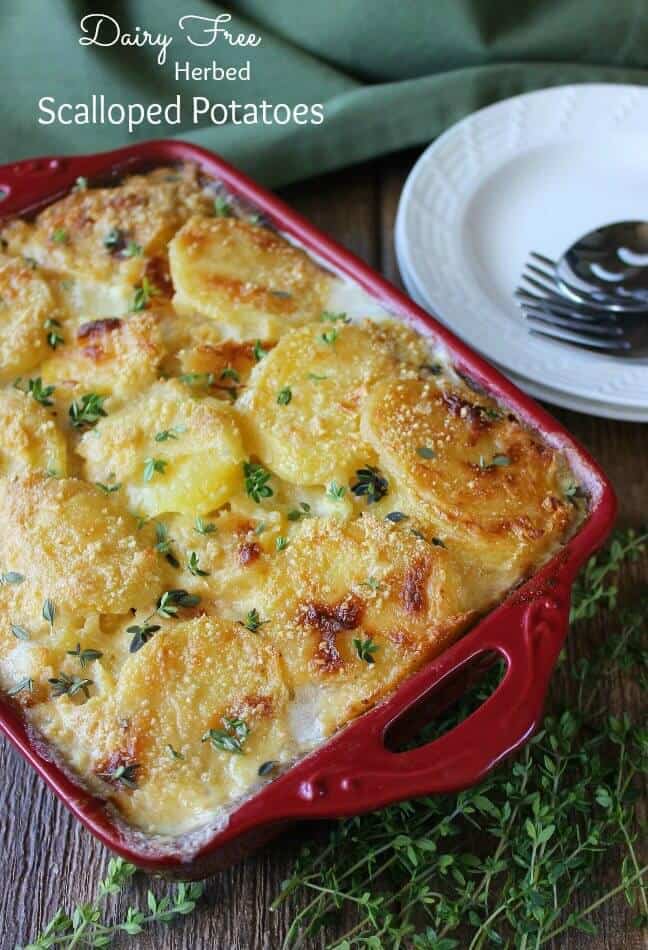 I think we all love visuals and they still do speak 1000 words. Here's one last picture of Rainbow Veggie Hashbrown Potatoes in a white serving dish.