This Vegan Mashed Cauliflower Recipe is a favorite side dish. It's steamed cauliflower that becomes creamy garlic mashed cauliflower. Company always asks for the recipe.


Have you ever seen a cauliflower field?
First, you see rows and rows of large low clumps of bluish-green leaves.
Then as you get closer and peeking out of the center is this big fat creamy white cauliflower looking perfectly formed into a segmented ball of veggie goodness.
I can't wait until I can get a garden going again. We are on a road trip before we buy our new house so this year's garden is being skipped.
One of the prerequisites of our home is to have garden space with great weather over a long summer. Seriously!
Cauliflower is a vegetable that I love to grow and one recipe I make often is this Steamed Mashed Cauliflower Recipe. A Pure Delicious Cauliflower Recipe.
It's simple, nutritious and takes very little time.
A few facts that brings this recipe up to a 5 star recipe is that it tastes really really good - every person that I've served it to loves it.
This mashed cauliflower recipe also tastes great the second day. It reheats in seconds and still looks just as pretty as it did the first day.
One of the special ingredients that helps turn this veggie into a creamy side dish is dairy free cream cheese.
Tofutti is my favorite but you can also make your own if you have a few more minutes.
I often make my own but sometimes time is short so off to the store I go.
If you want to make some cream cheese then Garlic and Chives Cream Cheese is the recipe I have on the blog and it is delicious in this recipe.
But if you use that recipe or buy a cream cheese with garlic you won't want to add in the garlic powder and onion powder that is in this Steamed Cauliflower recipe.
Whoa! That would be too much garlic for a lot of people.
Ingredients
Cauliflower - is the star and is a nutty tasting vegetable that's full of great vitamins and nutrients.
Dairy free cream cheese - makes the this veggie creamier.
Paprika - adds some spicy heat to the mashed cauliflower recipe.
Garlic powder - is quite strong in flavor but is sweeter than a garlic clove.
Onion powder - isn't as pungent as fresh onion but it adds a nice undertone to the flavors.
Salt & pepper - are just the best everyday seasonings.
How to steam cauliflower
Steaming is my favorite way to prepare cauliflower. It doesn't take any longer than boiling or roasting and it keeps all of the nutrients right there inside the veggie.
You might have already cut up a head of cauliflower or two but here is some help for all of you that want to know how to cut cauliflower.
Take a large chef's knife and cut all around the stem, from the underside, at an angle.
Pull out the stem.
For steaming you don't need to be so careful when cutting the cauliflower apart. Since it's going to be lightly mashed it won't matter if you cut through the florets.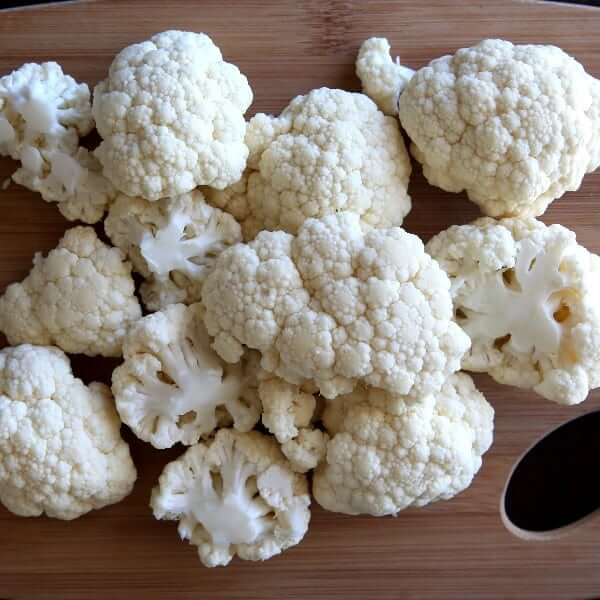 Now all you do is place the fresh cut cauliflower in a steamer basket. I have used this stainless steaming basket insert for years. It really works very well.
But a loving relative gave me an actual large saucepan with a steaming basket insert with a lid so I now use that most often.
Fill your pan with water so that it comes an inch or two below the bottom of the steamer basket.
Load the cut cauliflower into the steamer basket and set it in your pan.
Cover tightly and turn the heat on high to bring the water to a boil.
When the water comes to a boil turn down the heat to medium and keep the water boiling.
Steam for 15 minutes or until a fork easily pierces the cauliflower.
Drain the water and place the steamed cauliflower back into the pan.
Mash very lightly with a potato masher or the back of a fork. Don't mash it completely. You want some small chunks in there.
I like this type of potato masher because you can control how much the vegetables are mashed.
See above? There are some chunks. It will break down more when you fold in the cream cheese and seasonings.
Add the cream cheese and seasonings to the pan.
Fold in lightly until all is well combined. Since the cauliflower is still warm it will help combine the cream cheese.
So you can see, 7 ingredients and in less than a half-hour, you have one of the best sides out there.
Feel proud of your healthy dish. Isn't it great to have a delicious, new, clean eating vegetable recipe to serve your family and friends?
More fantastic cauliflower recipes
Well then, here ya go!
Mexican Cauliflower recipe is another favorite that is very tasty. See what you think!
For something a little sweeter and spicier try this Air Fryer Spicy Cauliflower Stir Fry.
Dairy Free Cauliflower Soup is comfort food to the max.
What Do You Think?
If you take a photo of your extremely flavorful steamed cauliflower, follow me over on Instagram and tag me on your photo @vegan_in_the_freezer. I'd love to see it!
And if you'd like to leave a star rating along with a comment, it would really be appreciated.
As an Amazon Associate, I earn from qualifying purchases. This post contains affiliate links. Read my disclosure policy here.
📋 Recipe
Mashed Cauliflower Recipe with Dairy Free Cream Cheese
This Vegan Mashed Cauliflower Recipe is a favorite side dish. It's steamed cauliflower that becomes creamy garlic mashed cauliflower.
Ingredients
1

cauliflower

whole head

2

ounces

dairy free cream cheese

¼

teaspoon

paprika

¼

teaspoon

garlic powder

¼

teaspoon

onion powder

1

teaspoon

sea salt

¼

teaspoon

pepper
Instructions
Core the cauliflower.

Break the head into florets.

Put the cauliflower in a large saucepan and cover with water.

Bring to a boil.

Turn down the temperature to medium high and cook for 15 minutes or until a fork pierces the florets easily.

Drain the cauliflower and return to the hot pan immediately.

Spoon in the cream cheese and stir to blend. The cauliflower will break up into small pieces which is what we want. The cream cheese will also melt into the cauliflower.

Add the remaining ingredients and stir.

Ready to serve.
Notes
TO FREEZE:
Let cool to room temperature. Pack in rigid sided containers.
TO PREPARE AFTER FREEZING:
Remove from the freezer and put in the refrigerator overnight for about 6 to 8 hours. The night of serving - Zap it in the microwave for 2 minutes stirring after one minute. or Heat through in a saucepan and serve.
Nutrition
Serving:
8
ounces
Calories:
49
kcal
Carbohydrates:
3
g
Protein:
1
g
Fat:
4
g
Saturated Fat:
1
g
Sodium:
644
mg
Potassium:
79
mg
Fiber:
1
g
Vitamin A:
60
IU
Vitamin C:
12.9
mg
Calcium:
15
mg
Iron:
0.3
mg