Easy Vegan Pumpkin Muffins are easy with a soft moist texture. You can add chocolate chips or not – it's your choice. Great for breakfast and easy to enjoy.
Guarantee:  These Pumpkin Muffins are going to be your favorite muffin for the holidays.  The texture is moister in a silky kind of way.
They are easy and super delicious on their own or you can smear dairy free butter right down the center.
I can never seem to reel in my desires so I went ahead and made half the recipe with chocolate chips and left them out of the other half.
You do whatever your desires call for too. That just makes us all happy!
Pumpkin is such a versatile fruit. Well, it's technically a fruit but I use it as a vegetable in half of my recipes.
There are so many fabulous recipes popping up out there on the internet right now.
Easy Pumpkin Waffles are a Sunday go-to around here and if you are looking for something to do with pumpkin seeds (pepitas) then you have got to try Vegan Overnight Oats.
I could literally have that every morning. Take a peek at what it looks like!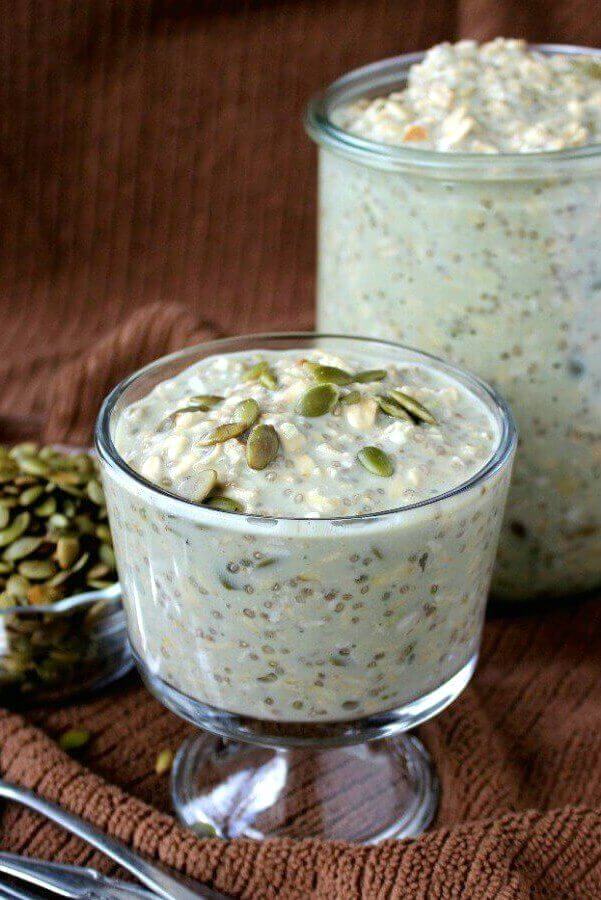 You should buy some extra cans of pumpkin puree because they disappear from the shelves after Thanksgiving and it doesn't come back for months and months. That's what I do.
There are about 6 cans in my cupboard right now and who knows which recipe I'll make next.
There will probably have to be another shopping trip to add to the supply because I really do want to have some cans a few months past the New Year.
Perfect as a breakfast or brunch they are a nice change to offer on Thanksgiving too. You could have them at breakfast, pile them up on the Thanksgiving buffet or have the chocolate chip version for dessert.
I'm afraid they won't last long so there won't be any leftovers.  Or … you could make two batches.
Here's what they look like in their raw state. You can see I couldn't make up my mind and made half with chocolate chips and the other without.
This post contains affiliate links. Read my disclosure policy here.
You may be wondering how you could use a fresh pumpkin for your canned pumpkin recipes. Well, it is super simple and super delicious when you roast it first.
Homemade Pumpkin Puree
Don't buy too large of a pumpkin so you can handle it more easily.
Cut out the stem.
Split the pumpkin in half and be very careful. You can also cut one small slice off of the side of the pumpkin and lay it on that flat spot before you cut it in half. That will keep it from rolling.
Preheat the oven to 400 degrees and line a baking sheet with parchment paper.
Scoop out all of the seeds and save for roasting later.
Place the pumpkin halves on the parchment paper and roast for 30 to 45 minutes. A small paring knife should be able to pierce it easily.
Remove the pan from the oven and let it cool.
Use a large spoon and scoop out all of the flesh and place in a food processor. Process until the pumpkin is smooth.
Use in any canned pumpkin recipe and it will also freeze well in freezer containers for 4 months.
Print
Easy Pumpkin Muffins
Pumpkin Muffins are a great addition to your muffin repertoire.
Ingredients
1

can pumpkin puree

15 ounce

2

cups

whole wheat pastry flour

1

cup

coconut sugar

1/2

cup

coconut oil

2

tablespoons

egg replacer of your choice

2 eggs

1 1/2

teaspoon

baking powder baking powder

1/2

teaspoon

baking soda

1 1/2

teaspoons

Pumpkin Pie Spice - click here for my homemade version

1/2

teaspoon

sea salt

1

cup

semi-sweet chocolate chips
Instructions
Mix the eggreplacer with the water and set aside.

In a medium bowl mix the sugar, oil and egg replacer mixture.

Add the pumpkin and mix with a Hand Mixer until well blended. It won't be perfectly smooth but close.

In a large bowl mix the flour and spices together.

Add the wet ingredients to the dry ingredients until just blended.

Fold in the chocolate chips if you are using them.

Fill the muffin cups. They will be pretty full.

Bake at 425° for 25 minutes.
Nutrition
Nutrition Facts
Easy Pumpkin Muffins
Amount Per Serving (1 Muffin)
Calories 281
Calories from Fat 135
% Daily Value*
Fat 15g23%
Sodium 172mg7%
Potassium 208mg6%
Carbohydrates 35g12%
Protein 3g6%
Vitamin A 20IU0%
Calcium 60mg6%
Iron 1.8mg10%
* Percent Daily Values are based on a 2000 calorie diet.
TO FREEZE:
After they have cooled you may freeze them in any of the methods shown in my article Preparing Food for the Freezer
To Prepare After Freezing:
They defrost quickly so it really doesn't take any planning. Just set them out on the table and leave them alone for about 1/2 hour. The microwave will also zap them in 10 to 15 seconds.