This flavorful and creamy pumpkin dip is the perfect accompaniment for any gathering – from a simple get-together to a holiday party. With only 15 minutes of preparation plus refrigeration, everyone can savor this amazing dip! All you need are simple ingredients that will make your taste buds rejoice!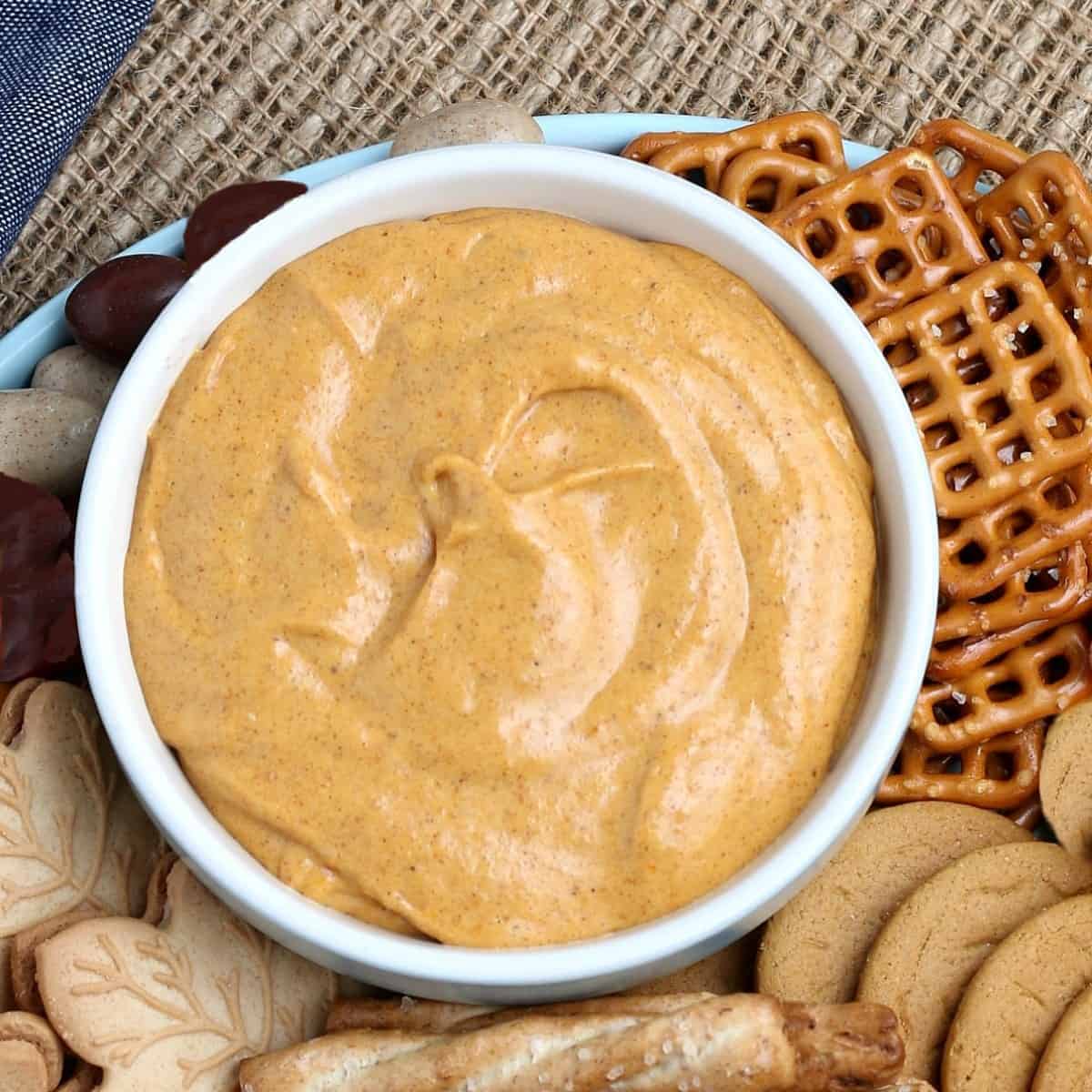 Why You'll Love This Vegan Pumpkin Dip Recipe
Simple Ingredients- This dip only requires 6 ingredients, all of which are easy to find! The perfect vegan treat to keep everyone happy.
Versatile- Serve this dip with your favorite crackers, vegetable sticks, pretzels, sliced apples, or chips. You can also use it as a topping on waffles and pancakes or as a pumpkin pie filling.
Easy To Follow Instructions- You don't need any fancy kitchen gadgets or hard-to-find ingredients to make this pumpkin dip. Simply mix all the ingredients together, chill, and voila! You've got a delicious dip that's ready to enjoy.
Delicious- With its creamy texture and subtle sweetness, this vegan pumpkin dip is sure to please even picky eaters. Plus, it pairs well with just about anything.
What Is Pumpkin Dip?
Pumpkin dip is a creamy, sweet dip made from pureed cooked pumpkin, evaporated milk or condensed milk, and pumpkin pie spice. It's usually served as an appetizer or snack with chips, graham crackers, or apple slices. This recipe takes the traditional version up a notch with only vegan ingredients and simple instructions.
Equipment Needed
Stand Mixer or
Hand Mixer and Large Mixing Bowl
Airtight Container for Storage
Measuring Cups and Spoons
Ingredients
Vegan Cream Cheese- Makes the vegan pumpkin dip light and fluffy.
Pure Pumpkin Puree- Adds the taste of fall for your seasonal entertaining.
Organic Powdered Sugar- A classic sweetener for fruit dips.
Brown Organic Sugar- Mellows out the powdered sugar and gives the dish a depth of flavor.
Ground Cinnamon- An earthy spice that mixes perfectly with a lot of sweet recipes.
Pumpkin Pie Spice- A blend of spices that adds warmth and depth to the pumpkin recipe.
How To Make Vegan Pumpkin Dip
Use a stand or hand mixer to whip the cream cheese until it has light and airy consistency. This should take about 1-2 minutes since dairy-free cream cheese is usually already pretty light.
Then add in pumpkin puree and brown organic sugar, beating for an additional minute or so until everything is blended together nicely.
Gradually add powdered sugar to the mixture and beat intermittently, creating a creamy consistency.
Then incorporate cinnamon and pumpkin pie spice stirring continuously until smooth. After, move the dip into an airtight vessel or serving bowl; store it in the refrigerator before ready use.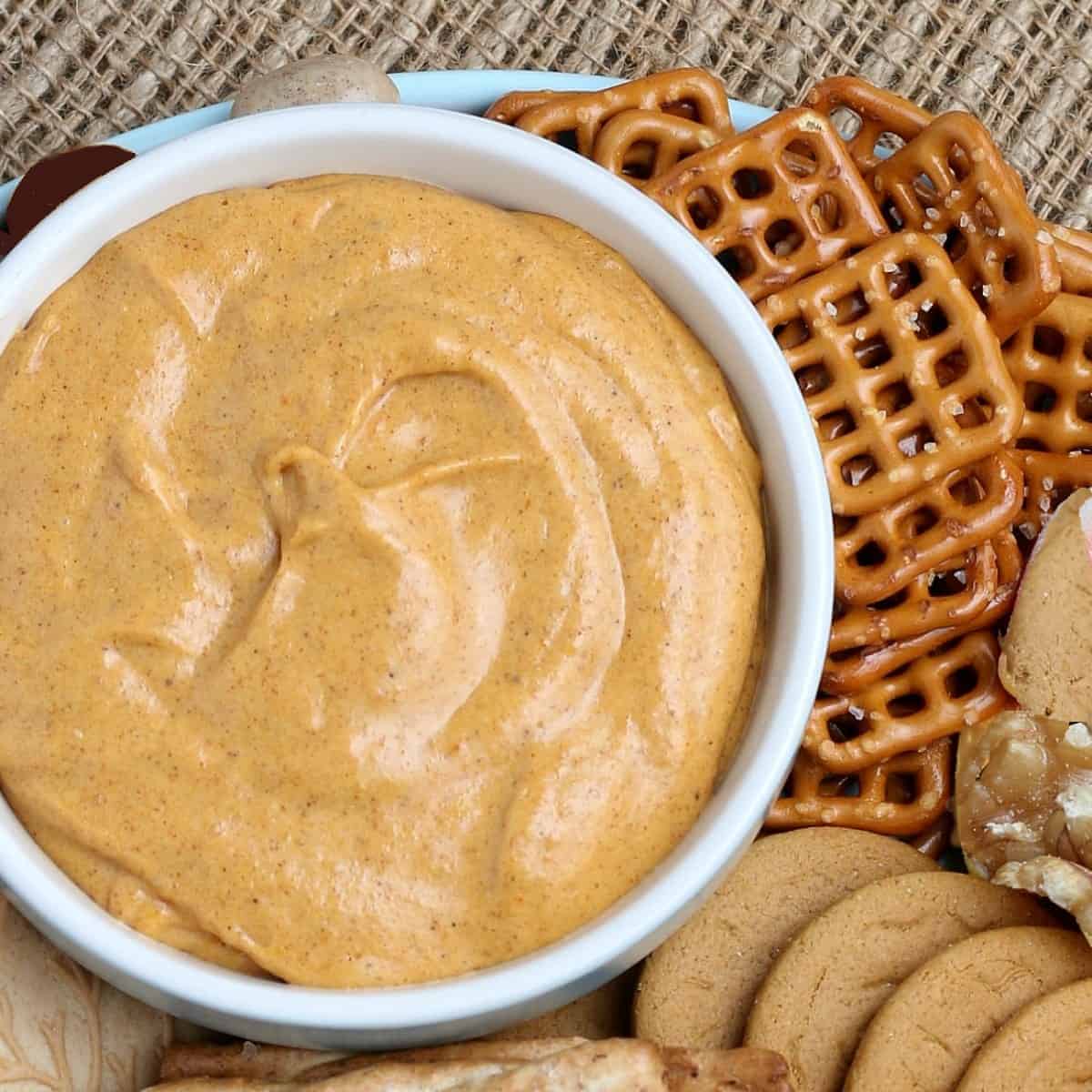 What to Serve With Vegan Pumpkin Pie Dip
This delicious vegan pumpkin dip goes perfectly with a variety of snacks and sides. You can serve it alongside chips, crackers, pretzels, or vegetable sticks for a crunchy accompaniment. For something sweet, try serving the dip with a bowl of fresh fruit, vegan graham crackers, gingersnap cookies, and apple slices it's an unbeatable combination! This pumpkin dip also makes an amazing topping for pancakes or waffles when you're in the mood for something special.
Popular Substitutions & Additions
If you're looking to switch this vegan pumpkin pie dip recipe up a bit, here are some popular substitutions and additions:
Coconut Cream- Replacing the dairy-free cream cheese with coconut cream creates a lighter, fluffier pumpkin pie dip.
Maple Syrup- Swap out the brown sugar for maple syrup to make the vegan pumpkin pie dip even sweeter.
Nutmeg- If you're not a fan of pumpkin pie spice, use ground nutmeg instead.
Chopped Nuts- Add some crunch to the dip by mixing in chopped walnuts or pecans.
Vanilla Extract- To add a hint of vanilla flavor.
Vegan Chocolate Chips- Enhances the sweetness of the pumpkin dip and makes it more decadent.
Vegan Whipped Topping- Mix your favorite vegan whipped cream to make a delicious fluffy pumpkin dip.
Pie- Use this vegan pumpkin pie dip with vegan vanilla pudding mix as a dairy-free pumpkin pie filling or for a pumpkin cheesecake.
Can You Freeze Pumpkin Pie Dip?
Yes, you can freeze pumpkin dip! To properly store it in the freezer, make sure to transfer leftover pumpkin dip into a food-safe, airtight container. It should stay good in your freezer for up to 3 months. When ready to use, make sure to thaw it out overnight in the refrigerator before serving.
When stored properly, vegan pumpkin dip will also last up to a week in the refrigerator.
Vegan Pumpkin Dip Recipe FAQs
Do I have to use a mixer for this pumpkin dip recipe?
No, you don't have to use a mixer. But using one will help create a smooth and creamy consistency by making sure all the ingredients are incorporated nicely together. If you do not have a mixer, I would suggest using coconut cream in place of vegan cream cheese.
How do I make homemade pumpkin puree?
If you want to make your own pumpkin puree, simply preheat your oven to 375F, line a baking sheet with parchment paper, and place the cut-side down on the pan. Bake for 40 minutes or until the flesh is soft. Then let it cool before scooping out the flesh and blending it in a food processor or blender until smooth. That's it!
Can I make this recipe gluten-free?
Yes, you can make this recipe gluten-free by serving it with gluten-free crackers or chips.
Do I have to add sugar?
No, you don't have to add sugar if you don't want to. You can also replace the sugar with other sweeteners like maple syrup or agave.
Can I use canned pumpkin puree in this pumpkin recipe?
Yes. You can use canned pumpkin puree instead of fresh puree. Just make sure to read the label to ensure that it doesn't contain any added sugars or flavors before using it in your dip.
📋 Recipe
Vegan Pumpkin Dip Recipe
Easy to make, packed full of flavor, and ideal for dipping a variety of foods. Make your next gathering or celebration one for the books with this amazing dip!
Ingredients
8

ounces

dairy-free cream cheese

- softened

1

cup

Pumpkin puree

1 ¾

cup

Organic powdered sugar

2

tablespoons

Organic brown sugar

1 ½

teaspoons

Ground cinnamon

1 ½

teaspoons

Pumpkin pie spice
Instructions
In a large bowl, beat cream cheese until fluffy, about 1-2 minutes.

Add pumpkin and brown sugar, beat until creamy and well combined.

Gradually add powdered sugar, beating between each addition.

Add spices and beat until creamy.

Transfer to an airtight container or serving bowl.

Store in refrigerator until ready to serve.
Notes
Serve with your favorite dippers like assorted fruit, cookies, apples, nuts, etc.
Nutrition
Serving:
1
Serving
Calories:
104
kcal
Carbohydrates:
17
g
Protein:
1
g
Fat:
4
g
Saturated Fat:
1
g
Sodium:
56
mg
Potassium:
32
mg
Fiber:
1
g
Sugar:
15
g
Vitamin A:
2383
IU
Vitamin C:
1
mg
Calcium:
18
mg
Iron:
1
mg