Pumpkin banana bread is a heavenly delight! Ripe bananas and velvety pumpkin puree combine perfectly, offering a burst of sweet fruit flavor with a hint of warm cinnamon in just an hour.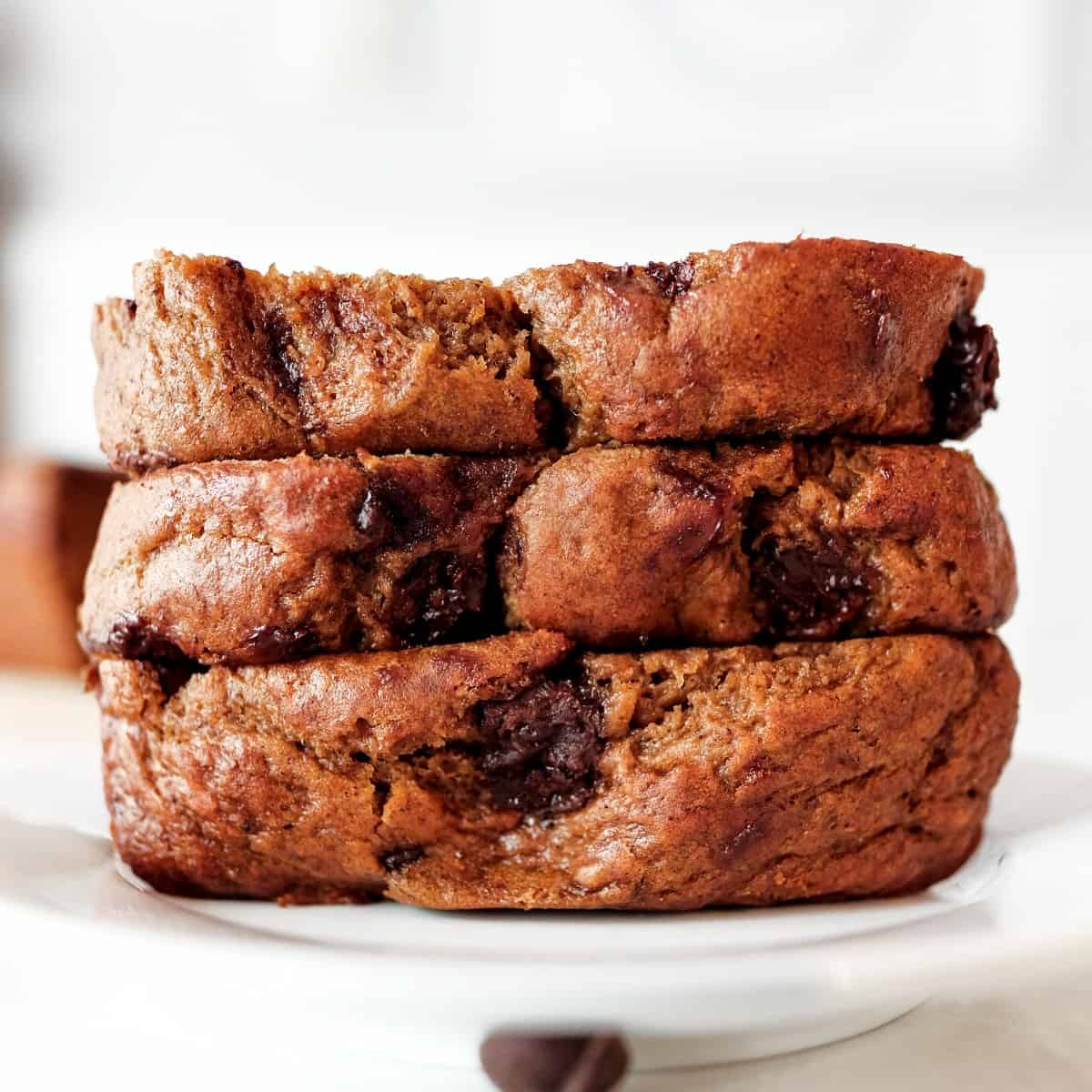 Why You'll Love This Vegan Pumpkin Banana Bread Recipe
Incredibly Moist- This vegan pumpkin banana bread is unbelievably moist and fluffy. It will literally melt in your mouth!
Ready In An Hour- Get it in the oven, and you'll be enjoying your delicious, homemade vegan pumpkin banana bread in under an hour.
Flavorful- The combination of pumpkin, banana, and cinnamon makes this bread full of amazing flavor. Not too sweet and not too bland - just perfect!
What Is Pumpkin Banana Bread?
Traditional pumpkin banana bread is a classic quick bread recipe that combines the flavors of banana, pumpkin, and cinnamon. It's usually made with all-purpose flour, butter, sugar, eggs, baking soda, and spices like nutmeg and cinnamon. This vegan pumpkin banana bread is a healthier animal-friendly twist on the traditional recipe.
Pumpkin and chocolate seem to be made for each other. Meaning you could sure leave the chocolate chips out but why? I mean Pumpkin Chocolate Chip Bread is a THING.
You could even stir in some nuts, but this is a nice smooth, quick bread with all of the concentration on the pumpkin and chocolate. If you go the nutty route then use pecans for more of the season twist.
Since all of us already love banana bread, I think you can imagine the additional ingredients. Good stuff!
Equipment Needed
Loaf Pan
Large Mixing Bowl
Fork
Wooden Spoon
Cutting Board
Knife
Measuring Cups and Spoons
🧾 Ingredients
Bananas are used very ripe for banana bread, and that makes it sweeter.
All-purpose flour is the main base, and use organic if you can.
Pumpkin puree (not pumpkin pie filling) for that festive flavor.
Maple syrup is always my liquid flavor of choice.
Coconut sugar is the one I used, but you can use date sugar, maple sugar, organic cane sugar, or any of your favorites.
Extra virgin olive oil helps keep the bread moist.
Vanilla Extract adds so much flavor with just a little bit.
Pumpkin spice also is perfect for this quick bread. If you don't have any, you may have all of the ingredients in your cupboard to make your own. Here is my pumpkin spice recipe.
Ground cinnamon gives a little more earthy autumn flavor.
Baking powder helps the bread rise.
Dark chocolate chips (or semi-sweet) are spread throughout the batter and sprinkled on top.
Salt is an understated seasoning but it's needed.
🔪 How to make vegan pumpkin banana bread
Preheat oven to 350 degrees. Preparation won't take long, so you might as well get the oven going.
Grease the loaf pan or use parchment paper for easy removal.
In a large mixing bowl, mash the bananas with a fork or hand mixer.
The pumpkin puree will probably be in the baking aisle. Don't use the pumpkin pie filling because it has already been sweetened, and the mix will be wrong.
Add the pumpkin puree, maple syrup, oil, and vanilla extract. Mix well.
Use a separate bowl to mix the flour and baking soda together with the spices.
Add the dry mixture to the wet and mix well with a wooden spoon or hand mixer.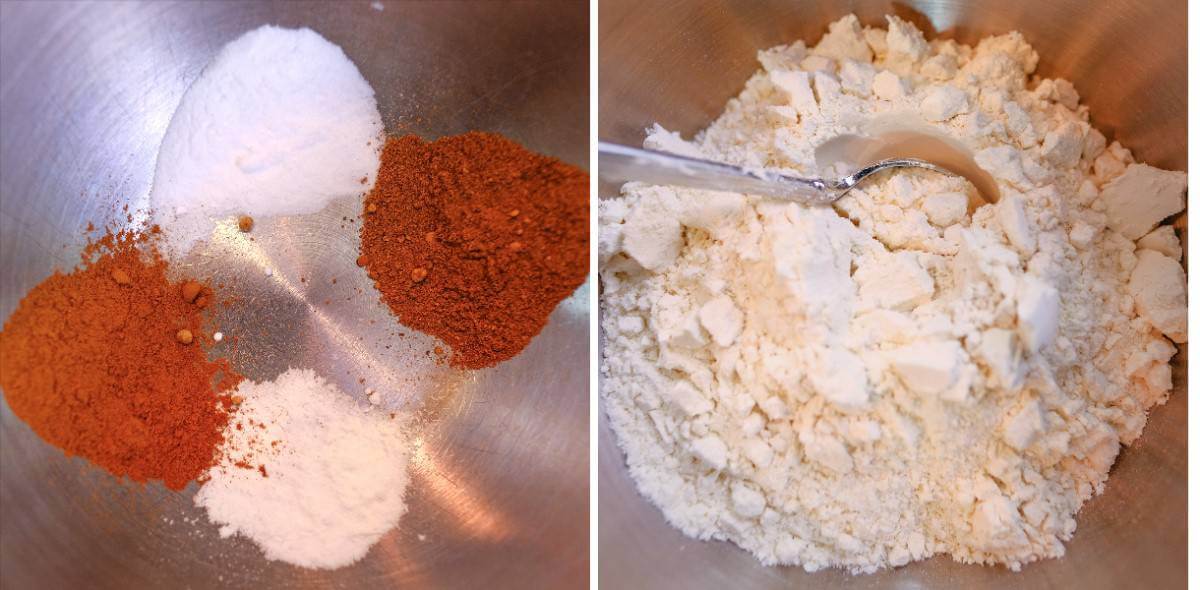 Fold in the chocolate chips and mix them in by hand without overbeating. Oh my gosh! If you don't watch Schitt's Creek, you must give it a try. In season 2, Episode 2, there was a scene about not knowing what ' fold in' means. Hillarious!
Sprinkle a few extra chocolate chips on the top.
Pour the batter into an 8 x 4 x 3 loaf pan and bake for 45-60 minutes, checking it every 5 minutes after 45 minutes. The timing depends on your pan and oven.
The bread is done when a toothpick inserted into the center comes out clean. Check at 45 minutes if you are a new baker and aren't sure about your oven and pan.
Let the Vegan Pumpkin Banana Bread cool in the pan for 10 minutes, and then carefully remove it to a cooling rack to cool completely before slicing.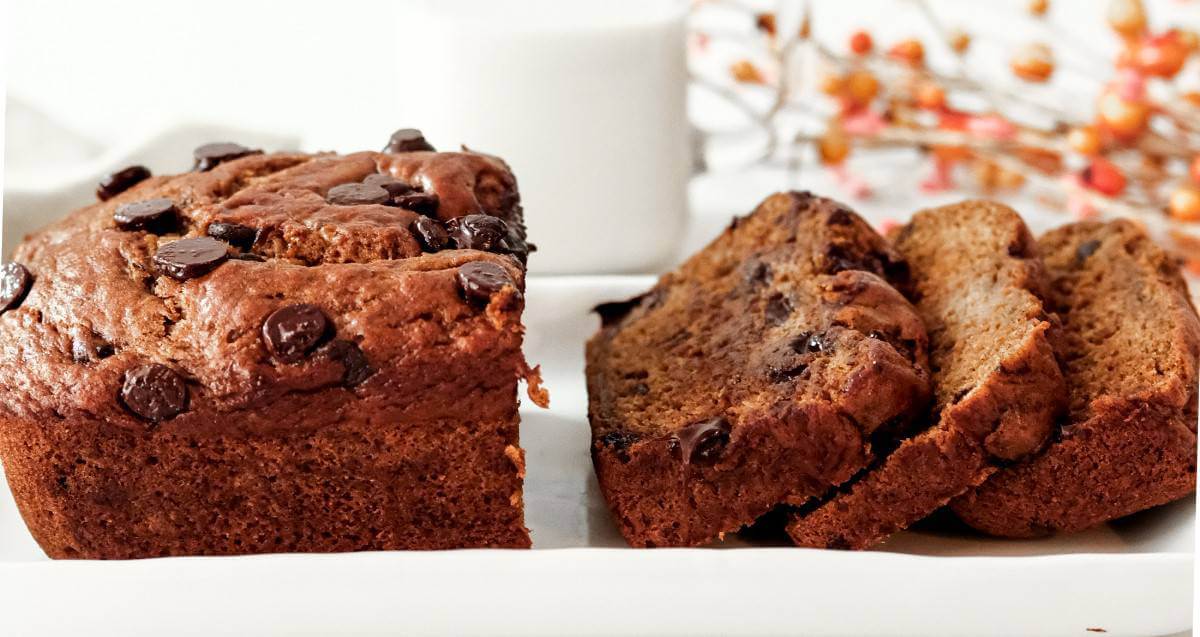 Popular Substitutions & Additions
Substitute the all-purpose flour with gluten-free flour.
Add dried fruits like cranberries or apricots for more flavor and texture.
Replace the coconut sugar with other granulated sweeteners such as date sugar, organic cane sugar, or brown sugar.
Use vegan dark chocolate chips or white chocolate chips in place of the semi-sweet.
Add nuts and seeds to make the bread more filling and nutritious. Popular choices include walnuts, pecans, and pumpkin seeds
Vegan Pumpkin Banana Bread FAQs
Can you double the recipe?
Yes! One loaf for you and one loaf for a friend. Just have a big enough bowl to mix everything together. Bake both pans at the same time on the middle shelf in the oven.
What kind of pan do I use?
A loaf bread pan is used. I know they do come in different sizes varying up to an inch but you can use all size loaf pans. They will take different times to cook though so testing with the toothpick method is a good idea.
Can I use parchment paper instead of greasing the pan?
Yes, I do this often. I cut a longer piece lengthwise so that when it fits in the pan two ends hang over. The flaps work as handles when you are removing them from the pan. It works great!
Can I use pumpkin pie filling for this recipe?
No, the pumpkin bread really won't turn out right. Pie filling has added ingredients such as sugar so it is best to use puree and stick to this recipe.
💭 How To Store Or Freeze
It gets even better the next day, so have no fear about storing pumpkin banana bread.
To store: Let the bread cool and then wrap the cooled bread in plastic wrap and keep it on the counter for two to three days. Just like in the old days.
If you need to store it for longer than that, you can keep it in the refrigerator for up to a week.
To freeze: Pumpkin bread freezes really well! Allow the quick bread to cool completely and store it in a freezer-safe container or ziplock freezer bag.
You can freeze it in slices or as a whole loaf. Pumpkin bread can be frozen for up to 3 months. Thaw it overnight in the refrigerator.
📖 Pumpkin recipes to love
These easy Pumpkin Waffles serve up all of the pleasures of a pumpkin pie.
Pumpkin Muffins are another favorite breakfast treat. They puff up so nice and fat.
Don't miss out on making this different but wonderful Pumpkin Soup.
📋 Recipe
Vegan Pumpkin Banana Bread
Vegan Pumpkin Banana Bread is an easy vegan bread recipe that is moist and festive.
Ingredients
3

Bananas

- 3 large ripe banans

¼

cup

Pumpkin puree

¼

cup

Maple syrup

2

tablespoons

Extra virgin olive oil

1 ½

teaspoons

Vanilla extract

1

cup

Organic All-purpose flour

½

teaspoon

Baking soda

1

teaspoon

Pumpkin pie spice

½

teaspoon

Ground cinnamon

½

cup

Coconut sugar

½

teaspoon

Salt

½

cup

Chocolate chips
Instructions
In a large mixing bowl mash the bananas with a fork or hand mixer into a smooth mixture. It's ok to have some banana chunks still left in the mixture.

Add the pumpkin, maple syrup, oil, and vanilla extract. Mix well.

Using a separate bowl mix the flour and baking soda with the spices.

Stir the dry mixture into the wet and mix well with utensil or hand mixer.

Fold in the chocolate chips. Save some to sprinkle on top or use extra for the top.

Pour the batter into a bread loaf pan and bake for 45-60 minutes checking the firmness with a toothpick that comes out clean.

Let cool on a cooling rack and serve.
Nutrition
Serving:
1
Serving
Calories:
222
kcal
Carbohydrates:
39
g
Protein:
3
g
Fat:
6
g
Saturated Fat:
1
g
Cholesterol:
2
mg
Sodium:
243
mg
Potassium:
191
mg
Fiber:
2
g
Sugar:
19
g
Vitamin A:
1245
IU
Vitamin C:
4
mg
Calcium:
21
mg
Iron:
1
mg