Turn puff pastry into the most delicious vegan cream cheese danish recipe. Top with your favorite toppings - such as fruit or jam and serve for a special breakfast or brunch. Flaky, creamy, and so addicting!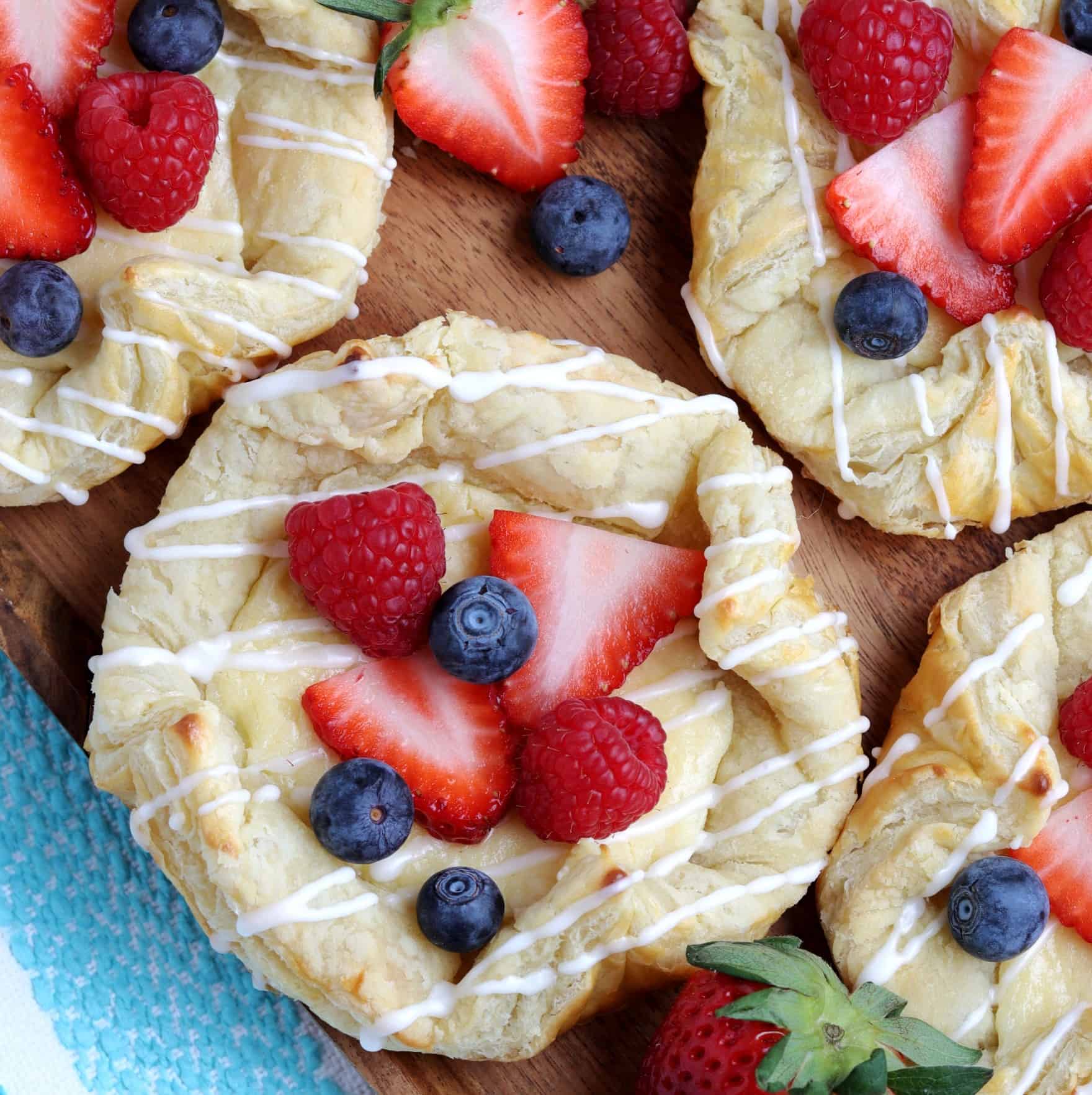 Using store bought puff pastry for the danish dough makes this recipe simple and easy to make, but still impressive and presentation ready!
This Vegan Cream Cheese Danish is one of the best breakfast treats for the whole family and they're fun to make with the kids too.
Buy the ready-made puff pastry sheets in the grocery store. There are a few to choose from. In fact, Pillsbury has one. You just have to pick up the one that says low fat. As always, check the labels so you can be sure.
I have three different strudels on the blog and all use store-bought puff pastry. Sometimes you just need an easy treat.
There is also a strudel recipe with cream cheese that I first put on the blog in 2013. That recipe is also a keeper and I included it at the very bottom of this post. Pictures included.
Mother's Chocolate Strudel is also great for dessert and is made year-round at our house. And luckily, apples are around so you have got to check out this Easy Apple Strudel recipe.
Jump to: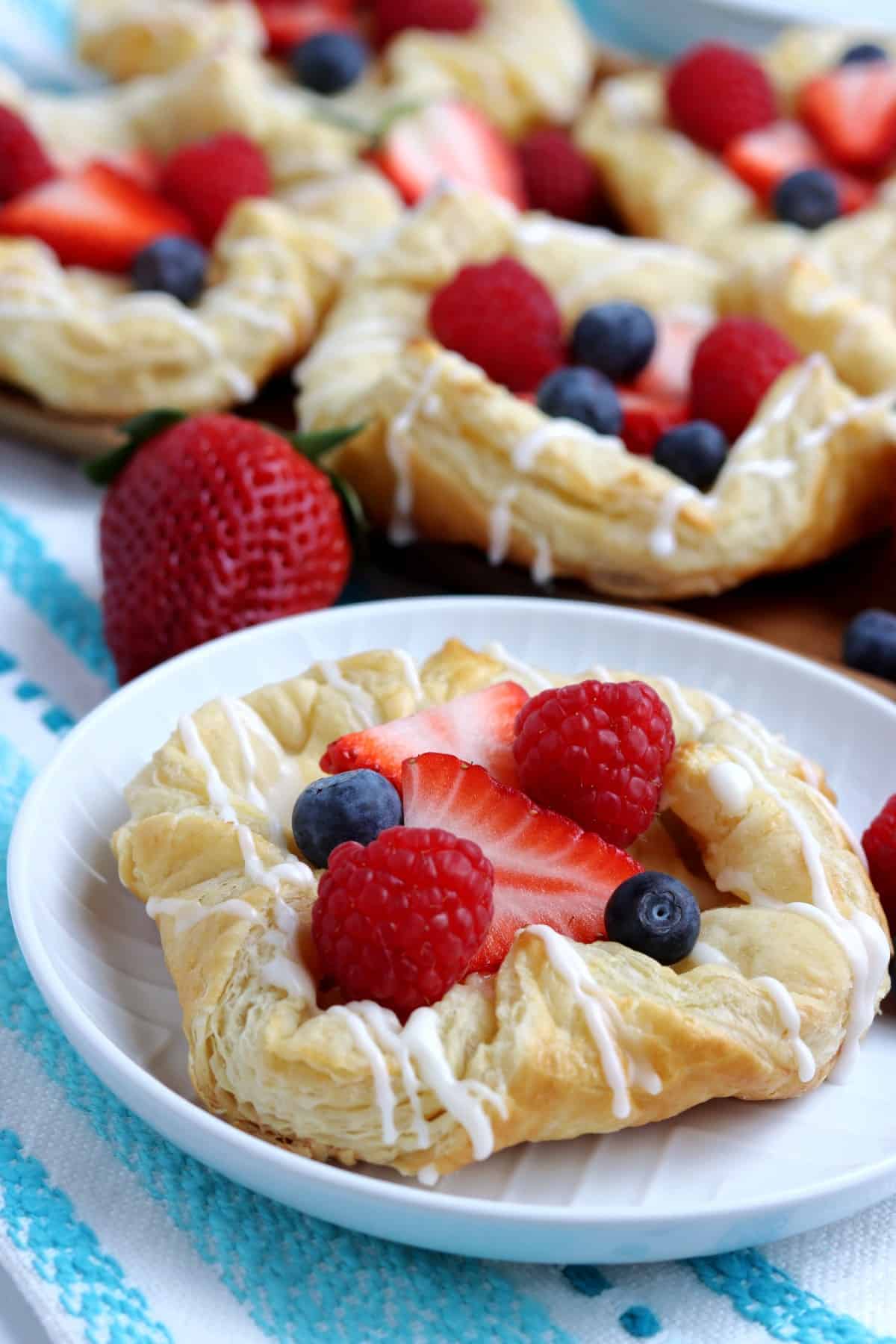 Bakers Tips
For a fun serving idea, fill small bowls with various fruits and jams then have guests top their danish with their choice.
The cream cheese filling can be mixed up a day in advance and stored in the fridge. You'll need to let it warm up to room temperature before you're able to scoop it and spread it on the puff pastry.
If you don't have almond extract, you can use a little extra vanilla extract instead. But if you do have it the combination of the vanilla and almond is very good.
Many egg substitutes work for this recipe. Just Egg, EnerG egg substitute work really well.
You can use a very sharp knife, or even a pizza cutter, to cut the puff pastry into squares.
Cheese danish ingredients
Vegan Puff Pastry - most store-bought puff pastry brands are vegan-friendly but be sure to check the label to confirm.
Aquafaba is the liquid from a can of chickpeas. Just Egg 'egg substitute' works really well too.
Soften the Dairy Free Cream cheese to room temperature for easy manipulation.
Use fresh Lemon Juice for the best flavor. But you can use the lemon juice in a bottle if that's all you have.
Vanilla Extract and Almond Extract - using both gives the danish filling the BEST flavor
Use organic Granulated Sugar whenever you can.
Fruit (fresh or canned pie filling) or Jam or Jelly - for serving.
Icing: Powdered Sugar and your favorite unsweetened Dairy-Free Milk.
Instructions
Prepare ingredients - Thaw the puff pastry, preheat the oven, line baking sheets with parchment paper or a silicone mat, and mix together the aquafaba and a little water.
Make the vegan cream cheese danish filling - Beat the softened dairy-free cream cheese until smooth. Add the sugar, lemon juice, and extracts. Beat until smooth.
Assemble the danish - Cut each puff pastry sheet into 4 squares and place on a baking sheet. Spoon the cream cheese into the center and slightly flatten.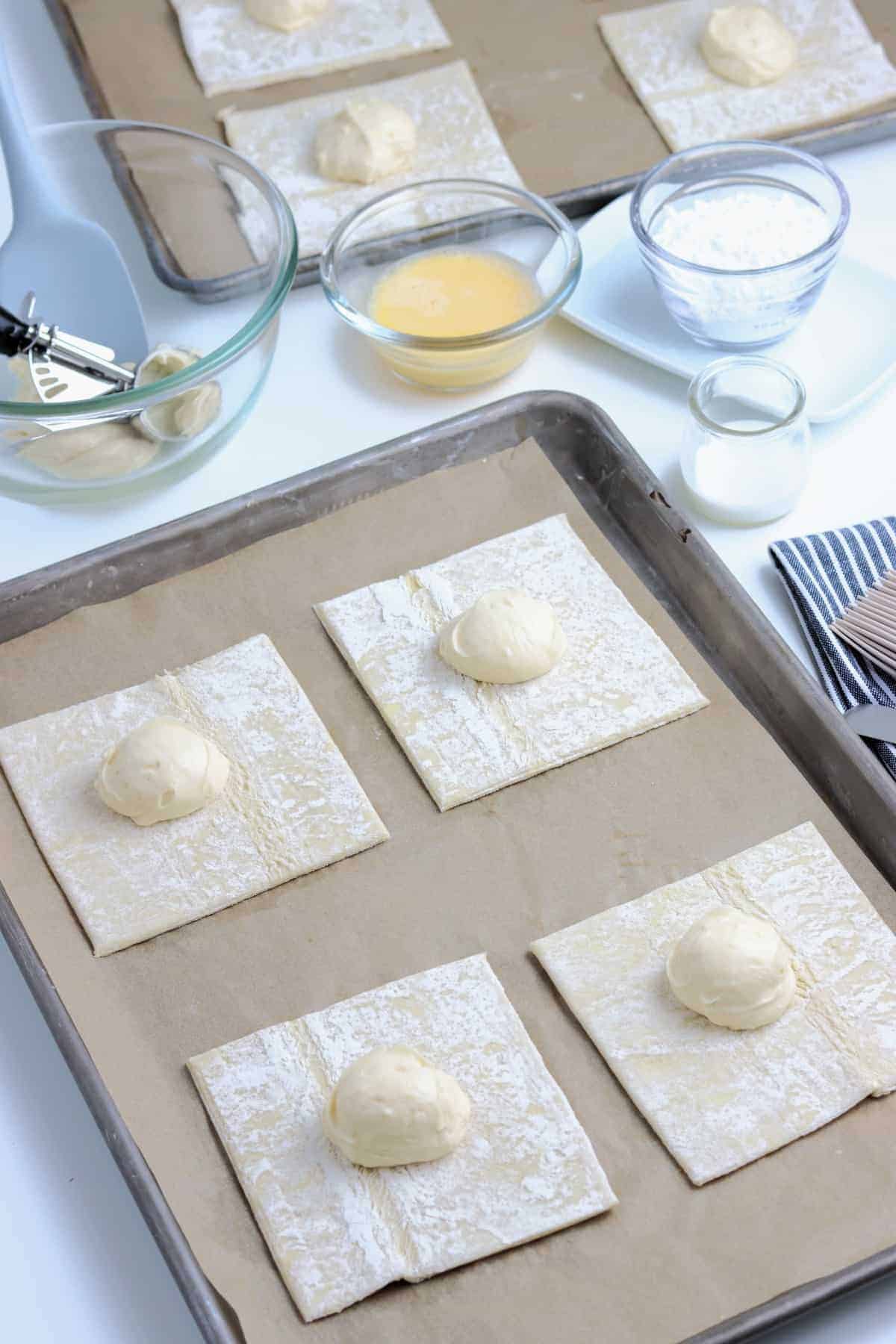 Fold in the corners of the puff pastry and brush with the aquafaba-water mixture or the vegan product Just Egg.
Bake and top with icing - Bake in the preheated oven until the pastry is puffed and golden brown. Whisk together the powdered sugar and dairy-free milk to make the icing and drizzle over each danish. Top with fruit, jam, or jelly before serving.
There you have it. Vegan Cream Cheese Danish pastries that are fit for a king and queen.
FAQ's
What is a danish?
A danish is a pastry made with many thin sheets of dough with each being separated a thin brushing of butter (check for dairy-free). The flaky dough is often topped with cream cheese or fruit filling.
What is aquafaba?
Aquafaba is the liquid leftover from cooked chickpeas. You can get it by reserving the liquid from a can of chickpeas or by cooking your own chickpeas and reserving the cooking liquid.

In vegan recipes, aquafaba is often used as a replacement for eggs and egg whites.

You can use any bean liquid but chickpea liquid is almost flavorless and can get away with being an 'egg'.

How long do leftovers last?
Homemade danish pastries can be served warm or at room temperature. Although they taste best the same day they are baked, leftovers can be stored in the fridge in an airtight container for 3-4 days. Cover with plastic wrap before refrigerating to prevent the pastries from drying out.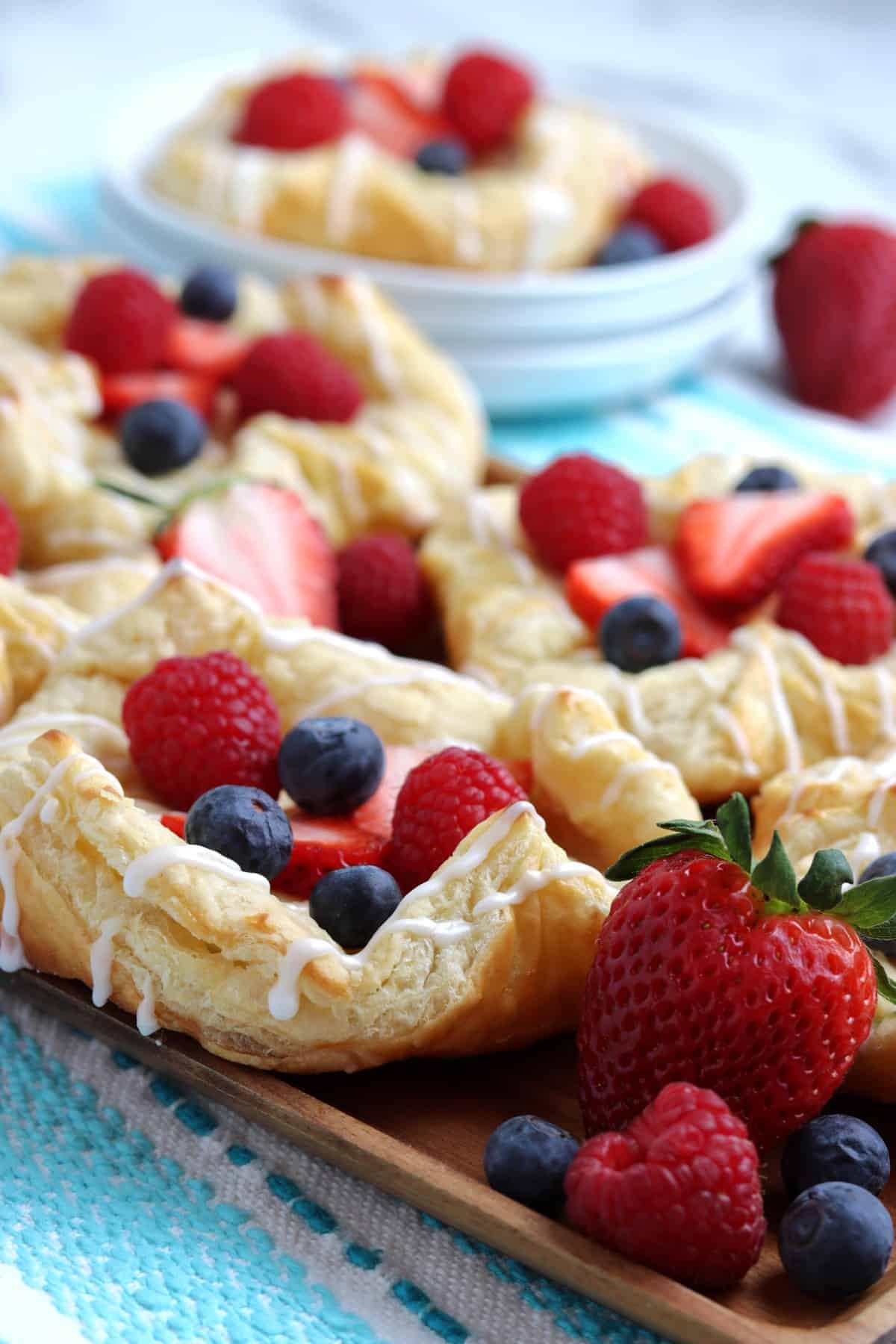 More vegan pastry recipes
Apple Turnovers - Made with puff pastry, apples, dried cranberries and baked to a beautiful golden color.
Cruffin Breakfast Pastries - Easy to make using store bought crescent dough and paired with chocolate for a sweet breakfast treat.
Mix, fold, sprinkle, bake. Serve on any special day throughout the week. Have a great time!
📋 Recipe
Vegan Cream Cheese Danish
Turn puff pastry into the most delicious vegan cream cheese Danish recipe.
Ingredients
For the Pastry
17

ounces

puff pastry sheets

- 1 package

3

tablespoons

aquafaba
Filling
8

ounces

dairy-free cream cheese

¼

cup

organic granulated sugar

1

teaspoon

lemon juice

1

teaspoon

vanilla extract

¼

teaspoon

almond extract

- optional
Icing
½

cup

organic powdered sugar

1

tablespoon

unsweetened dairy free milk
For the Topping
Fruit, fresh or canned pie filling

Jam or jelly
Instructions
Remove puff pastry from freezer and thaw according to package directions.

Preheat oven to 400 degrees F

Line 2 baking sheets with parchment paper or a silicone mat.

In a small bowl mix aquafaba and 1 teaspoon water, set aside

In a medium bowl, beat cream cheese until smooth.

Add sugar, lemon juice, and extracts and beat until smooth.

Lay out puff pastry and cut each sheet into 4 squares. Place squares on prepared baking sheet.

Spoon 2 tablespoons cream cheese mixture evenly into the center of the pastry. Very slightly flatten the top of the cream cheese mixture.

Fold corners of puff pastry in to the center. Brush with aquafaba wash.

Bake for 16-18 minutes or until pastry is golden brown and puffed.
Icing
In a small bowl, whisk together powdered sugar and milk until smooth
Serve
To serve, add pie filling or jam to the center of the Danish, if desired.
Notes
Store leftovers in refrigerator in an airtight container.
Nutrition
Serving:
1
Danish
Calories:
403
kcal
Carbohydrates:
44
g
Protein:
6
g
Fat:
28
g
Saturated Fat:
6
g
Sodium:
260
mg
Potassium:
39
mg
Fiber:
3
g
Sugar:
15
g
Vitamin A:
1
IU
Vitamin C:
1
mg
Calcium:
25
mg
Iron:
2
mg
You know the Vegan Puff Pastry Strudels I was telling you about? Well, here they are with pics from 2013.
Vegan Puff Pastry Strudel with dairy free cream cheese is an easy, flaky, lemony, creamy, sweet roll. A great breakfast or brunch treat. You can't eat just one.
These strudels come out puffed and delicious.
12 strudels - 45 minutes
Ingredients
For the Pastry
6 ounces vegan cream cheese softened
⅓ cup organic granulated sugar
1 tablespoon lemon juice
1 package (2 sheets) pre-made puff pastry sheets Pepperidge Farms puff pastry sheets are vegan (and others)
For the Topping
2 tablespoons organic granulated sugar
⅓ cup almonds chopped or slivered
INSTRUCTIONS
Lightly oil a large Baking Sheet.
Cream the cream cheese, granulated sugar and lemon juice until smooth. You can use a Hand Mixer if you'd like.
On a lightly floured surface, unfold the puff pastry sheets.
Cut each one into long thirds (at the creases).
Then cut each long rectangle across the center so that you have two shorter rectangles. This will leave you with 12 rectangles.
Dollop a heaping tablespoon of the filling onto each rectangle and spread out to about ½" from the ends.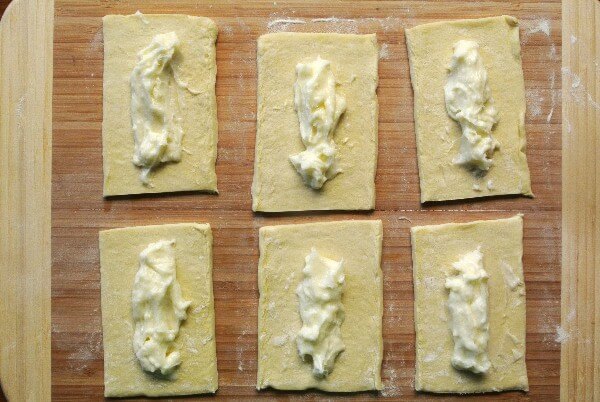 Roll up loosely from the long edge and place seam side down on the prepared baking sheet.
Place seam side down on the prepared baking sheet.
Make 3 to 4 diagonal cuts down the backs of the pastry. The deeper your cuts the more filling will come out. In the second picture above was another batch I made where I cut very deep and you can see the filling puff out. They were rolled tighter too. The two styles taste the same - just look different.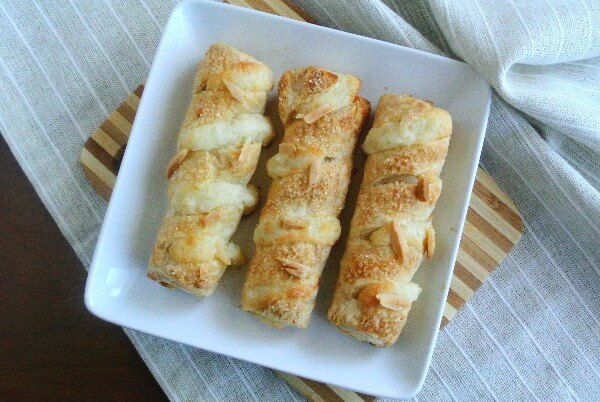 Brush lightly with water and immediately sprinkle the sugar and chopped almonds on each.
Bake at 350° for 20-25 minutes.
Remove to a rack to cool completely.