Potato chips air fryer style are crispy, crunchy, and a healthier snack! Air fry potato chips in minutes and it's even faster when they are potato skin chips.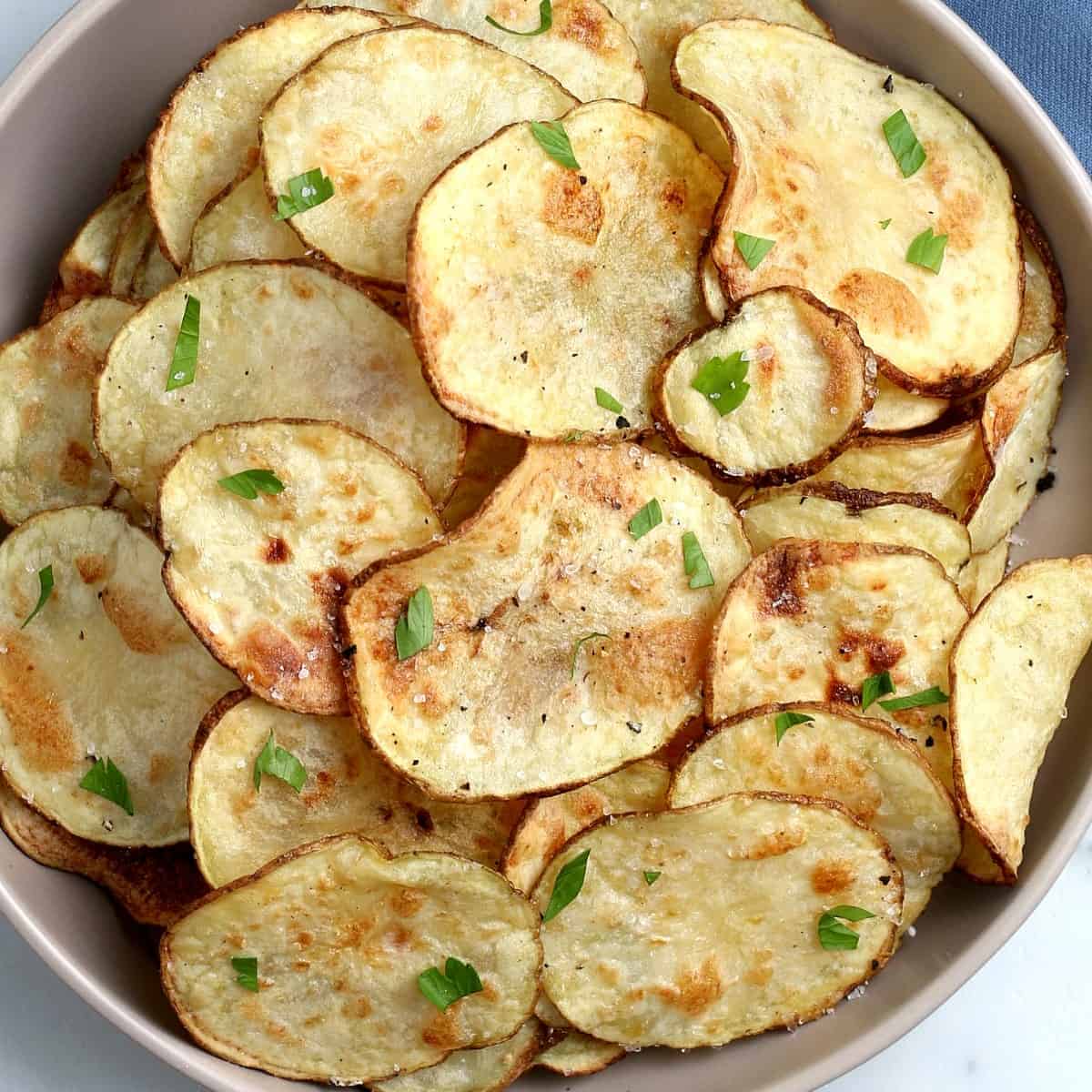 Making air fry potato chips is a healthier alternative to regular chips.
You still get crunchy chips, but an air fryer uses way less oil. All the crisp and crunch with far less fat!
One of the major tips is to cut the potatoes thinly.
How to cut potatoes thinly
The easiest way to cut potatoes thinly is by using a mandoline. A mandoline slicer has a sharp blade that makes it easy to quickly and thinly slice fruits and vegetables.
I linked to an adjustable slicer right above here but you can certainly buy a mandoline that is not adjustable. The slices might be a little thicker though.
They should be thin so they become crispy like a chip.
You can also use a very sharp knife to cut the potatoes, but a mandoline is much faster and gets the slices thin and uniform.
Jump to:
3 Ingredients
Use only three ingredients to make vegan potato chips! Here's what you need for this recipe:
Russet Potatoes - Fresh and firm russet potatoes are the classic choice for making chips. Soaking the slices in a water bath helps remove a lot of the starch content which gives you a crispier chip.
Salt - Salt is used in both the water bath to soak the potatoes and to sprinkle on the cooked chips.
Olive Oil - One of the best parts of air frying is that you really don't need much oil! Just a little bit to coat the chips. Only a fraction of what is needed for traditional frying.
Do you have to soak the potatoes
Yes! That will make your chips crispy. Soaking takes a lot of the starches out of the potatoes. You'll see what I mean when you see that the water is not clear anymore after soaking.

The water removes the sticky starches so that the chips won't stick together when cooking and also have a chance to get crispy and crunchy.
How to air fry potato chips
Making vegan potato chips air fryer style is surprisingly easy! Slice the russet potatoes thin, soak in water, dry and oil, then air fry. See the simple steps below:
Salt Water Bath: Combine water and salt in a large bowl. Add the thinly sliced potatoes to the salt water and soak for 30 minutes. Drain and pat dry the potato slices
Oil Potato Slices: While the air fryer is preheated, add the soaked and dried slices to a large bowl. Drizzle the slices with oil and toss to coat.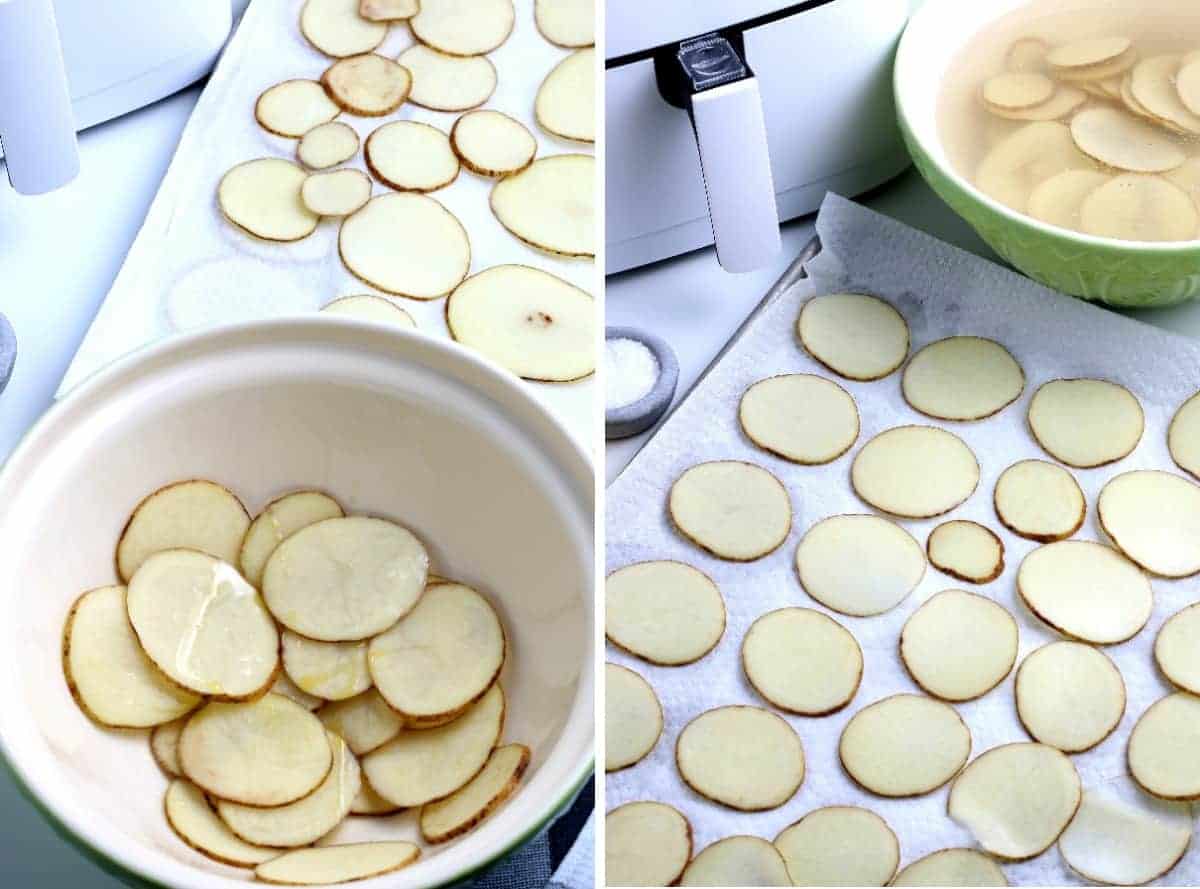 Air Fry: Add the oiled potato slices in an even layer to the preheated air fryer basket. Air fry at 330°F for about 20 minutes or until golden brown and crispy.
Season and Serve: Sprinkle the hot potato skin chips with salt right away. Otherwise, they will taste like plain potatoes which can be fine but salting the chips will make them more like store bought ones.
FAQ's
How do I keep air fryer potato chips from getting soggy?
To ensure crisp and not soggy potato chips, make sure you pat the soaked potato slices dry.

The easiest way to do this is by placing the soaked slices between layers of paper towels. Any leftover moisture will make it harder for them to crisp up.
How do you store them?
Store homemade potato chips in an airtight container at room temperature. Storing in a container will prevent moisture exposure which helps keep the chips crispy longer.
How long do they last?
Leftover homemade potato skin chips will last for about 4-5 days at room temperature.
Do I have to leave the skins on?
No, not at all. Just peel the potatoes first and continue as directed in the instructions.
How do I keep my potatoes from burning
There are a few tricks to get your chips crispy but not burnt.
Don't overfill your air fryer. You want the chips to be in an even layer - you may need to cook in batches.
Redistribute the chips near the end of cooking. Doing this helps ensure they cook evenly without some pieces getting burned. The chips are done when they are golden brown.
Depending on your air fryer and potato thickness the cook time will vary. Keep an eye on your chips while they cook.
Flavor variations
While I love making classic potato chips to serve with my favorite dip, it's super fun to try flavor variations!
Here are some of my favorite flavor variations, but get creative and try your favorite spice blends. Let me know your favorite in the comments!
When tossing the potato chips in a seasoning blend, you want to toss the chips while they are still hot so the seasoning sticks.
Salt and Vinegar Powder: Recreate your favorite store bought salt and vinegar chips by sprinkling the hot air fryer chips with the powder.
BBQ flavor: I'll give a recipe
Ranch: After air frying, toss the hot potato chips with your favorite vegan ranch dip mix.
Taco, Chili or Fajita seasoning: Toss the oiled potato slices in a taco or fajita blend before or after air frying for a fun Mexican spin! Perfect for a spicy kick.
More chip recipes
Zucchini Chips - Zucchini slices are dredged in panko then air fried to make the crispiest veggie snack! They're perfect to make trying new veggies fun for kids.
Sweet Potato Chips - Less than 30 minutes to make these fun, spicy chips! Sweet potato slices are tossed with a brown sugar/spice mixture before being air fried to crispy perfection.
📋 Recipe
Air Fry Potato Chips Recipe
Homemade potato chips air fryer style are crispy, crunchy, and a healthier snack!
Ingredients
8

cups

water

1

tablespoon

salt

- for water

4

cups

russet potatoes

- 2 large russet potatoes

1

tablespoon

extra virgin olive oil

½

teaspoon

salt

- to taste
Instructions
Pour water into large bowl, add salt and stir until salt is dissolved

Thinly slice the potatoes to ⅛ inch thick. Using a mandoline is highly recommended.

Soak the potatoes in the saltwater for 30 minutes.

Drain the potatoes and pat dry with paper towel. ** see notes

Preheat the Air Fryer to 330°F. It takes about 5 minutes.

Add potato slices to large bowl.

Drizzle potatoes with olive oil and stir to coat.

Layer the potatoes in the preheated air fryer. ** see notes

Cook the potatoes at 330°F for 20-25 minutes or until desired browning. Make sure to shake the basket halfway through cooking.

Season the potatoes with salt when done cooking.

Serve immediately with your favorite dipping sauce.
Notes
* Drying - it's easiest to line a large cookie sheet with paper towel and layer the potatoes between sheet of paper towels
** Cooking potatoes that are close to the same size is best, if possible. And layering in a single layer takes a little longer, but they cook more evenly.
Nutrition
Serving:
1
Serving
Calories:
149
kcal
Carbohydrates:
27
g
Protein:
3
g
Fat:
4
g
Saturated Fat:
1
g
Sodium:
2066
mg
Potassium:
626
mg
Fiber:
2
g
Sugar:
1
g
Vitamin A:
2
IU
Vitamin C:
9
mg
Calcium:
35
mg
Iron:
1
mg