This Vegan Peppermint No-Bake Cream Pie has a chocolate cookie crust and a luscious, and creamy white chocolate and mint filling. It's a decadently delicious dairy-free pie that is made with all plant-based ingredients and is ideal for the holidays! It's the perfect dessert to bring to large a get-together that everyone can enjoy regardless of diet!
Pie is a staple dessert for every occasion. Now that we're approaching the busiest time of year, we need a pie that's sweet, festive, and quick to assemble. On top of that, the pie should scream CHRISTMAS!!! My vegan peppermint pie recipe does all that!
My vegan peppermint pie recipe is a favorite among my family and friends and is sure to be a hit with yours.
Why You'll Love This Vegan Peppermint pie
Holiday Mood: No other candy screams Christmas like Peppermint! This vegan peppermint pie will add a festive touch to your dessert table. One taste of this pie can transport your soul to the holiday season.
Simple and Fast: My vegan peppermint pie recipe is simple and quick. Even during the busiest season, you can make this in a jiffy. Don't stress yourself with baked desserts. Try my no-bake, plant-based pie, which will make dinner prep lighter and easier.
Vegan: Because it is vegan, it contains less cholesterol and is gluten-free. Vegan Peppermint pie is a healthier dessert choice. You can indulge yourself and your loved ones without feeling guilty.
Equipment Needed To Make Vegan Peppermint pie
Measuring cup (wet ingredients)
Measuring spoons
Measuring cups
Pie plate
Two Large mixing bowl
Food Processor
Refrigerator
Whisk
Ingredients You Need To Make This Vegan Peppermint pie recipe
Crust
Chocolate cookie sandwiches
Unsalted Vegan butter
Filling
Almond Milk
Instant white chocolate pudding mix
Peppermint extract
Vegan whipped topping
Red food coloring (optional)
Decorations
Candy Canes (Make sure to use a brand that's vegan)
How to Make Vegan Peppermint Pie
Grind the chocolate cookies in a food processor, combined with vegan butter, press into the pie plate, and chill. To make the filling combine your almond milk, pudding, half of your whipped topping, and peppermint extract. Add the pie filling the crust and refrigerate.
Storage
This Vegan Peppermint Pie should be chilled immediately. If the filling is not refrigerated, it may get runny. Store in the pie tin or plate in the refrigerator for up to 6 days. Serve chilled!
Note: do not let it sit out at room temperature for any length of time. This is a pie that you want to take directly from the fridge to the plate and then back again.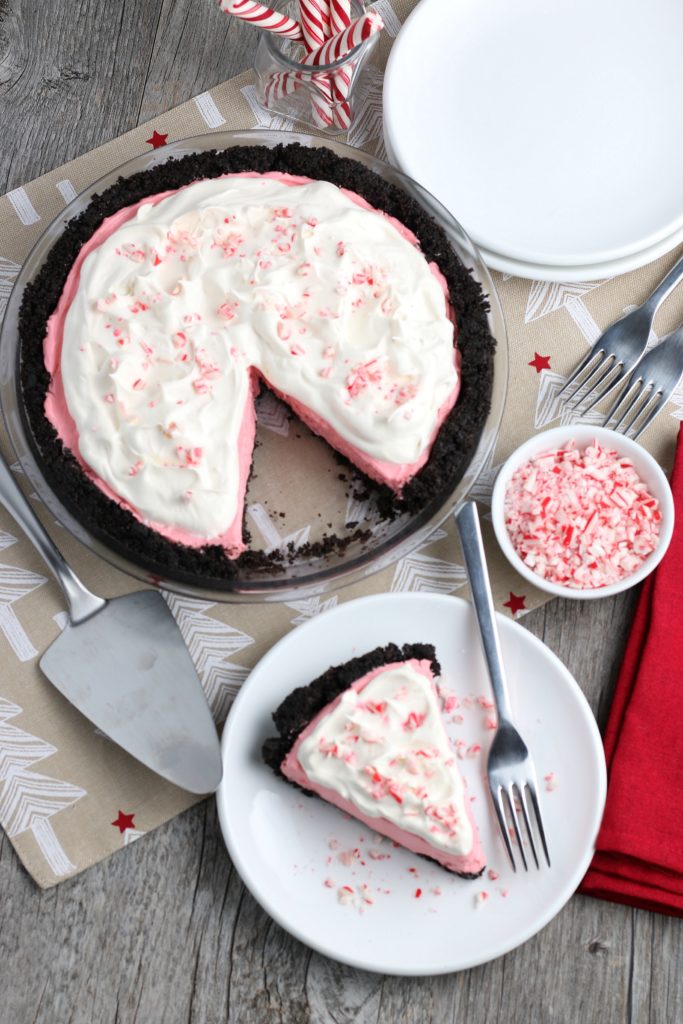 Tips For Making the Perfect Vegan Peppermint Pie
Warming your knife blade with hot water and cleaning it between cuts can help you cut a beautiful slice every time.
Never heat this vegan peppermint cream pie because the filling and whipped cream will not hold up to the high temperatures. This kind of pie is best served cold!
Substitutions and Variations
Cookie Crust: You can use crushed graham crackers or Oreo for the cookie crust.
Dark Chocolate: Instead of white chocolate, you can use dark chocolate for the filling. Peppermint and dark chocolate taste really good together too.
Toppings: For the toppings, you can also use chocolate shavings, crushed almonds or walnuts, and whipped cream.
What To Serve/Pair With Your Vegan Peppermint pie Recipe
·Vanilla Ice Cream: Because Vegan Peppermint Pie is already cold, why not add a scoop of vegan vanilla ice cream? Pie and ice cream are usually better together.
Contrast: Vegan Peppermint Pie is best served chilled, with a cup of hot coffee on the side. The contrast of hot and cold creates an incredible combination. For kids, a glass of warm milk works well with this pie.
Hotter Days: If you live in a hotter region, try this Vegan Peppermint Pie with an iced coffee, milkshake, or frappe. On a hot sunny day, the combo will undoubtedly energize and cool you down.
Vegan Peppermint Pie FAQs
What vegan milk can I use for this recipe?
For this recipe, you can use almond milk, coconut milk, soy milk, really any plant-based milk you prefer. A thicker consistency milk, like almond, does tend to work better here. If you want to have an even smoother texture, you may opt to use a vegan heavy creamer.
Can I freeze this vegan peppermint pie?
Yes, you can freeze this pie. Place your pie in a freezer-friendly container. To prepare, thaw the frozen peppermint pie at room temperature for 1 hour and generously top it with the toppings of your choice before serving.
Can I use a blender instead of a food processor for my pie crust?
Yes, you can use a blender to crush up your cookie crust. You will want to use something as the crust needs to be a fine powder. Just throwing it in a Ziploc bag and crumbling them up also works, but again they need to be fine, so make sure you really get a sandy texture.
Can I use an electric hand mixer to make the peppermint pie filling?
Yes, you can substitute an electric mixer for the whisk if you like. Just be cautious of over mixing the pie. You want it to set and not end up runny.
Other Vegan Dessert Recipes You're Sure To Love
Don't Forget To Come Back And Let Me Know How Your Vegan Peppermint pie Turned Out!
📋 Recipe
Vegan Peppermint Cream Pie with Chocolate Cookie Crust
This vegan peppermint cream pie has a chocolatey cookie crust with a white chocolate and peppermint filling and is topped with crushed candy canes!
Ingredients
Crust
24

chocolate cookie sandwiches

5

tbsp

unsalted vegan butter

melted
Filling
2

cups

cold almond milk

2

boxes (3.3 oz each) instant white chocolate pudding mix

½

tsp

peppermint extract

1

container (8 oz) whipped topping, thawed or 2 cups whipping cream.

red food coloring

optional
Decorations
Candy Canes

Be sure to use a vegan brand
Instructions
Crust
Add cookies to food processor and grind into fine crumbs.

In a large bowl, combine melted butter and cookie crumbs until well combined.

Press into pie plate firmly.

Chill in refrigerator at least 30 minutes, longer is fine.
Filling
In a large whisk together almond milk and pudding mix until smooth and creamy.

Stir in peppermint extract.

Add food coloring, if using.

Fold in about 1 cup of whipped topping.

Chill in refrigerator for at least 3 hours.

Add remaining whipped topping to the top and decorate as desired.

Serve immediately or place in refrigerator until ready to serve.
Nutrition
Calories:
271
kcal
Carbohydrates:
29
g
Protein:
4
g
Fat:
16
g
Saturated Fat:
8
g
Polyunsaturated Fat:
2
g
Monounsaturated Fat:
5
g
Trans Fat:
1
g
Cholesterol:
25
mg
Sodium:
203
mg
Potassium:
161
mg
Fiber:
1
g
Sugar:
18
g
Vitamin A:
318
IU
Calcium:
79
mg
Iron:
3
mg