Peppermint Chocolate Cookie Dough Bites are yours in just a few minutes. Sometimes something that is sweet and chocolaty just seems to be necessary. Amazing ingredients for a no-bake treat.

There are many reasons to make these Peppermint Chocolate Cookie Dough Bites. In fact, right off the top of my head, I can think of four!
One is that they're festive. A little bit of Kahlua is added and Kahlua just makes one think of the holidays. I mean there's only 2 tablespoons in this whole batch of 42 balls but Hey, it's festive.
Another good reason is that because sometimes a person just craves sweets. This one can be made in under 20 minutes. Even under 10 minutes if you don't want to roll all the balls right then and there.
Having this recipe to make in the summertime is also a plus because there is no need to turn on the oven.
Two little words sum up this whole thought process - Cookie Dough! Who doesn't like cookie dough? I can imagine this made chunky to add into some nice cream too.
Peppermint Chocolate
These two ingredients go so well together. People have thought up multiple ways to include them into their lives.
The simplest recipe combination is Chocolate Peppermint Bark. It is also a holiday favorite and, yep, it's on this blog, right here, too.
Bars, Cups, Cookies, and Truffles abound with this flavor combination. In fact, you can even call these bites Truffles. Then you could put them in little gold paper cups and pack in a single layer in a little box and give them as a holiday gift. Always appreciated.
And last but not least a nice hot cup of Peppermint Cocoa.
And last but not least is peppermint cocoa nice hot peppermint cocoa
Now as for little bites such as these Chocolate Cookie Dough ones the combination of ingredients seem endless. Sort of like cookies. A little of this and a little of that and you have a different sweet treat.
I probably have six or seven different balls on the blog. And then include ones that I have in my two cookbooks and there are probably five more and each one is incredibly different.
Other Quick and Delicious Treats On the Blog Include:
Keeping in the holiday spirit there is another liqueur tinged recipe. Spiced rum balls! Yes, not rum balls but spiced rum balls.
Then there are Date Chocolate Balls wonderful combination of ingredients to make one of the best desserts.
You can't forget the peanut butter! I added lots peanut butter to these delicious Protein Peanut Butter Balls.
Then, just to bring back to childhood memories there are Rice Krispie Almond Butter Balls that have been dunked in chocolate.
I actually do have Kahlua Truffles on this site but they are incredibly different. Here's a picture to tempt you.
I didn't try to keep the ingredients down for this recipe. I wanted to add lots of texture and also keep the ingredients as healthy as possible.
There are only 2 tablespoons of Kahlúa and 3 tablespoons maple syrup so I think that's pretty good divided by 42 balls.
And then there's fiber and you can't complain about fiber!
Add all these ingredients together and you get one great batch of great tasting peppermint chocolate cookie dough bites.
What Ingredients Have Protein?
Cashews, oats, and granola are going to give you the biggest bang for your bucks.
Oats are also one of the top protein Products out there and cashews and nuts all have lots of protein.
Next comes the two kinds of chocolate. Chocolate even has some protein in it.
And then last but definitely not least the granola. It depends on what kind you're adding but believe me, probably all of the ingredients in granola have protein.
Helpful Tools
There are two ways you can go with this recipes. All by hand or with the use of a food processor.
With a food processor, you could make this recipe in steps. Start with the cashews and pulse a few times to make then much smaller. Then add the granola and oats and pulse a few more times.
Then you can go ahead and add the rest of the ingredients and turn on low or pulse some more until everything is just combined. There you have it.
Or - you can make them by hand. Hand chop the cashews, oats, and granola. I'd chop the cashews and oats together so there would be better contact with the knife over the oats surfaces.
Add everything to a large bowl and mix with a sturdy wooden spoon. That is the good ol' fashioned way.
So you can see it really doesn't take any time at all. The majority of the time is because you need to roll the dough into balls - 42 of them.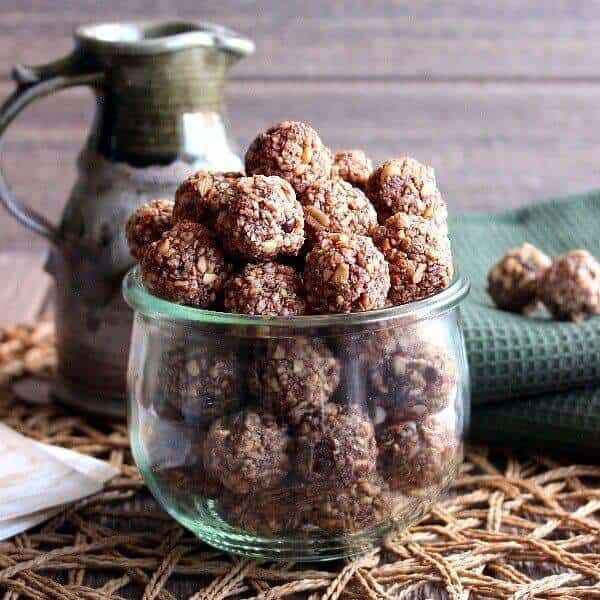 This post contains affiliate links. Read my disclosure policy here.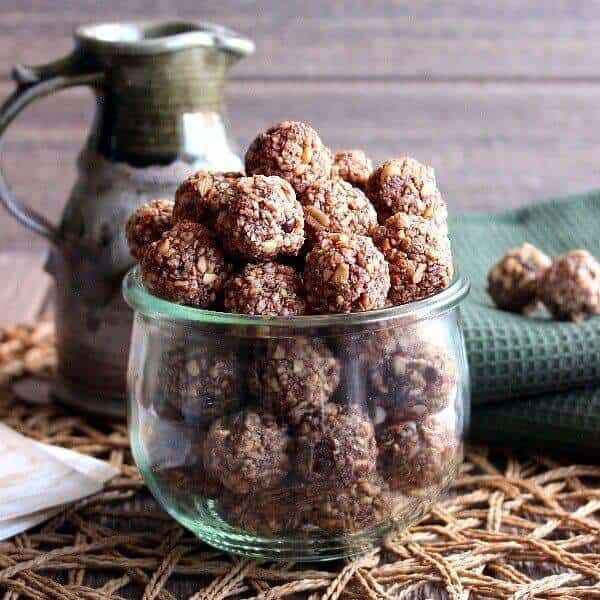 Peppermint Chocolate Cookie Dough Bites
Peppermint Chocolate Cookie Dough Bites are yours in just a few minutes.
Ingredients
1 ½

cups

unsalted cashews, ground

⅔

cup

rolled oats, ground

½

teaspoon

salt

1

tablespoon

unsweetened cocoa

3

tablespoons

pure maple syrup

2

tablespoons

Kahlua

1

teaspoon

peppermint extract

¼

cup

mini chocolate chips, vegan

1

cup

granola (no raisins), ground, you can choose gluten free too
Instructions
Place all the ingredients into a large bowl. Blend well.

Roll into 42 balls and that is it!
Nutrition
Serving:
1
Ball
Calories:
42
kcal
Carbohydrates:
4
g
Protein:
1
g
Fat:
2
g
Sodium:
29
mg
Potassium:
40
mg
Sugar:
2
g
Calcium:
5
mg
Iron:
0.4
mg
Storing in the refrigerator:
Will keep in the refrigerator for 2 weeks.
Freezing:
Freeze in freezer bags and just take one or a few out when you have the craving.
They are not frozen hard, so you can actually start enjoying one right away. Will keep in the freezer for up to 4 months.