What's better than a bite of sweet, delicious peanut butter cookie dough? How about a whole batch of them? These vegan peanut butter cookie dough balls are the perfect way to satisfy your sweet tooth if you love eating raw cookie dough. A delicious and easy recipe made with just a few simple ingredients, you can make these tasty treats in less than 20 minutes! These bite-sized treats will quickly become your new grab-and-go snack any time of day.
Why You'll Love This Peanut Butter Cookie Dough Recipe
Fast and Easy to Make – With just 6 ingredients and less than 20 minutes of prep time, these vegan peanut butter cookie dough balls are easy enough to make even with a busy schedule.
Deliciously Sweet – These vegan peanut butter bites taste delicious with their perfectly balanced combination of creamy peanut butter, maple syrup, nuts, and old-fashioned oats.
No Baking Required – Just scoop and roll the dough into balls, and you're done! No need to heat up the oven or wait for them to bake.
Versatile Recipe – You can easily double or triple this recipe for larger batches or customize it with your favorite ingredients like oat flour, almond butter, vanilla extract, dried fruits, or vegan mini chocolate chips.
What Are Peanut Butter Cookie Dough Bites?
Peanut butter cookie dough bites are a delicious and easy-to-make snack that is perfect for satisfying your sweet tooth. These bite-sized treats are typically made with peanut butter, flour, sugar, vanilla extract, and chocolate chips. They are typically no-bake and can be enjoyed as a quick and tasty snack on the go or as a dessert after dinner.
Equipment Needed
Large Bowl
Spoon for Stirring
Measuring Cups and Spoons
Ingredients
Crunchy Peanut Butter– Provides the delicious peanut butter flavor and creamy texture
Pure Maple Syrup- Acts as the binding agent while adding sweetness
Salt- Enhances the flavor of all other ingredients
Whole Wheat Flour- Thickens the dough and provides structure
Peanuts- Offers additional flavor and crunchiness

Old-Fashioned Oats- Adds complexity to the flavor and extra crunch.
How To Make Vegan Peanut Butter Cookie Dough
In a large bowl, mix together peanut butter, pure maple syrup, and all remaining ingredients until everything is thoroughly blended. Then, mold the dough into 48 bite-sized balls, and they are ready to enjoy immediately!
For a more sophisticated finishing touch when serving, roll the cookie dough bites in finely ground peanuts.
Note- For easier handling, refrigerate between snacking.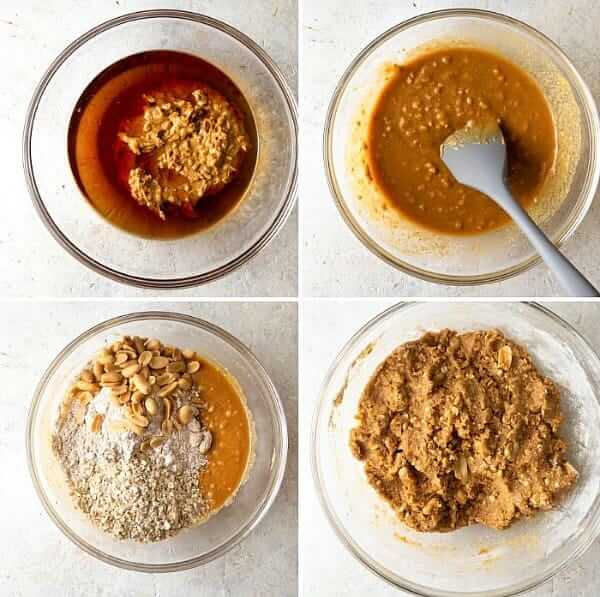 What to Serve With Vegan Cookie Dough Bites
These vegan cookie dough bites make a great snack on their own, but they can also be served alongside other snacks or desserts. Try partnering them with fresh fruits like grapes and bananas, creamy dairy-free yogurt parfaits, vegan ice cream sundaes, non-dairy milk chocolate fondue, or an assortment of your favorite cookies.
Popular Substitutions & Additions
If you don't have all the ingredients on hand, there are plenty of great substitutions and additions for this recipe.
To speed up prep time, use a small cookie scoop to help form the cookie dough instead of having to do them all by hand.
For a healthier version, try replacing the pure maple syrup with agave nectar or your favorite liquid sweetener.
You can also switch out the peanuts for your favorite types of nuts, such as almonds or cashews.
Add vegan mini chocolate chips or dried fruits like cranberries and raisins for an extra indulgent treat,
For an extra crunchy texture, substitute the old-fashioned oats for quick-cooking oats.
You can also replace the peanut butter with your favorite nut or seed butter, like almond butter, cashew butter, or sunflower seed butter.
Swap out the whole wheat flour for almond flour, oat flour, coconut flour, or gluten-free flour if needed.
Finally, be creative and add in your favorite flavors like cinnamon, vanilla extract, almond extract, or nutmeg for a delicious twist!
Can You Freeze Cookie Dough Bites?
Yes. These yummy peanut butter bites can be stored in the freezer for up to 6 months. To do this, simply form the cookie dough into balls and place them on a baking sheet lined with parchment paper. Freeze until solid, and then transfer the frozen cookie dough balls to an airtight container or zip-top bag. With its speedy thaw, cookie dough makes for a scrumptious snack with zero preparation. All you have to do is plop the dough on a plate or in a bowl and enjoy!
Vegan Peanut Butter Cookie Dough Ball FAQs
Can I make this recipe without peanut butter?
Absolutely! You can substitute any seed or nut butter, such as almond butter, cashew butter, or sunflower seed butter.
Is this recipe gluten-free?
Not necessarily. If you need the cookies to be gluten-free, use gluten-free flour instead of whole wheat flour.
Can you bake vegan peanut butter cookie dough?
Yes, you can bake the cookie dough balls. Simply preheat your oven to 350 degrees Fahrenheit and bake for 8-10 minutes or until golden brown.
How long will vegan peanut butter cookie dough last?
The cookie dough should last up to 5 days in an airtight container in the refrigerator or up to 6 months in the freezer.
📋 Recipe
Vegan Peanut Butter Cookie Dough Bites
Satisfy your sweet tooth with these yummy no-bake treats! Made of peanut butter and oats, they are the ideal bite-sized snack on the go or after-dinner dessert.
Ingredients
1

cup

crunchy peanut butter

1

cup

maple syrup

½

teaspoon

salt

2

cups

whole wheat flour

½

cups

peanuts, and a little bit more for rolling the balls in

½

cups

old fashioned oats
Instructions
In a large bowl mix the peanut butter and the syrup.

Add the remaining ingredients and mix well.

Shape into balls and eat.

If you'd like a little bit more of a refined look for serving - roll the balls into finely ground peanuts.

For easier handling - store in the refrigerator between snacking.
Notes
TO FREEZE:
They are easily kept frozen for up to 6 months.
Cookie dough defrosts quickly so it really doesn't take any planning. Just put them on a plate or in a bowl. You can even eat them right out of the freezer.
Nutrition
Serving:
1
Ball each
Calories:
78
kcal
Carbohydrates:
9
g
Protein:
2
g
Fat:
3
g
Sodium:
49
mg
Potassium:
82
mg
Fiber:
1
g
Sugar:
4
g
Calcium:
13
mg
Iron:
0.4
mg