Vegan Peanut Butter Cookie Dough recipe are rich and deliciously crunchy. This no-bake will satisfy your sweet tooth. With just a few ingredients these vegan, eggless and dairy-free bites can be on your table in less than 15 minutes.

Don't you love a fast and easy treat?
I thought so and that's why I have to share this simple recipe for Peanut Butter Cookie Dough bites with you.
I just love these so much and I think you are going to love them too because:
You get instant gratification.
They are one of the tastiest protein-rich snacks out there.
You can store them in the refrigerator or the freezer so you might ass well make a big batch. This is always handy for when those cravings strike.
There is just the right amount of crunch.
The dough can also be used to bake denser cookies that are perfect for breakfast or afternoon tea. One dough, two treats!
They look pretty on your table when rolled into bite-sized balls and covered with finely ground peanuts.
I mean you want to at least roll them in a ball to serve but eating some dough right out of the bowl is very tempting.
If you want to make more for later or need a bigger batch for a larger family, double or quadruple the recipe! Let me show you a picture that I took when I first posted this recipe 5 years ago.
It's a little bit on the bluish side, a little bit on the grainier side, and a little bit on the perfectionist side. But they sure did taste good!
You too can make them as neat as you like. Just process the peanut coating finer. You also don't need to have any peanuts on them at all. Gosh, I should show you that picture too.
Okay, right below this one with the vegan cookie dough in the red bowl is one of them not coated at all. Cookie Dough rocks!
Peanut Butter Benefits
Peanut butter is an all-time favorite and there is no denying that this main ingredient is the reason that this dough is so incredibly tasty.
But to make this treat "healthy-ish" check out the labels on store-bought jars. Make sure they don't have added sugar, honey, vegetable oils or even trans fat.
Healthy peanut butter should be just a simple mixture of ground peanuts, and some may contain some salt. Just like homemade.
But nearly all healthy peanut butter sold is 100 percent vegan and is always an excellent source of plant-based protein.
I have quite a few peanut butter cookie recipes on the blog.
Check out the four photos below for a visual of exactly how simple this no-bake recipe is. Two more pics follow a little bit down the page.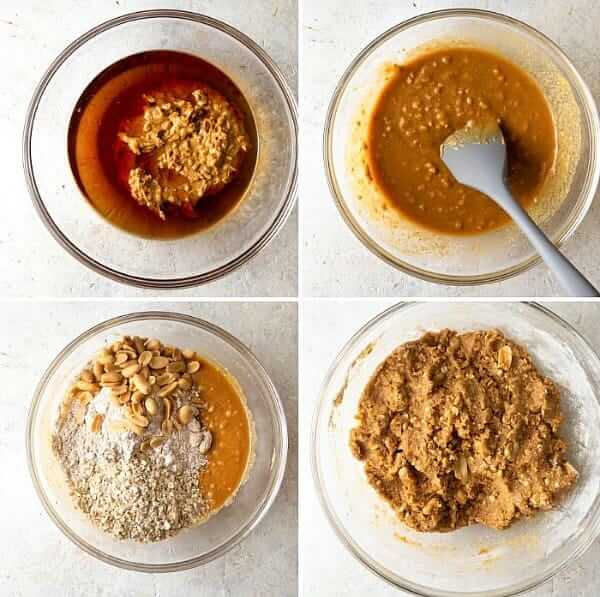 Maple Syrup Grades
Maple Syrup is my preferred choice of sweetener and it gives a subtle caramel taste to this cookie dough.
There are different types of maple syrups, and the intensity of flavors all depends on their color.
The lighter the color the milder the taste. The darker the color the stronger the taste of maple.
There are some myths going around. The truth is that NO maple syrup is refined and the color is strictly because of the time of the year that the syrup is collected.
Grade A is light amber, the traditional pancake syrup.
There is no difference in quality between the grades.
It will say what shade it is considered after the words Grade A. You can also tell by the color if they are lined up next to each other.
Grade A can also be medium amber and is produced towards the end of the season and is stronger is flavor.
Grade A, dark color, robust flavor, is made at the end of the season just before the maple trees bud and the flavor is very strong.
Which is best? It's your own preference - I love them all but I usually have the medium amber one in the pantry.
Peanut butter is an all-time favorite but with the addition of peanuts, there is a special little crunch along with the sweetness.
If you're looking for something quick and sweet, this recipe hits the spot!
Vegan Peanut Butter Cookie Dough
Dairy Free Peanut Butter Cookie Dough is right on trend and instant gratification.
Ingredients
1

cup

crunchy peanut butter

1

cup

maple syrup

½

teaspoon

salt

2

cups

whole wheat flour

½

cups

peanuts, and a little bit more for rolling the balls in

½

cups

old fashioned oats
Instructions
In a large bowl mix the peanut butter and the syrup.

Add the remaining ingredients and mix well.

Shape into balls and eat.

If you'd like a little bit more of a refined look for serving - roll the balls into finely ground peanuts.

For easier handling - store in the refrigerator between snacking.
Notes
TO FREEZE:
They are easily kept frozen for up to 6 months.
Cookie dough defrosts quickly so it really doesn't take any planning. Just put them on a plate or in a bowl. You can even eat them right out of the freezer.
Nutrition
Serving:
1
Ball each
Calories:
78
kcal
Carbohydrates:
9
g
Protein:
2
g
Fat:
3
g
Sodium:
49
mg
Potassium:
82
mg
Fiber:
1
g
Sugar:
4
g
Calcium:
13
mg
Iron:
0.4
mg