Peanut Butter Chocolate Chip Muffins not only taste great on their own they also have a blackberry syrup and chopped peanuts topping. Whoa!
Peanut Butter Chocolate Chip Muffins are the brainchild of a sweets and peanut butter lovin' aficionado – Me!  The flavors go on and on because after the muffin ingredients are combined and baked there is a delectable topping.  Blackberry jelly is melted to make a syrup and after it is brushed on the baked muffins they are sprinkled with finely chopped peanuts.  Really good!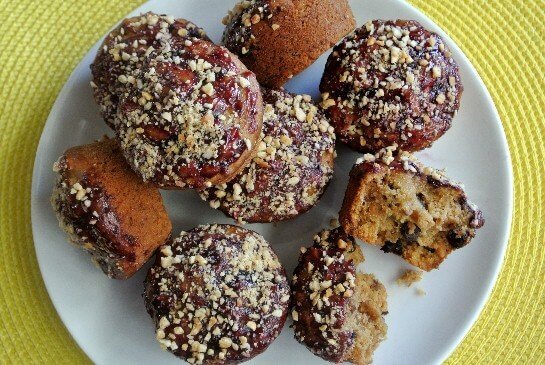 Peanut Butter Chocolate Chip Muffins
Ingredients
2-1/8

cup

whole wheat pastry flour

Coconut oil for lightly coating tin for 12 muffins

1/2

cup

vegan type butter such as Earth Balance

softened

1/2

cup

creamy peanut butter

1/2

cup

coconut sugar

1

cup

vanilla almond milk

2-1/2

teaspoons

baking powder

2

Tablespoons

egg replacers with 6 Tablespoons water

1/2

cup

semi sweet chocolate chips

For the topping:

1/4

cup

blackberry jelly

1/4

cup

peanuts

finely chopped
Instructions
Lightly oil tin for 12 muffins.

Mix together the egg replacer and water and set aside.

Stir together the flour, sugar and baking powder.

Cut the peanut butter and softened butter in with the flour mixture to make small little crumbles.

Add the vanilla almond milk and egg replacer mixture. Stir just until incorporated.

Fold in the chocolate chips.

Fill the tins about 1/2"-3/4" full.

Bake at 400° for 23 minutes.

Take out of oven and let cool 10 minutes.

Remove the muffins from the muffin tin and set aside to put on the topping.

For the topping:

Melt 1/4 cup blackberry jelly to make a syrup.

Brush the top of each muffin with the syrup.

When all are complete sprinkle the chopped nuts over the top.

Lightly press with your hand to help adhere the syrup to the peanuts.

Cool.

They defrost quickly so it really doesn't take any planning. The microwave will also zap them in 20 seconds.