Peanut Butter Chocolate Chip Bars are the ultimate satisfaction. The nice crunch of chocolate chips and the fresh peanuts inside really add to the quality.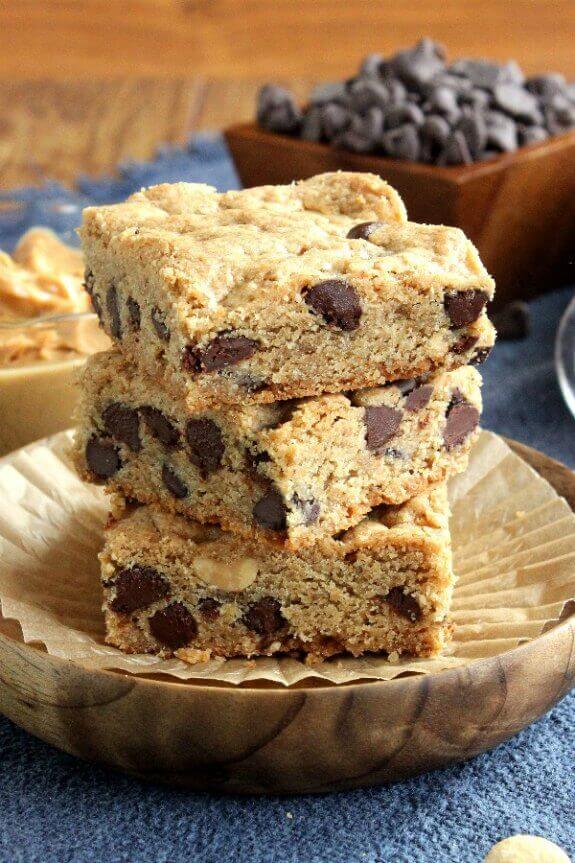 Here are some perfect little snacks in the disguise of a dessert. They aren't exactly brownies but pretty close to blondies.
One way or the other you're going to love the soft bite and the crunchy contrast that is sprinkled throughout the bars.
There are chocolate chips and peanuts. The peanuts are whole, unless they've fallen apart when mixing. Not having to chop peanuts really does make the recipe easier.
A breeze in fact!
If you'd like, you can also make your own peanut butter. There are so many possible twists and turns that you can take on your way to the final outcome.
But, if you follow the recipe below exactly then you can absolutely call these easy.
I'll take that extra step sometimes and make homemade peanut butter. I mean, all that is involved are incredible peanuts, salt, and a food processor. That's it!
And sometimes's there's nothing wrong with adding a little maple syrup to your homemade peanut butter.
It's such a treat and every once in a while I have Homemade Maple Peanut Butter on toast. It's decadent.
Not in this recipe though. Just plain ol' rich creamy peanut butter is the perfect ingredient.
Some Hints for Making Peanut Butter Chocolate Chip Bars
I used dry roasted peanuts but you can cut down on sodium if you use raw peanuts or unsalted peanuts.
This is a big recipe and using parchment paper really makes it easier to remove the final recipe from the pan. I described it in the recipe but here is a little more detail:
Cut the parchment down the long sides to fit inside the pan.
Leave the parchment paper longer at the ends. Not so that there is a bunch of paper hanging over the edges but so that there is just enough to grab hold of and lift the baked recipe out of the pan to lay on a cutting board.
This also makes for easier cutting so that you'll have nice squares.
I think you're going to be happy to read these next couple of little sections.
Health Benefits of Chocolate Chips
Chocolate is rich in flavanols which helps blood flow. That's always good for the brain.
Make sure there is no milk in your chocolate chips. Then chocolates powerful antioxidants can continue to protect your body from oxygen free radicals that cause you to age.
Chocolate has loads of polyphenols which keeps the lousy LDL down and in turn helps healthy HDL stay up.
A glass of red wine and chocolate reduces inflammation.
Even chocolate has protein.
As always, use moderation. About 1 tablespoon will do you.
Health Benefits of Peanut Butter
Peanut butter is one ingredient - peanuts. Making it at home is a snap of the fingers if you have a food processor. So lets take advantage of it's health benefits.
Research shows that eating peanuts can decrease your risk of heart disease among other chronic health conditions.
Peanut butter helps make you feel full and because it's high in protein it also helps you feel full longer.
It's an energy booster and peanut butter also keeps your blood sugar stable so you don't get those crashes later.
Peanuts increase cognitive function and that's huge!
As always, moderation. You can also gain weight if you eat too much of it every day.
Peanut Butter Chocolate Chip Bars
Peanut Butter Chocolate Chip Bars are the ultimate satisfaction when you take a bite of these soft and crunchy peanut butter bars.
Ingredients
1 ¾

cups

all-purpose flour

½

cup

whole wheat flour

½

teaspoon

baking powder

½

teaspoon

salt

12

tablespoons

dairy free butter, melted, that's 1 ½ sticks

¾

cup

light brown sugar, packed

½

cup

organic granulated sugar

1

tablespoon

flax seed meal, mixed with 3 tablespoons water, this becomes an egg substitute

⅔

cup

creamy peanut butter

2

teaspoons

vanilla extract

10

ounces

to 12 ounces vegan semisweet chocolate chips

½

cup

peanuts, chopped
Instructions
Preheat the oven to 350°F.

Lay a piece of parchment paper across and

over two opposite edges of a 9 x 13-inch baking pan.

This will help you remove the bars from the pan.

In a medium-size bowl, mix together the flours, baking

powder, and salt.

In a large bowl, combine the melted butter and the

sugars. Beat with an electric mixer on medium speed

until well mixed and smooth.

Beat in the egg substitute,

peanut butter, and vanilla. Beat well.

Add the flour and mix by hand until just combined.

Fold

in the chocolate chips and peanuts.

Turn into the prepared baking pan, smoothing out the

top. Bake for 25 minutes.

Remove from the oven and

let cool on a wire rack.

Lift with the foil overhanging

"handles" and place on a cutting board. Cut into 24 bars.
Nutrition
Serving:
1
Bar
Calories:
206
kcal
Carbohydrates:
29
g
Protein:
4
g
Fat:
15
g
Saturated Fat:
2
g
Sodium:
150
mg
Potassium:
105
mg
Fiber:
2
g
Sugar:
17
g
Calcium:
32
mg
Iron:
1.6
mg
How Do I Store Peanut Butter Chocolate Chip Bars
Storing in the refrigerator:
Will keep in an airtight container for up to 4 days, or covered tightly in the
refrigerator for up to 6 days.
Freezing:
Freeze in airtight containers for up to 4 months. Let defrost in the refrigerator overnight.
I'd like to add one more picture - of something a little different. I know I mentioned Homemade Maple Peanut Butter up above but how about some Chocolate Peanut Butter. I should end that in an exclamation point. Chocolate Peanut Butter! It also goes great on toast and graham crackers.