Panda Express Copycat Chow Mein- This chow mein recipe made in the Instant Pot combines tasty and perfectly crisp pre-cooked Hokkien noodles with crunchy celery, flavorful onion, and cabbage. Toss everything in a delicious sauce that is a combination of soy sauce and Hoisin sauce for an irresistible dinner dish that tastes just like your favorite side dish from Panda Express.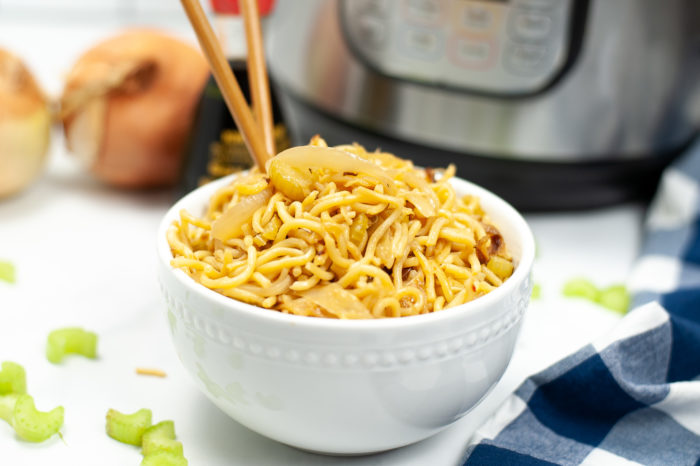 I don't know about you, but I crave Chinese food pretty much every week, especially this Panda Express Copycat Chow Mein. With this recipe, you can skip the drive-through line. In fact, you don't even have to leave the house! You will have the most delicious chow mein at home, and it will be ready in only a few minutes. Did I mention that it is cooked in the Instant Pot? That's definitely an added bonus in my book.
This Chow Mein recipe is also healthier than the restaurant version. Cooking it at home, you can control the ingredients that are going into it. This recipe calls for fresh ingredients that you have in your own kitchen. It is easy to throw together and you'll have dinner on the table in no time. All that you have to do to make this Chow Mein is caramelize your vegetables in the Instant Pot, then add in your noodles and sauce. That's it! It is quick to make and no other dishes are involved, which also means that cleanup is a breeze.
Why You'll Love This Panda Express Copycat Chow Mein
Delicious- This recipe tastes just as good (if not better) than the restaurant version.
Homemade- You can skip the drive-through line and make this in your own kitchen.
Easy- Panda Express copycat chow mein is simple and quick when made in the Instant Pot.
Packed with flavor- Between the tasty veggies, crunchy noodles, and tangy sauce, this recipe is exploding with amazing flavors.
Healthier- With the use of low sodium soy sauce, the sodium content is much lower than the restaurant version.
One-pot- You don't need any dishes other than the Instant Pot, which means you won't have a sink full of dishes to clean up when you are finished.

Equipment Needed To Make Vegetarian Panda Express Chow Mein
Ingredients For Your Panda Express Copycat Chow Mein
Hokkien noodles
Celery chopped
Yellow onion
Cabbage
Olive oil
Low sodium soy sauce
Hoisin sauce
How To Make Vegan Chow Mein in the Instant Pot
To make vegan chow mein in the instant pot, set the instant pot to saute and allow it to heat up. Add oil and vegetables to the instant pot and cook until they start to caramelize. Once vegetables are tender add pre-cooked Hokkien noodles and sauce and stir until combined. Enjoy!
What to Serve/Pair with Your Panda Express Copycat Chow Mein
This Chow Mein can be enjoyed as an entree or as a side dish. If you truly want to feel like you are at the restaurant, pair this dish with Vegan Chinese Dumplings or Vegetable Spring Rolls.
Want to pair this with something else that can be popped into the air fryer? This Air Fryer Spicy Cauliflower Stir Fry goes with your tasty Chow Mein. You can also add extra veggies to your meal. I like to eat mine with a side of green beans or steamed broccoli.
If you are craving something sweet after your meal, you could always go with a traditional fortune cookie, but if you're feeling more adventurous, try this Vanilla Chia Pudding. Not only is it a delicious dessert, but it's packed with nutritious benefits! It's truly a guilt-free dessert and is a great choice to follow your chow mein.
Popular Substitutions & Additions
You can add other veggies to your chow mein. I have tried bell peppers, carrots, snow peas, mushrooms, and bean sprouts. Make sure that whatever you add is finely chopped so that it will cook appropriately in the air fryer.
You can use a premade chow mein sauce if you don't want to make your own. You can find these at most stores. Just check the ingredients list to make sure that whatever you choose is vegan-friendly.
How To Reheat & Store Vegetarian Copycat Chow Mein
We never have leftovers of this dish in my house. I know that it makes a large batch, but we can't help but go back for seconds (and sometimes even thirds). If you do happen to have leftovers, they need to be refrigerated in a sealed, airtight container. If stored properly, they will last in the fridge for up to a week. Make sure that they are completely cooled before sticking them in the fridge.
To reheat leftover Chow Mein, you can put it back into the instant pot until it is warm, warm it in a wok on the stovetop, or microwave a small portion for 2-3 minutes, or until warm.
You can also freeze your Chow Mein. Once it is completely cooled, place it in an airtight container and put it in the freezer. It will last for up to 2 months. Be sure to thaw it completely before reheating.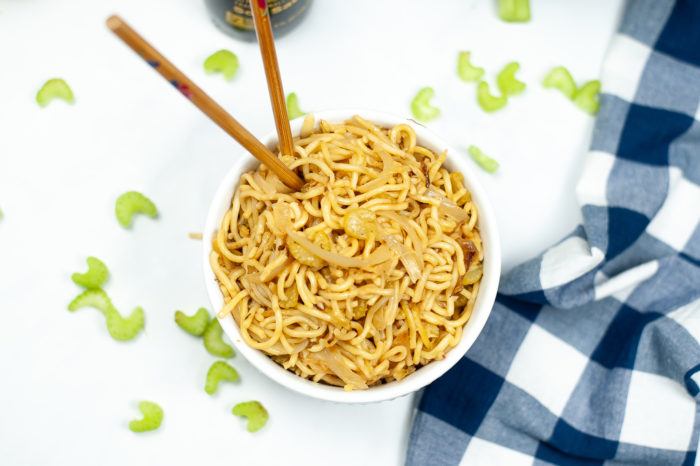 Vegetarian Panda Express Chow Mein FAQs
What's the difference between Chow Mein and Lo Mein?
The main difference between these two dishes is that Chow Mein noodles are fried so that they are a little crispy and Lo Mein noodles are boiled so that they are soft.
Can I make this recipe Lo Mein instead of Chow Mein?
Sure you can. Just boil your noodles separately, then add the sauce and veggie mix in.
Where can I find the Hokkien noodles for this recipe?
You can find these in the Oriental foods section at your grocery store. That is also where you will find the sauce ingredients. Sometimes the noodles are just labeled as Chow Mein noodles. If for some reason you can't find them, I've even seen them available on Amazon.
How do I know when this is completely cooked and ready to eat?
The texture of the noodles will help you determine when your chow mein is done. Once you take it out of the instant pot, test the texture with a fork. If you want it to cook a little more, put it back in the air fryer for 1-minute increments.
Can I use another kind of onion?
Yes, you can. I like the yellow onion so it tastes more like the Chow Mein from Panda Express, but feel free to use whatever kind that you will enjoy.
Other Tasty Vegan Recipes You'll Love
Don't Forget To Come Back And Let Me Know How Your Panda Express Copycat Chow Mein Turned Out!
📋 Recipe
Instant Pot Panda Express Chow Mein Copycat
Made of Hokkien noodles, a mix of veggies, and tossed in savory sauces. Easy to make in one pot! You won't ever have to order take-out again!
Ingredients
14

oz

precooked pouches of hokkien noodles

2

stalks of celery chopped

½

yellow onion sliced thin

½

cup

of shredded cabbage

3

tbsp

of olive oil

2

tbsp

of low sodium soy sauce

2

tbsp

of hoisin sauce
Instructions
Set instant pot to sauté. This allows the instant pot to heat up to the temperatures of a hot wok.

Add the oil and vegetables to sauté until starting to caramelize.

Once vegetables start to caramelize, add the noodles and the sauces. Sauté for 3 minutes stir constantly to avoid burning the noodles.
Nutrition
Calories:
588
kcal
Carbohydrates:
77
g
Protein:
12
g
Fat:
26
g
Saturated Fat:
5
g
Polyunsaturated Fat:
3
g
Monounsaturated Fat:
16
g
Cholesterol:
1
mg
Sodium:
1166
mg
Potassium:
222
mg
Fiber:
6
g
Sugar:
9
g
Vitamin A:
198
IU
Vitamin C:
10
mg
Calcium:
37
mg
Iron:
5
mg