Mini Pecan Pies are little vegan tarts that are over the top rich and perfect for the holidays. This dessert fits right in at any family gathering or elegant party.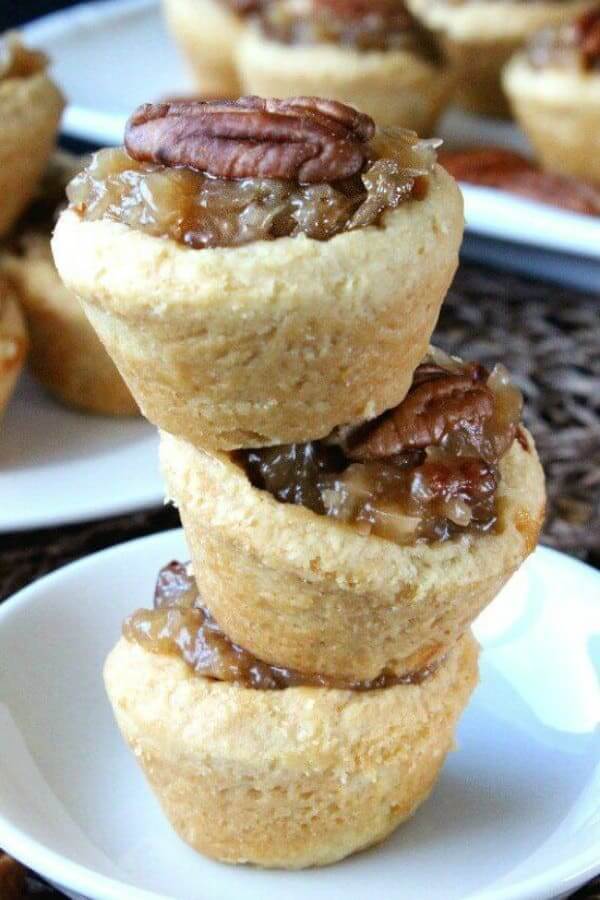 The holidays are so much fun. Not only in my family but I see it everywhere. Families from the immediate family on out to 2nd, 3rd and sometimes 4th cousins all join for a party on their special day.
That's not hard to do when one of your parents is spread 15 years apart from their oldest sibling and they don't have kids until they are in their forties (that's what happened in my family).
Then all the other siblings and cousins have kids in their early years. I am partying with my 4th cousins who are 3, 6 and 10 and they are a blast.
More are coming soon but don't let their dad hear me say that.
To get the party started many bring a dish to share like a special dessert like Mini Vegan Pecan Pie Tarts.
Often it depends on how far away a group is traveling but even a wonderful gift of rolls are much appreciated.
A great sharing of warmth, love, and camaraderie. A couple of other holiday potluck recipes that travel well are these very special Pumpkin Muffins and also Autumn Oreo Brownies.
Of course, there is plenty of laughing and photography. Lots of photos. Even before the digital age, there were lots of photos.
Parties are also abundant this time of the year for you and your friends. Be that person to throw a party and invite everyone.
Maybe a street party but if it's too cold to go indoors and get it all going. Have appetizers and refreshments and little sweet Mini Vegan Pecan Pie Tarts for all to enjoy.
Even Mini Vegan Pecan Pies! I wish I lived down the street from you so we could all party together.
Happy Thanksgiving, Happy Channuka, Merry Christmas, Joyous Kwanzaa and Happy New Year everyone!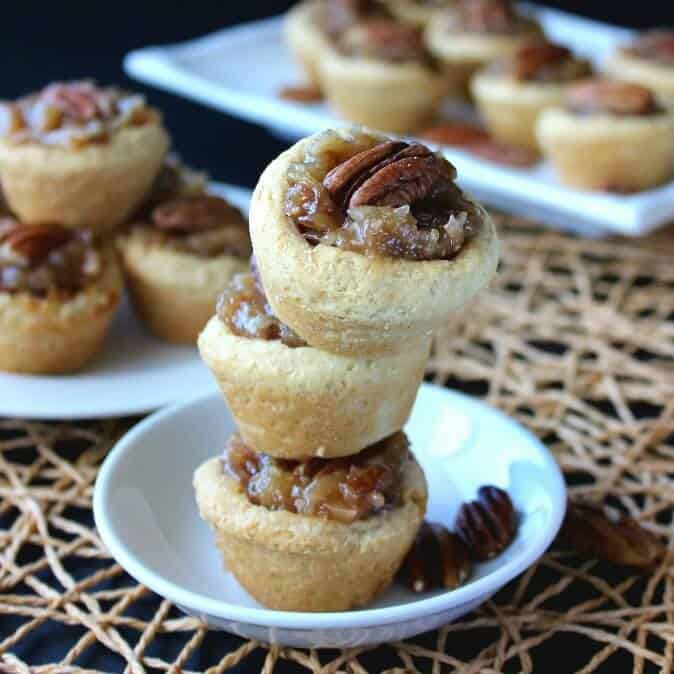 How to Make a Chia Egg for Mini Pecan Pies
The way you make meal/flour is by grinding the chia seed in a processor such as one for your coffee beans or a spice grinder.
I use mine to strictly grind seeds so that I do not mix flavors. Grind until it is a fine meal.
I do about 4 ounces at a time and keep it in a little freezer safe canning jar - in the freezer. When I need a tablespoon or so it is all ready to go.
Lately, I've been seeing small packages of ground chia seed which is the same thing. They catch on quick!
Helpful Tools for Mini Vegan Pecan Pie Tarts
Super helpful if you decide to make homemade pastry is a pastry cutter.
A non-stick mini tart pan is perfect for this recipe.
If you start to grind your own chia seed then this coffee grinder is perfect.
📋 Recipe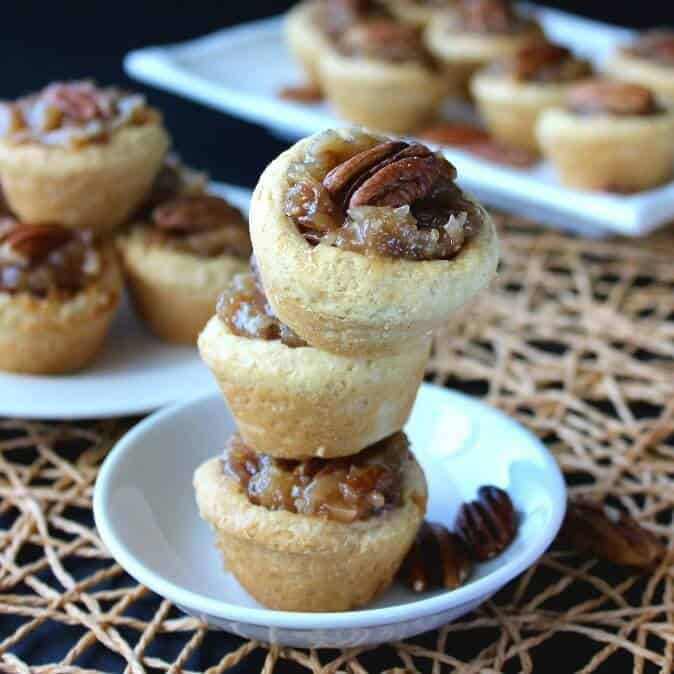 Mini Vegan Pecan Pie Tarts
Mini Vegan Pecan Pie Tarts are over the top rich and perfect for the holidays.
Ingredients
For the tart crust:
Here is my recipe but you may use any of your favorite pie crust recipes or a store-bought pre-prepared crust. Just remember to half your recipe.

1

cup

all-purpose flour

¼

teaspoon

sea salt

6

tablespoons

dairy-free butter

chilled and cubed

3

tablespoons

ice water
For the filling:
1

egg substitute

I use a chia egg

2

tablespoons

dairy free butter

¼

cup

dark brown sugar

packed

¼

cup

maple syrup

5

saltine crackers

crushed

½

teaspoon

ground cinnamon

¾

cup

pecans

chopped

1

teaspoon

vanilla extract

24

to 30 pecan halves for top garnish
For the topping:
1

egg substitute

4

tablespoons

Non GMO soy milk powder

½

cup

coconut sugar

6

tablespoons

water

¼

cup

dairy-free butter

¾

cup

unsweetened shredded coconut

½

cup

pecans

finely chopped

½

teaspoon

vanilla extract
Instructions
For the tart crust:
Place the flour and salt in a large mixing bowl.

Cut in the butter until it resembles coarse meal. I use a pastry cutter and then close to the end I use my fingertips to make sure all is blended well.

Add the iced water and mix well.

Turn out onto a floured surface.

Knead a few times until all the bits are incorporated well. Add a little flour if it seems very sticky.

Shape into a ball and flatten into a disc.

Wrap in plastic wrap and chill for at least 2 hours.

Roll out the dough into a round that is the thickness of a pie crust. It will be about 12" in diameter.

Cut into rounds with a 2 ½" cookie cutter or biscuit cutter. You will get 24 to 30 rounds. After you cut your first set of circles re-roll the dough scraps and cut more rounds. Continue to do this until all the dough is used.

Place the rounds into mini muffin pans. You can buy these in a 6-count or 12-count or 24-count. Carefully, press the dough flat on the bottom, into the edges and up the sides. Place the pan/pans in the refrigerator for about 15 minutes.
For the filling:
Mix the egg substitute and set aside. I used a chia egg.

In a saucepan melt butter and then add brown sugar, maple syrup, crackers, cinnamon and chopped pecans.

Cook over medium high heat until sugar is dissolved, about 5 minutes.

Remove from heat and add the vanilla and egg substitute mixture. Stir well.

Divide evenly among the pre-made tart shells.

Bake at 350° for 12 to 15 minutes or until the crust has turned golden brown.

Remove from oven and let cool.

While the tarts are cooling make the topping.
For the topping:
Mix the egg substitute and set aside.

In a medium saucepan add the water, soy milk powder, sugar, non dairy butter and coook over medium high heat until sugar is disolved an mixture starts to slightly boil.

Add the egg mixture and stir it in. Remove from heat and stir in the coconut, pecans and vanilla extract.

Let cool and put a hefty dollop on the top of each pecan tart.

Garnish with pecan half.
Notes
You can freeze the dough in disc form for up to 4 months. Defrost in the refrigerator overnight before rolling out and cutting into rounds.
Nutrition
Serving:
1
Tart
Calories:
146
kcal
Carbohydrates:
11
g
Protein:
1
g
Fat:
11
g
Saturated Fat:
3
g
Sodium:
72
mg
Potassium:
47
mg
Fiber:
1
g
Sugar:
5
g
Calcium:
9
mg
Iron:
0.5
mg