No Bake Protein Balls feature peanut butter and are an easy and healthy energy balls recipe. You can pop them in your mouth any time of the day. With only 6 ingredients, these vegan protein balls can be a snack or dessert.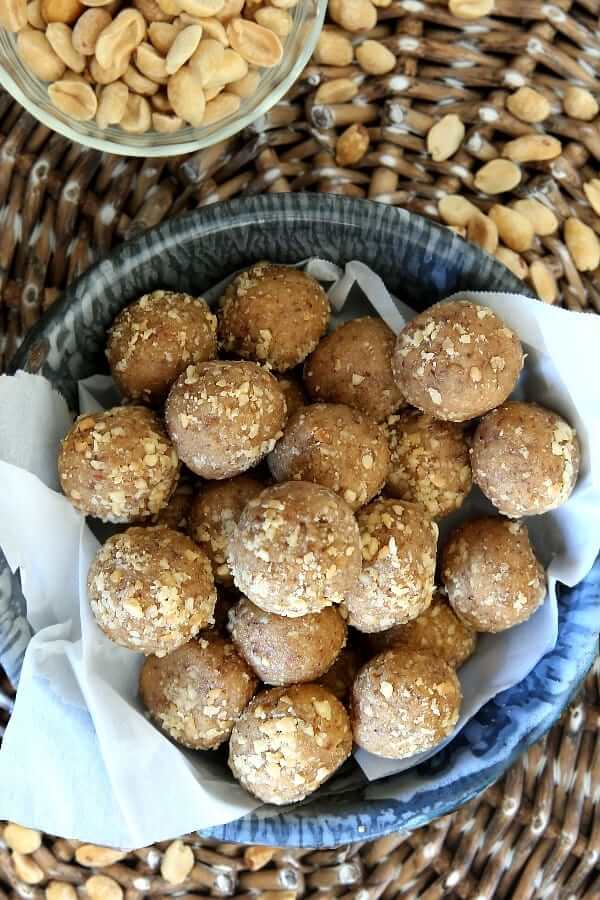 As much as I love baking, I am equally in love with making quick snacks that take no baking at all. These low carb peanut butter balls are so easy to make and your sweet tooth is taken care of in no time at all.
There are only 6 simple ingredients that get mixed together and then the dough is rolled into 24 balls. It can't get any easier than that!
These mildly sweet healthy energy balls recipe will keep you going for hours. It's hard to pull back when something tastes so good. Two or three will do you though.
Wait about twenty minutes before you eat any more because I think you will find that you are full.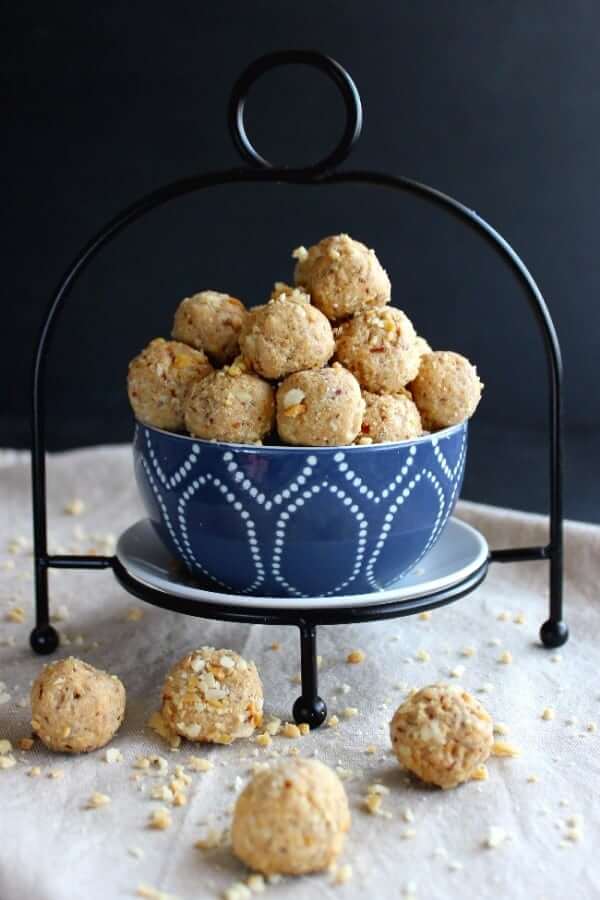 I especially love having them on hand after I have been busy and running around all day. Sometimes you need that little pick-me-up snack in the afternoon.
But you can really enjoy them at any time of the day, like the first thing! Not a lot of time for breakfast? Well, grab a couple of these PB Balls for on the way to work. They taste great with your cup of coffee too.
They are also my favorite snack for post-workout. Especially when they come straight out of the freezer.
I use to make these in a larger amount of balls but I decided I'd like fewer balls in the bigger size so now I roll up 24 of them from a batch.
Check out the photos below for the ingredients for these low carb and keto protein balls. Coconut flour, almond flour and flax seed meal.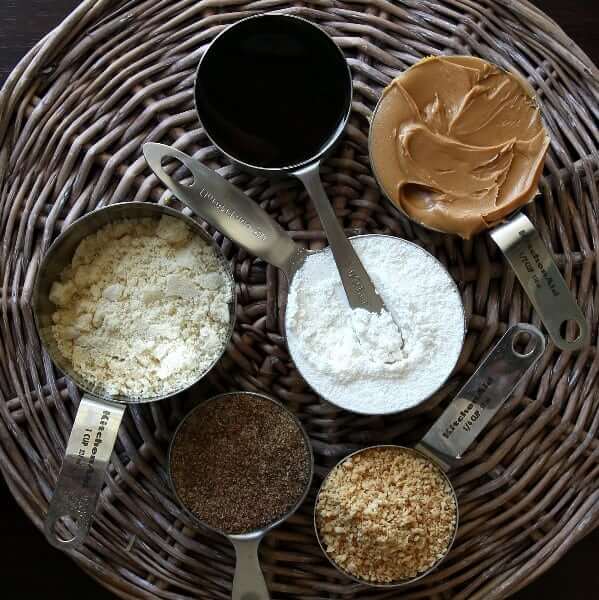 First I divide the dough roughly into fourths with the side of my hand and then I divide those four parts into halves. I use my hands and just pull them apart.
This is all done in the bowl.
Then I divide each of those halves into thirds. Start rolling up and you have 24 balls.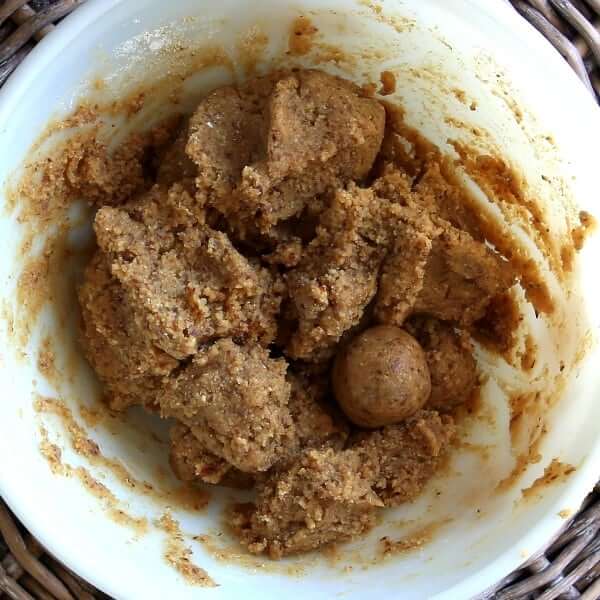 Now, if you choose to add a ground peanut coating toss the balls into a small tray or dish with the ground peanuts and start rolling.
Press a little bit when you have some ground peanuts on the balls so that they stay put.
If you let the balls sit for a while they actually lose their stickiness and the ground peanuts don't stick to them very well.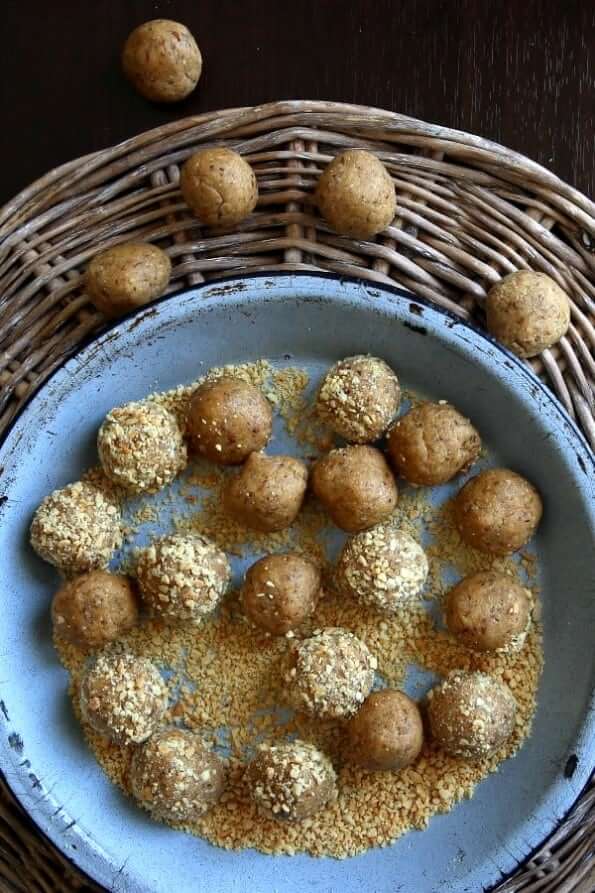 Reasons to Love These Quick Protein Bites
They are one of the tastiest protein-rich snacks out there. I mean there's peanut butter!
You can store them in the refrigerator or the freezer so you might as well make a big batch. This is always handy for when those cravings strike.
Another great thing about the freezer is that you can eat them right out of the freezer.
You get instant gratification.
There is just the right amount of crunch.
They look pretty on your table when rolled into bite-sized balls and covered with finely ground peanuts.
This is the kind of healthy energy balls recipe that I like to keep around for quick snacks.
The ingredients are something that I think everyone keeps in their cupboards. So it makes throwing together a snack super easy.
If you haven't had no bake protein balls before this is your chance to broaden your horizons. Easy, sweet, satisfying and healthy.
Peanut Butter and Peanuts
If you'd like to make your own perfect Healthy Peanut Butter it just takes minutes. If you opt into buying a jar check out the labels on store-bought jars. Make sure they don't have added sugar, honey, vegetable oils or even trans fat.
Peanut butter is an all-time favorite and there is no denying that these ingredients are the reason that these balls are so incredibly tasty.
Peanuts have all the natural oil you need for a great spread.
But nearly all healthy peanut butter sold is 100 percent vegan and is always an excellent source of plant-based protein.
Have some fun and make some rich protein peanut butter balls. They are good for the whole family. No exceptions!
What Do You Think?
If you take a photo of your no bake protein balls I would love to see it. Follow me over on Instagram and tag me on your photo @vegan_in_the_freezer.
Your opinion means a lot to me and if you'd like to leave a comment and possibly a star rating I'd love to hear your thoughts.
📋 Recipe
No Bake Protein Balls
No Bake Protein Peanut Butter Balls are an easy and healthy treat!
Ingredients
½

cup

creamy peanut butter

½

cup

maple syrup

½

cup

almond flour

¼

cup

flaxseed meal

½

cup

coconut flour plus 2 tablespoons

¼

cup

peanuts, chopped fine
Instructions
Place the peanut butter and maple syrup in a medium bowl. Mix together well.


Add the almond flour, flaxseed meal and coconut flour. Mix well.


Roll into 24 balls.


Lightly roll each ball in the ground peanuts.

Store in the refrigerator for up to 2 weeks. They will keep in the freezer for 4 months.

Notes
You can even eat them right out of the freezer.
Nutrition
Serving:
2
Balls
Calories:
91
kcal
Carbohydrates:
7
g
Protein:
5
g
Fat:
4
g
Saturated Fat:
1
g
Sodium:
31
mg
Potassium:
90
mg
Fiber:
2
g
Sugar:
4
g
Calcium:
20
mg
Iron:
1
mg