No-Bake Chocolate Peanut Butter Bars - creamy, sweet peanut butter mixed with salty cracker crumbs, then covered in sweet dark chocolate (and even more peanut butter) and topped with almonds for a delicious sweet treat.
You will go nuts (no pun intended) for these incredible, easy, no-bake peanut butter chocolate bars. I love a recipe where I don't even have to use the oven, especially in the summertime when I don't want my house to get too warm. With just a few ingredients combined, these bars are quick to whip up and are sure to be a hit with your whole family. You can even keep them in the fridge for a few days to snack on. Kids will love coming home to these yummy bars after school!
I like to keep the ingredients for these bars on hand in my house in case a last-minute event comes up or company is coming and I want to make a dessert that everyone will love. I can have these ready to enjoy in no time at all. Just line your pan, stir together the peanut butter and cracker crumb mixture, spread this into the pan, then top with melted dark chocolate (& more peanut butter!). For added crunch, sprinkle sliced almonds on top. You'll have an irresistible dessert on your hands in only a few minutes.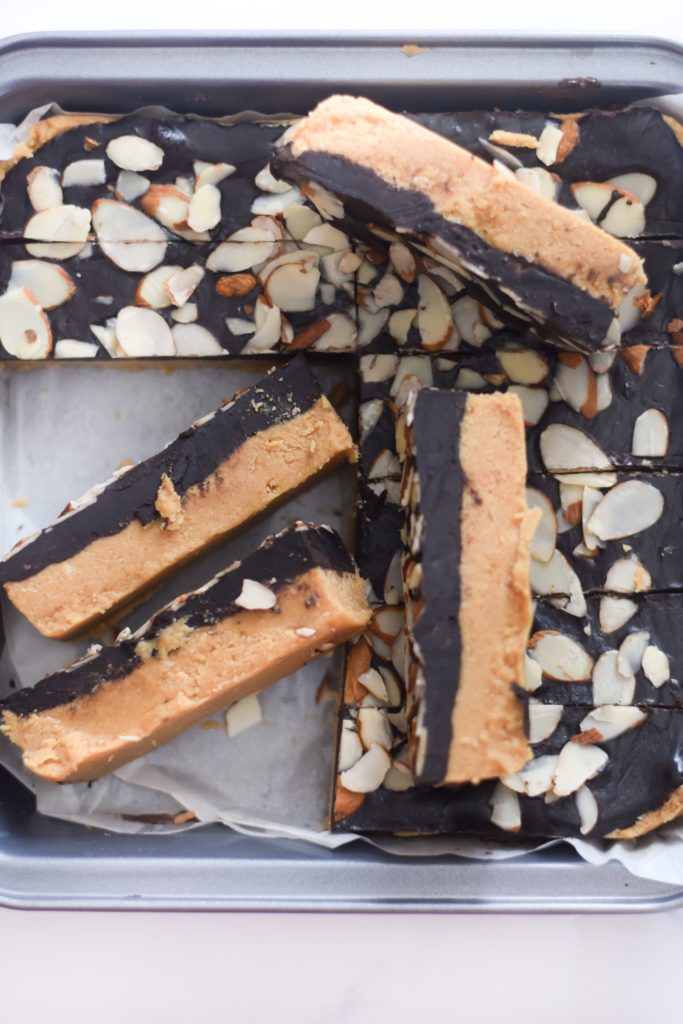 Why You'll Love This No Bake Peanut Butter Dessert
These bars are easy to make - you don't even have to turn on the oven!
They combine peanut butter and dark chocolate - how could you go wrong?
These peanut butter bars are a perfect combination of sweet and salty flavors.
This dessert is easy to wrap up and take to a party or even to give as a gift.
Topped with the almonds, these bars look beautiful on any dessert table.
You can keep them in the fridge for several days to snack on.
Equipment Needed To Make Quick Chocolate Peanut Butter Dessert
9x9 Baking Pan
Parchment Paper
Medium Mixing Bowl
Ingredients For Your No Bake Peanut Butter Chocolate Bars
Cracker crumbs
Powdered sugar
Creamy peanut butter
Dark chocolate
Salt
Sliced almonds
How To Make A No Bake Peanut Butter Chocolate Bars
To make these no-bake PB chocolate bars grab your 9x9 inch baking pan and press your crack crumb crust to the bottom of the dish. Add your dark chocolate and peanut butter mixtures on top of your crust and sprinkle with almonds on top if desired. Pop it in the fridge for a couple of hours and then it's good to go!
What to Serve/Pair with Your Quick Chocolate Peanut Butter Dessert
If you want a truly indulgent meal (that's actually healthy), these peanut butter bars are a great dessert to follow air fried tofu bites and air-fried onion rings. You'll feel like you indulged in a treat, but you won't have the guilt!
Because the dark chocolate and peanut butter have such rich flavors, I don't like to pair them with anything too heavy or sweet. I like to pair mine with a berry fruit salad if I want a little something extra with them.
Popular Substitutions & Additions
This may sound crazy, but you can actually still enjoy these bars if you have a nut allergy! Leave off the almonds and substitute the peanut butter for sunflower butter for a nut allergy friendly treat.
If you don't want the salty taste from the crackers, substitute regular cracker crumbs for graham cracker crumbs.
How To Store These Best No Bake Peanut Butter Chocolate Dessert Bars
These no bake peanut butter chocolate bars will last in the fridge for up to 7 days (even though I'm sure they won't be there that long - these are eaten quickly in my house!). Just let them completely set and chill, cut them, and place them in a sealed container. You can even separate them into individually sealed bags for kids to grab as an after-school snack.
You can also freeze these peanut butter bars. Once they are chilled, move them to a freezer-safe, sealed container. You can stack them with parchment paper between each one, or store them laid flat. You just don't want them to stick together. They will last up to 3 months in the freezer. Thaw them overnight to enjoy.

No Bake Peanut Butter Chocolate Bars FAQs
Can I use granulated sugar instead of powdered/confectioner's sugar?
Technically yes, but I don't recommend it. The powdered sugar gives these bars a dense texture that you'll love. The granulated sugar may also give them a grainy texture.
Can I use chocolate chips or do I have to use baking chocolate?
You can use whatever you have on hand! As long as you can melt the chocolate, you can use it.
If I don't have parchment paper can I just spray my pan?
While parchment paper will make these bars easier to take out and will make cleanup a breeze. If you're in a pinch, you can lightly spray your pan. Make sure that you spray the sides, as well. You'll want to use a wide spatula when you are removing these from the pan and be extra careful.
Can I use crunchy peanut butter instead of creamy peanut butter?
Sure! If you want some extra crunch in your peanut butter bars, use crunchy peanut butter. You can even try them with almond butter or cashew butter (smooth or crunchy). Let me know how this turns out!
Other Vegan Chocolate Dessert Recipes You'll Love
Don't Forget To Come Back And Let Me Know How Your No Bake Peanut Butter Chocolate Bars Turned Out!
No-Bake Chocolate Peanut Butter Bars
These no bake peanut butter chocolate dessert bars have a crisp cracker crust with a smooth chocolate filling on top!
Ingredients
½

cup

unsalted butter

vegan

1

cup

cracker crumbs

2

cups

powdered sugar

1

cup

creamy peanut butter

1

cup

dark chocolate

¼

tsp

salt

Sliced almonds

(optional)
Instructions
Line a 9x9 inch baking pan with parchment paper (leave some overhang for easy removal)

In a medium bowl, mix melted butter, powdered sugar, cracker crumbs, salt and peanut butter. Mix everything to make a soft dough-like consistency.

Scoop the mixture into the prepared baking pan and press it down to make a one even layer. Set aside.

In the same bowl, melt the dark chocolate with 2 tablespoons of peanut butter.

Pour it over the prepared mixture and spread evenly. Top it with some sliced almonds, cover tightly and chill in the refrigerator until completely firm, for at least 2 hours.

Once set, lift them out of the pan cut into rectangles or squares.
Nutrition
Calories:
371
kcal
Carbohydrates:
34
g
Protein:
7
g
Fat:
24
g
Saturated Fat:
8
g
Polyunsaturated Fat:
5
g
Monounsaturated Fat:
10
g
Trans Fat:
1
g
Cholesterol:
1
mg
Sodium:
255
mg
Potassium:
253
mg
Fiber:
3
g
Sugar:
25
g
Vitamin A:
365
IU
Calcium:
28
mg
Iron:
2
mg