Moist Lemon Poppy Seed Cake has a little zing of sweet lemon freshness.  It looks like a bread but tastes like a cake.
Poppy seed cake is just so beautiful.  The lemony yellow color speckled with tiny little poppy seeds in intriguing.  The only thing that you probably need to buy for this recipe is a jar of poppy seeds and possibly a lemon.
We live in the dessert and are swimming in citrus this time of year.  I happily have an orange a day and there are lemons galore.  Unfortunately, some extremely cold days got our grapefruit trees so we are hoping they come back.  If not, have no fear, we will replant.
You will love yourself and your family will give you sparkling smiles if you make this cake.  So … go for it.  Nothing is more satisfying than turning out something special with so little effort.
Connect with Vegan in the Freezer
Facebook   |   Pinterest   |   Instagram   |   Bloglovin
Moist Lemon Poppy Seed Cake
Instructions
Preheat the oven to 350°.

Lightly grease a loaf pan.

In a large bowl, add the flour, sugars, baking powder and salt.

Add the water, coconut oil, almond extract, lemon juice.

Mix well.

Fold in the poppy seeds.

Pour into the prepared loaf pan.

Bake at 350° for 1 hour.

The edges are lightly golden brown, and a toothpick inserted in the middle comes out clean.

Let cool in the pan for 10 minutes.

Carefully turn out on a cooling rack to cool completely.
Recipe Notes
Serve fresh. It also freezes perfectly.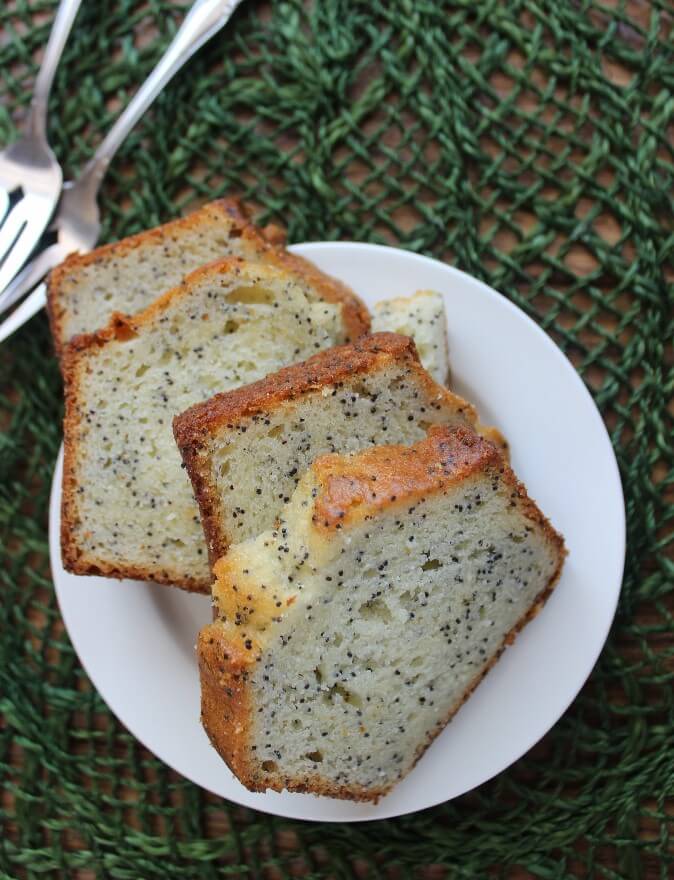 Now an introduction to an old delicious recipe that has been updated with new photos.  Check it out now –  Cremini Mushroom Chili