Moist Gluten-Free Banana Bread is something that can be enjoyed by Everyone.   Almond flour and maple syrup help make this quick bread perfection.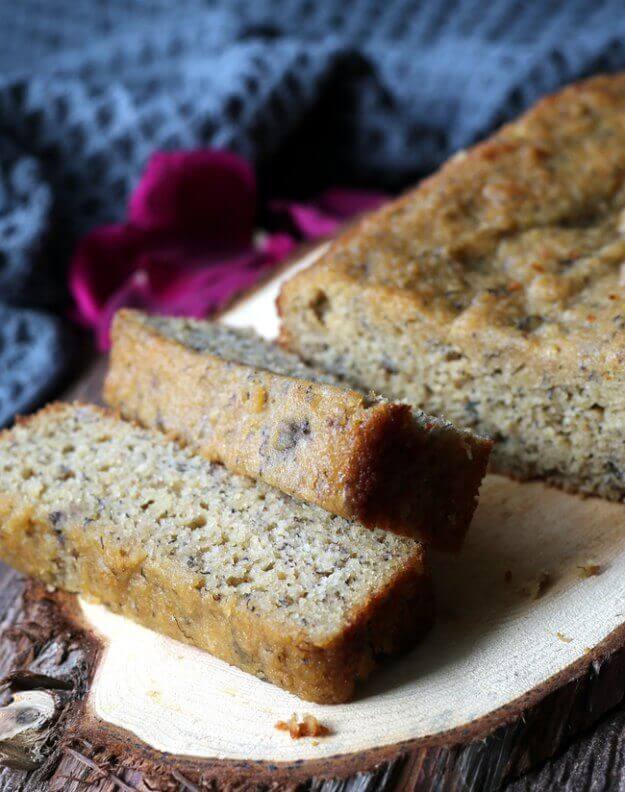 Moist Gluten Free Banana Bread is something that can be enjoyed by everyone.  I mean Everyone!  I have been wanting to create some recipes using almond flour – just because.  Because I love to bake and cook.
To me the plethora of new ingredients on the shelves in the supermarkets is  like opening presents on Christmas morning – like going to Disneyland – like having a vacation in Hawaii.  Yeah, I like it. 
So, out came the almond flour.  Do you know almond flour can be switched with all purpose flour as a 1 to 1 equal measure?  How easy is that! 
I am absolutely going to try substituting almond flour in some of my other favorite recipes.  I mean, you can get two recipes from just switching one ingredient. 
Almond flour adds a different quality to baking.  It's hard to explain but it seems to make baked goods more delicate.  Not meaning that it falls apart more easily but it is lighter in texture. 
A slice of Moist Gluten-Free Banana Bread holds together very well and can be toasted for an extra taste pleasure.  I believe this is the first and only gluten-free quick bread I have ever made. 
Another quick bread I make is Blueberry Banana Bread and it's not gluten-free but it is very special to me because it was the first banana bread I ever made.  Period.  Not first for my blog but first in my life and it still stands as one of my favorites.  
Now this is another easy bread that I will keep in my recipe box.  Moist Gluten-Free Banana Bread.  You have got to try it even if it isn't necessary for you to be gluten free.  Leave out the words gluten-free and just call it Miracle Banana Bread and you would be right.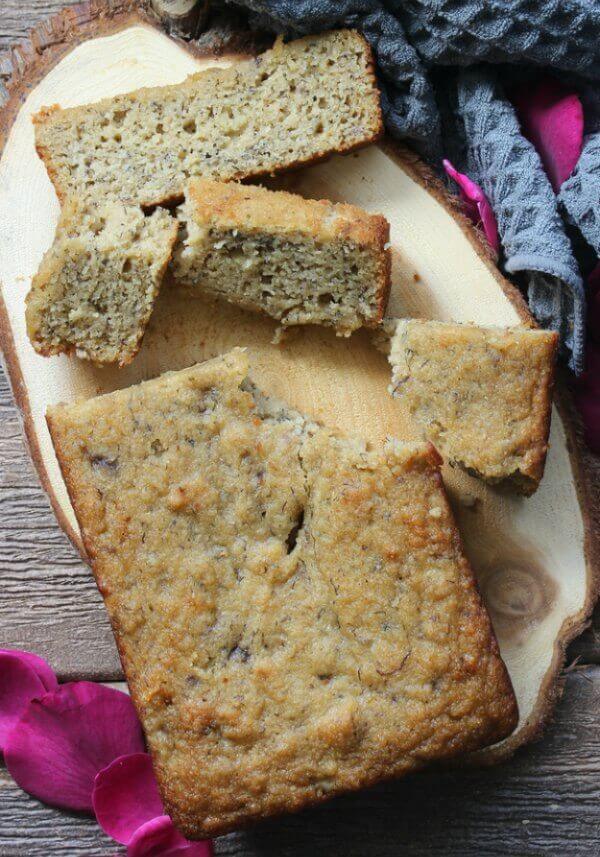 Connect with Vegan in the Freezer
Facebook | Pinterest | Instagram | Bloglovin
Moist Gluten-Free Banana Bread
Moist Gluten-Free Banana Bread is something that can be enjoyed by Everyone.
Ingredients
2

egg substitutes

- I use chia eggs - see notes below

2

bananas

1

tablespoon

dairy free milk

1

teaspoon

maple syrup

1

tablespoon

vanilla extract

1/2

cup

coconut oil

2

cups

almond flour

1

teaspoon

baking powder

1/2

teaspoon

sea salt

1/2

cup

walnuts

, finely chopped
Instructions
Preheat oven to 350°F. Lightly grease a 9x5 inch loaf pan.

Let cool on wire rack for about 15 minutes prior to serving. Enjoy!

Prepare substitute eggs and set aside.

Mash the bananas and mix in with the prepared 'eggs'.

Add dairy free milk, maple syrup and vanilla.

Add the remaining ingredients and mix to combine.

Pour into the prepared pan.

Bake for 45 minutes or until a toothpick inserted into center comes out clean.

Let cool on wire rack for about 15 minutes, then turn out onto a wire rack to cool completely.
Recipe Notes
A chia egg is actually made with chia seed meal/flour not the bare seed. The way you make meal/flour is by grinding the chia seed in a processor such as one for your coffee beans or a spice grinder. I use mine to strictly grind seeds so that I do not mix flavors. Grind until it is a fine meal. I do about 4 ounces at a time and keep it in a little freezer safe canning jar - in the freezer. When I need a Tablespoon or so it is all ready to go.  So ...  one egg equals 1 tablespoon chia meal and 3 tablespoons water.  It is 2 'eggs' for this recipe so mix 2 tablespoons chia meal and 6 tablespoons water.  Perfect.
TO FREEZE:
After completely cooling - You may freeze this quick bread in rigid sided freezer containers or in freezer bags.  It will keep for about 6 months.
TO DEFROST:
Put in the refrigerator to defrost overnight.
Nutrition Facts
Moist Gluten-Free Banana Bread
Amount Per Serving (1 Slice)
Calories 286
Calories from Fat 225
% Daily Value*
Total Fat 25g 38%
Sodium 118mg 5%
Potassium 150mg 4%
Total Carbohydrates 11g 4%
Protein 5g 10%
* Percent Daily Values are based on a 2000 calorie diet.